Sewing in its various incarnations and other crafts have been a serious hobby in my family for several generations. Embroidery, quilting, knitting, tatting and crochet have popped up since the time of my talented great-grandmother, Kamalamma (1877 – 1962). I remember meeting her as a child, but I do not remember seeing her sew. Pages from a pattern book of another of her hobbies, Rangoli, are included in a slide deck below. As for threadwork, my clear memories start with my grandmother.
My grandmother, Sundari (1908-1993), loved sewing. Being a practical woman, she preferred sewing "useful" stuff on an early 1950s Usha hand-operated sewing machine. She had been widowed at the age of 21, and my mother was her only child. She worked as a middle school math teacher, and later came to live with our family when I was 3 years old.
My mother, Kusuma (1925-2018), liked the sewing machine, but embroidery was her forté. Throughout my childhood in India, I remember her embroidering sets of matching sofa and cushion covers, tablecloths and the such. I grew up thinking that you only decorated your home with things you had made. After my father Chandrapal (1913-1995) passed away, my mother moved to the US. She divided her time between our home and that of my brother Ram. She continued her pursuit of embroidery well into her eighties, and she loved making things for her granddaughters Tara, Rajni, Indu and Sanjana.
My introduction to sewing came through embroidery projects that were part of our school curriculum, starting in 4th grade. With two experts at home, I received a lot of help in doing my homework! After I moved to the US for graduate school, friends taught me to knit and crochet, and library books and patterns taught me macrame and tailoring children's clothes. My lifelong love of quilting arrived after I bought my first Bernina sewing machine in 1983, fed by books and later, online classes.
My daughters and niece are into craft projects of various sorts, including a rash of pottery that was produced in the early 2000s. Indu has taken up embroidery, and Sanjana crochets. Who knows where the thread will land in the future!
Here are some of the results of six decades of fascination with thread and needle – with contributions from my family and me.
Threading Through Four Generations 1958 – present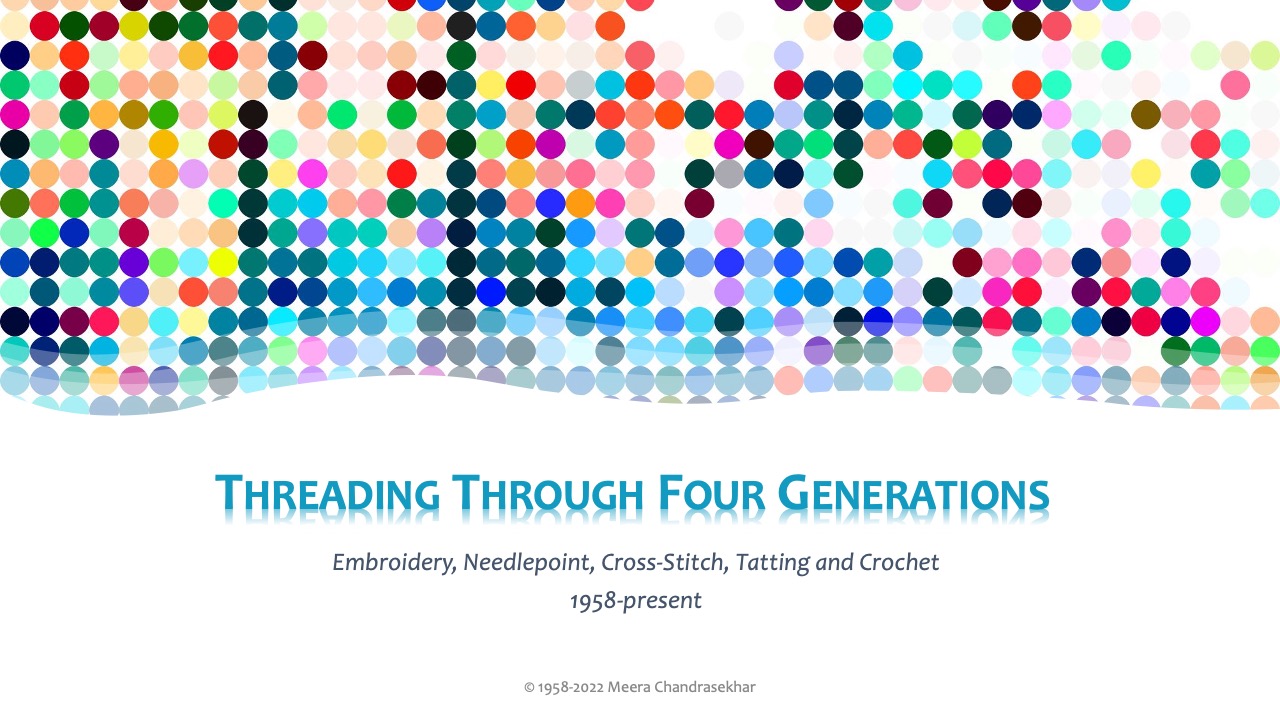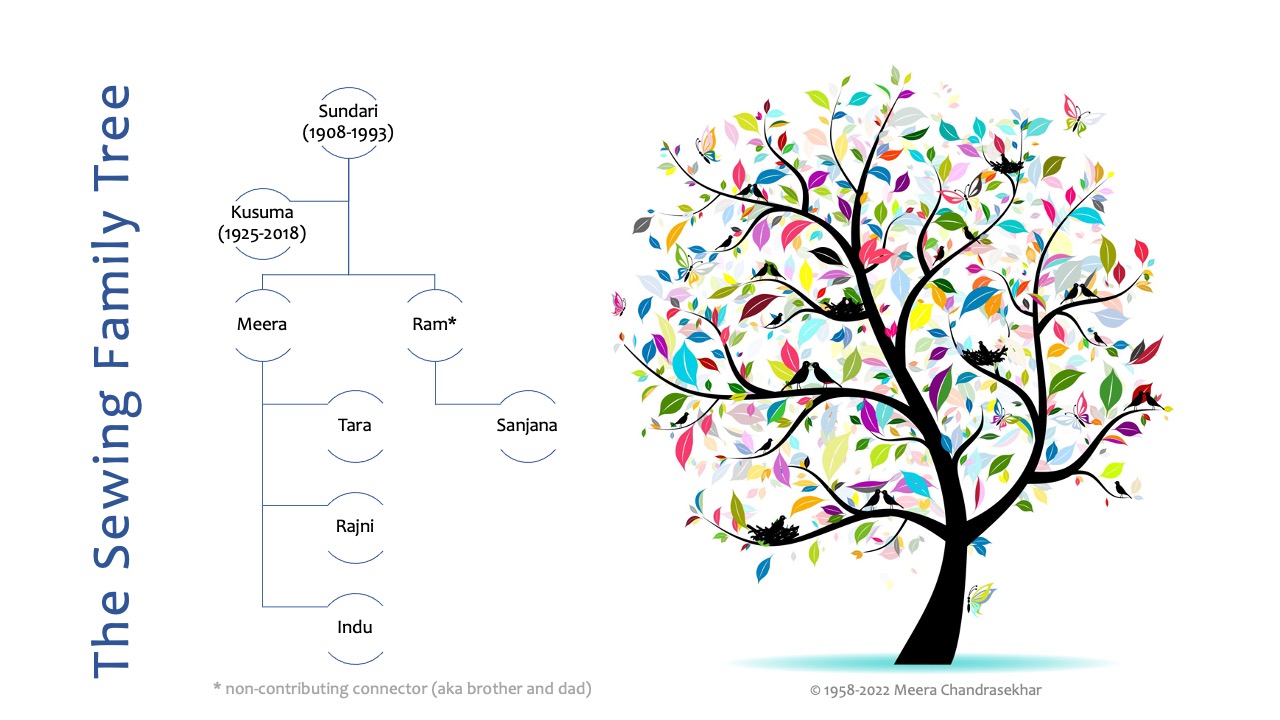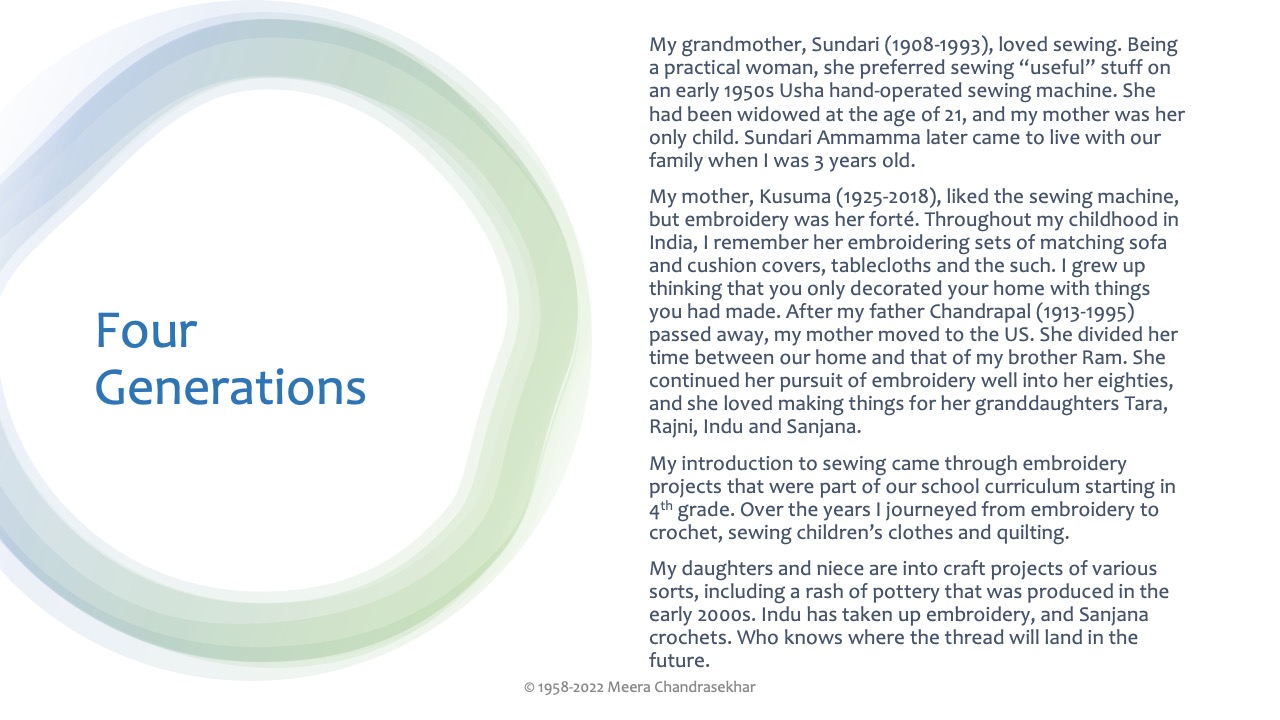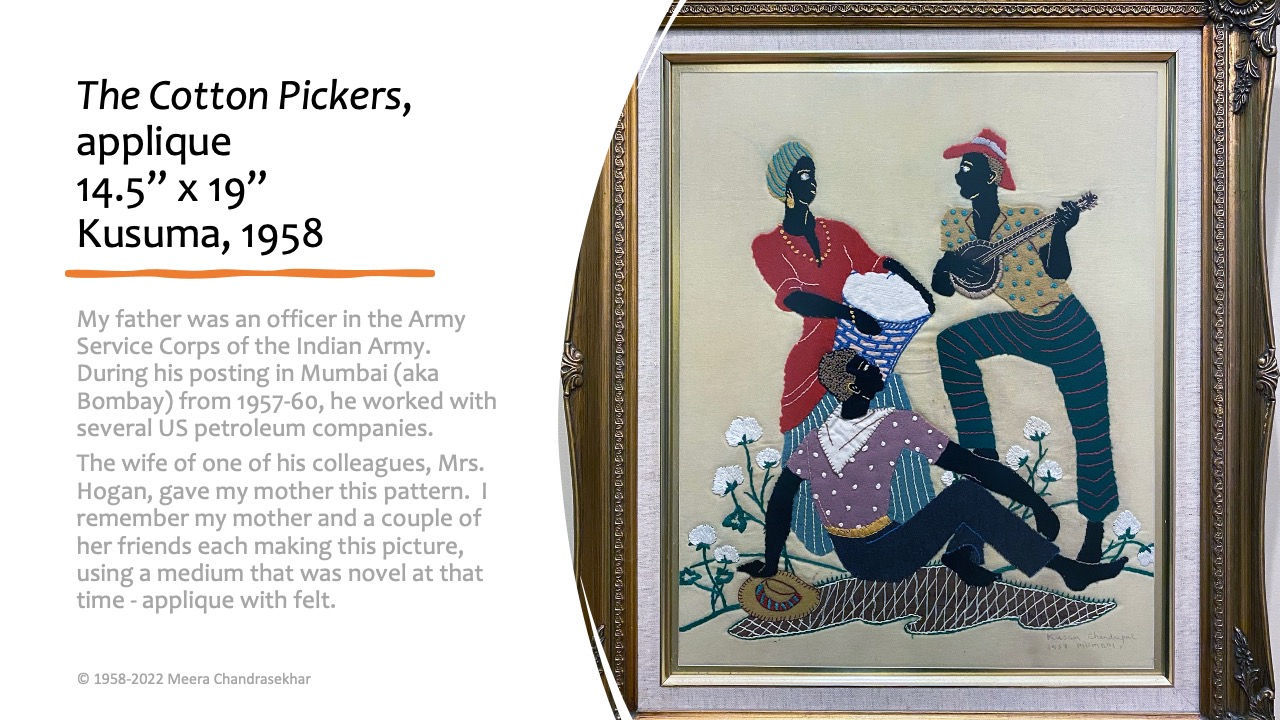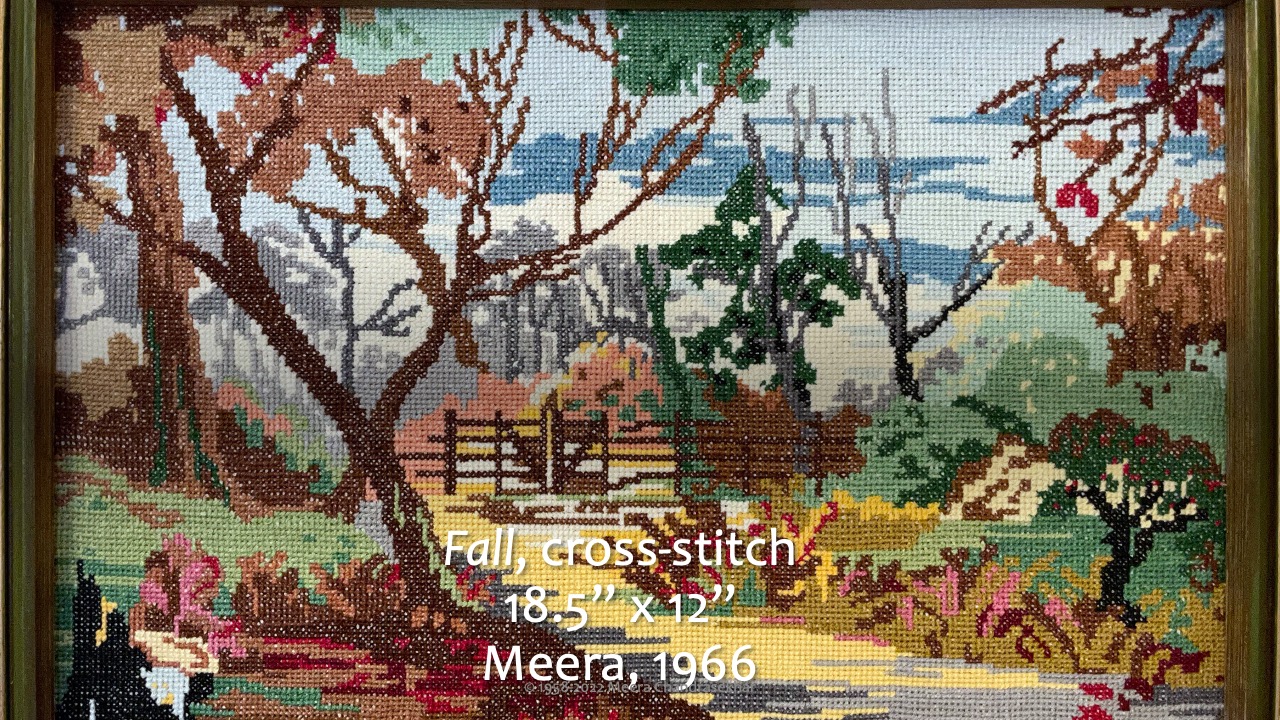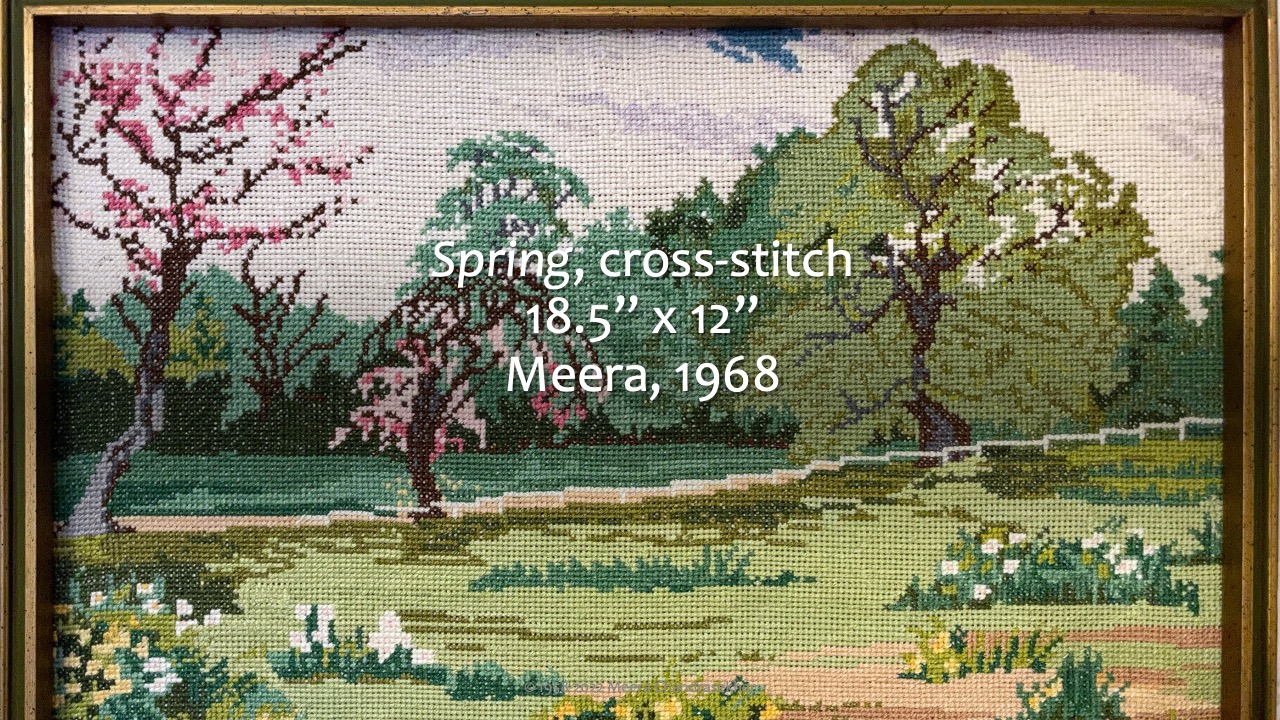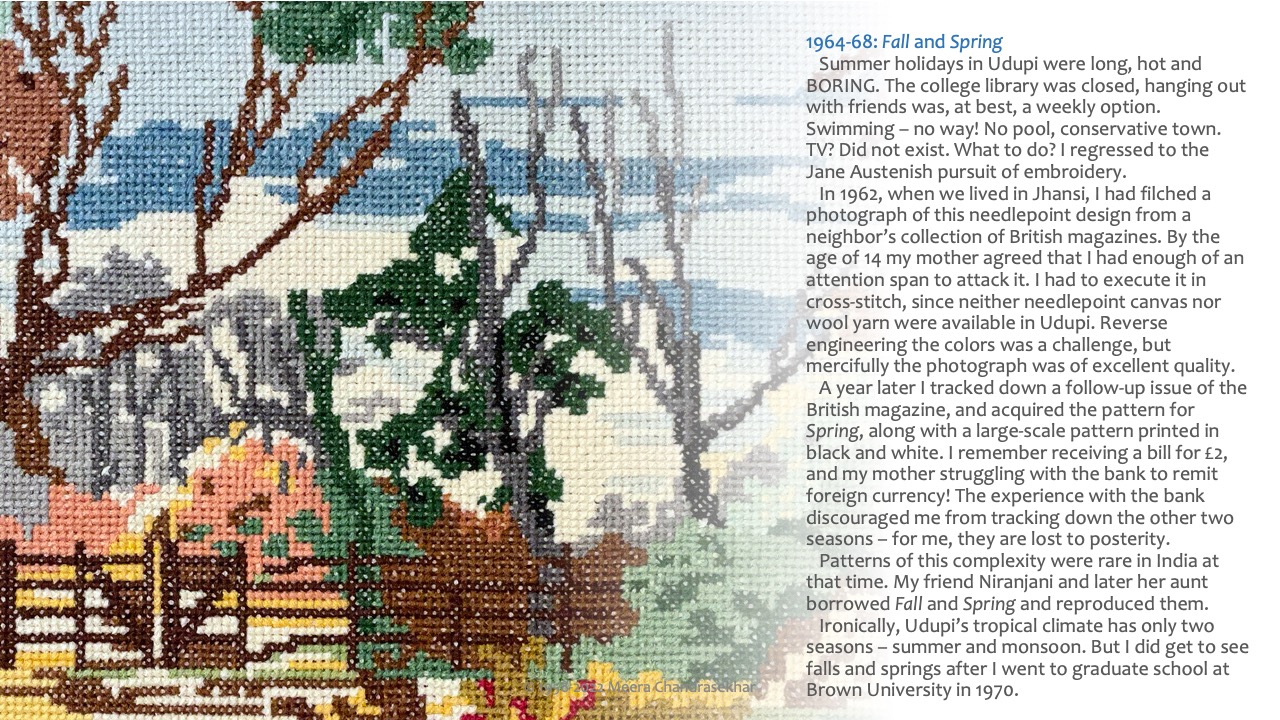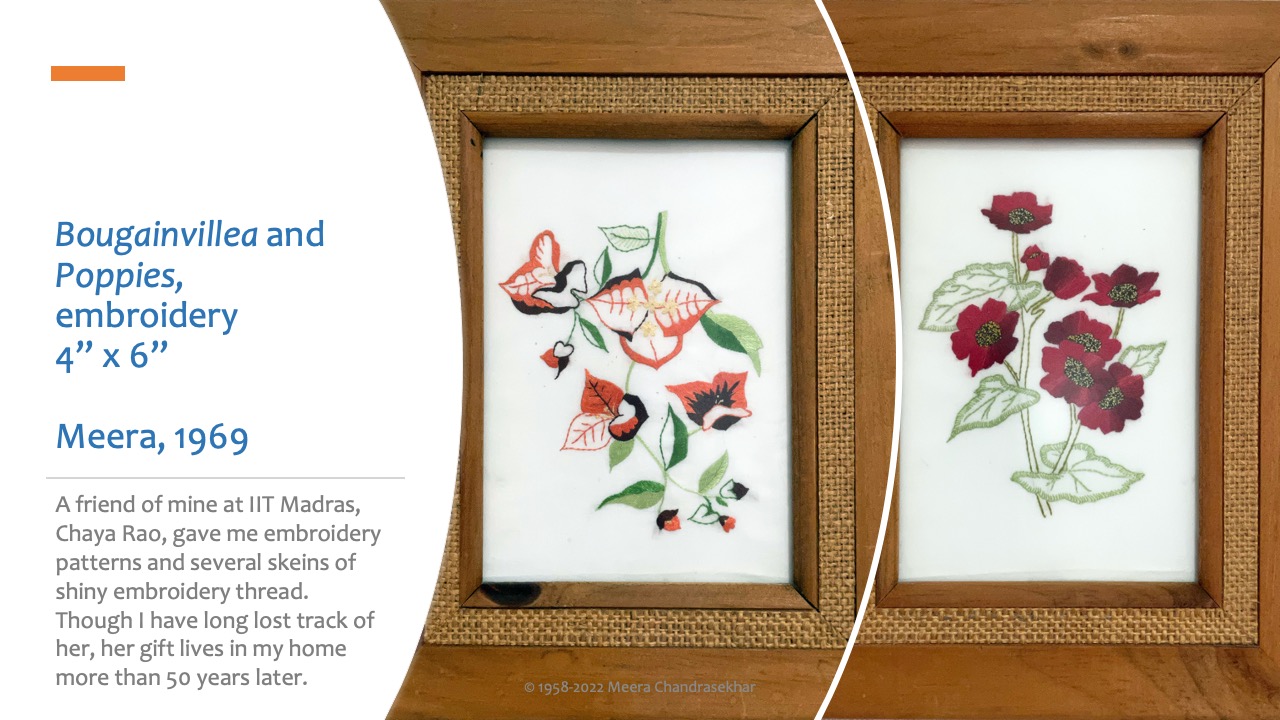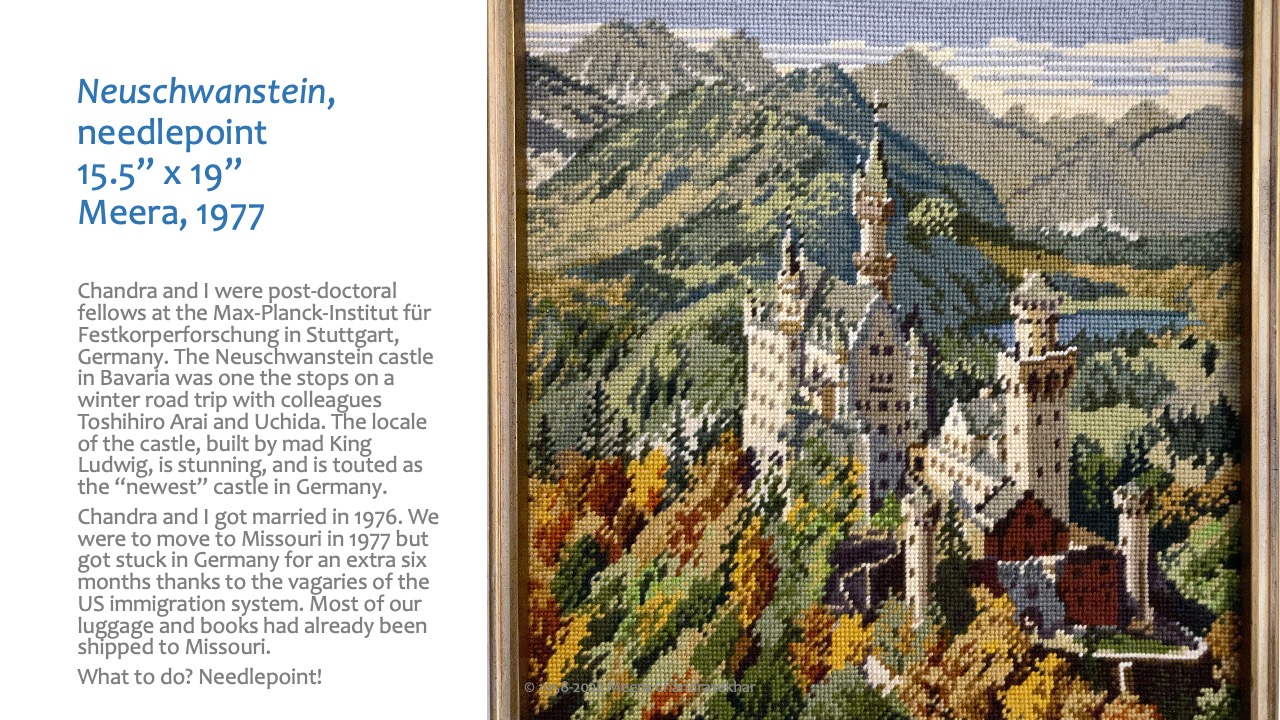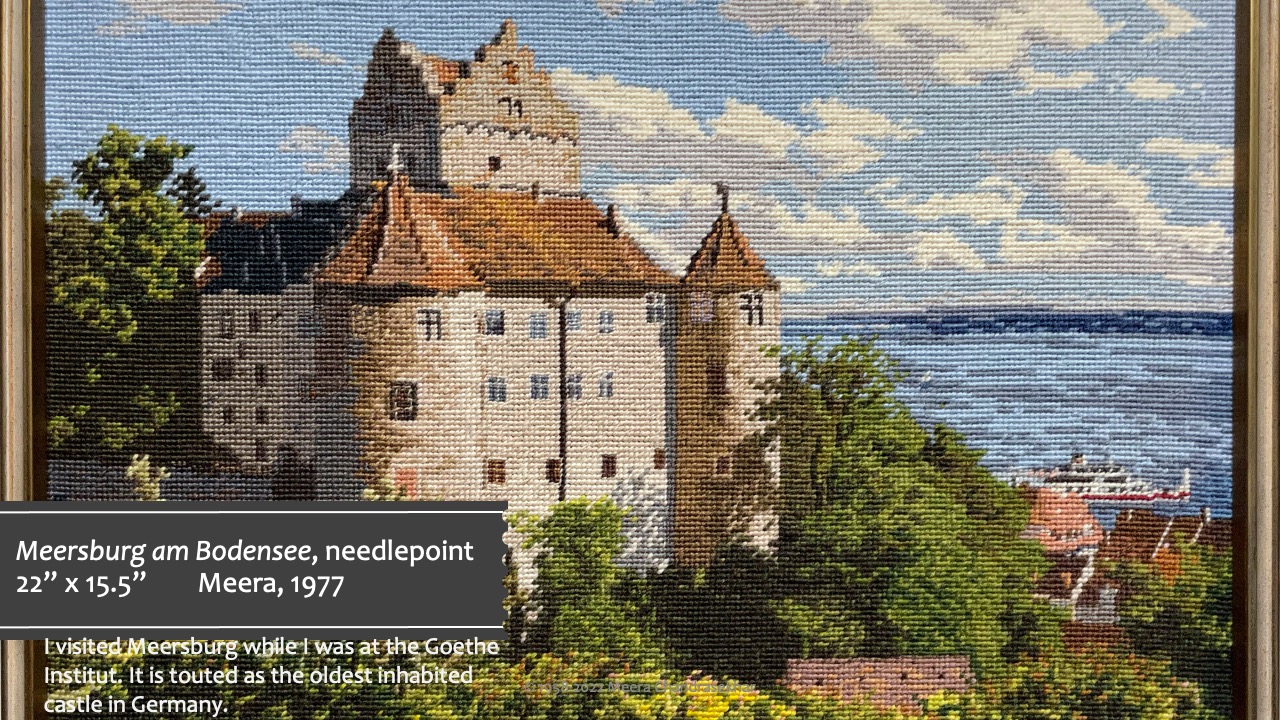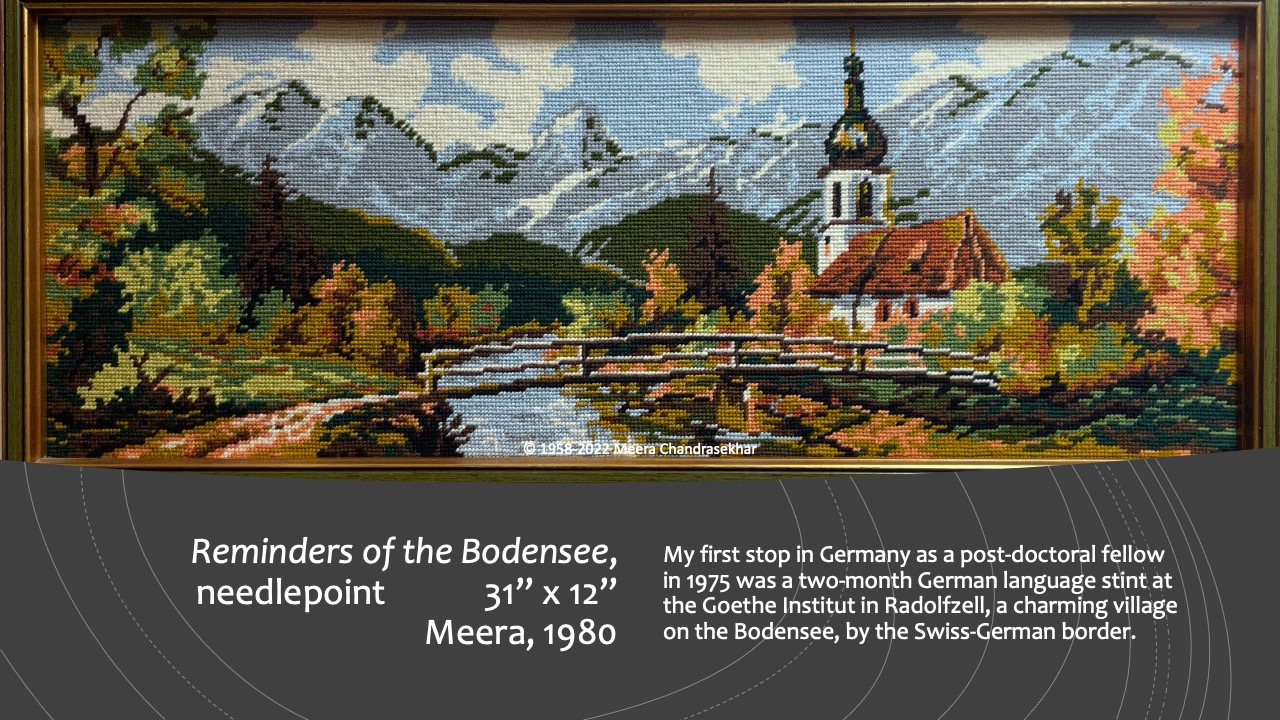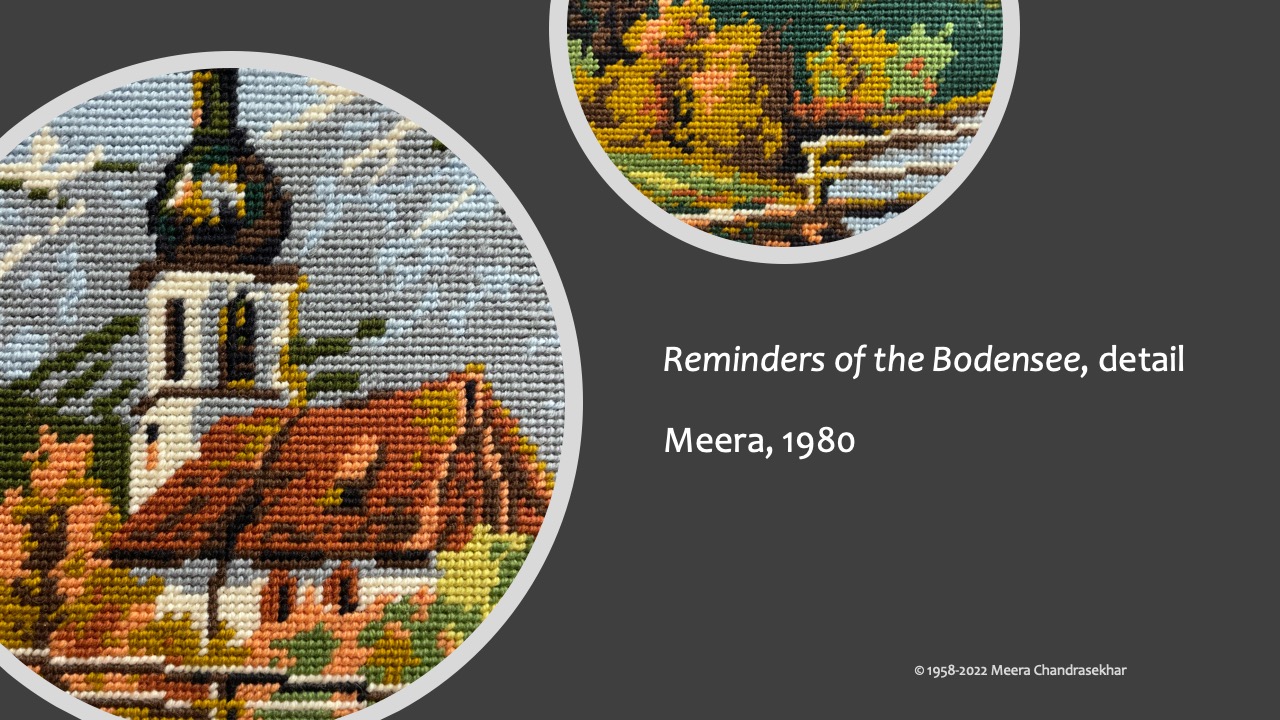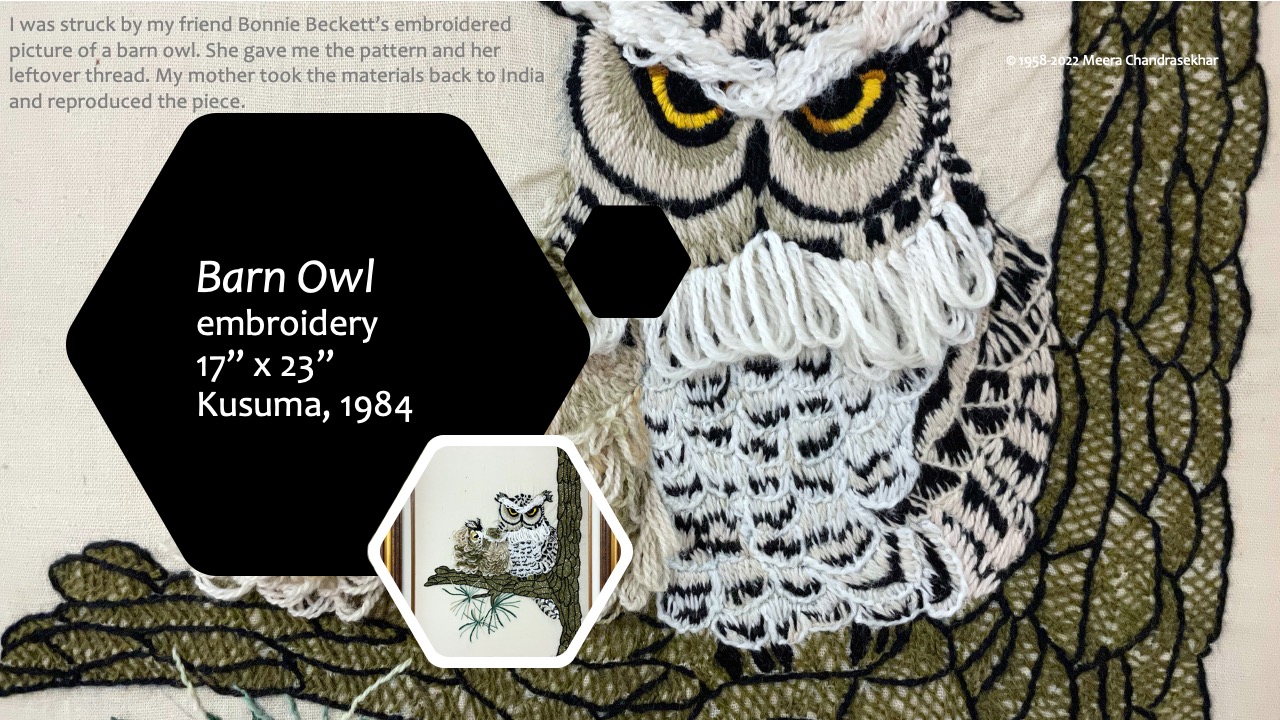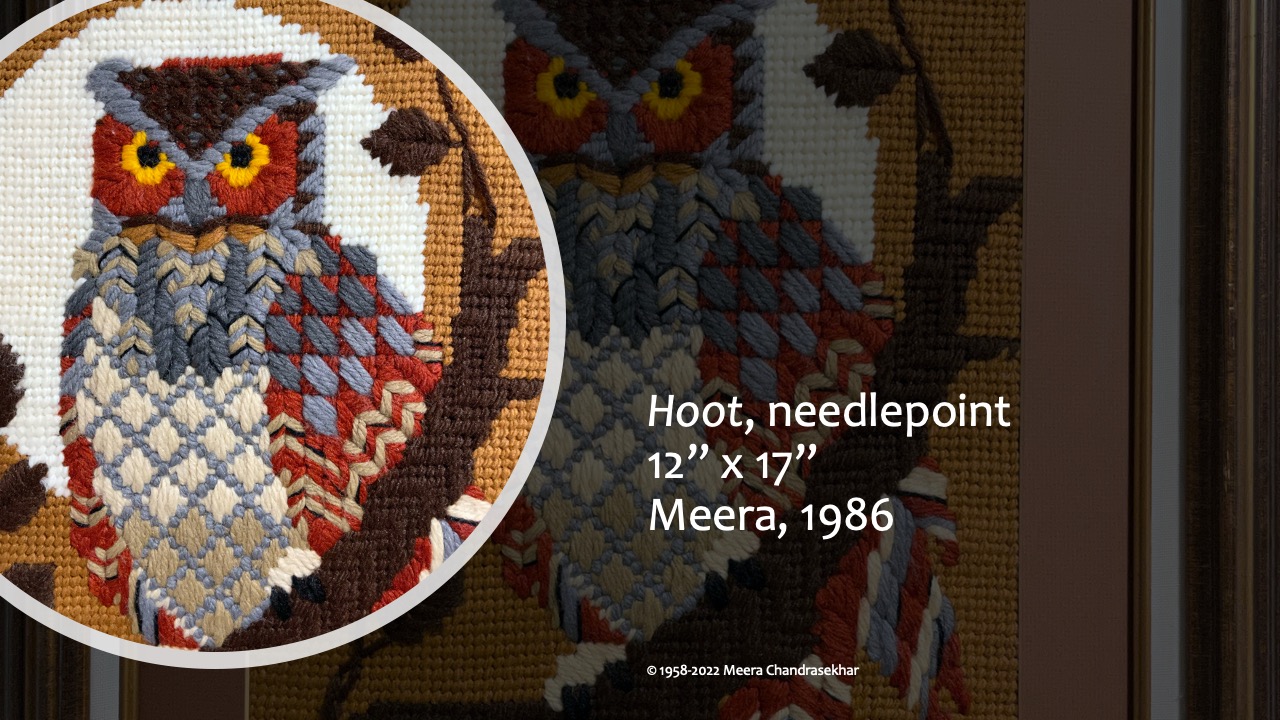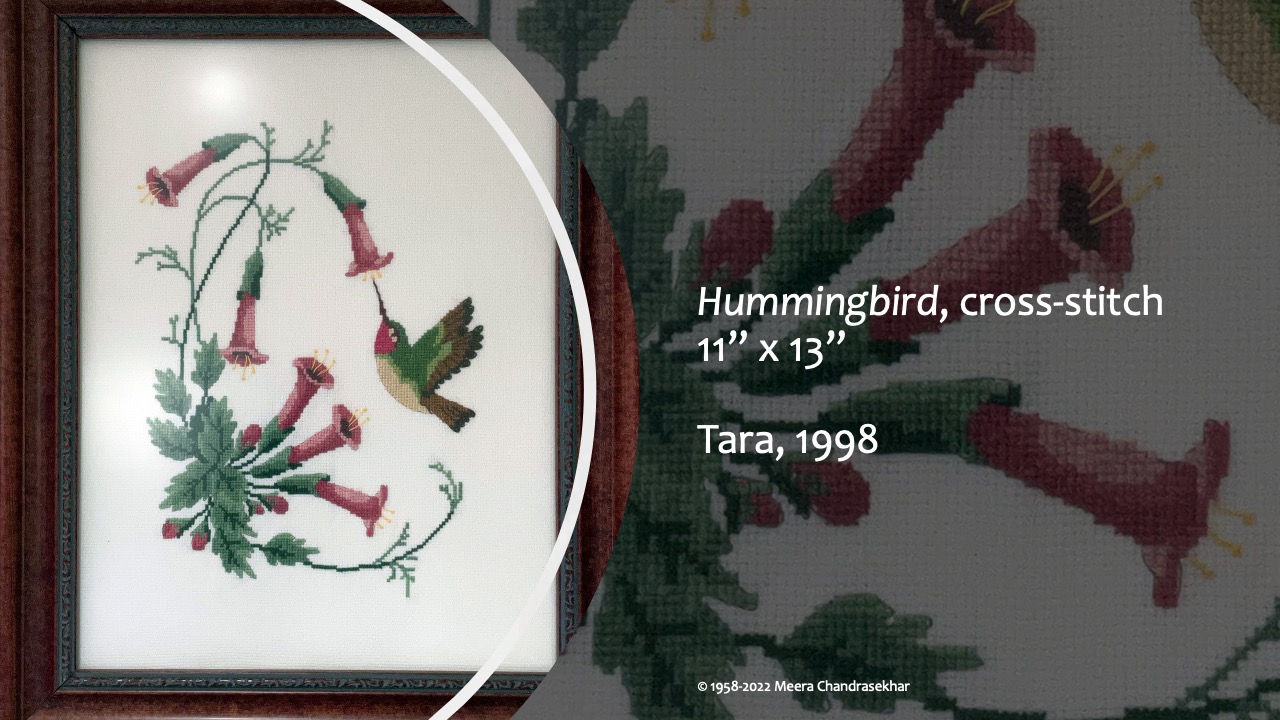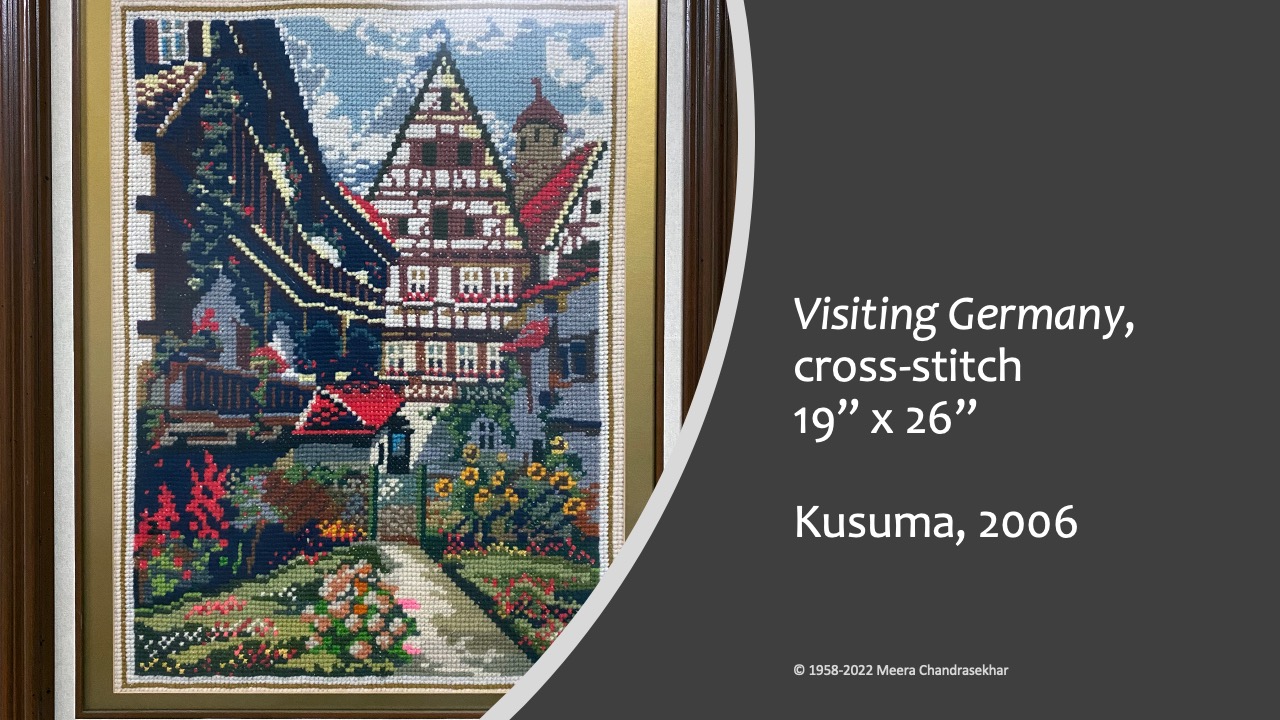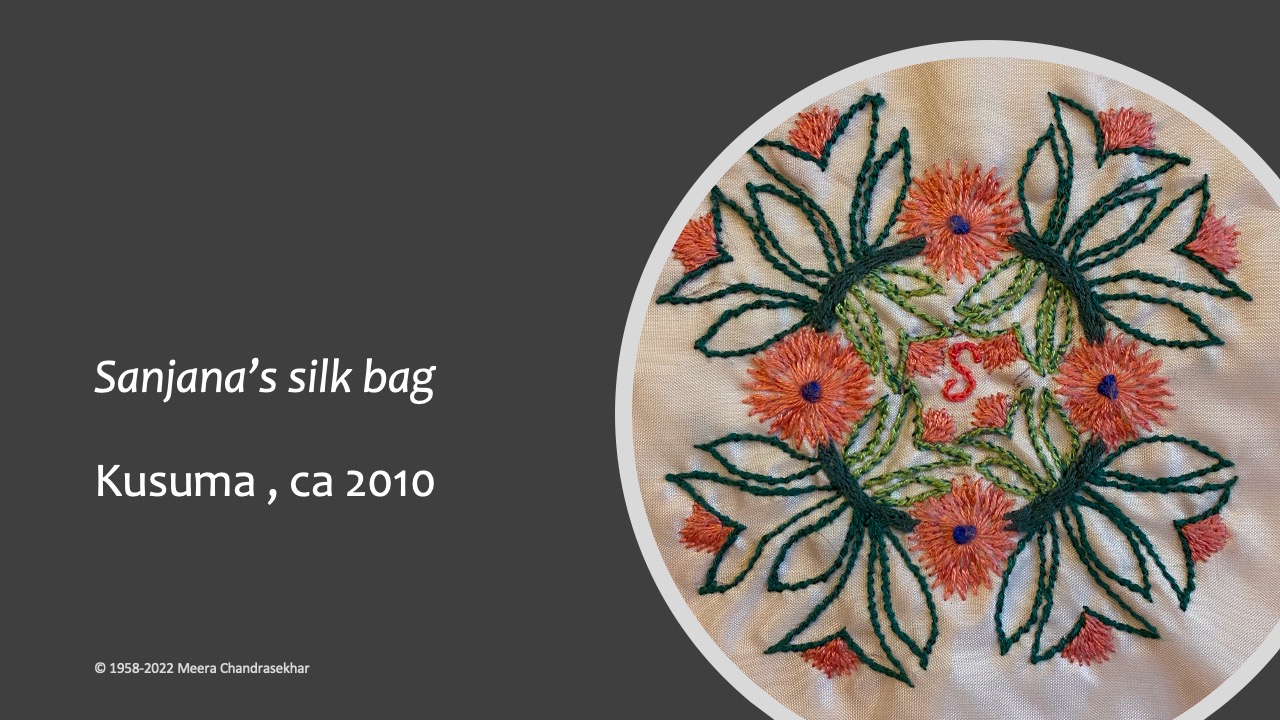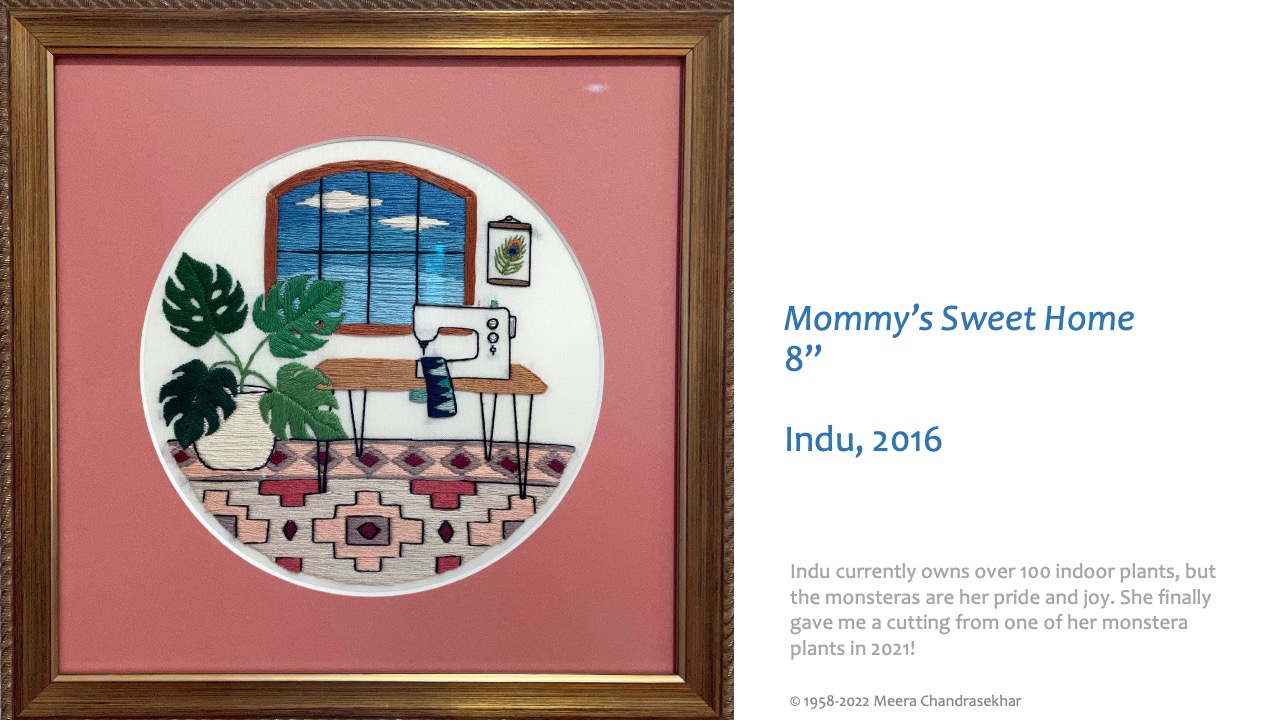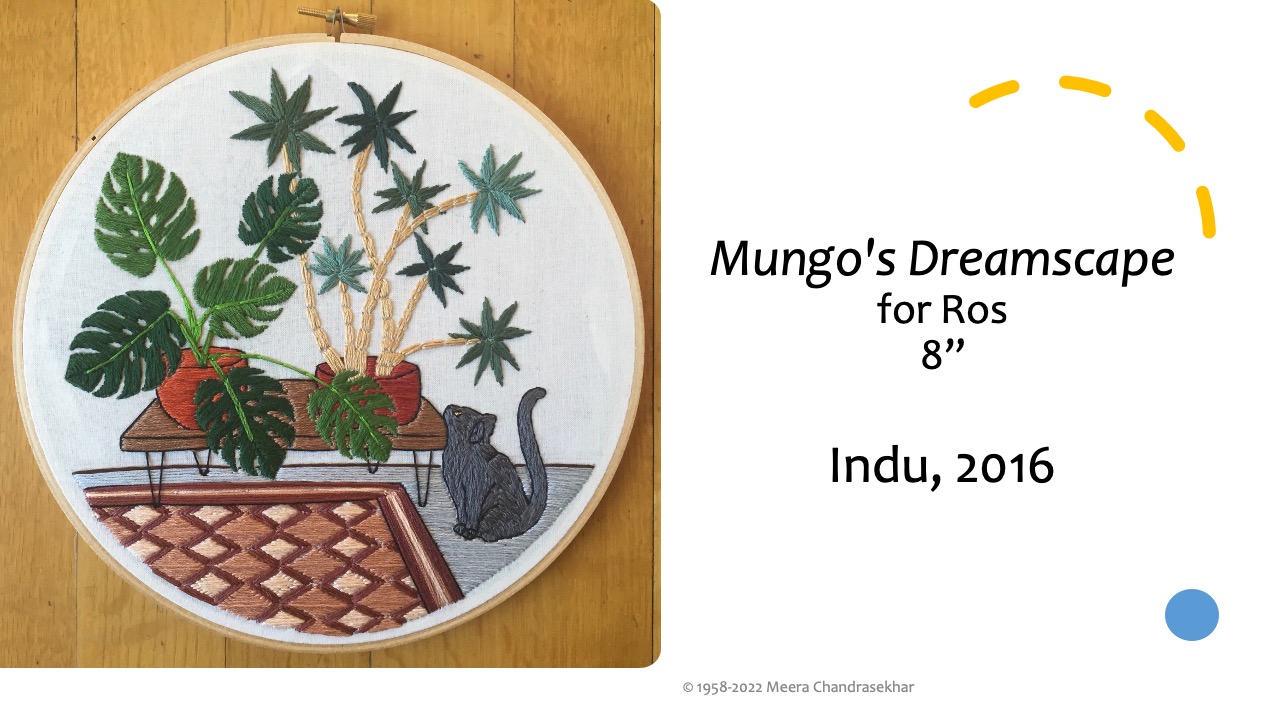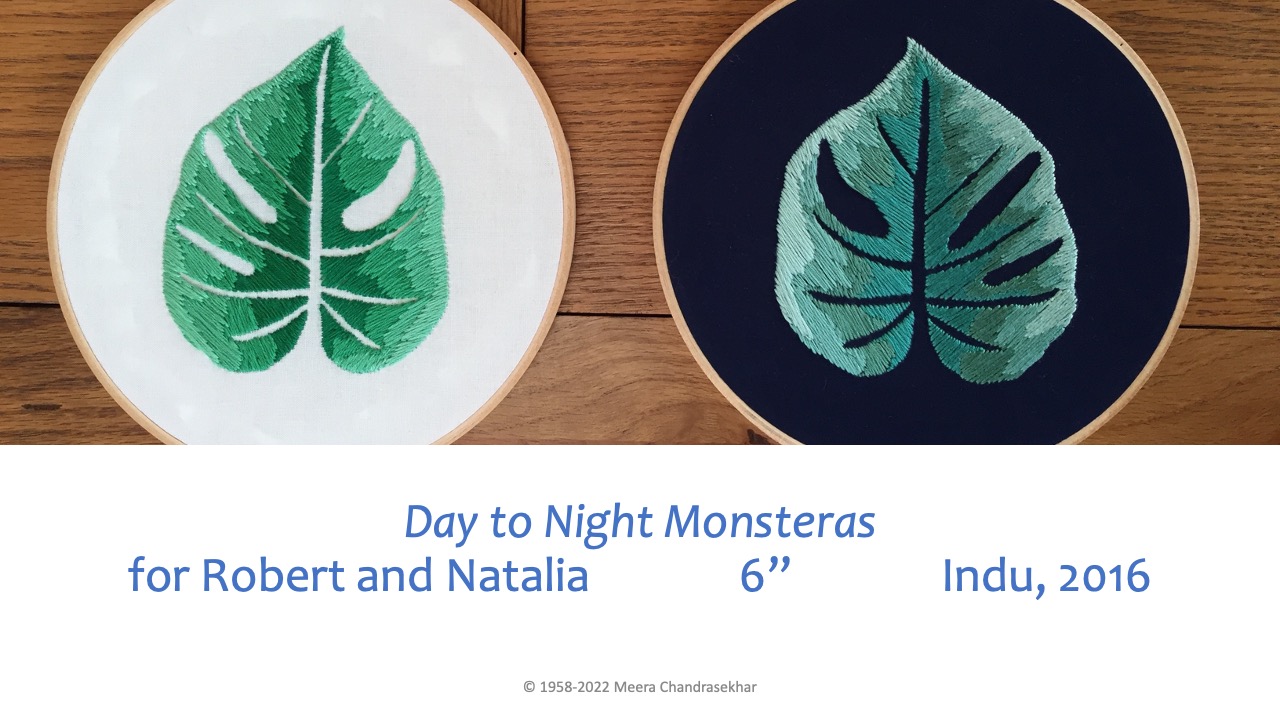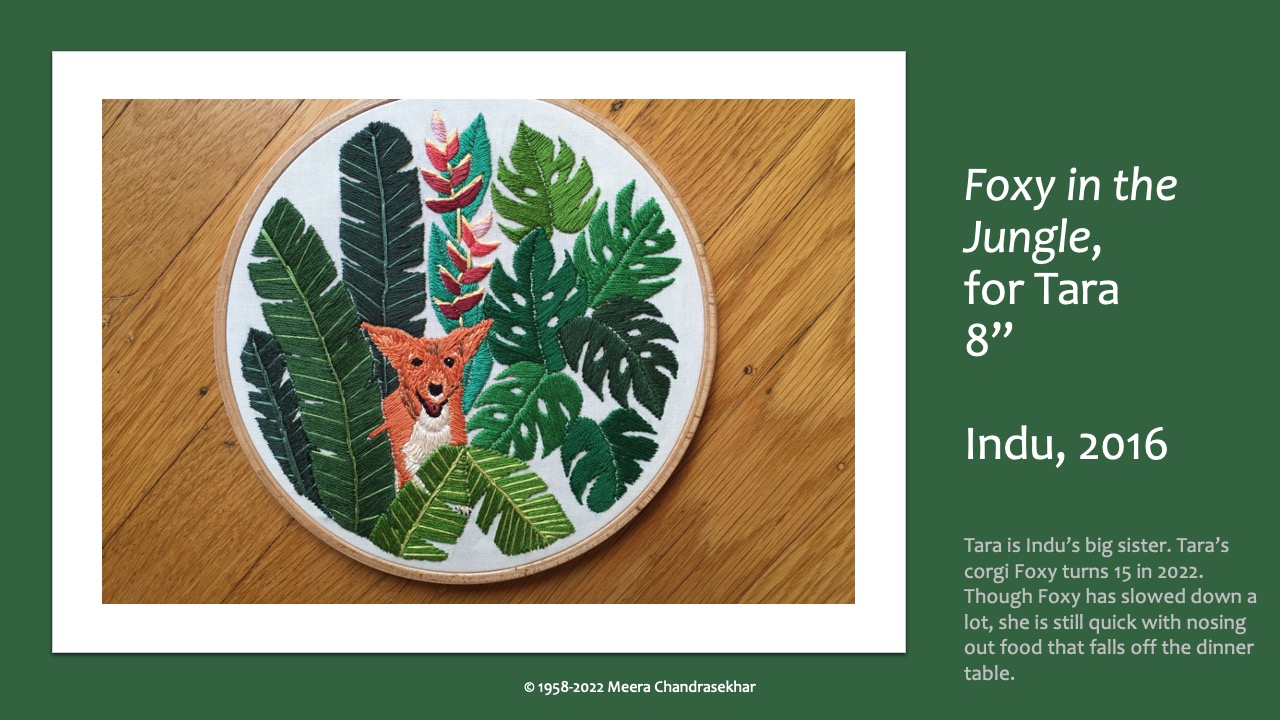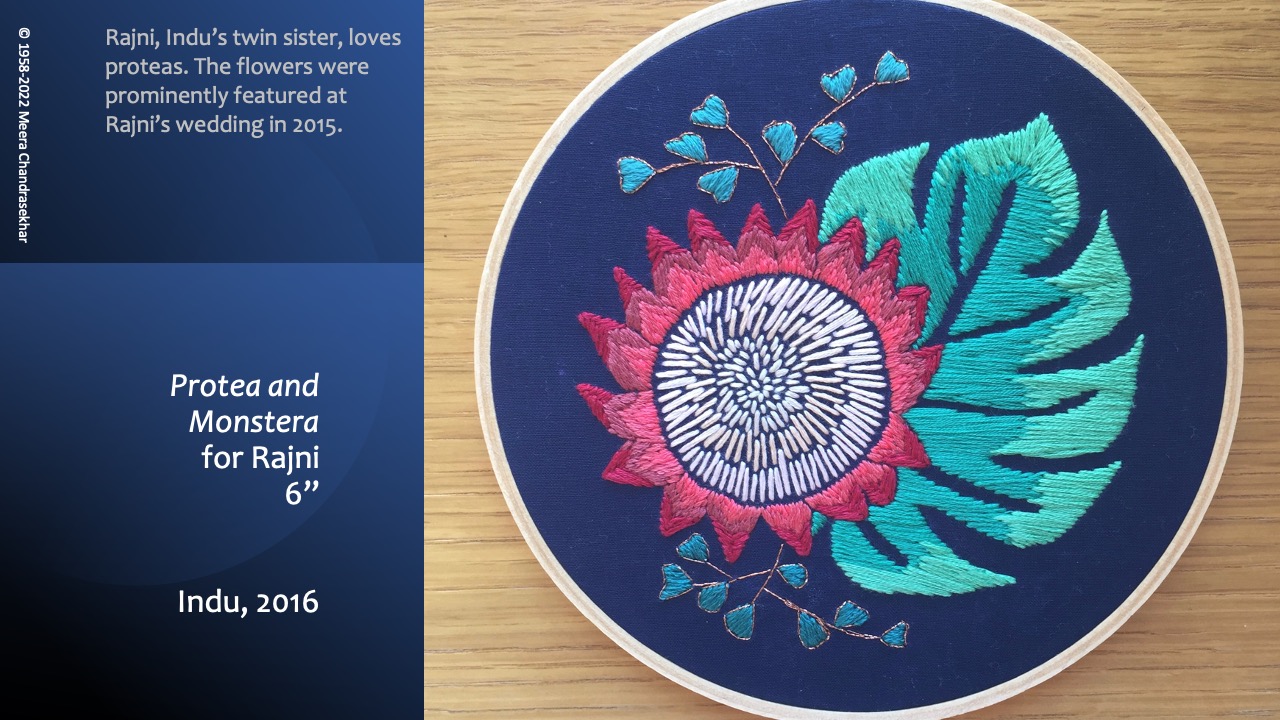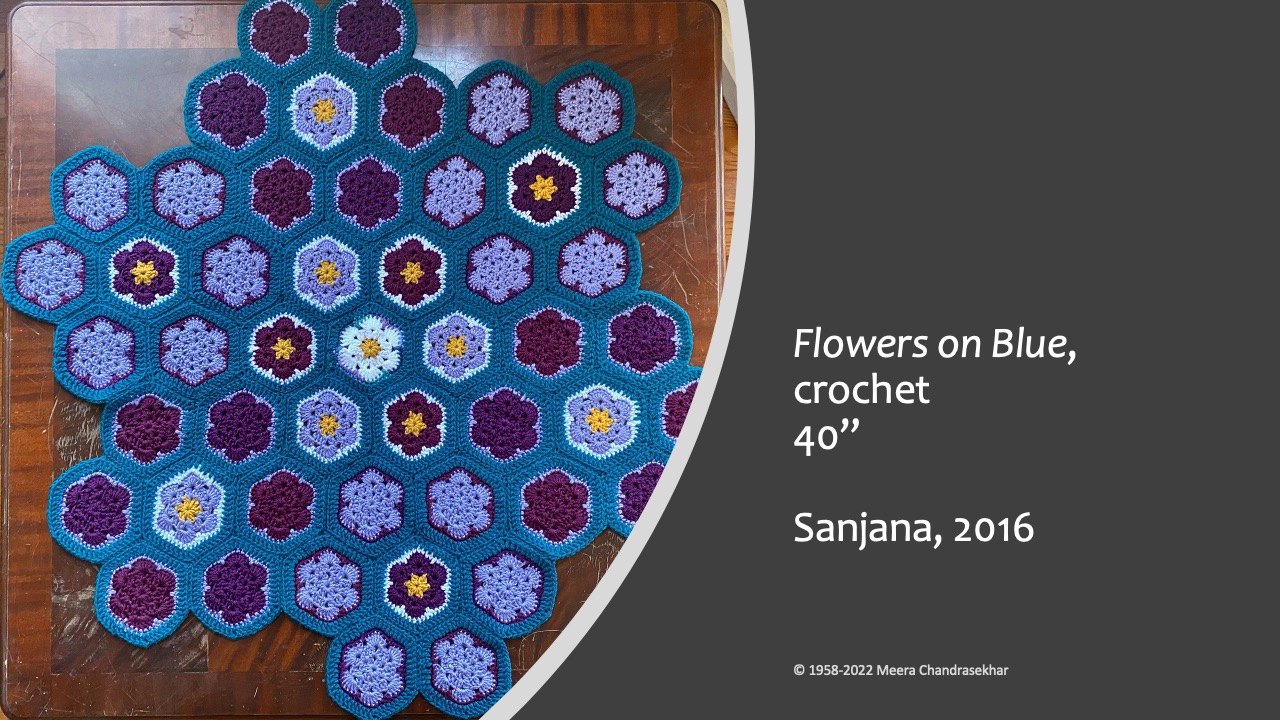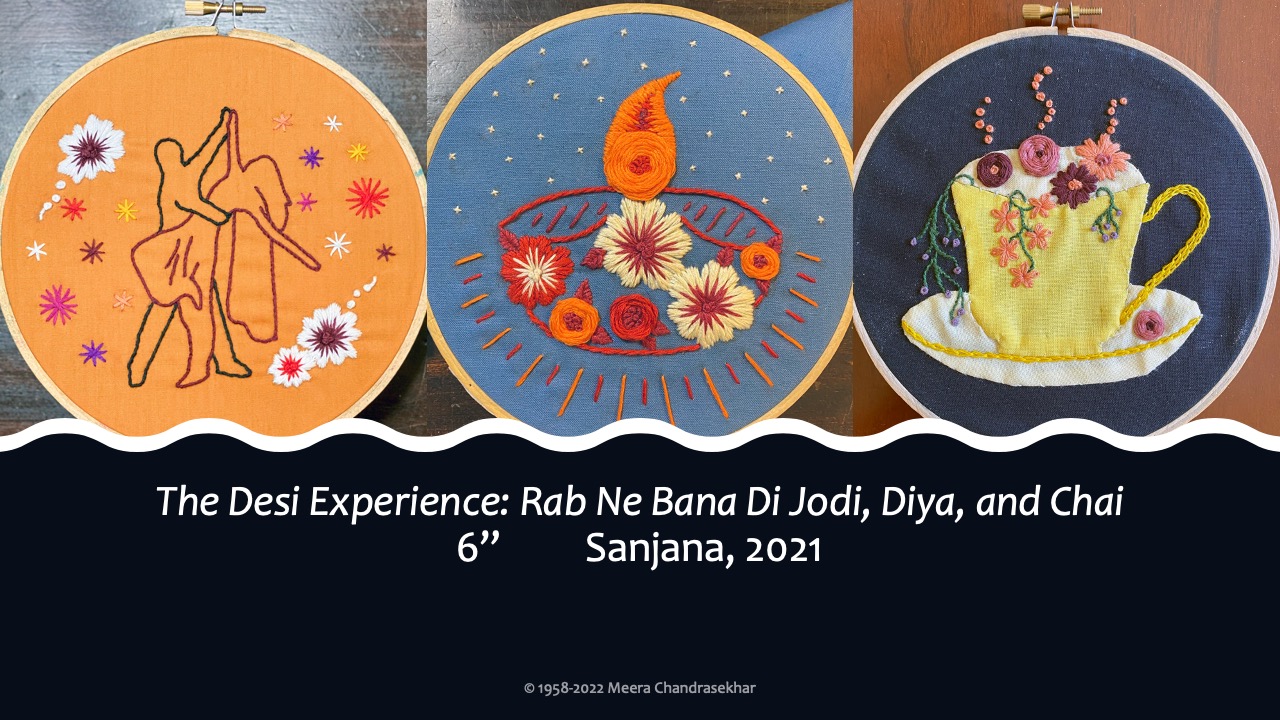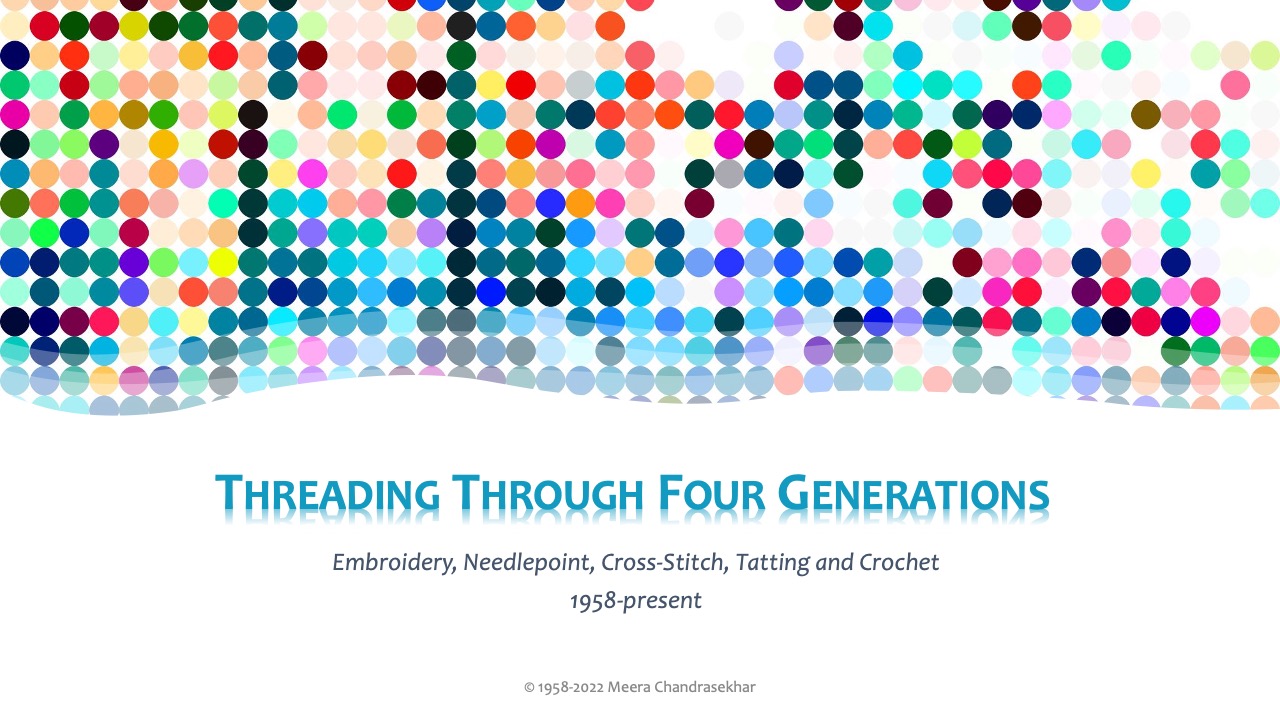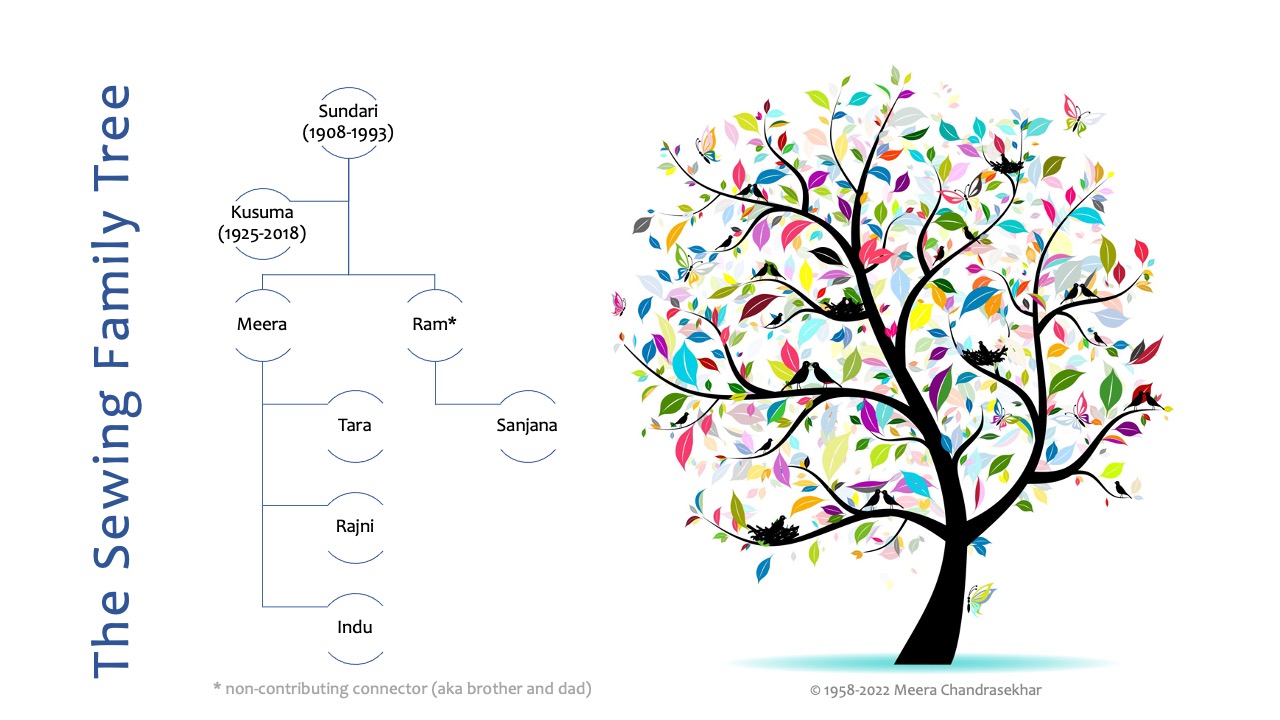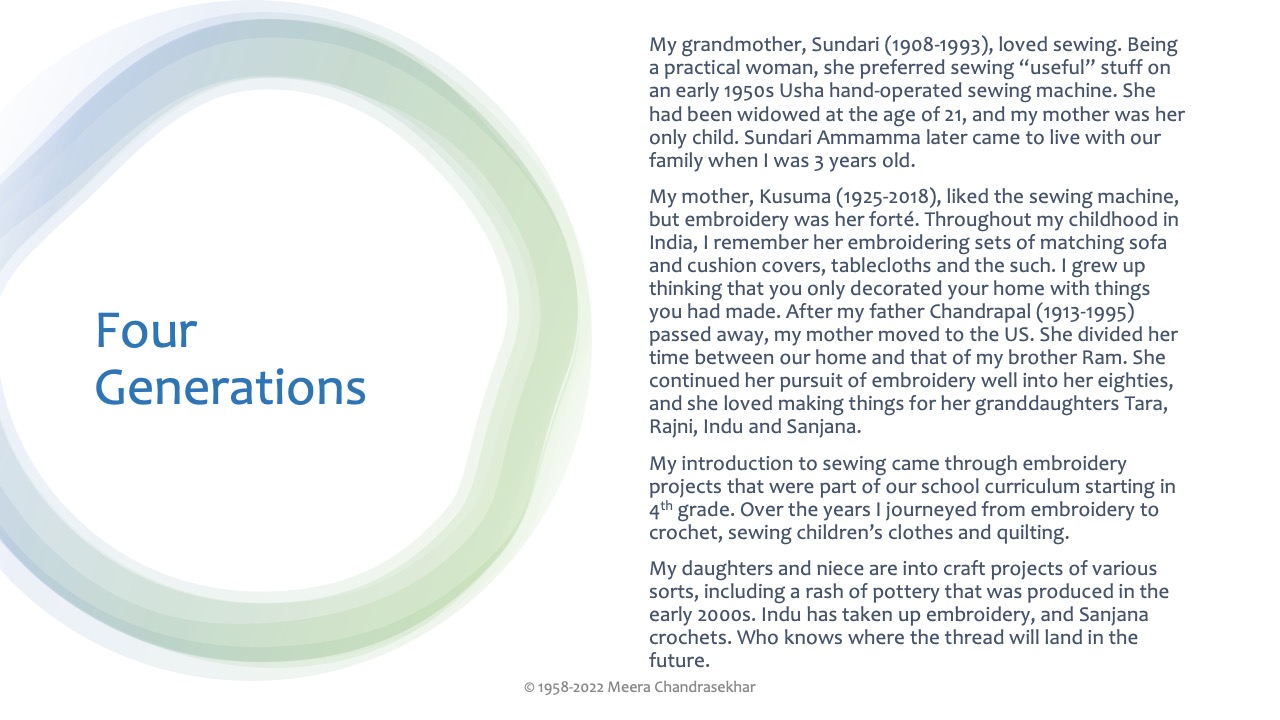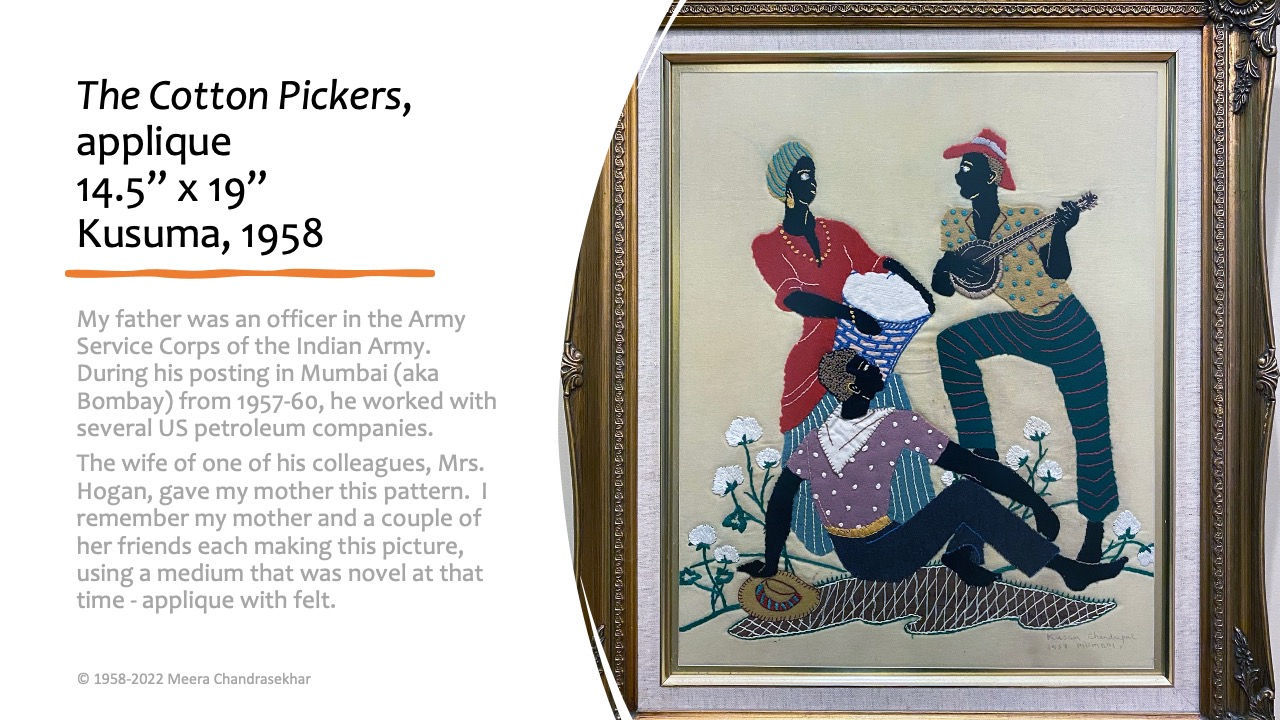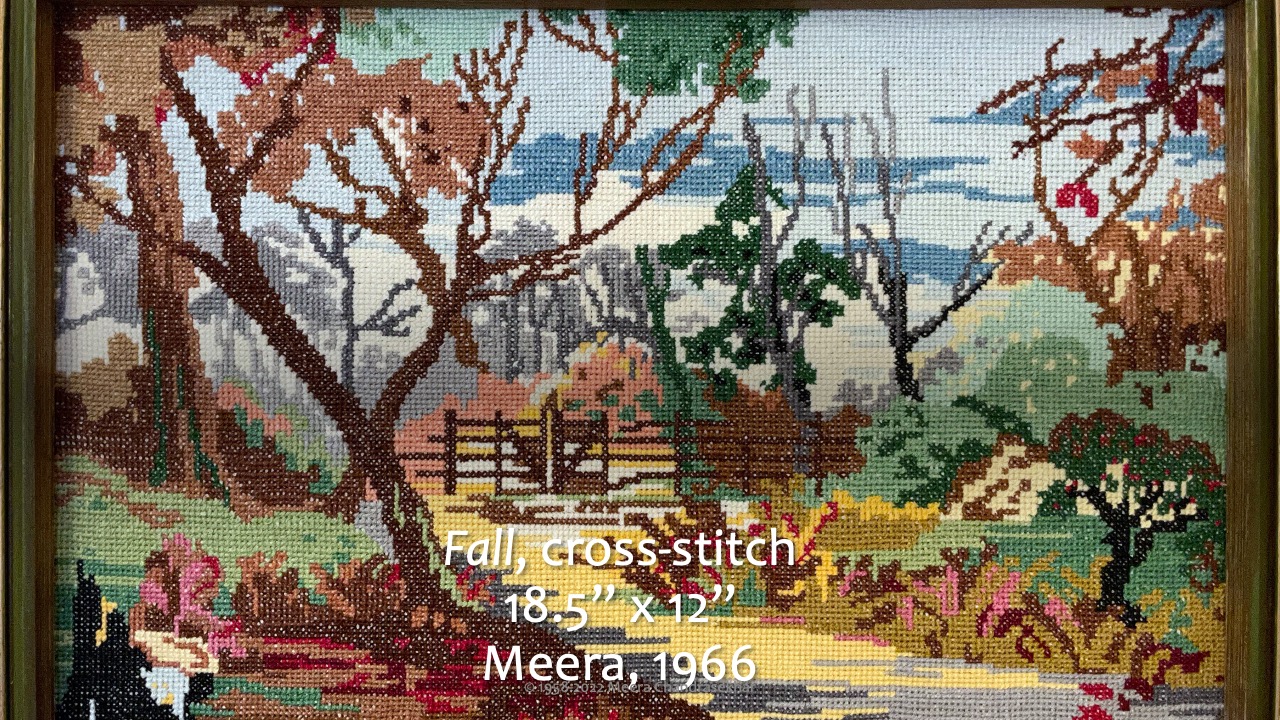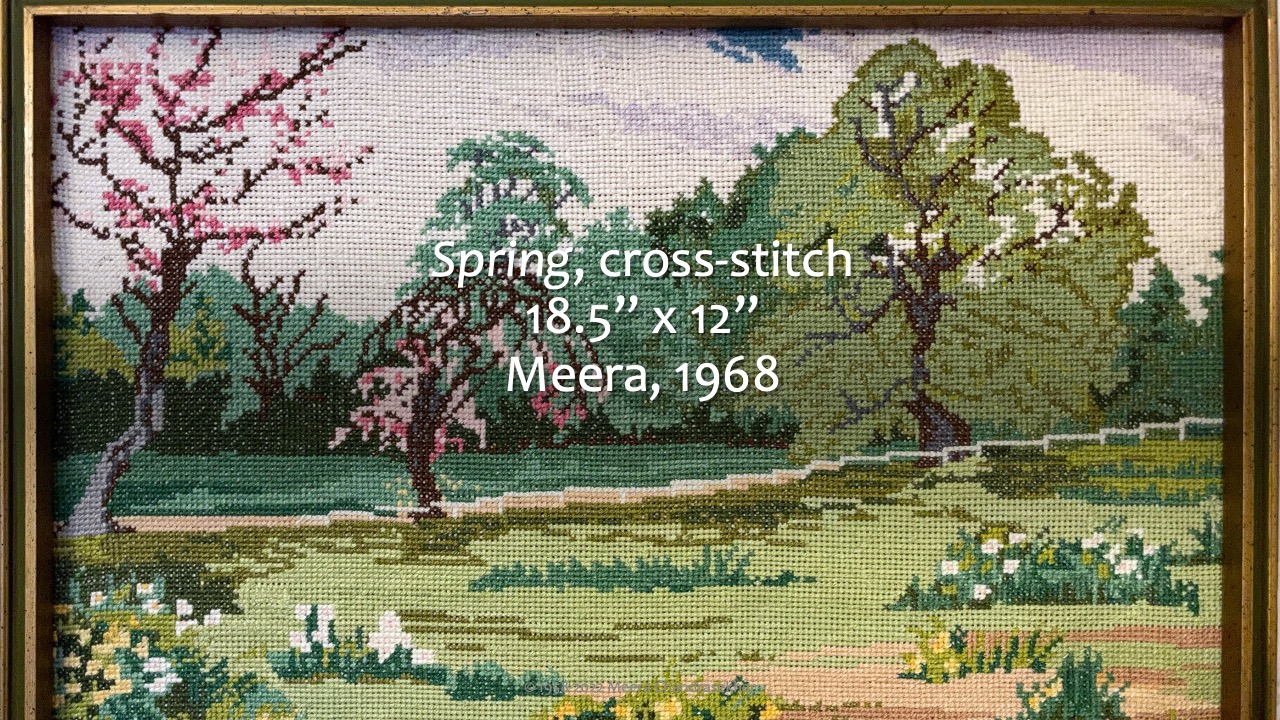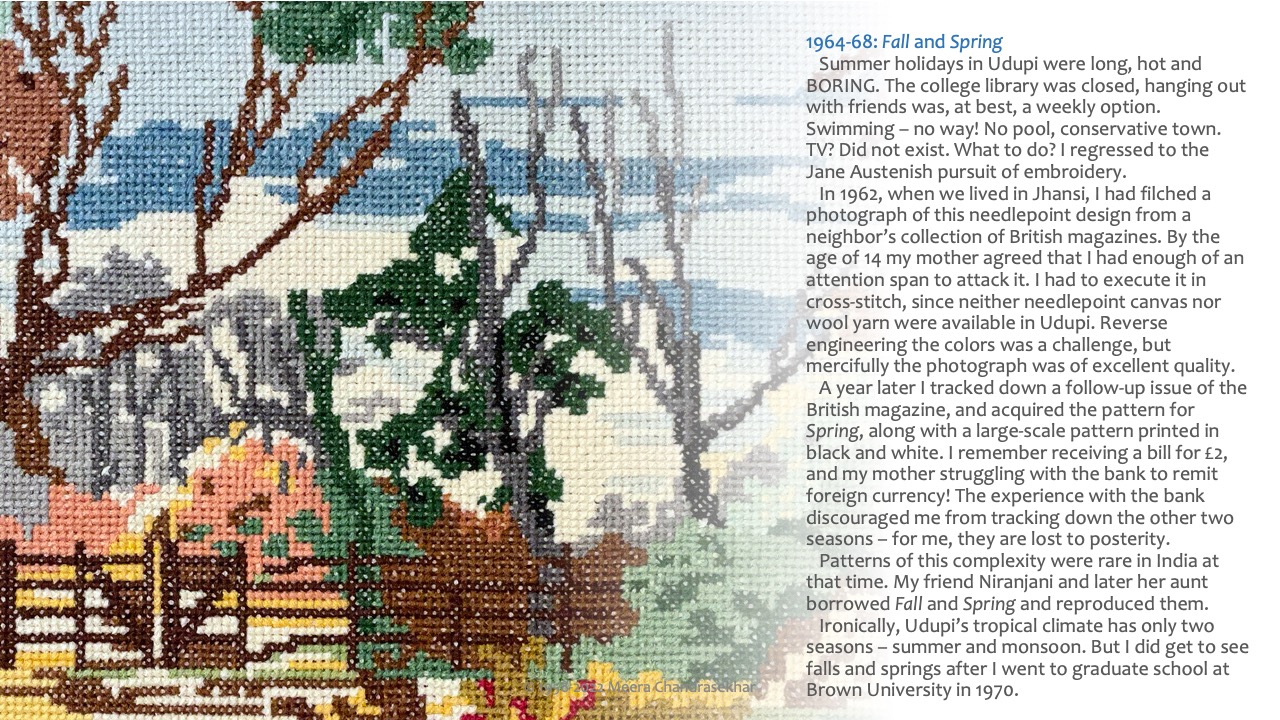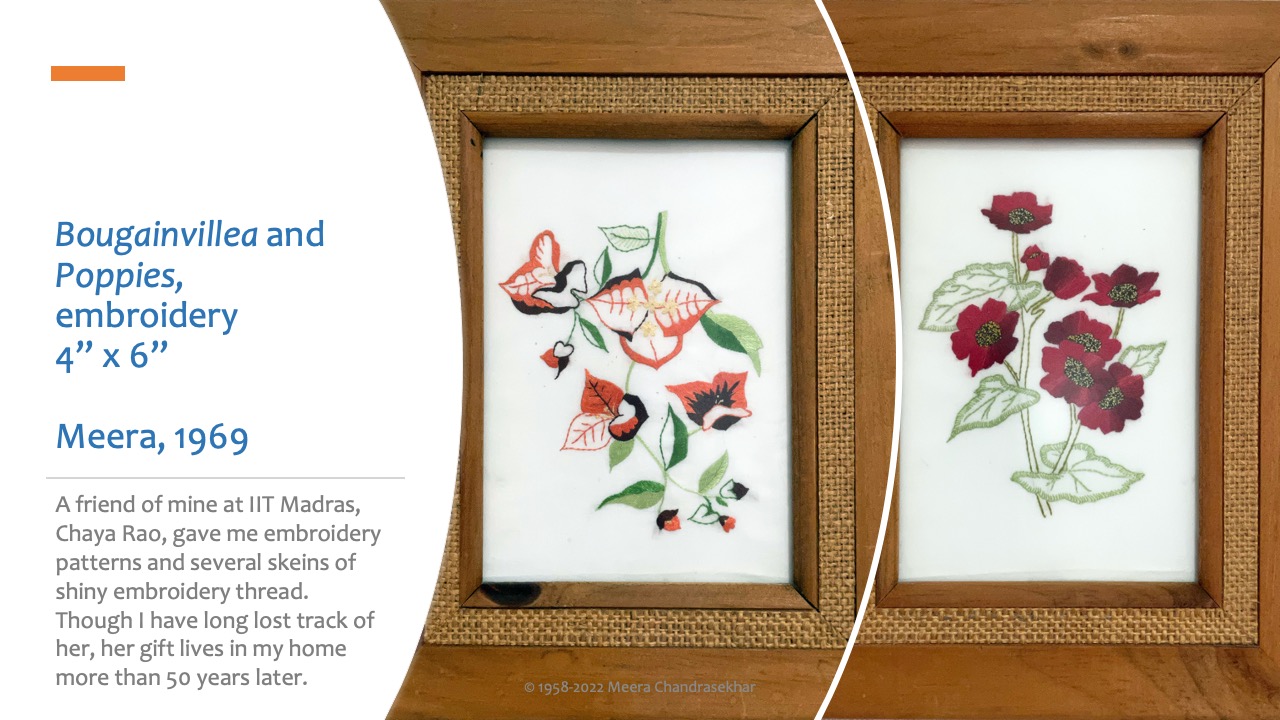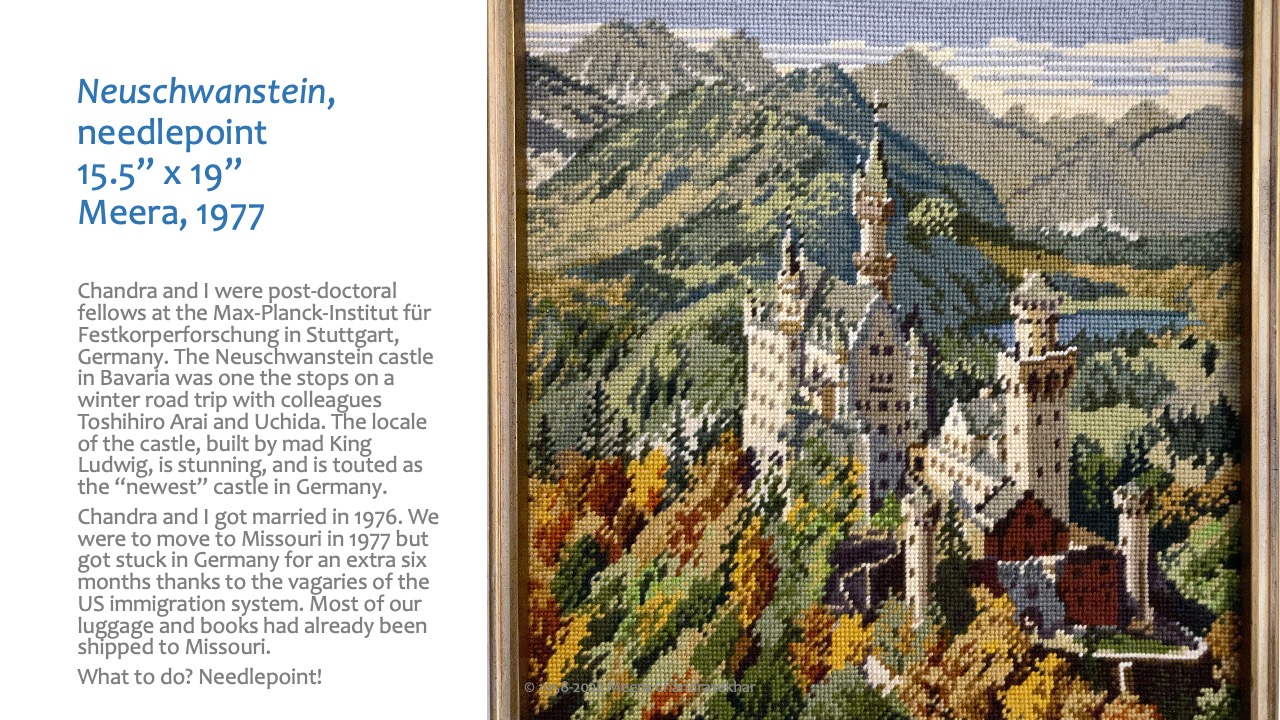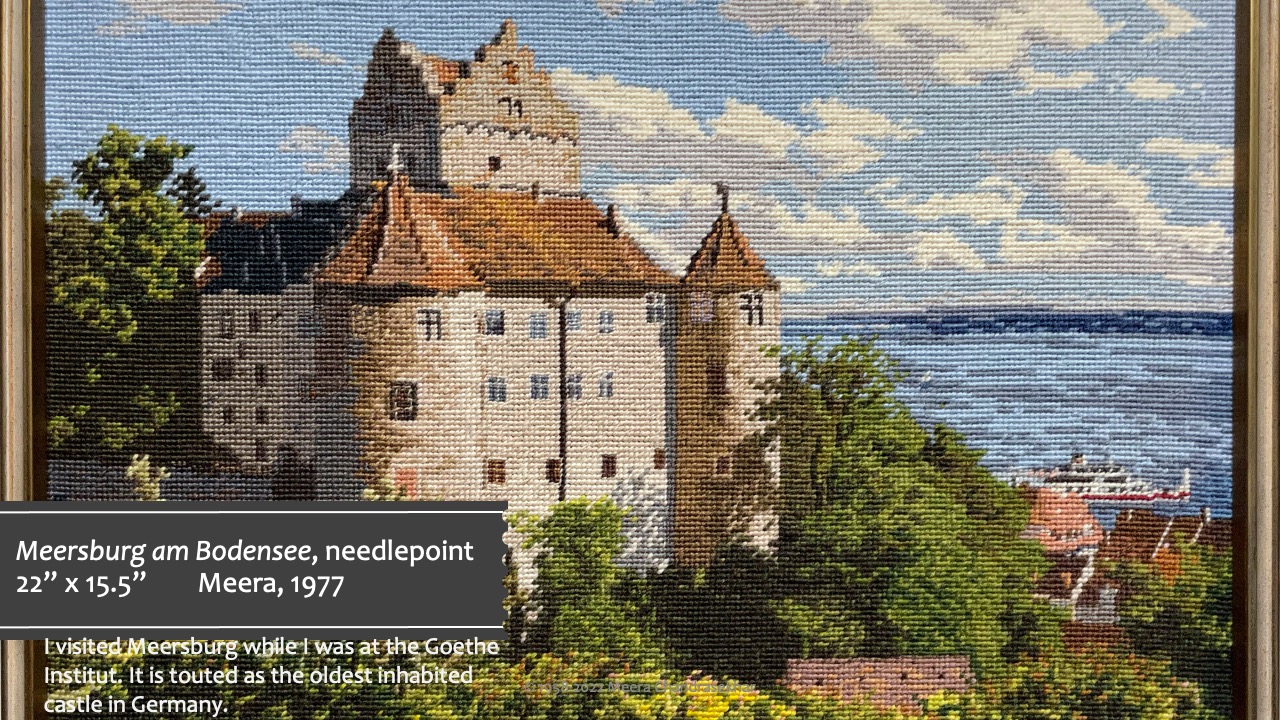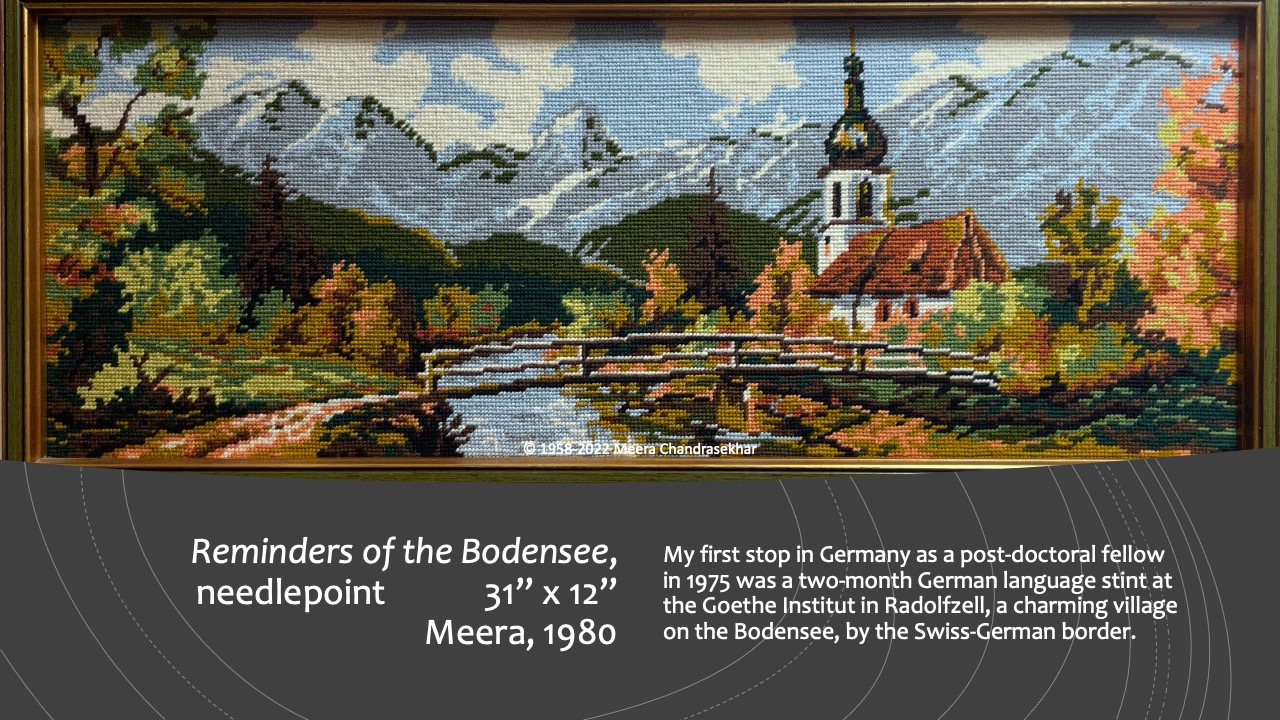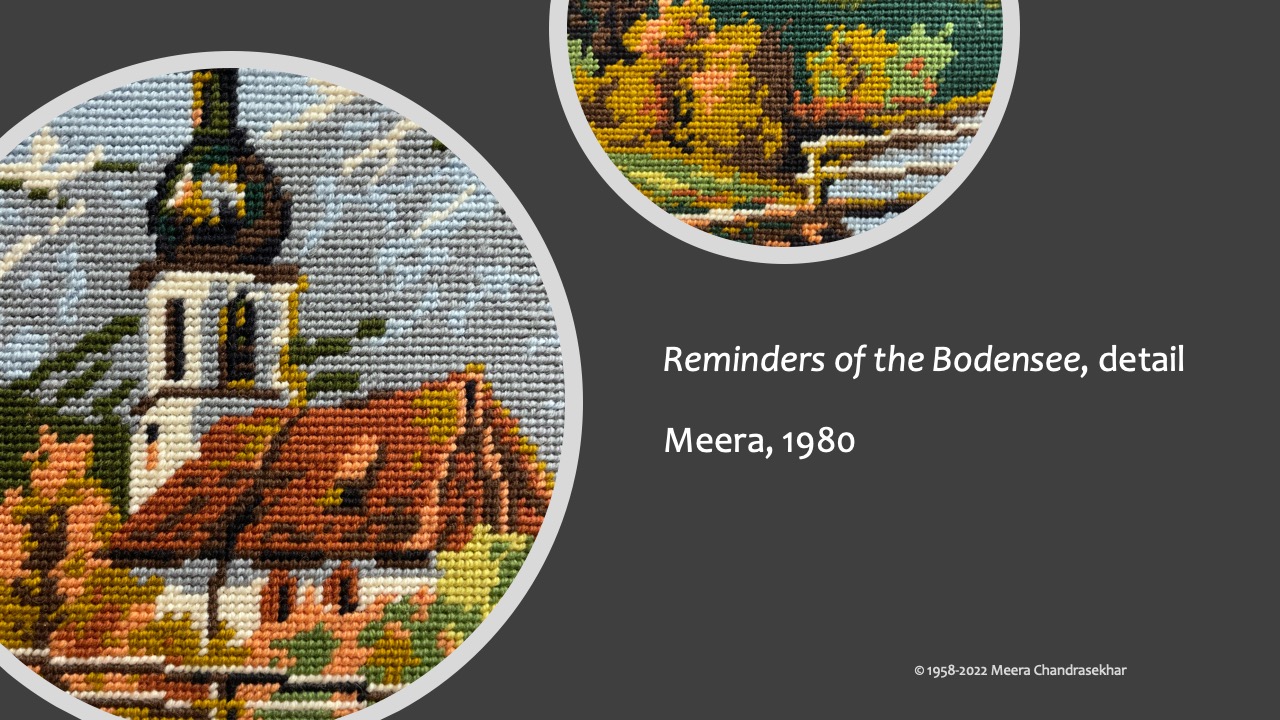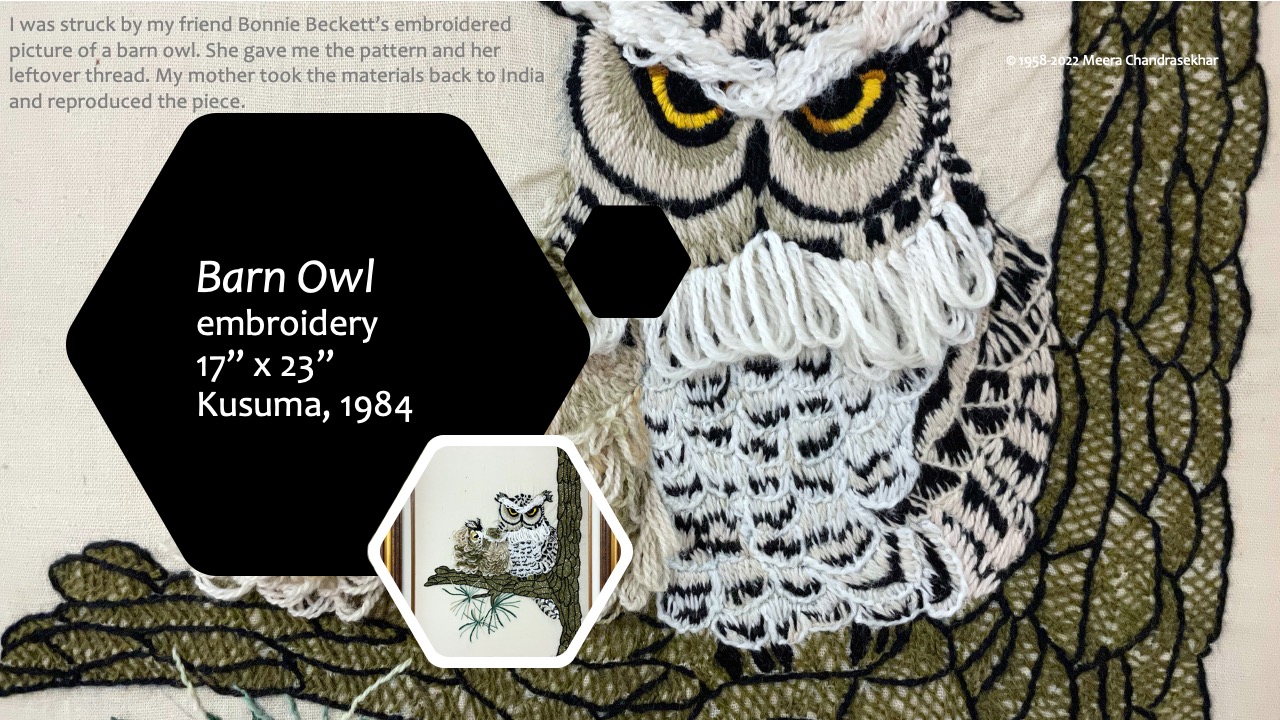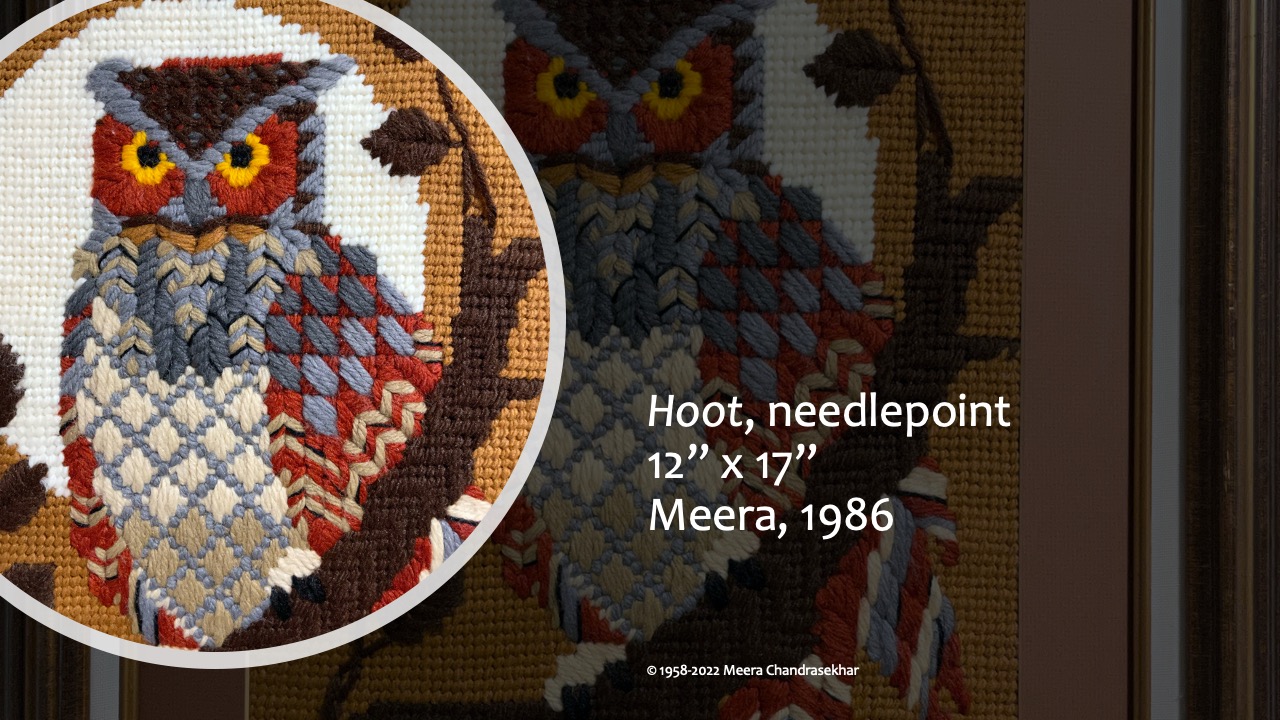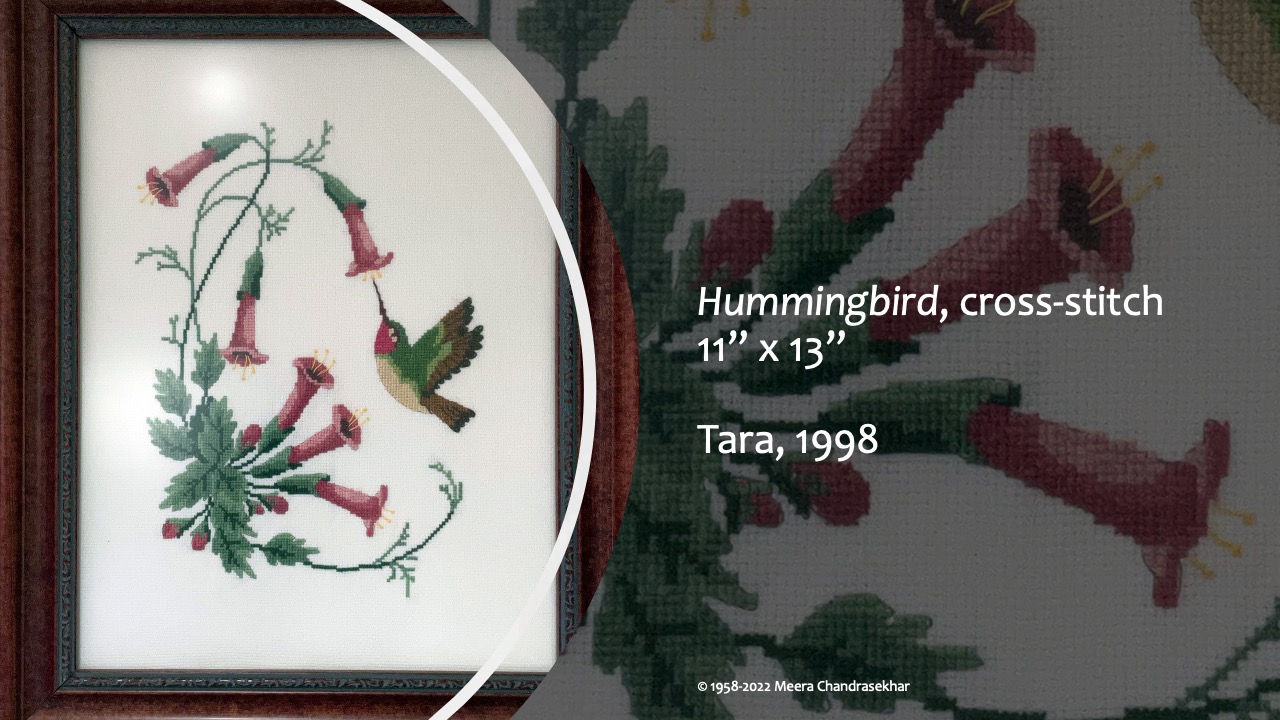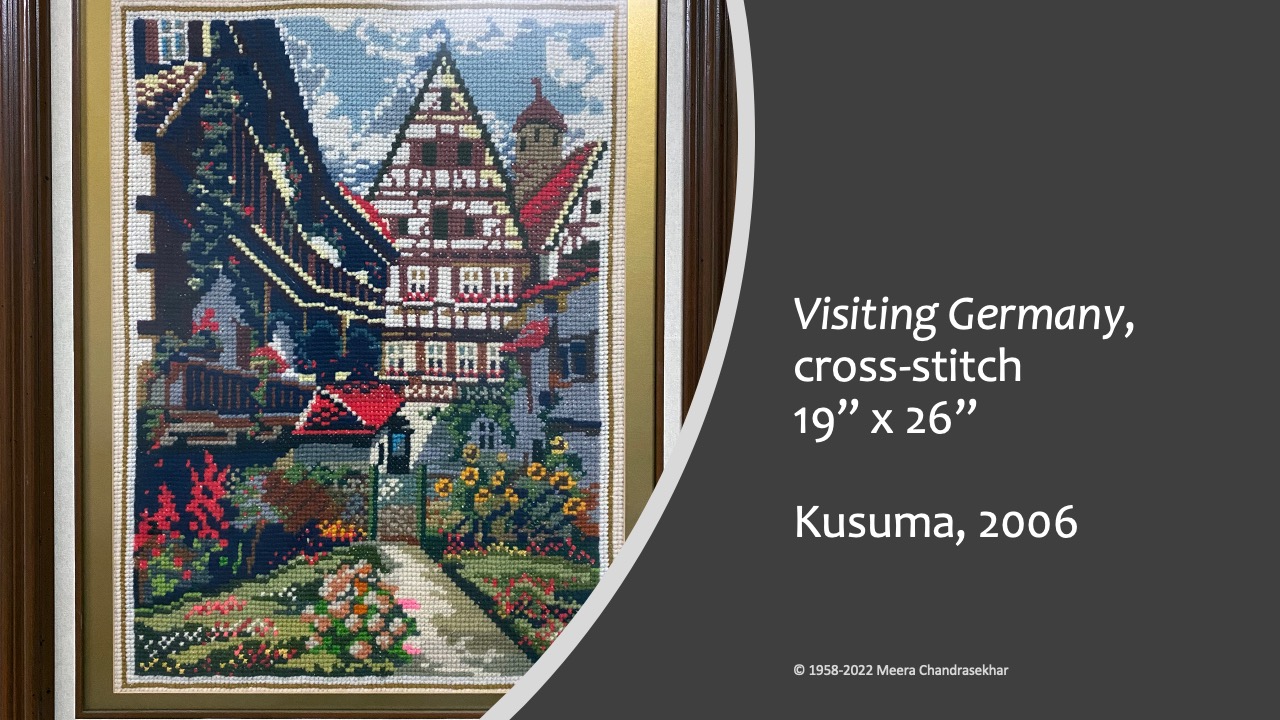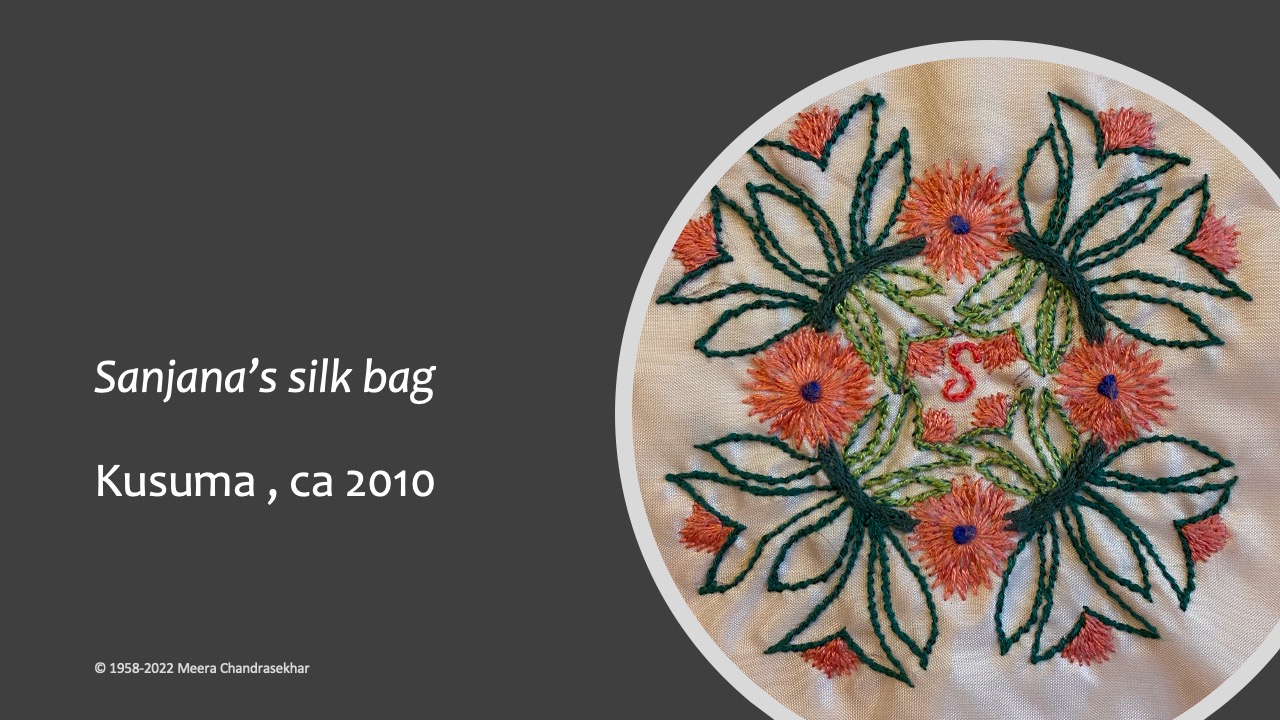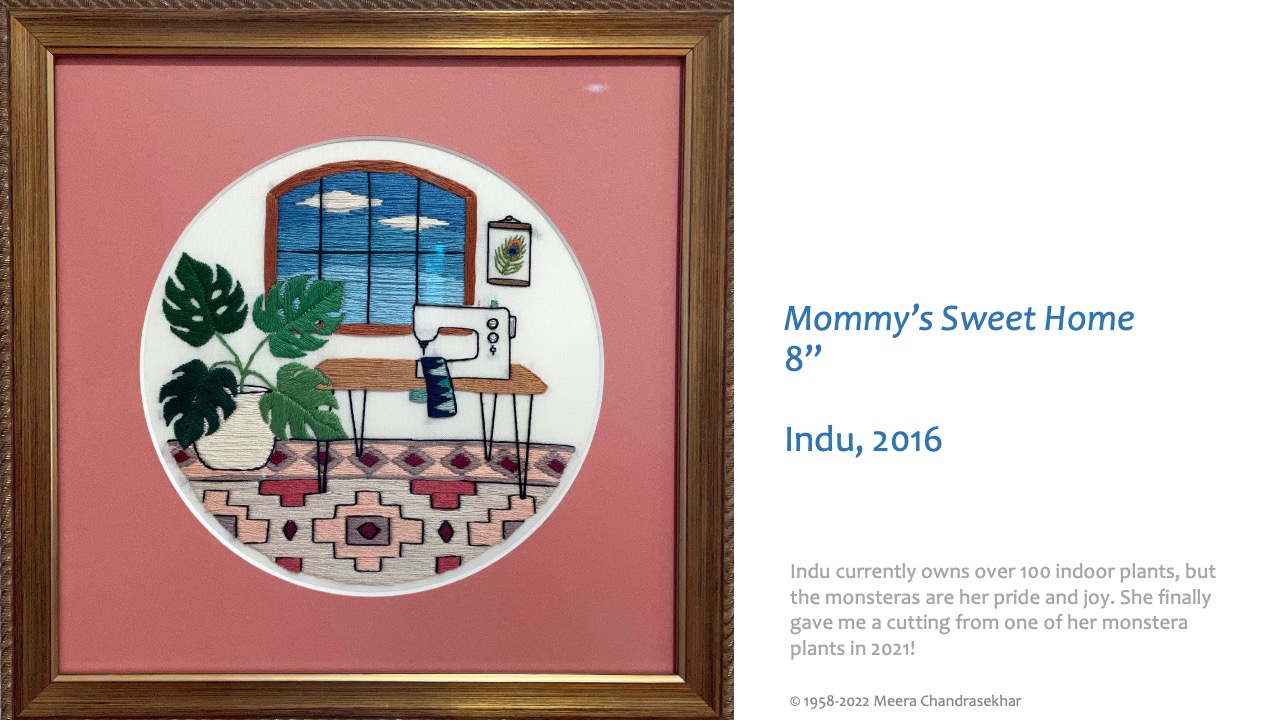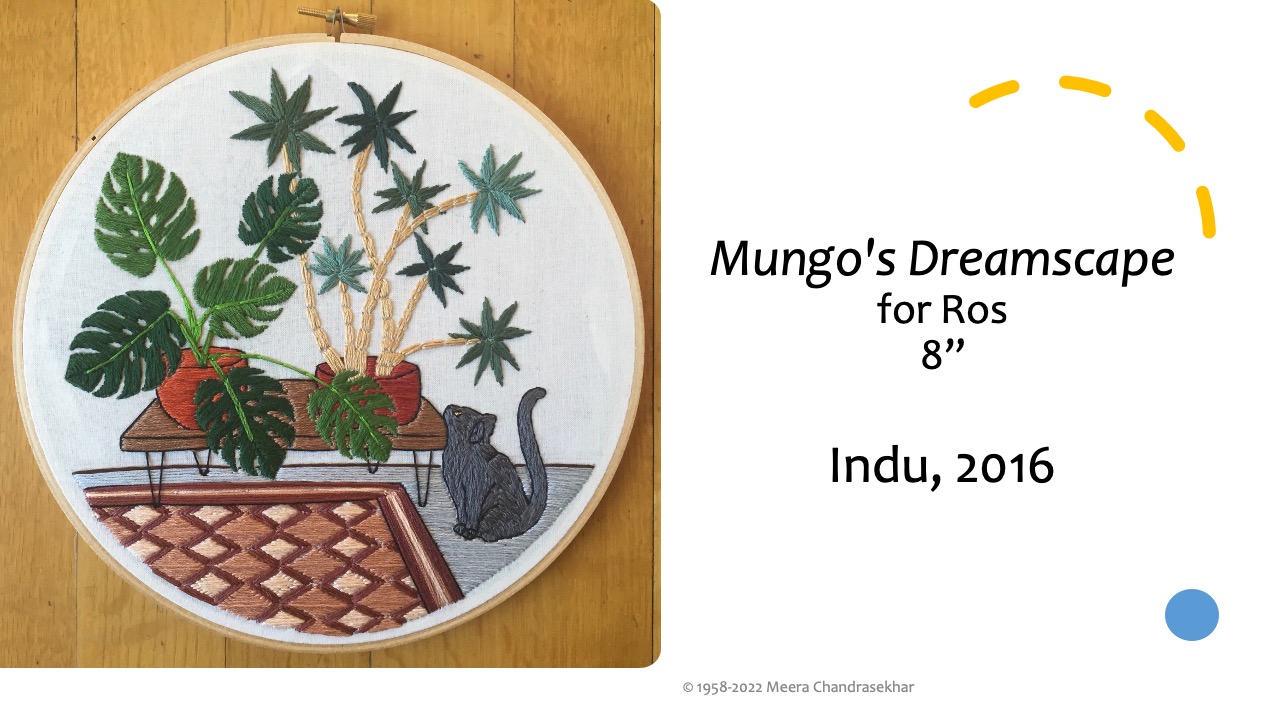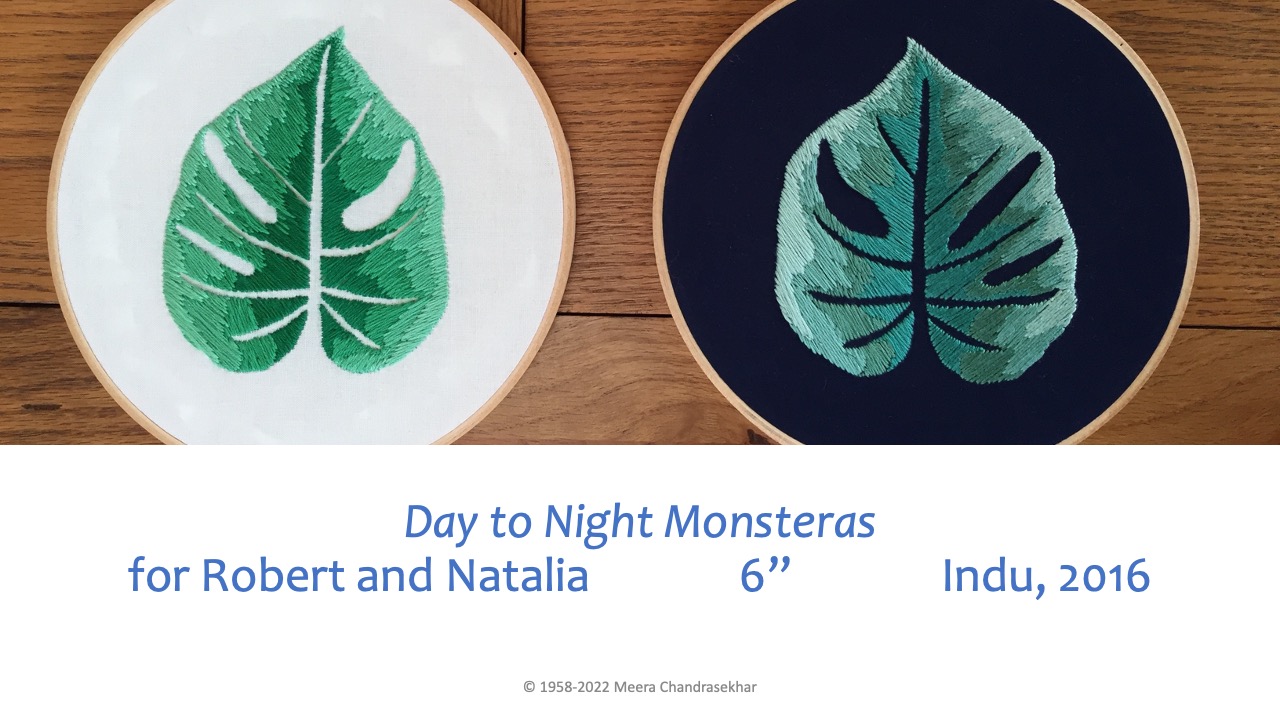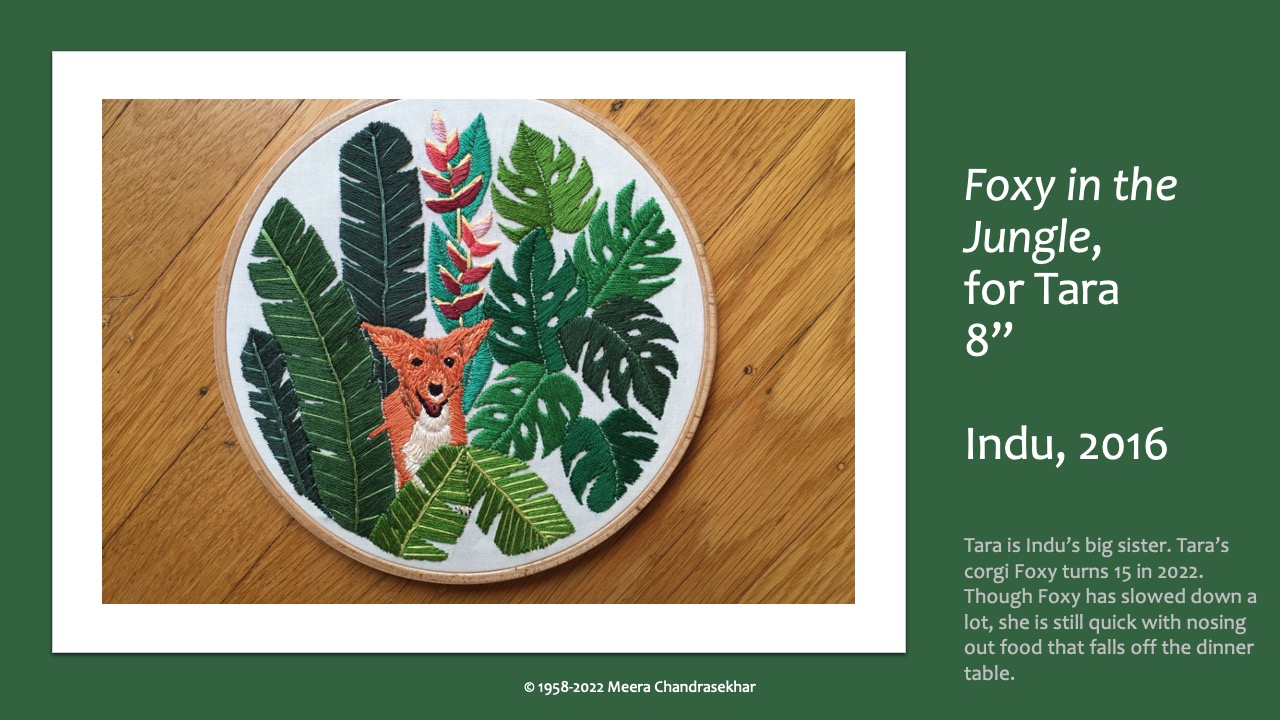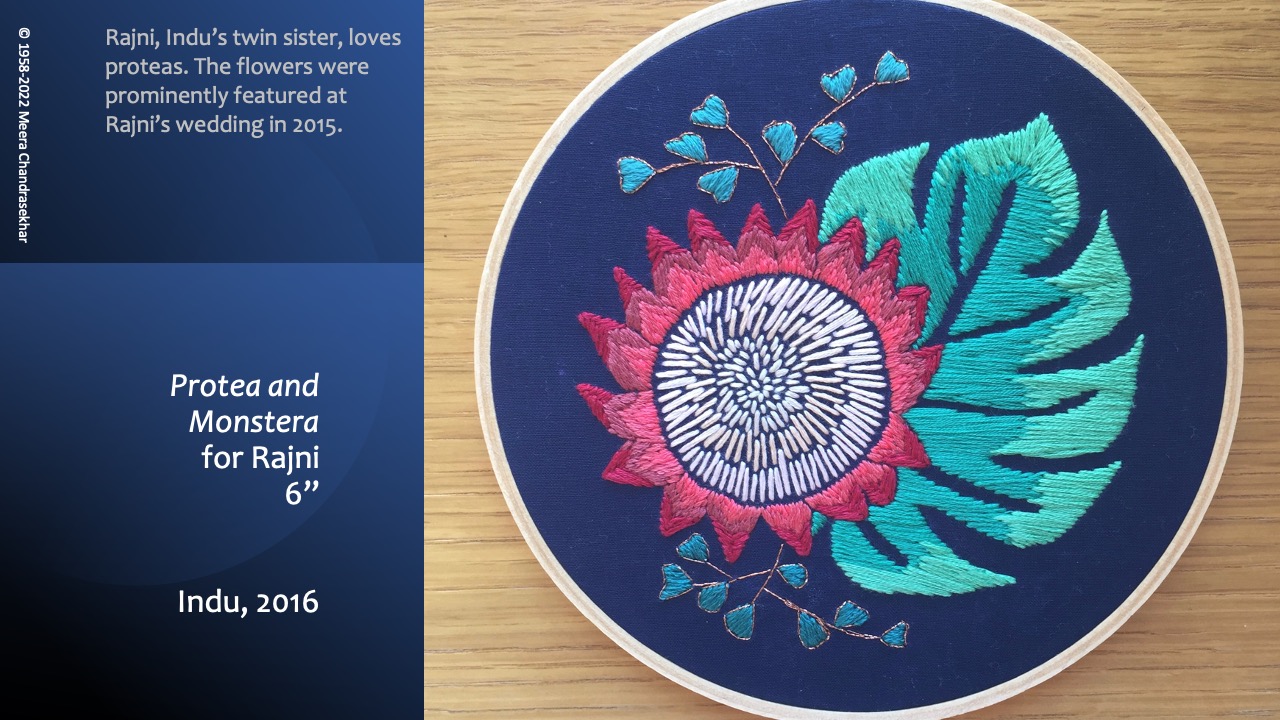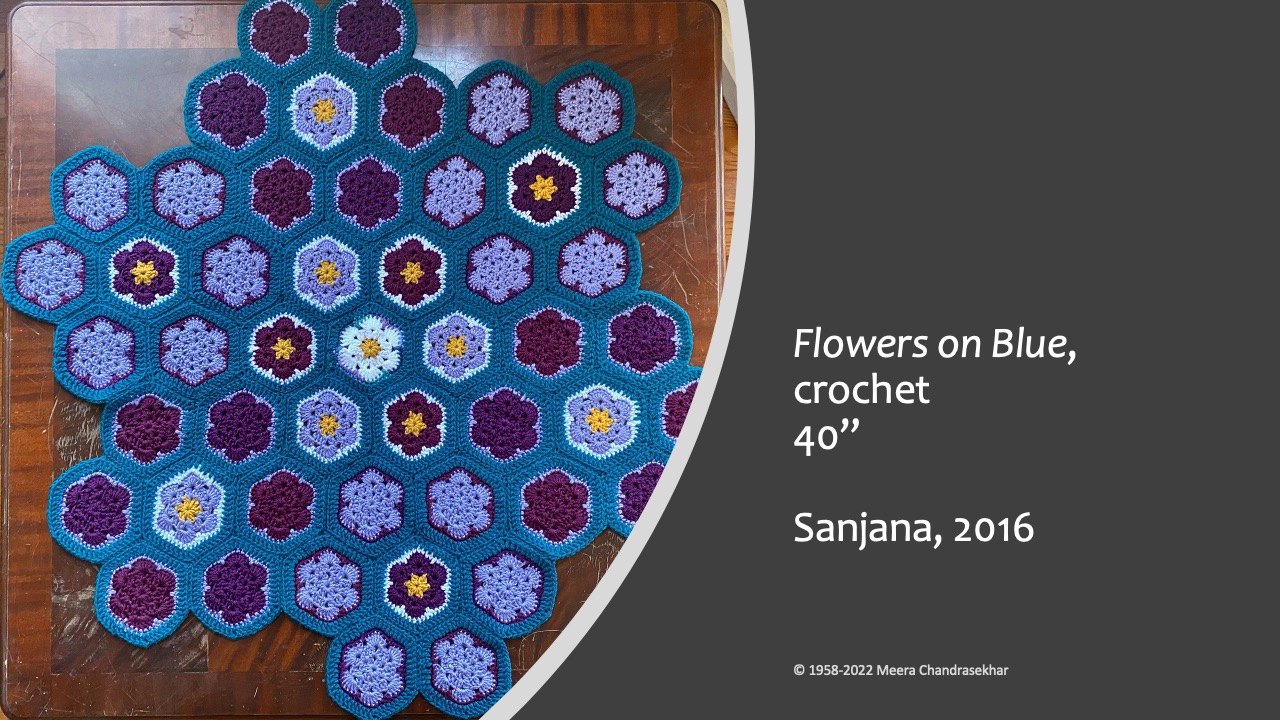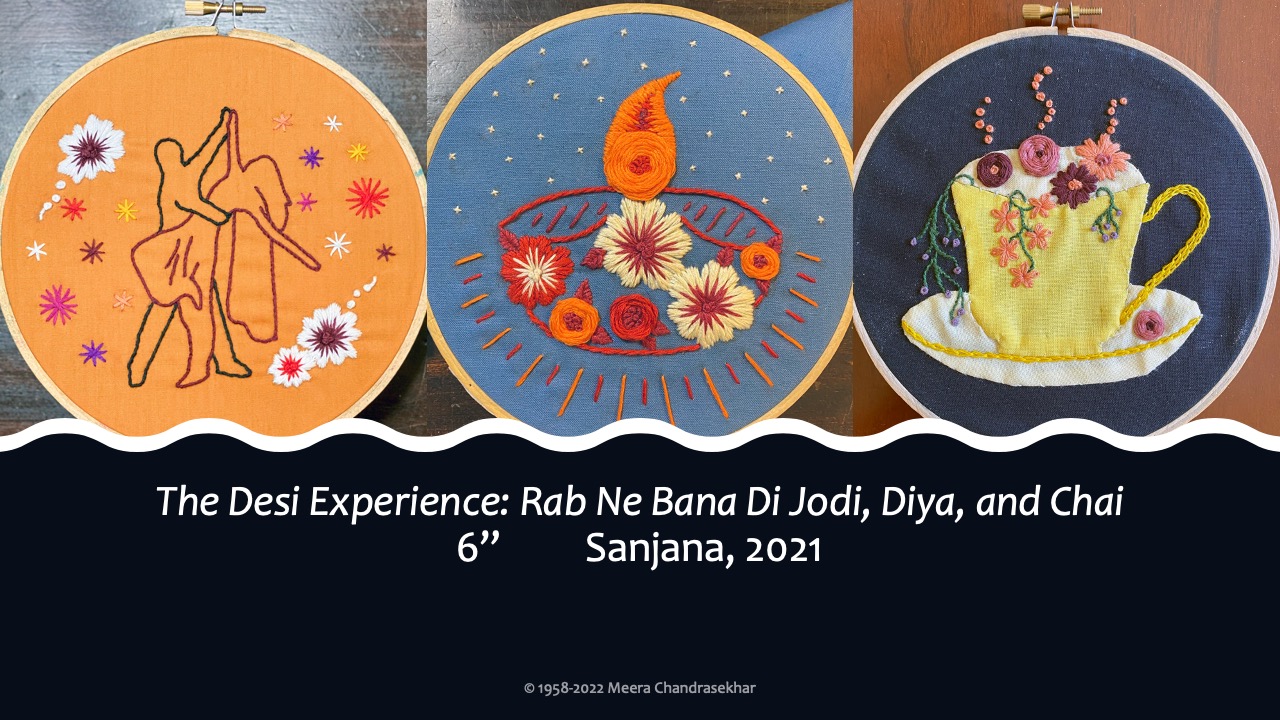 Baby Quilts 2012 – present
Some of these quilts are available in my Etsy shop, Chandra Handmade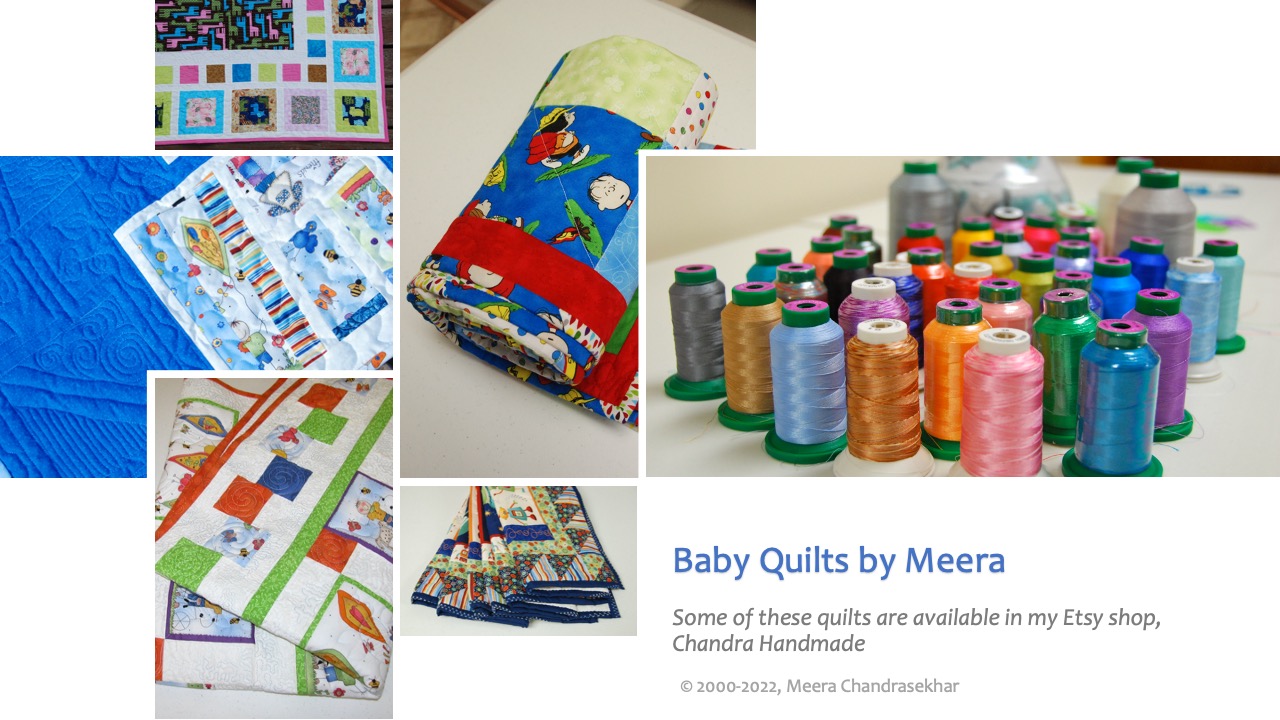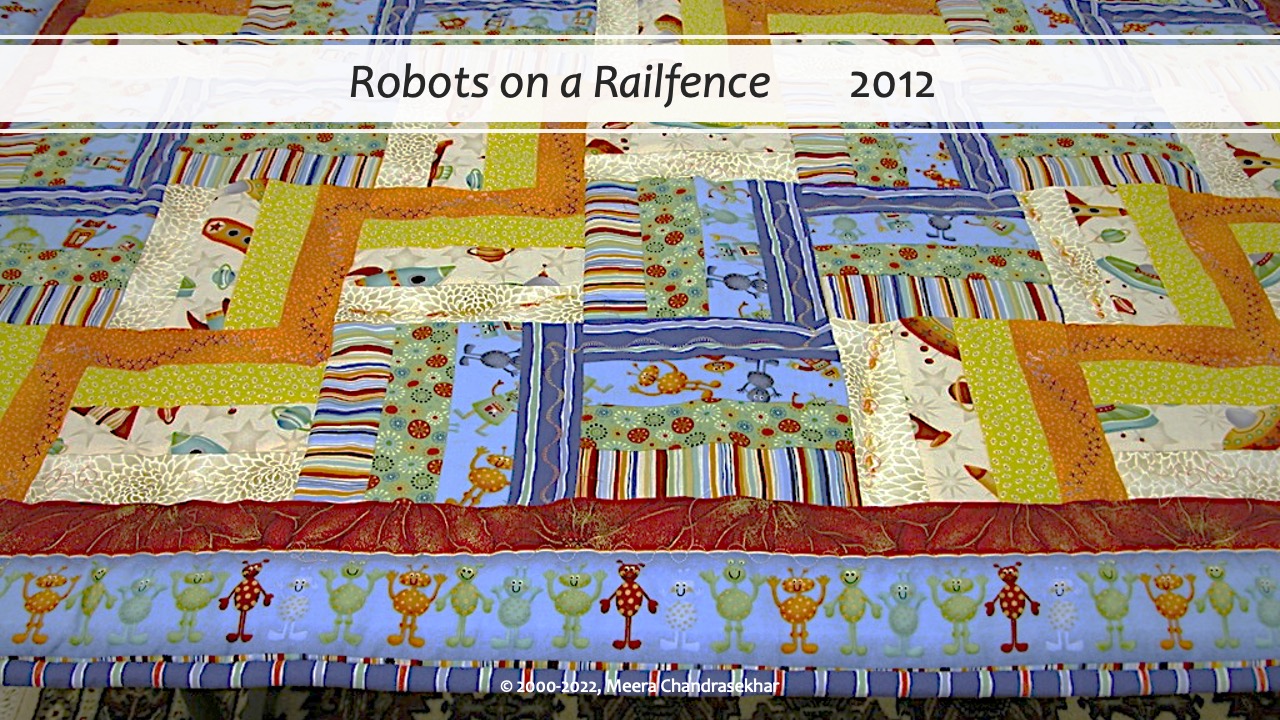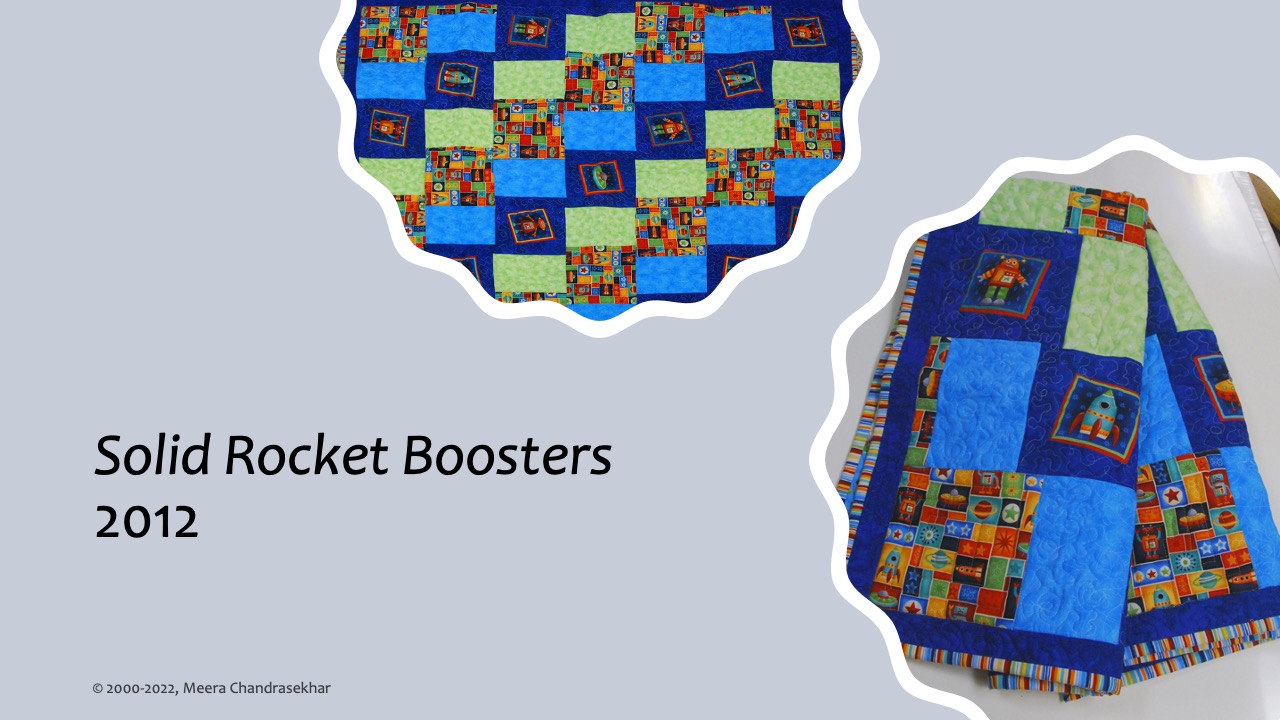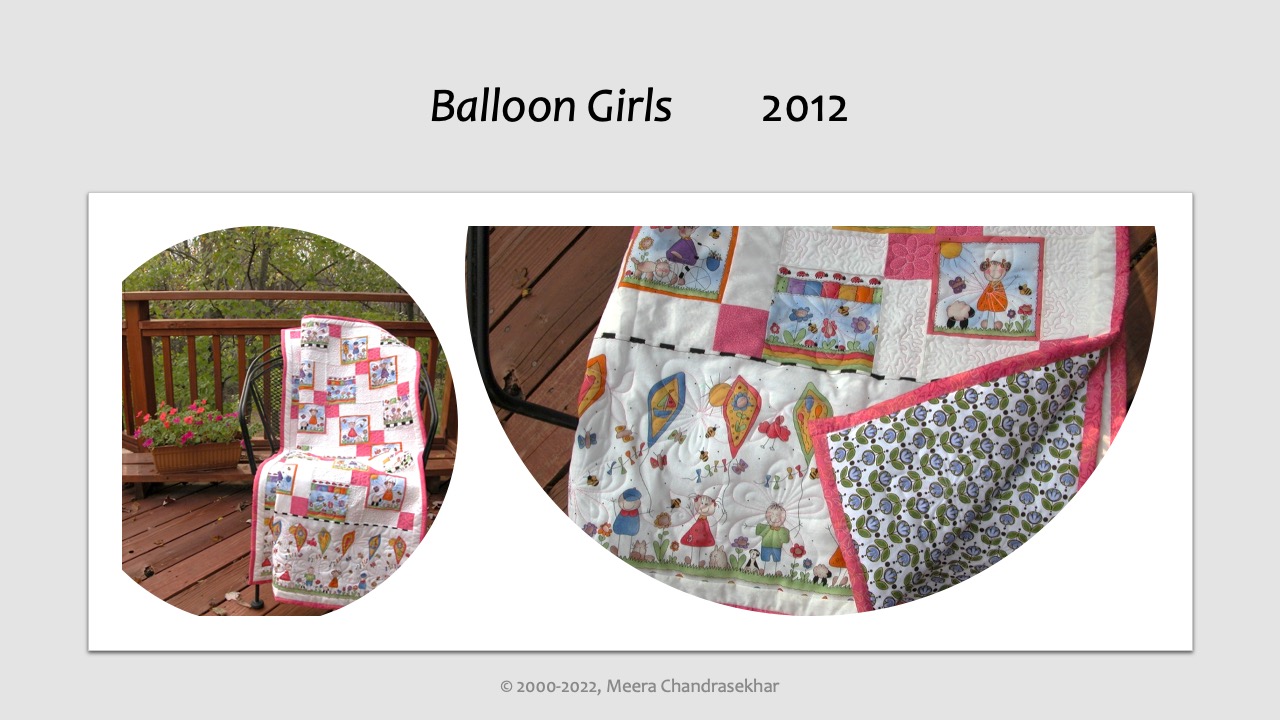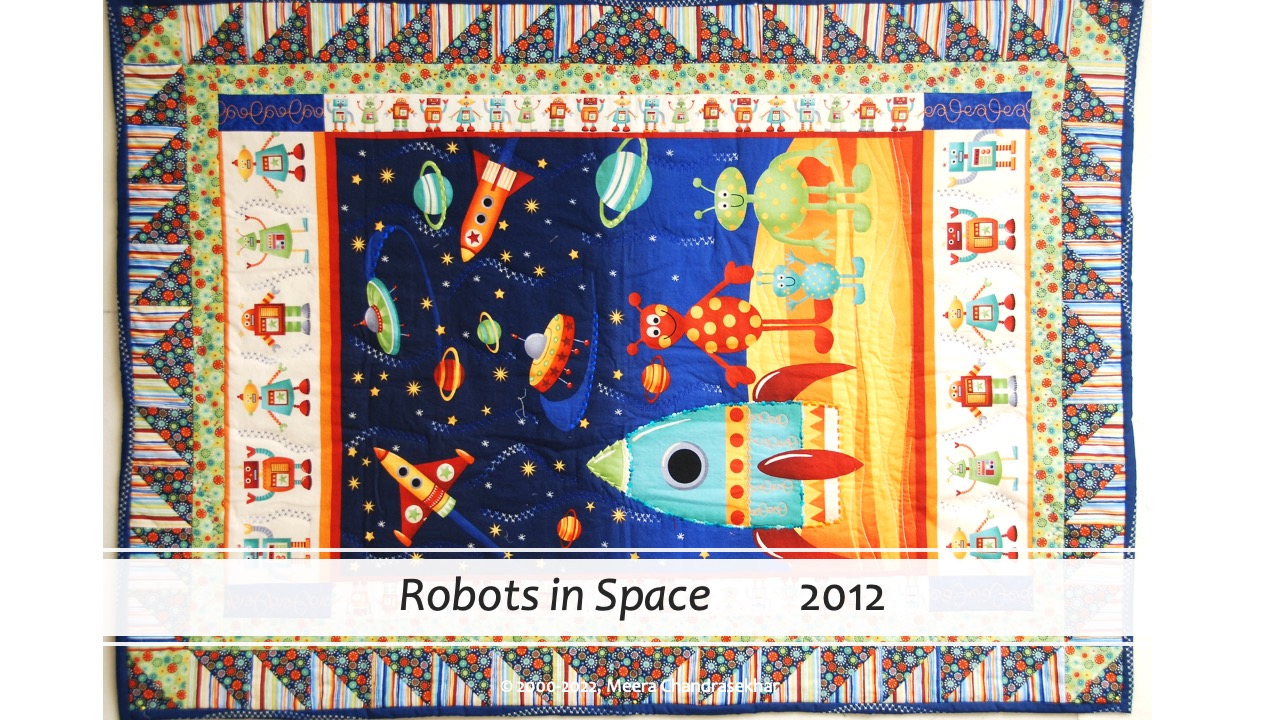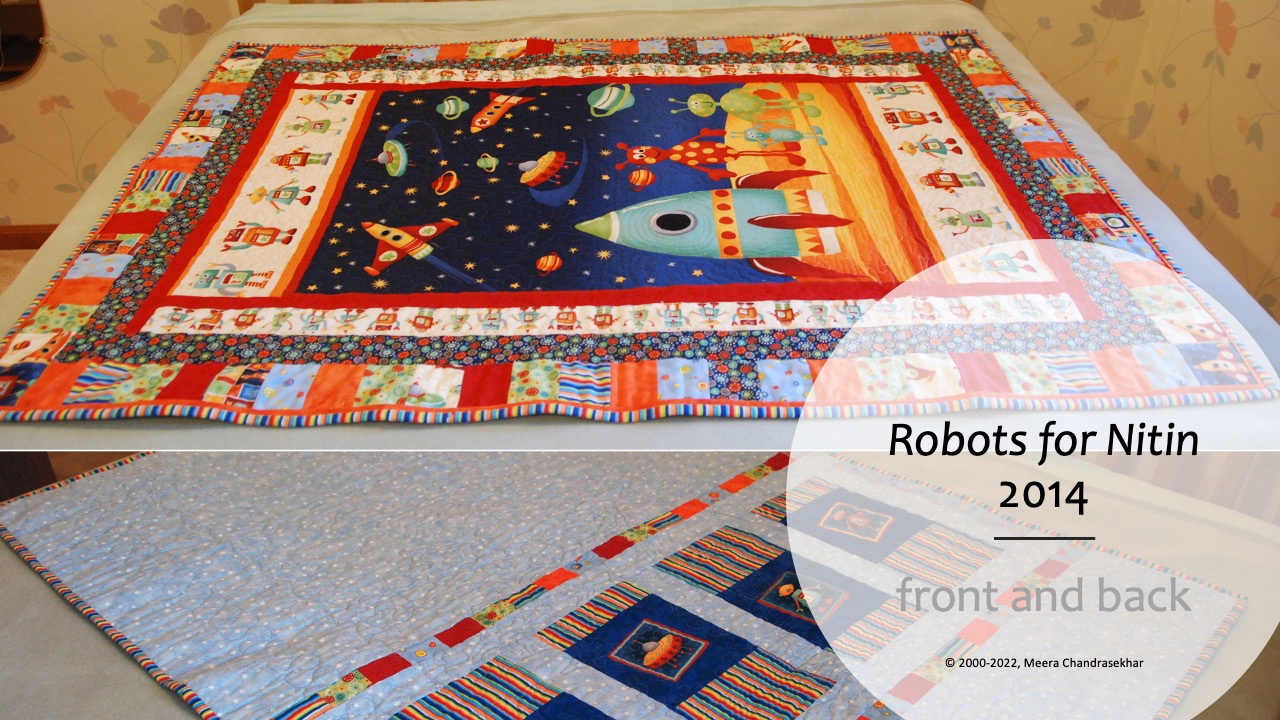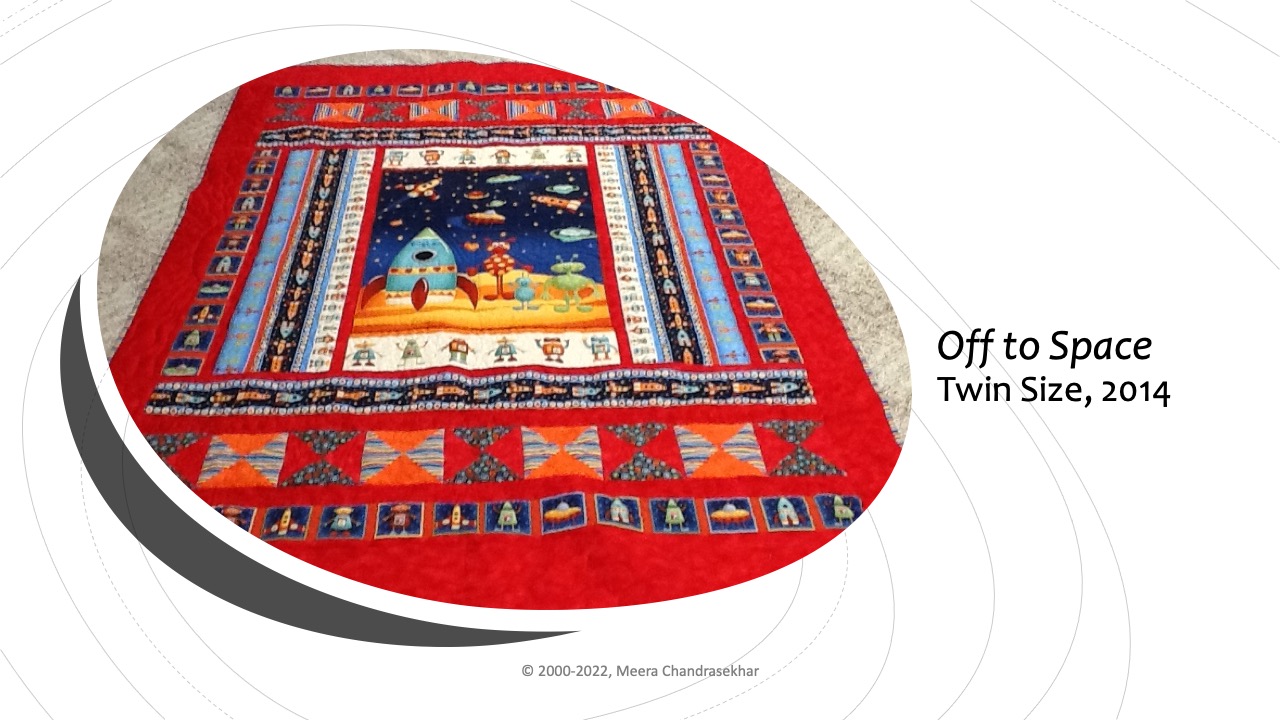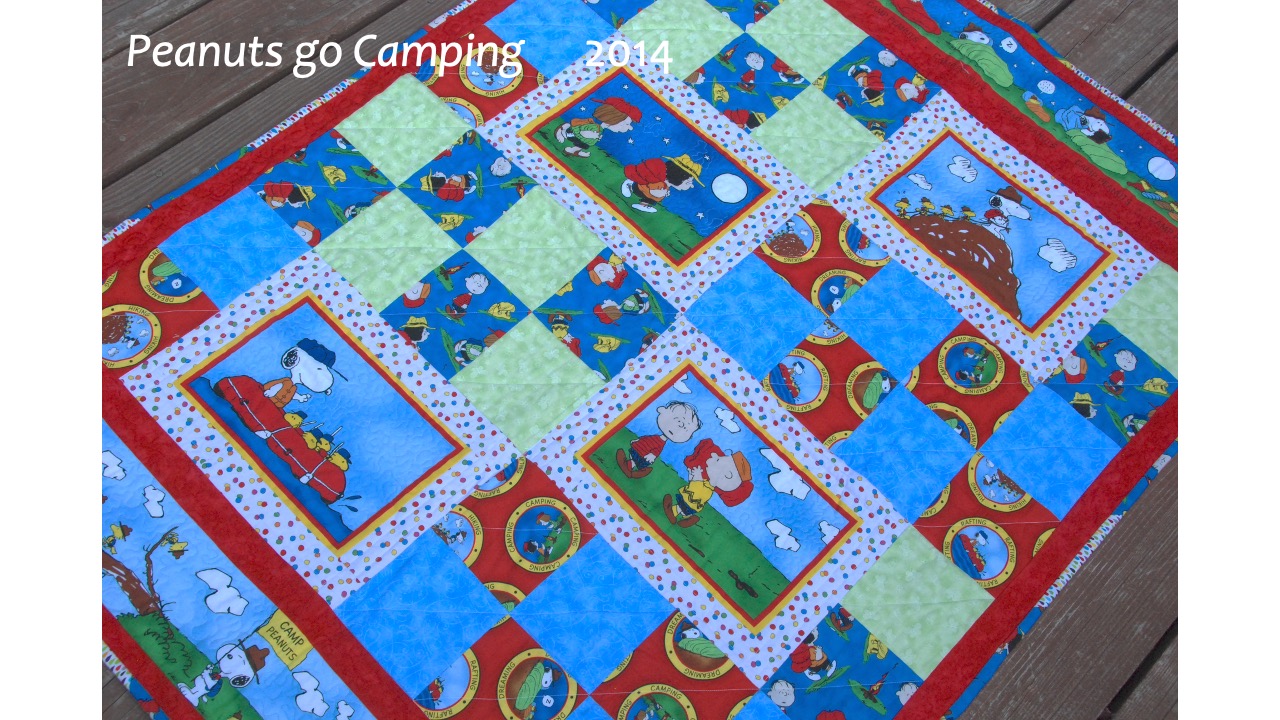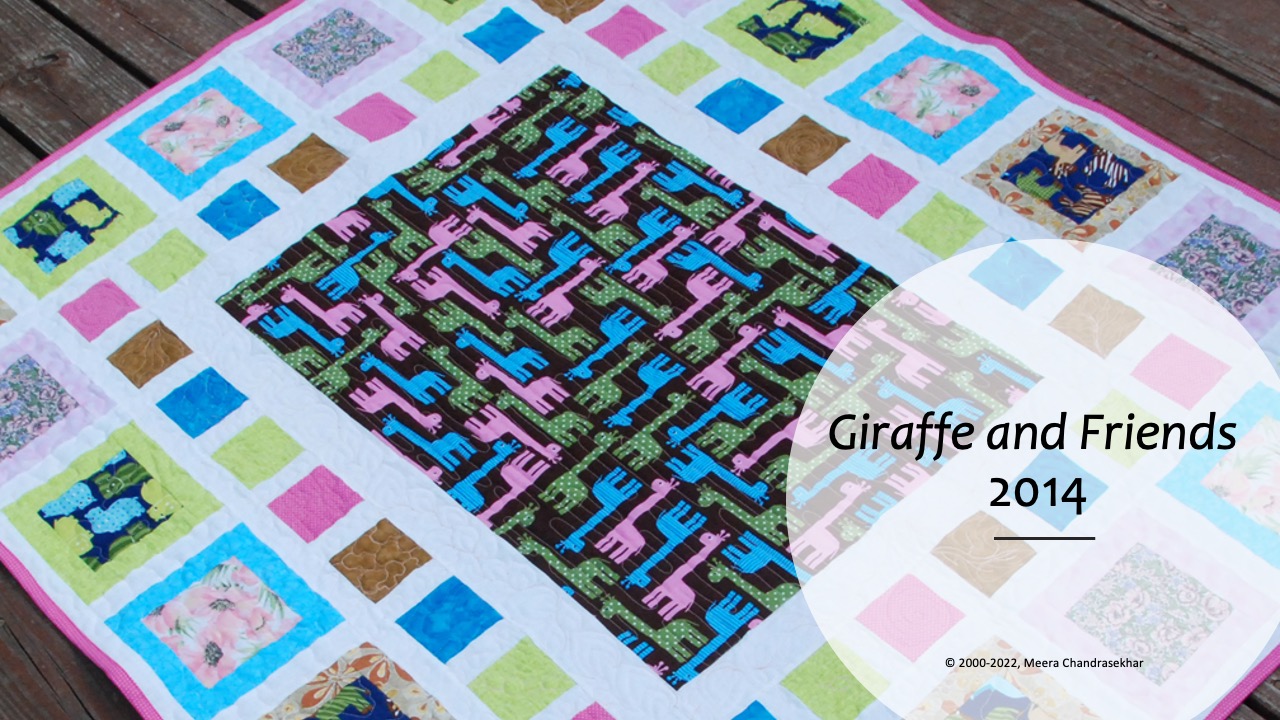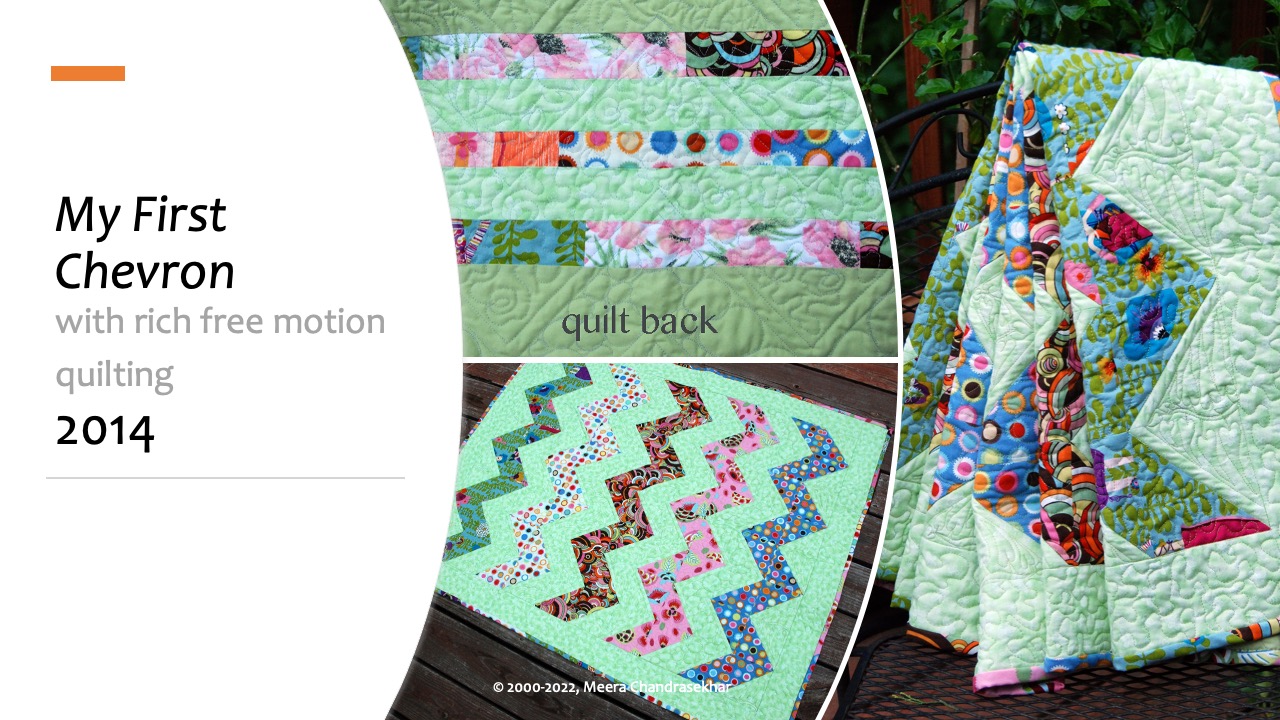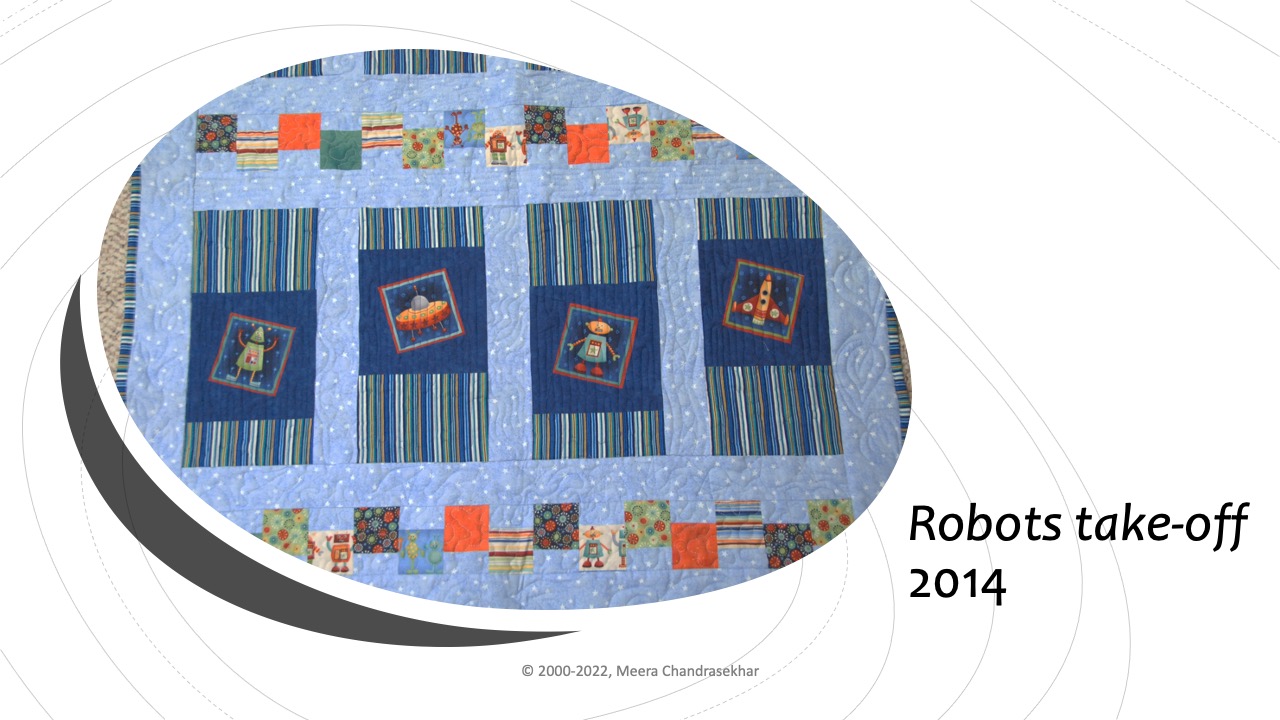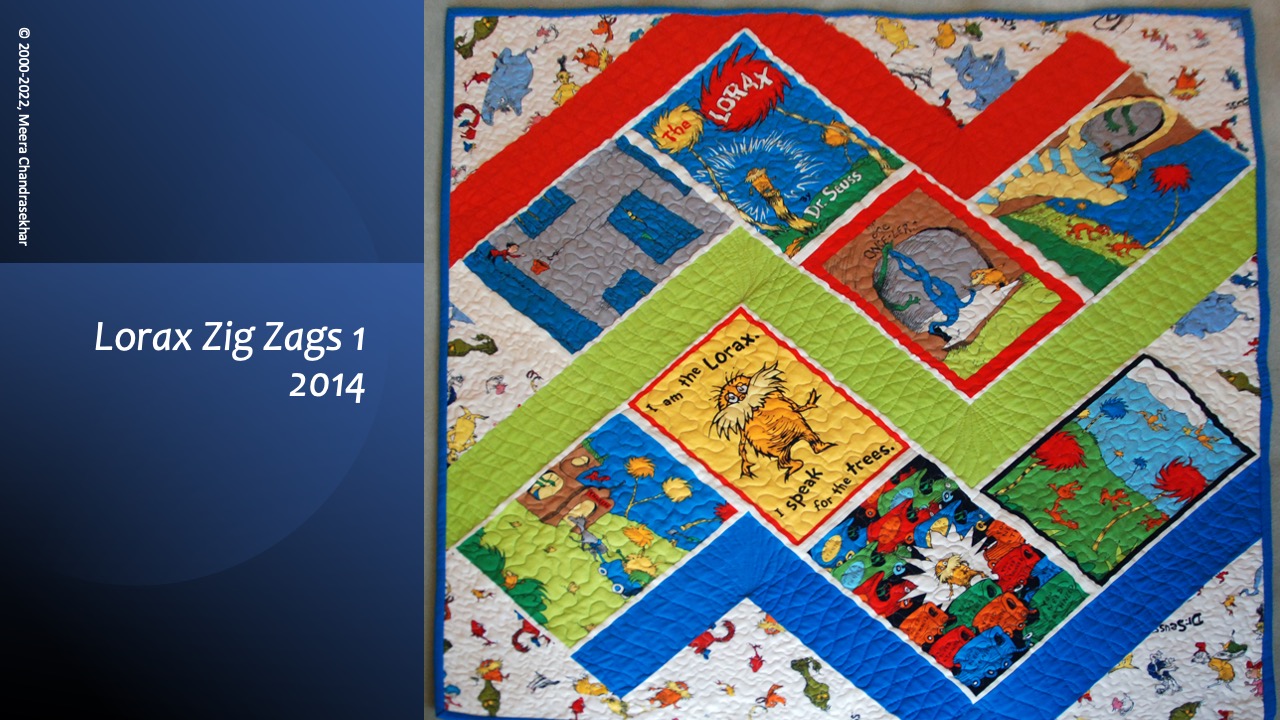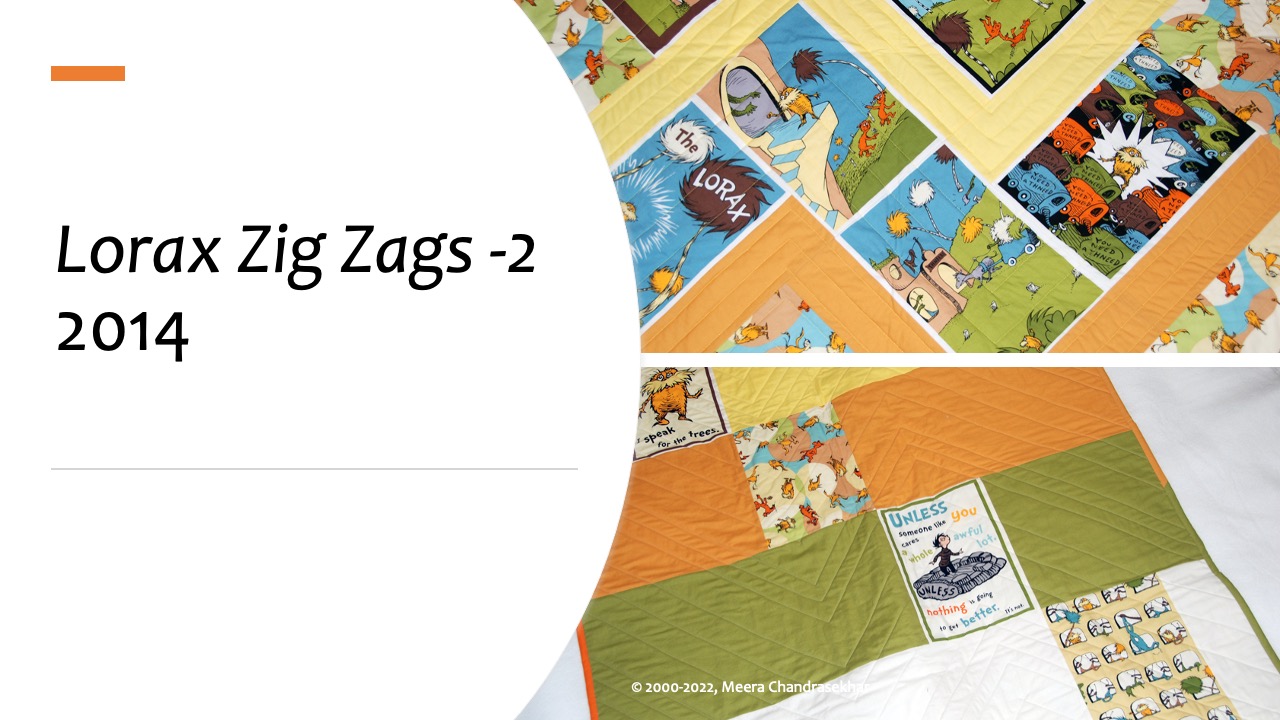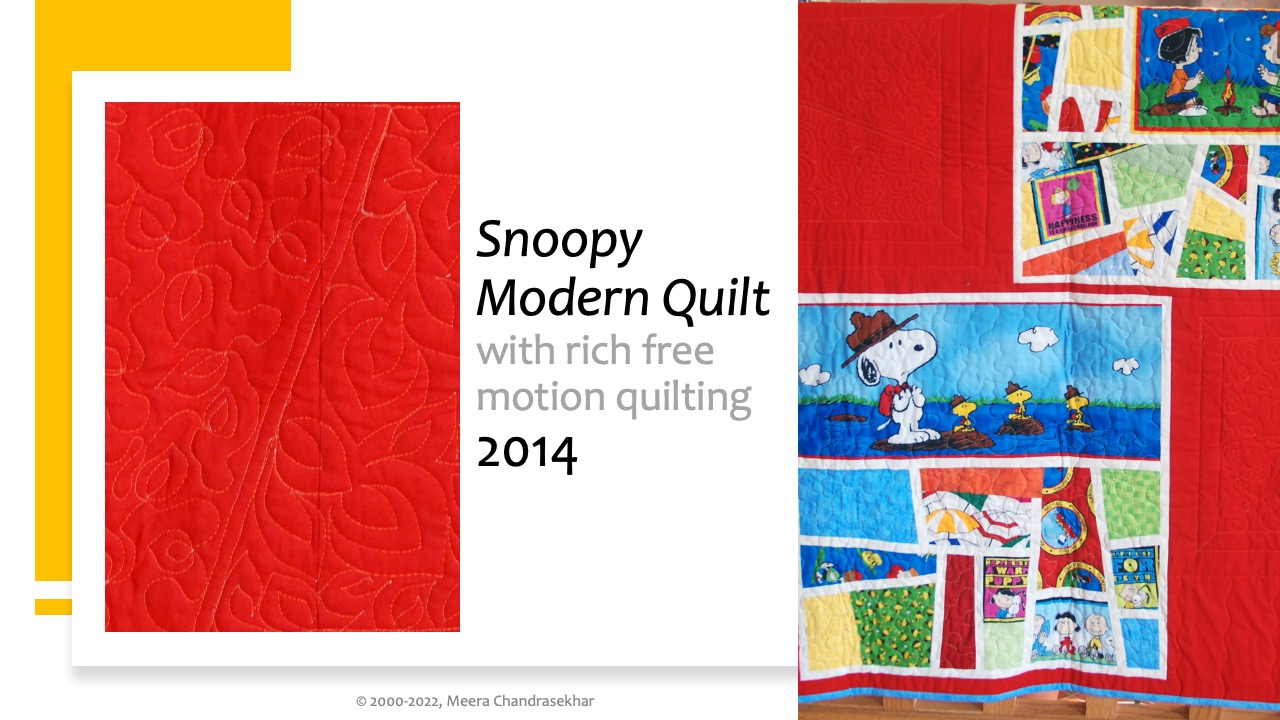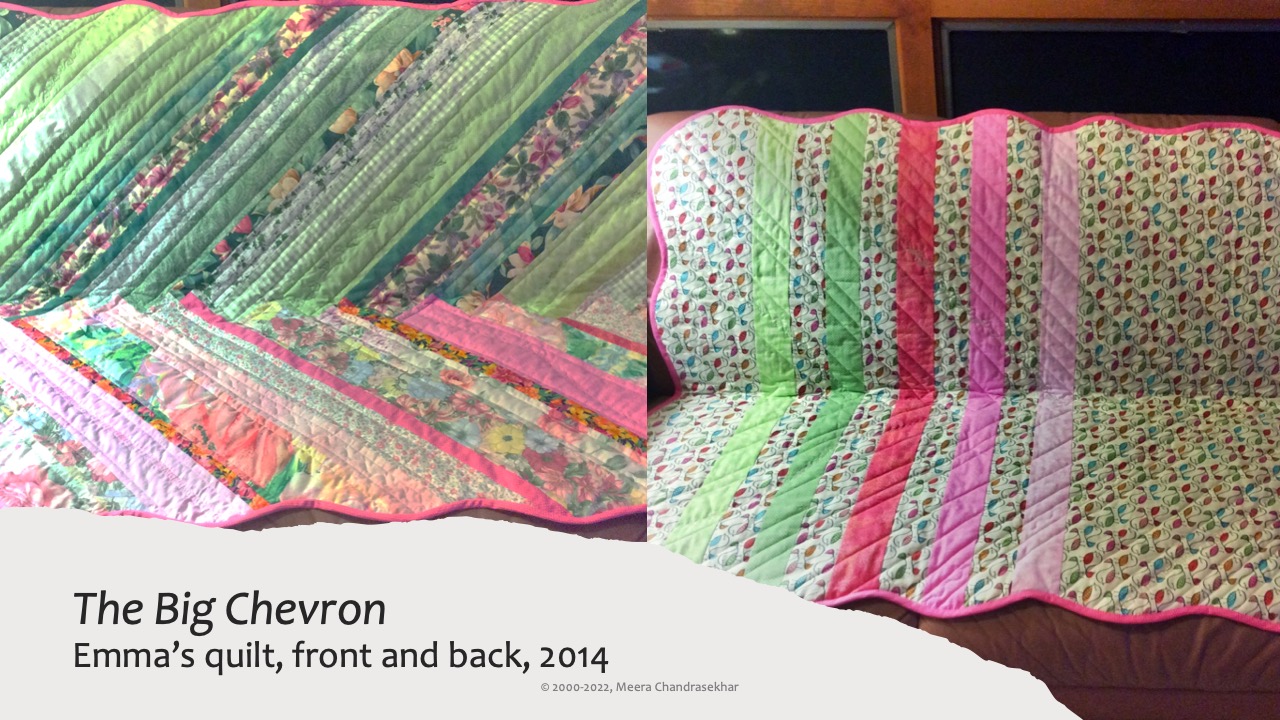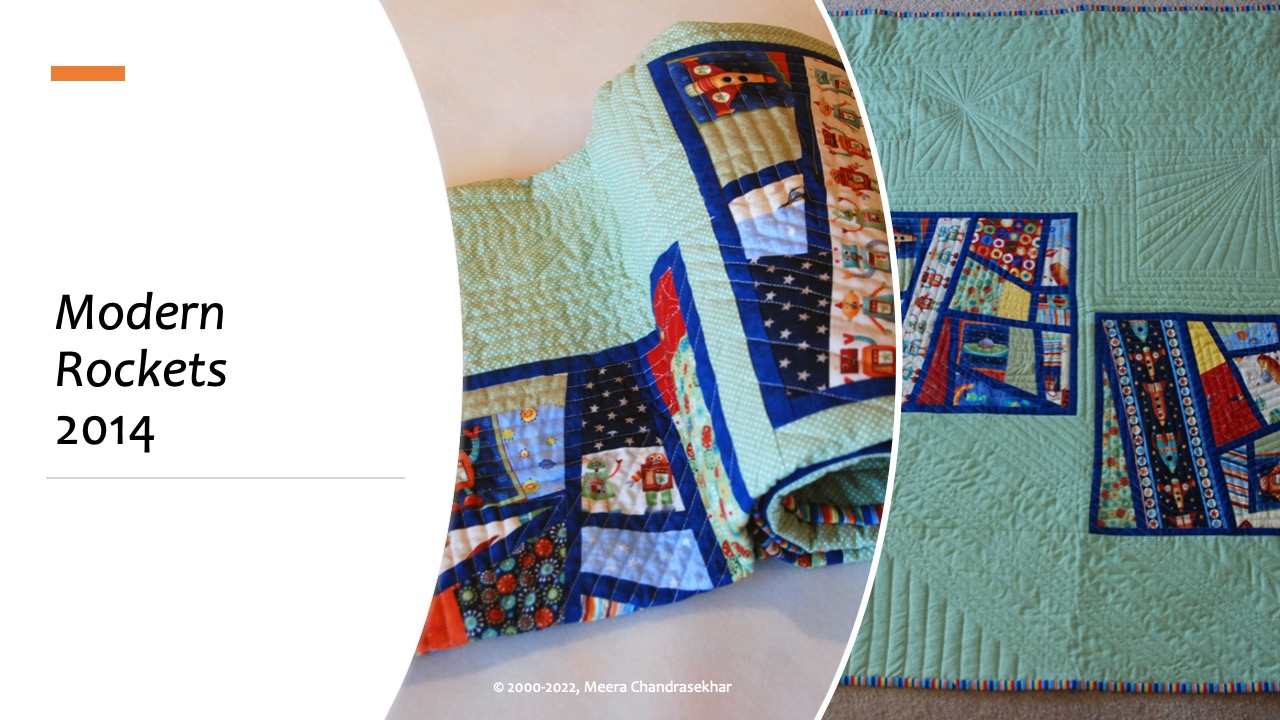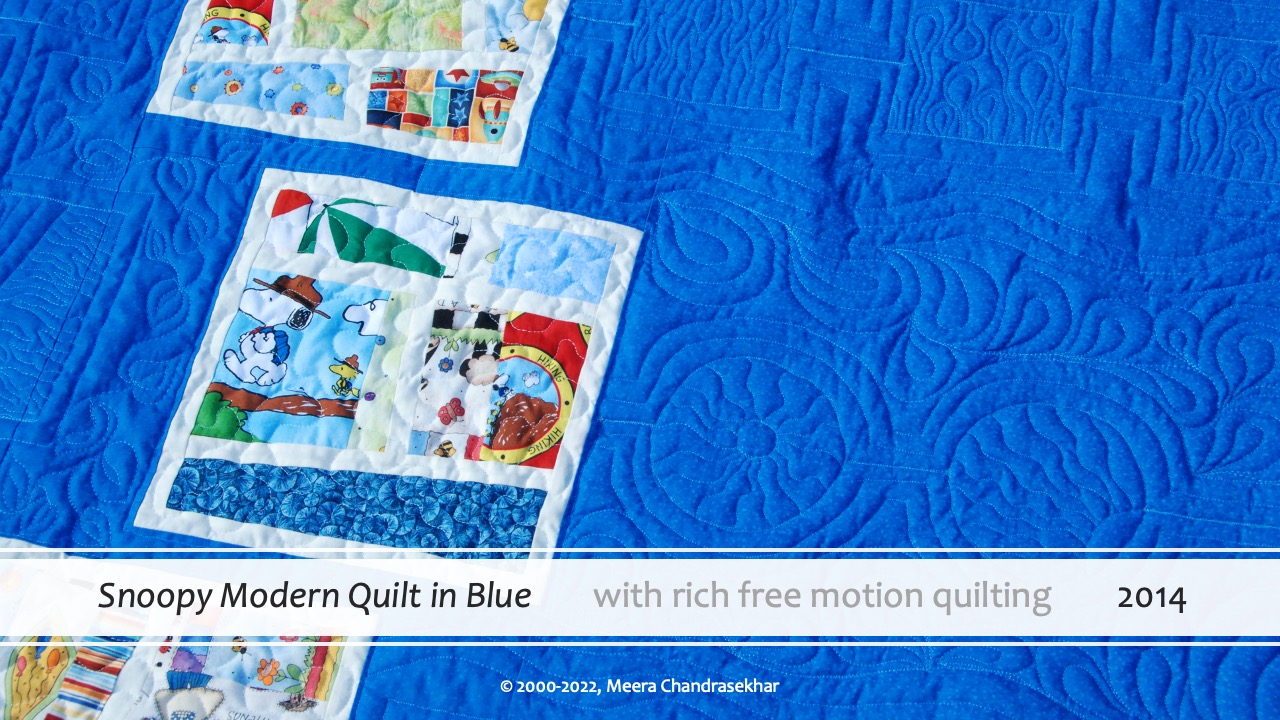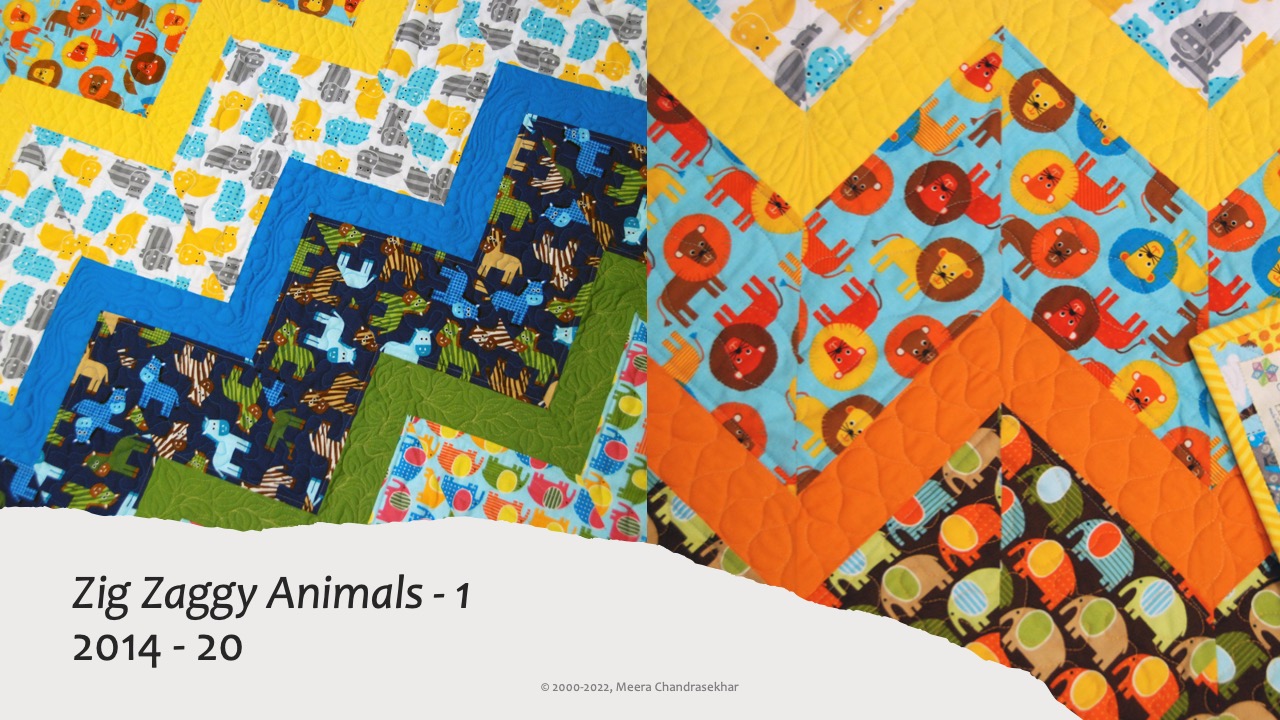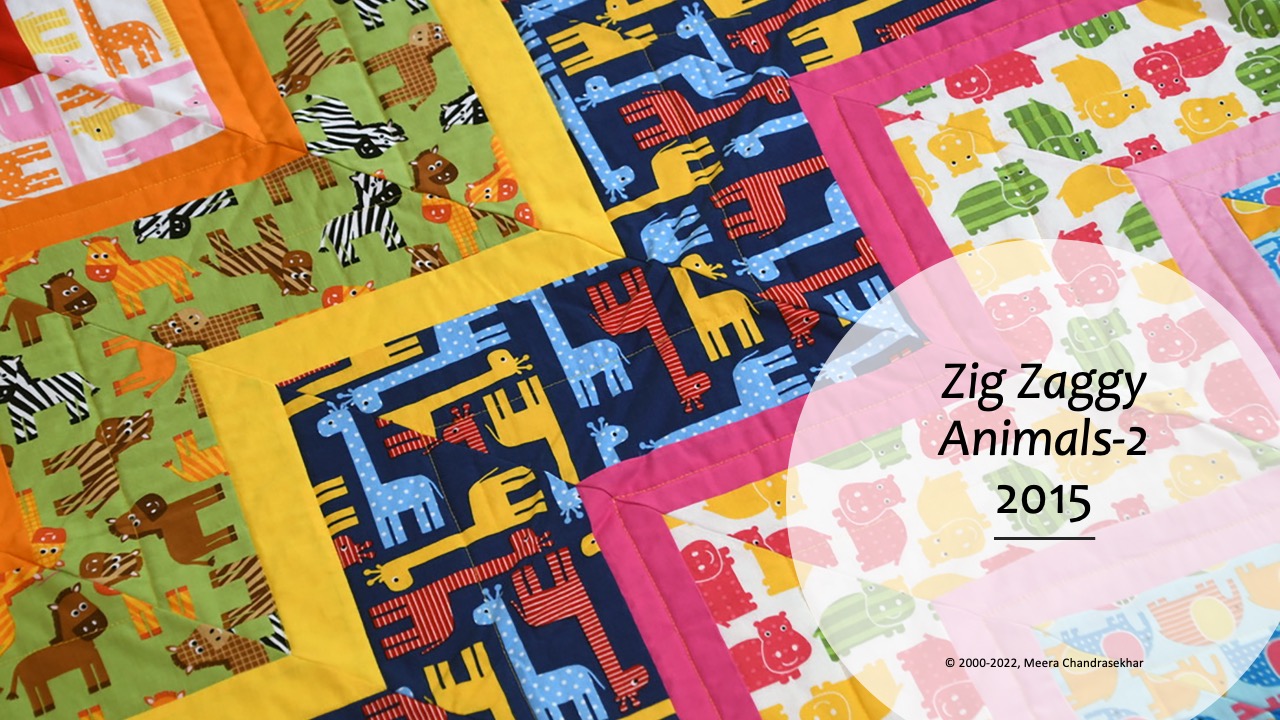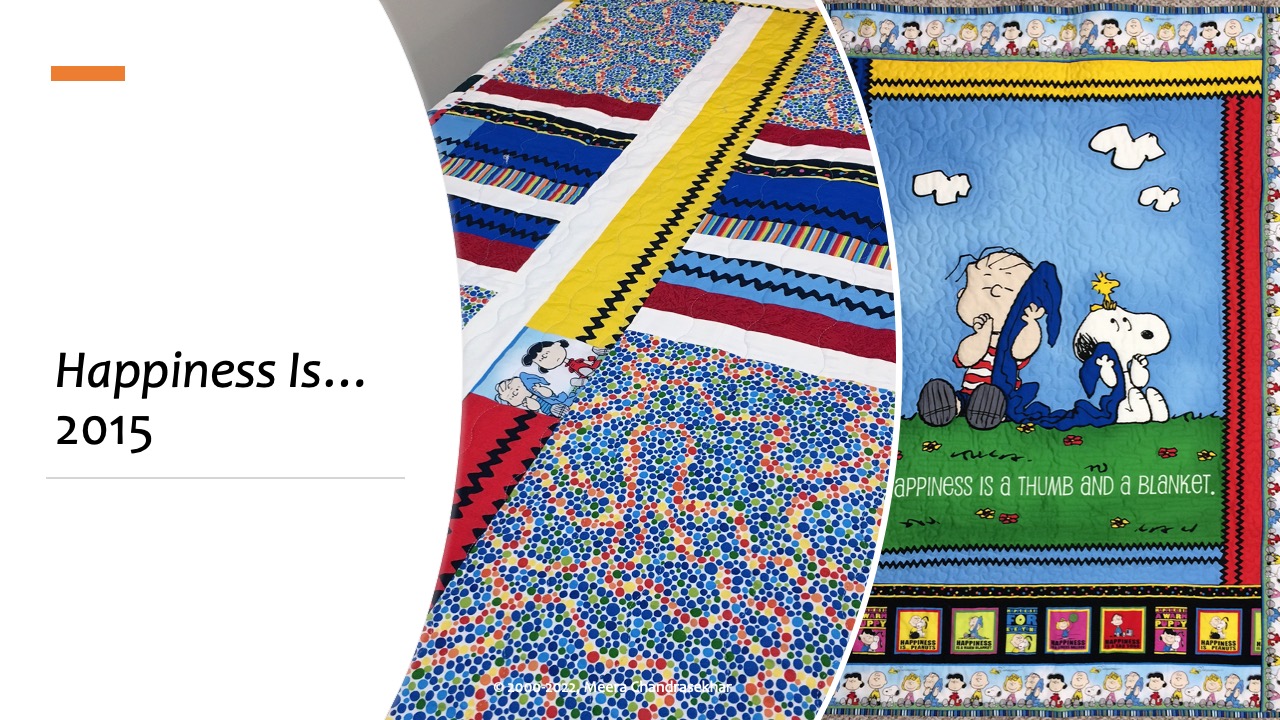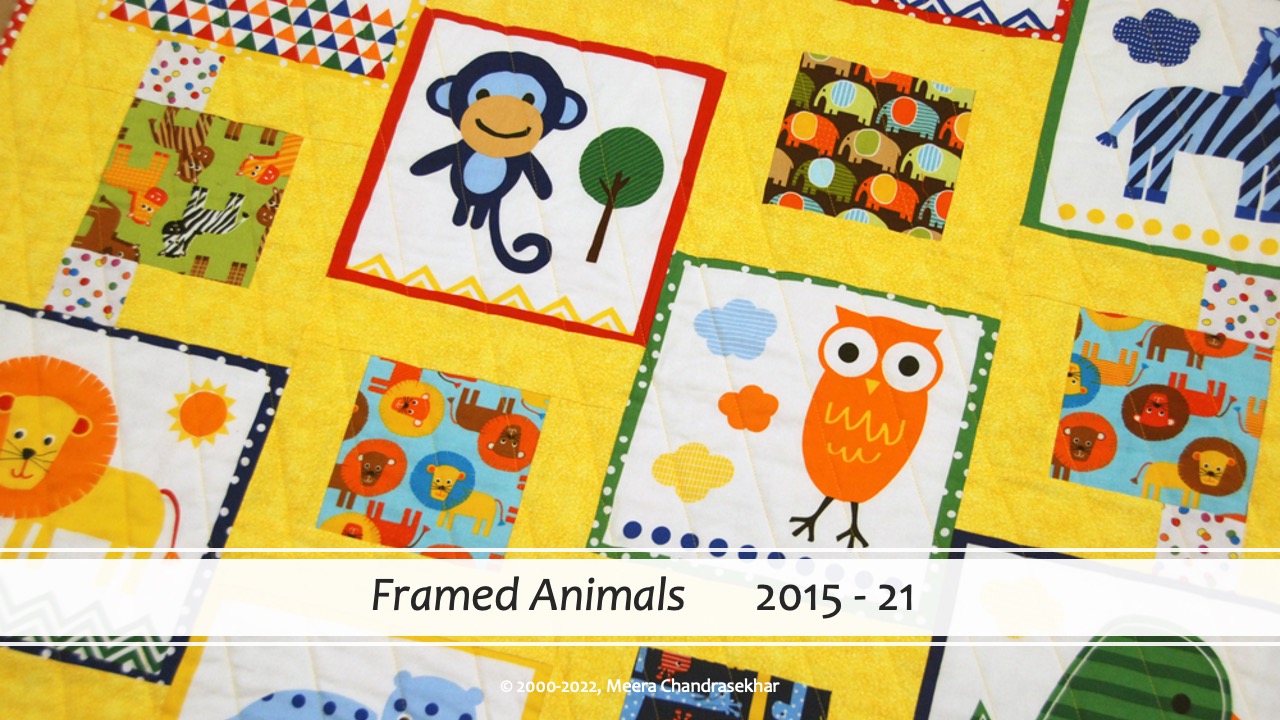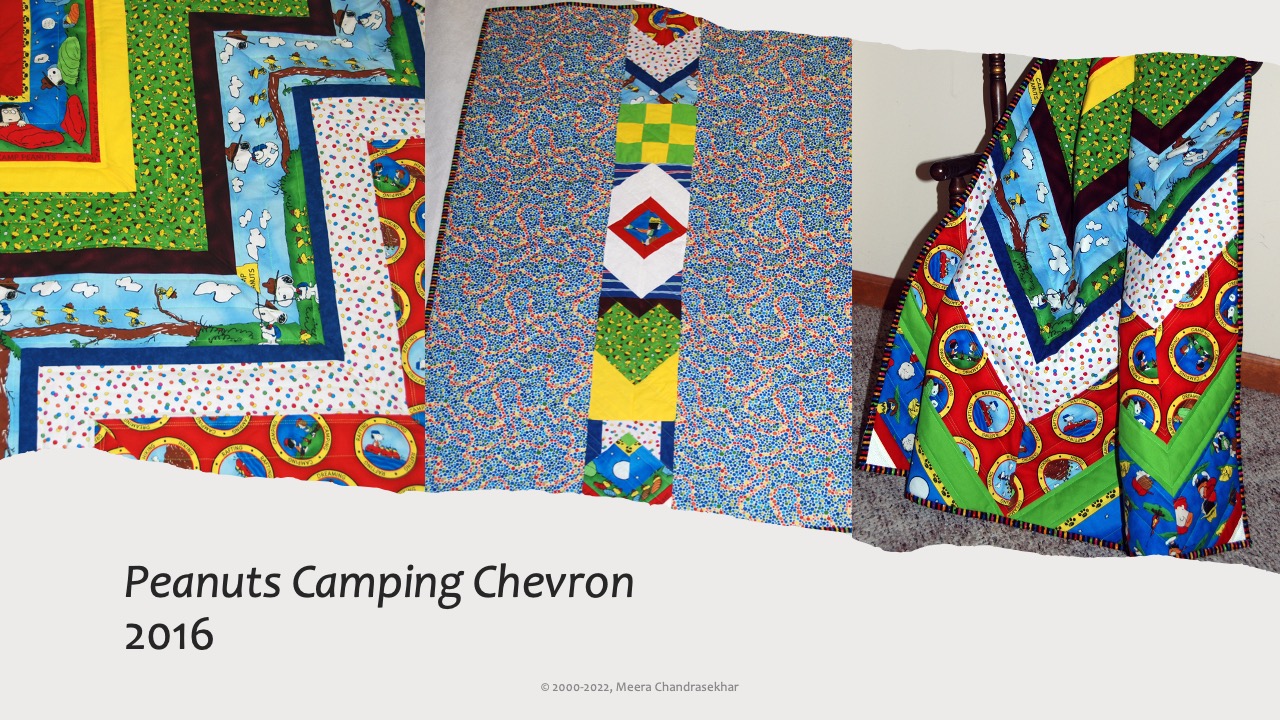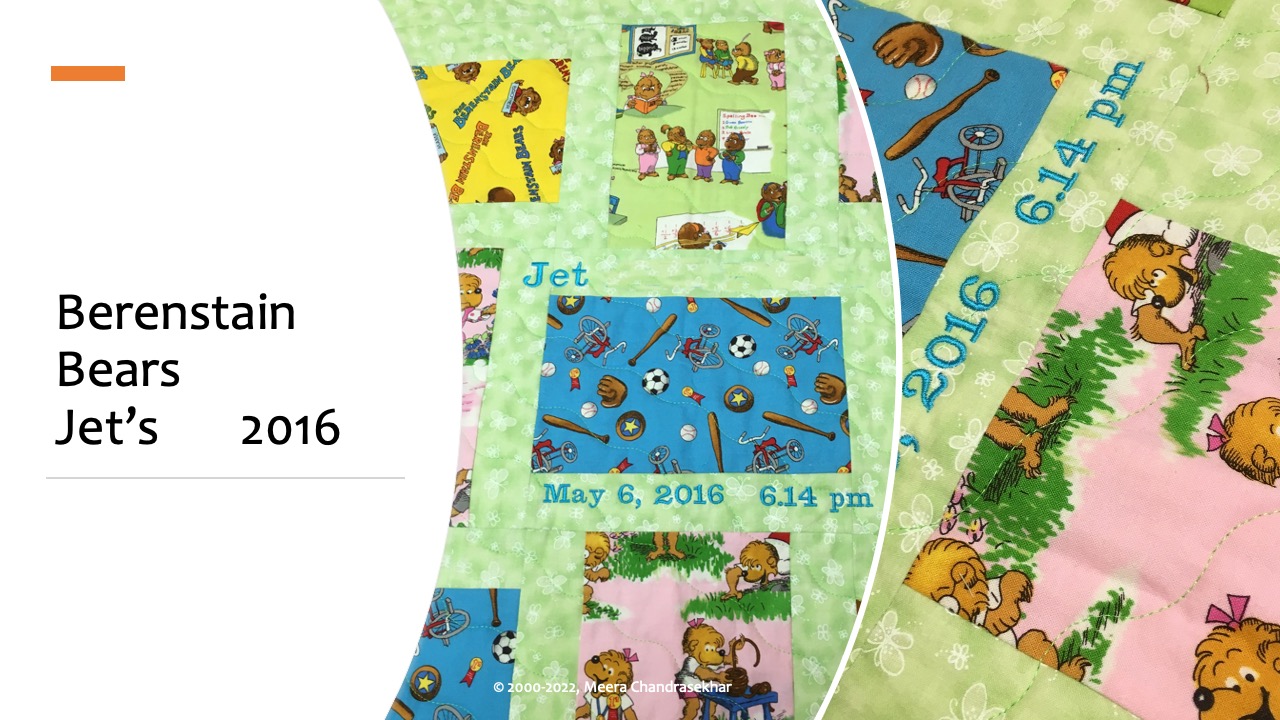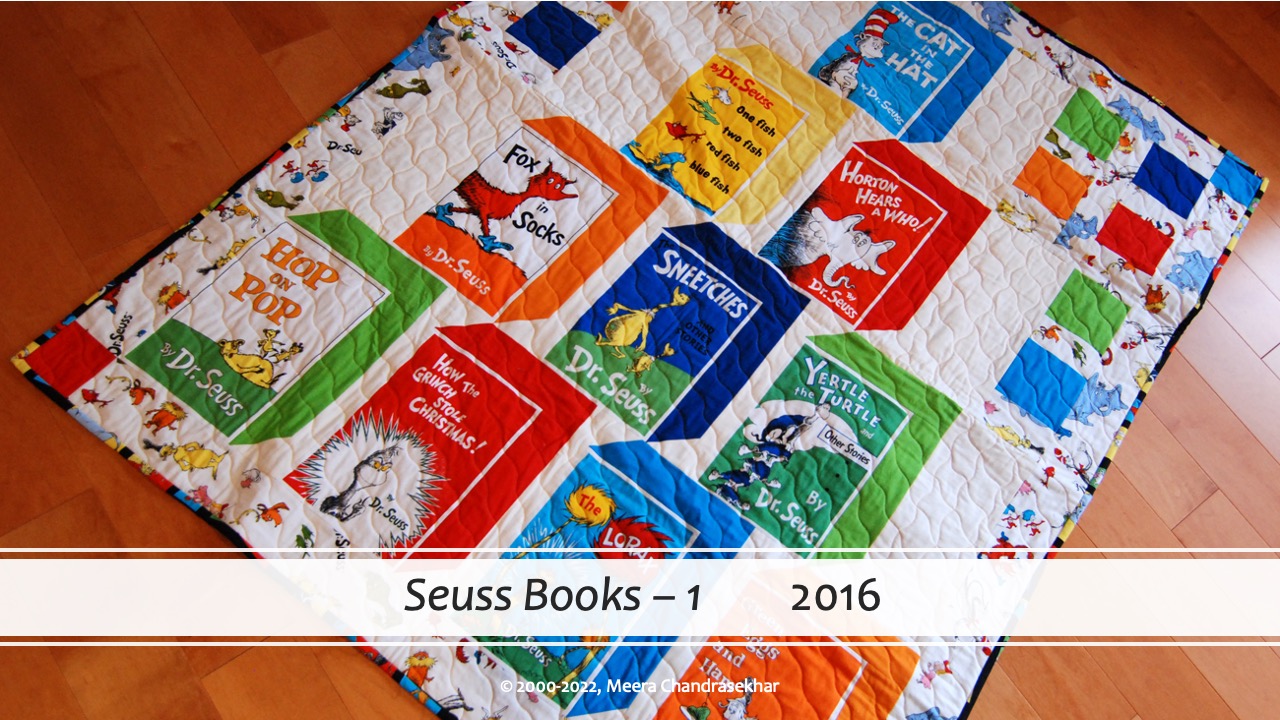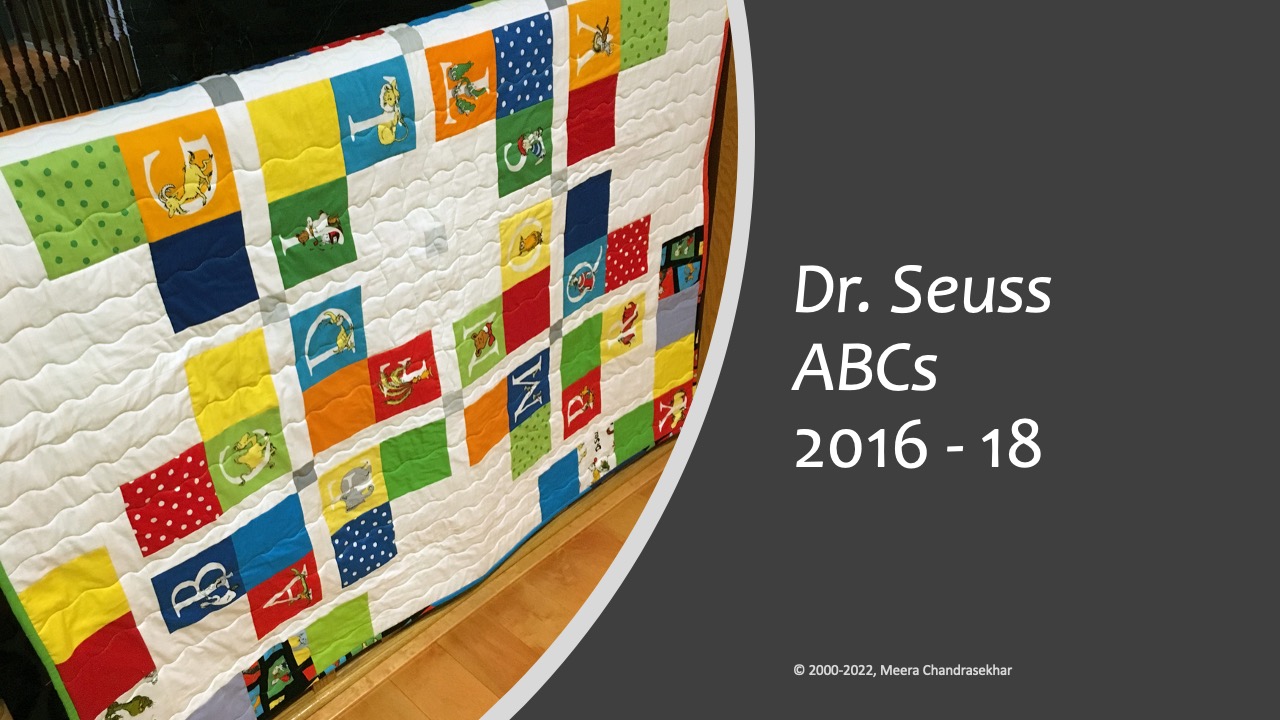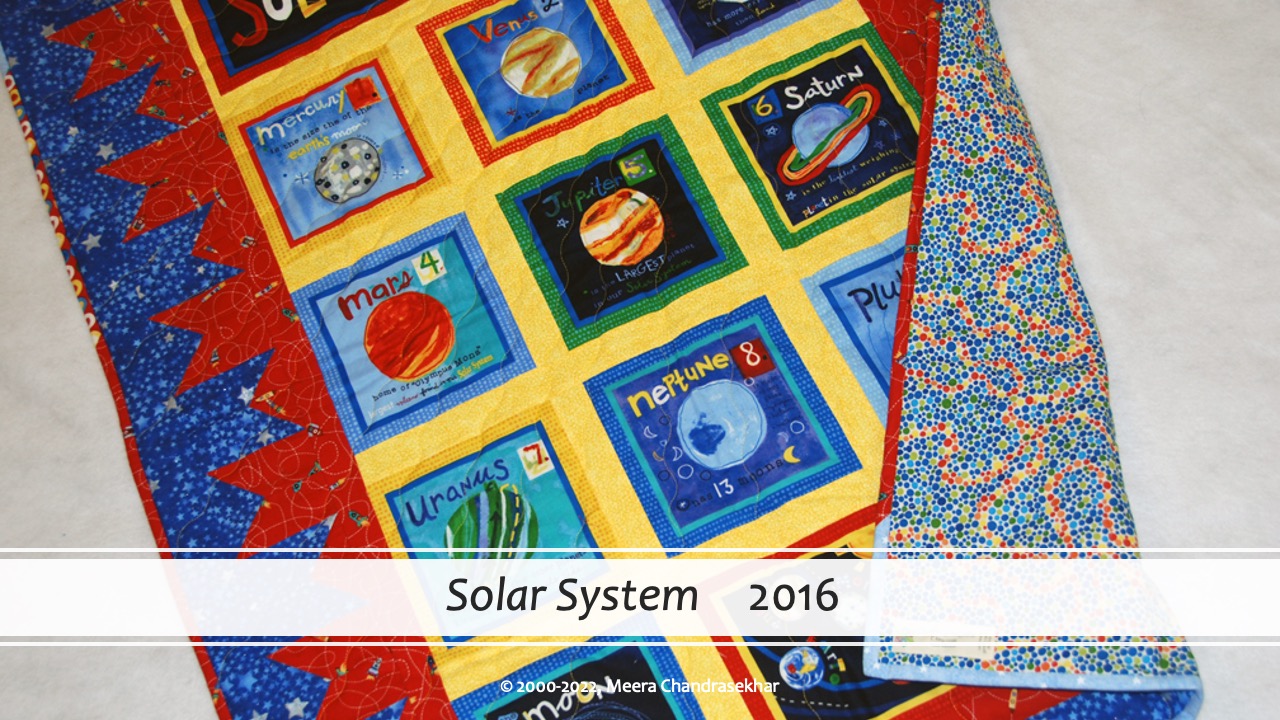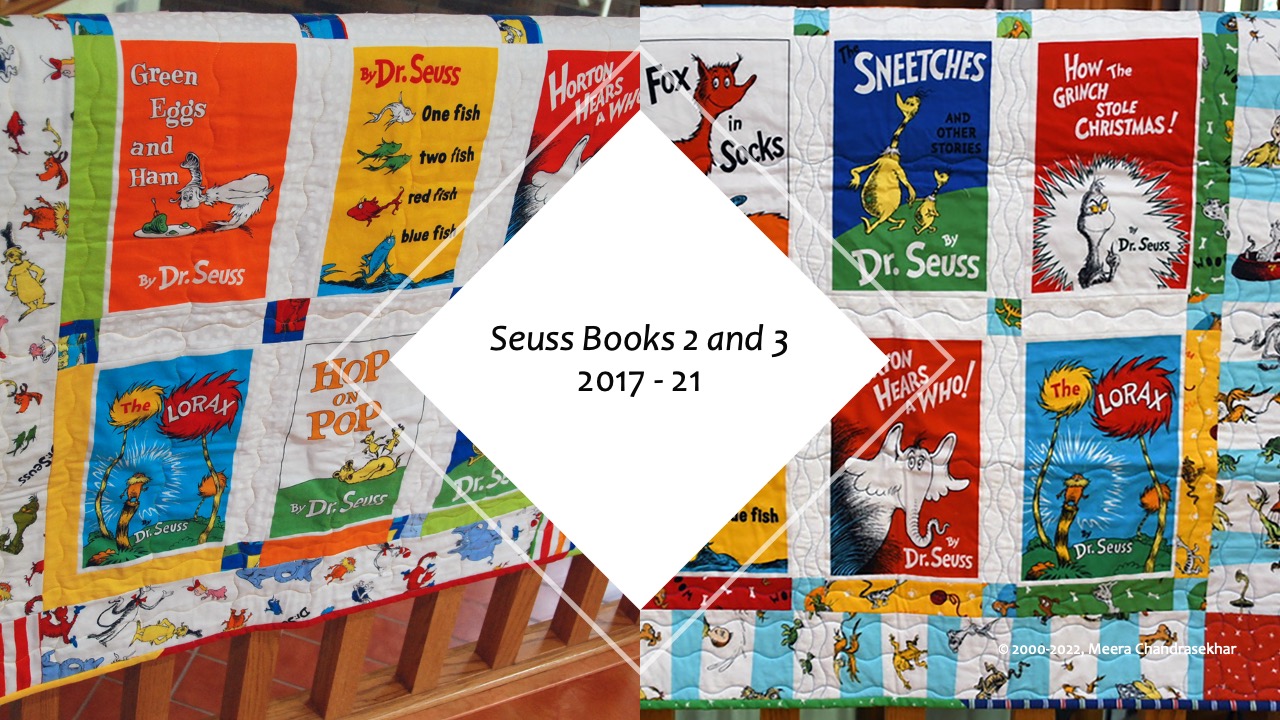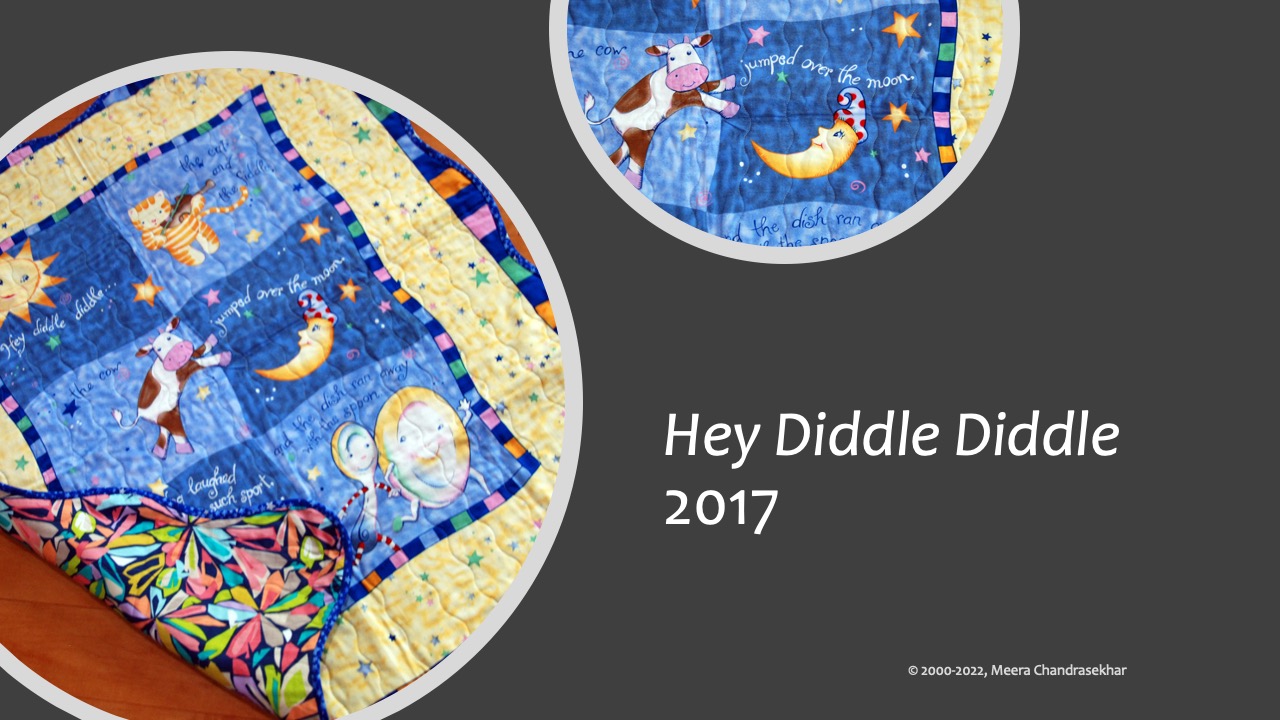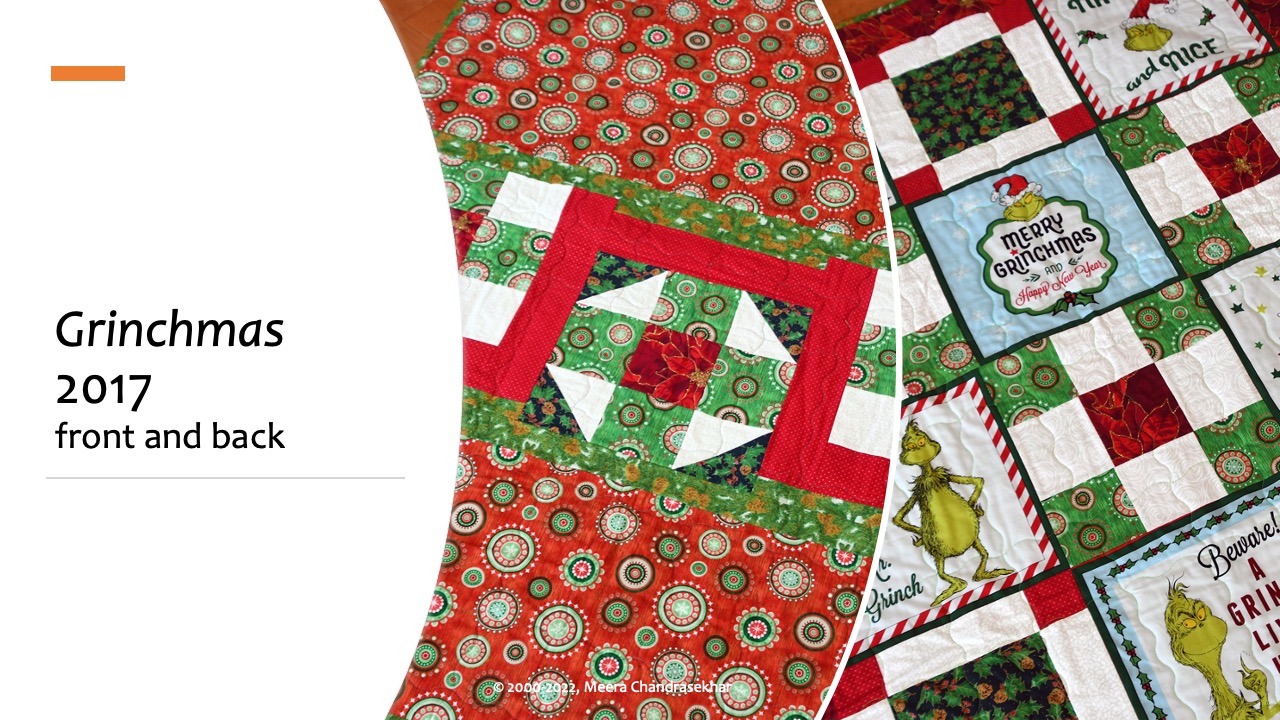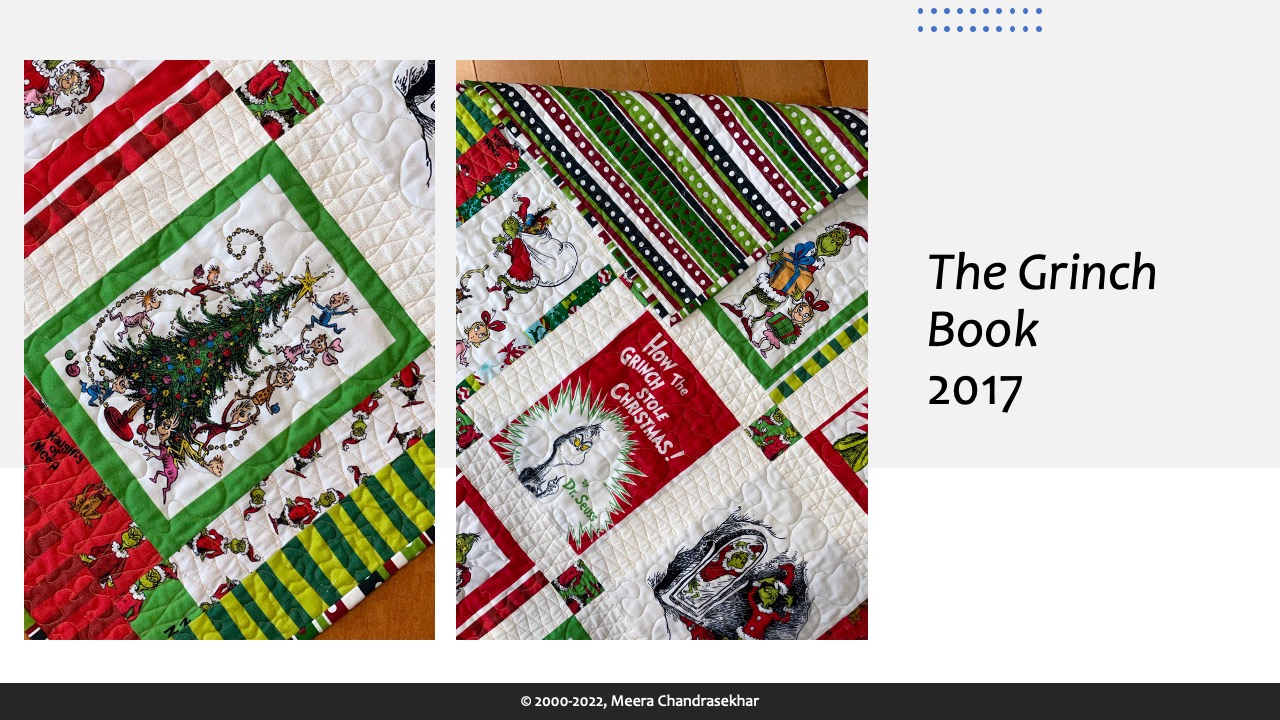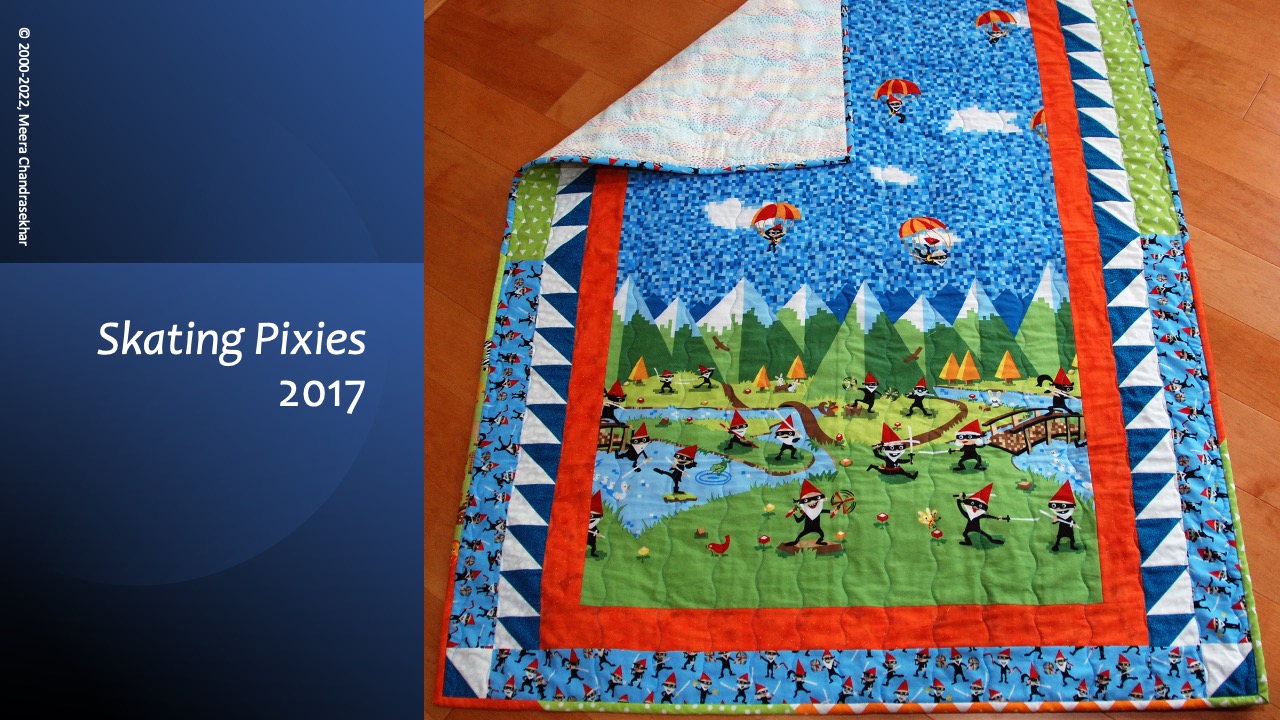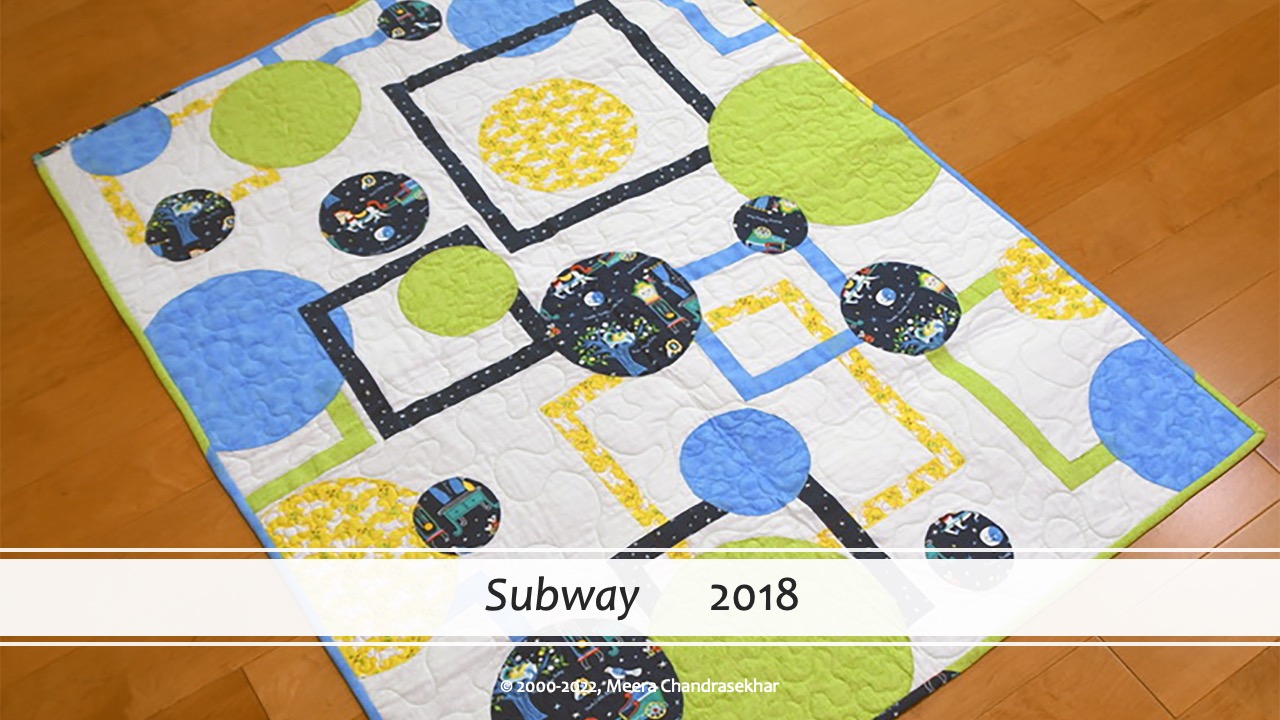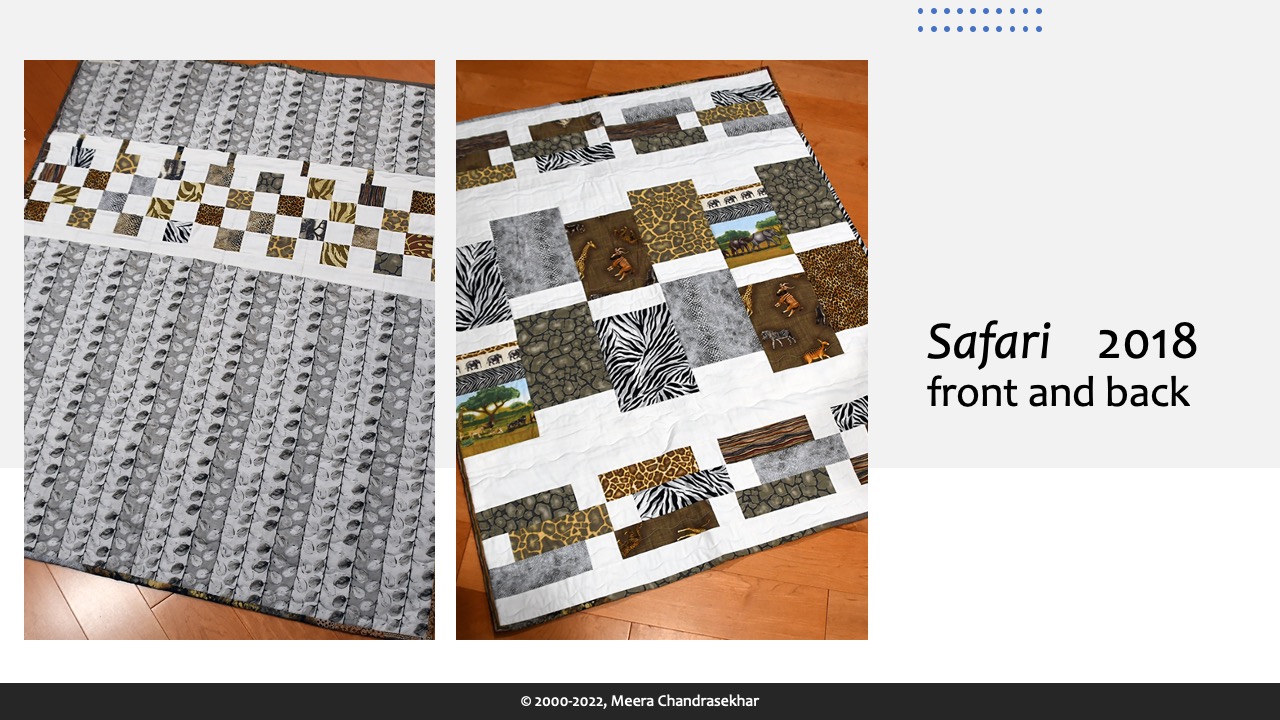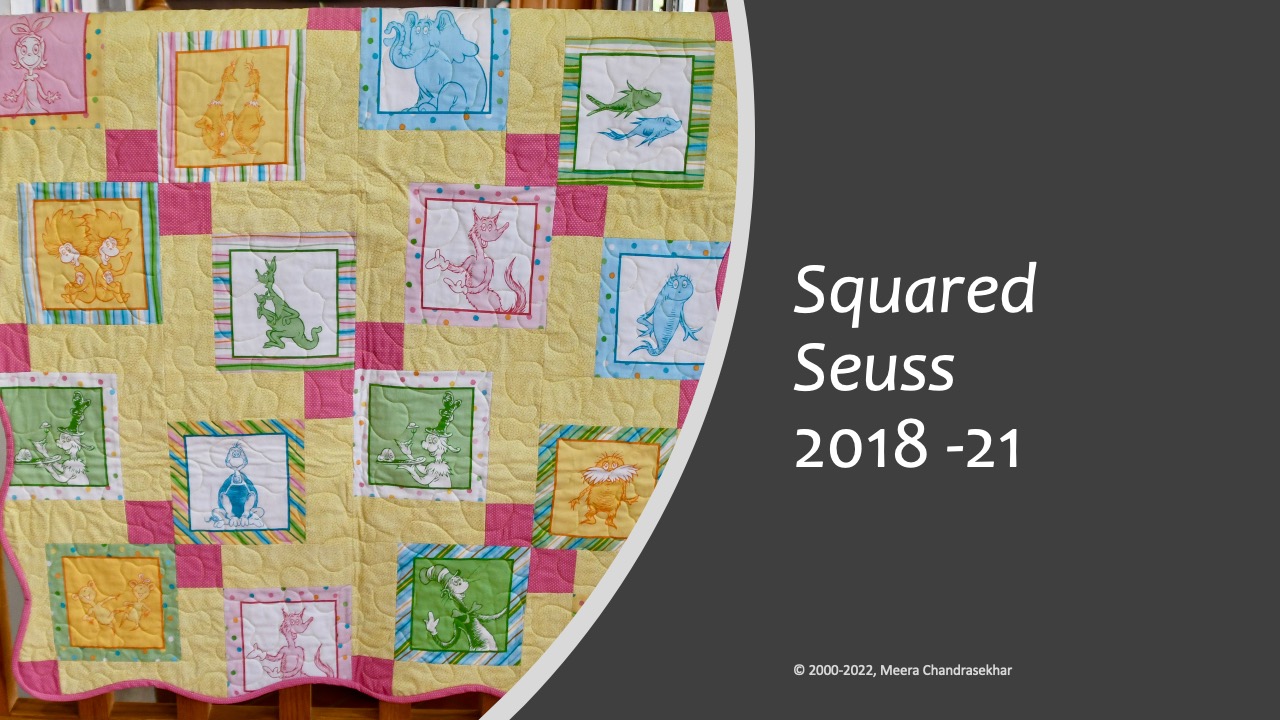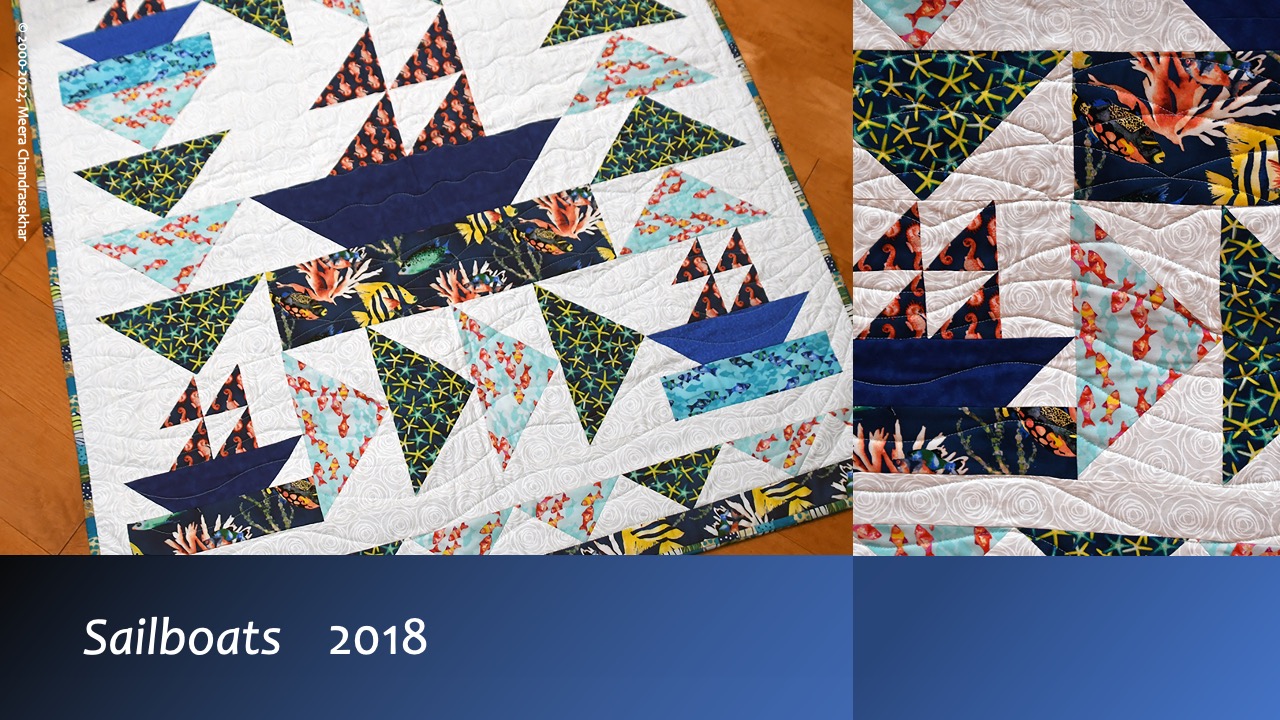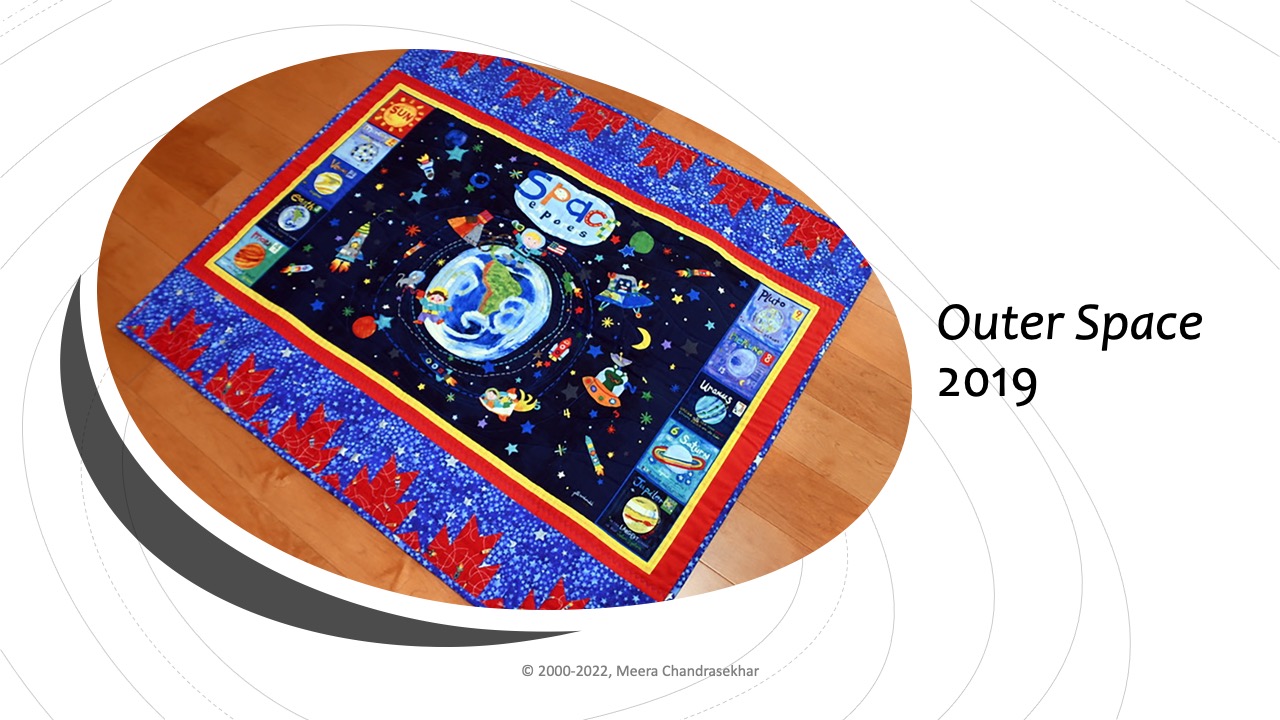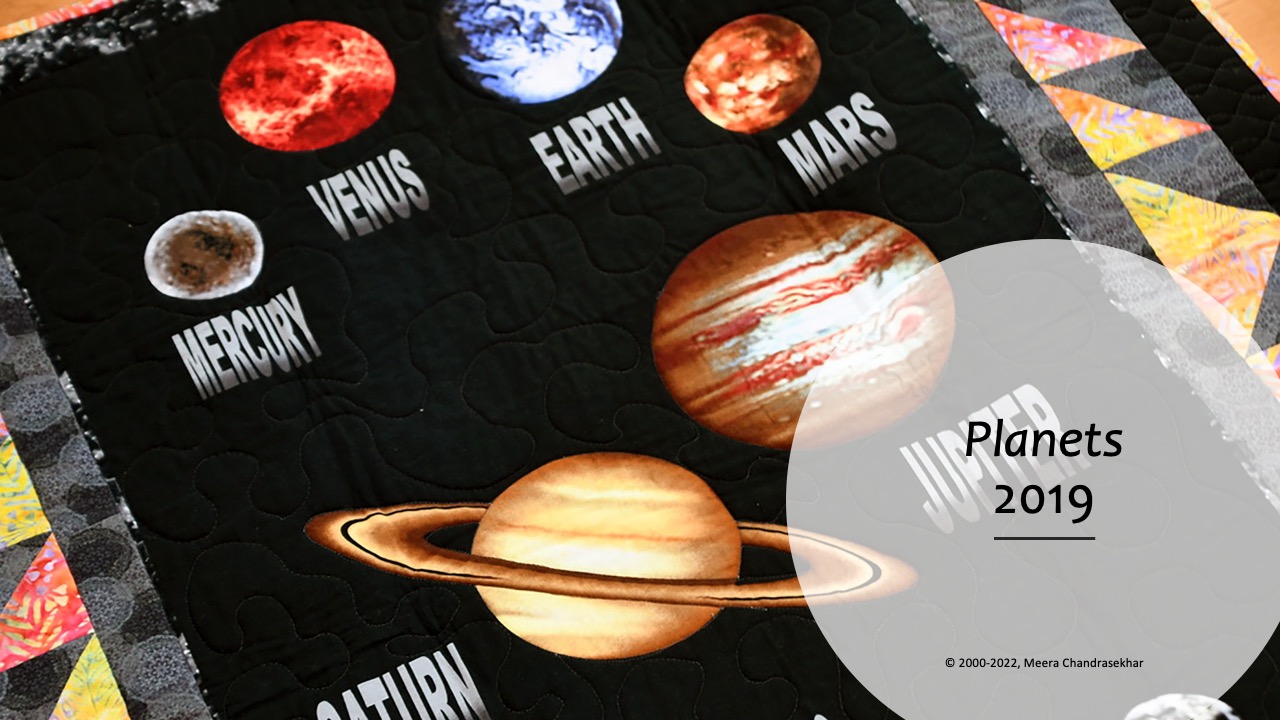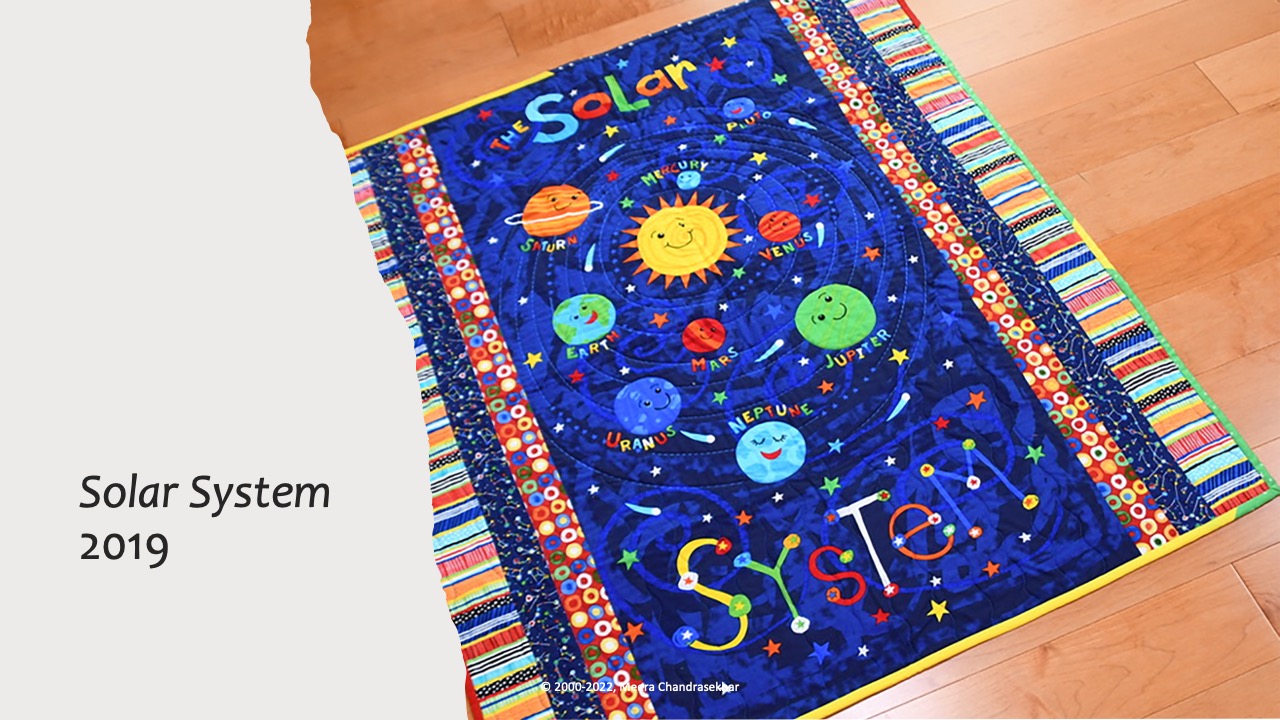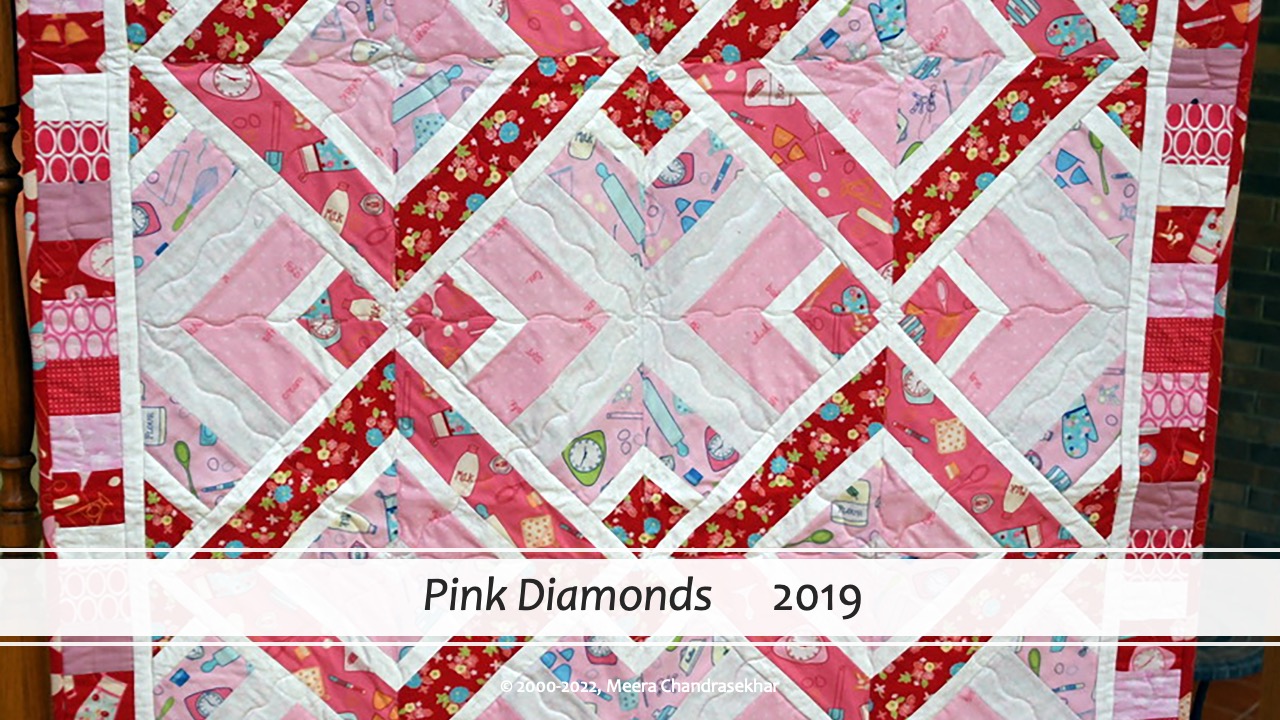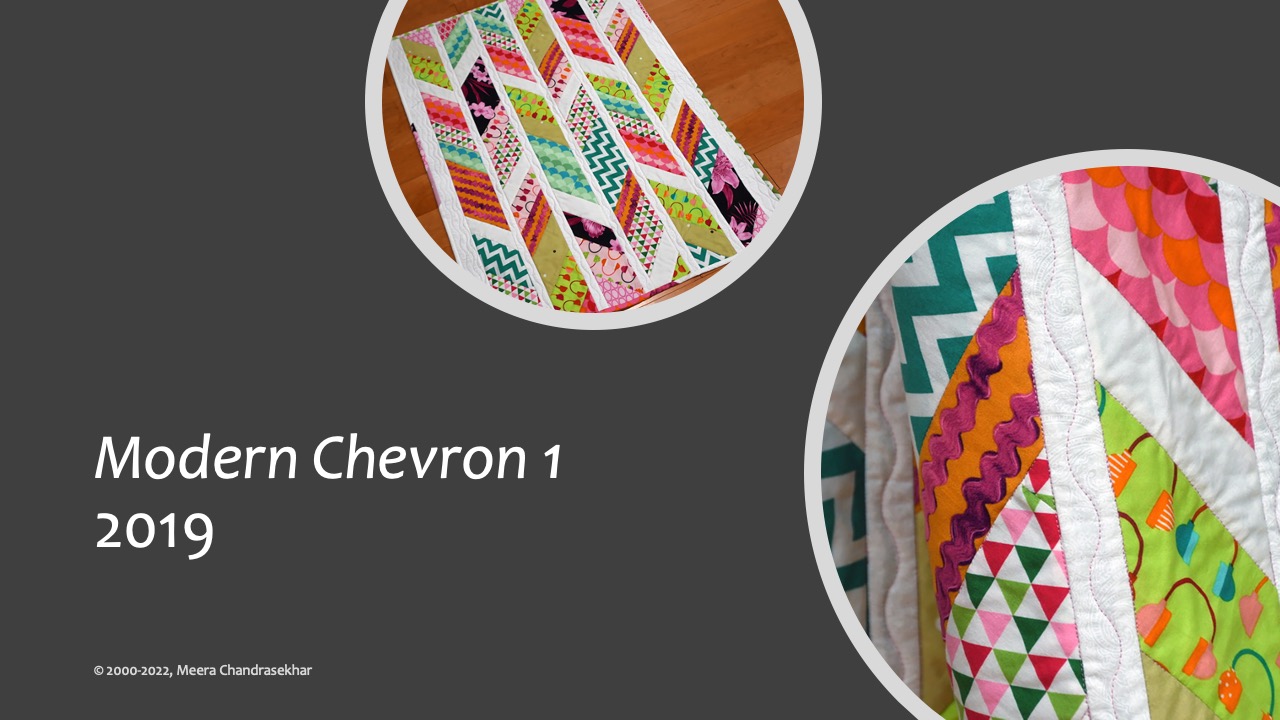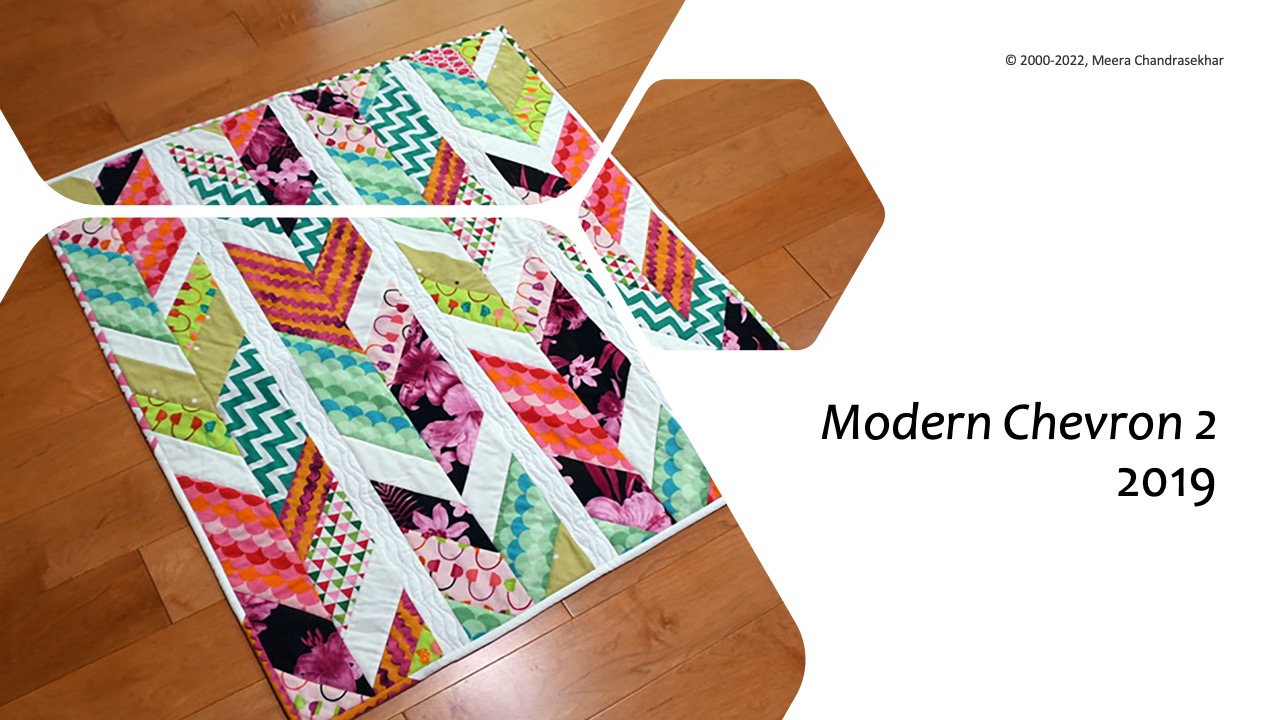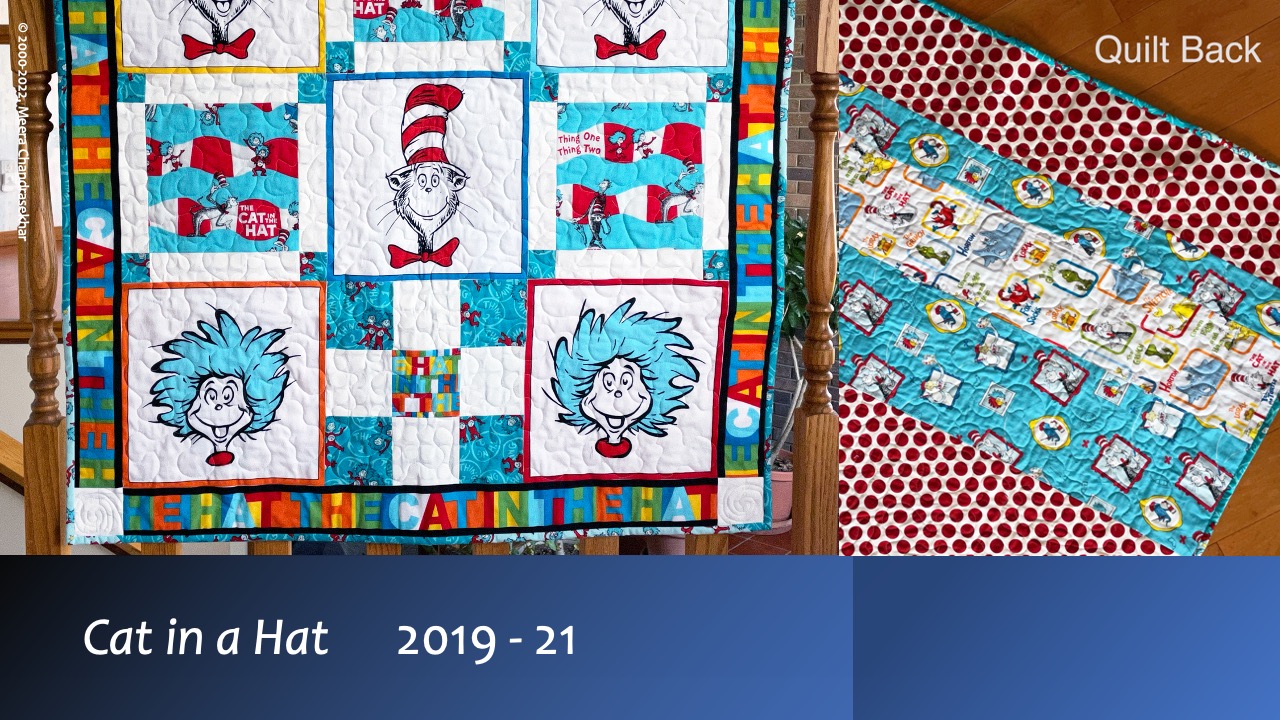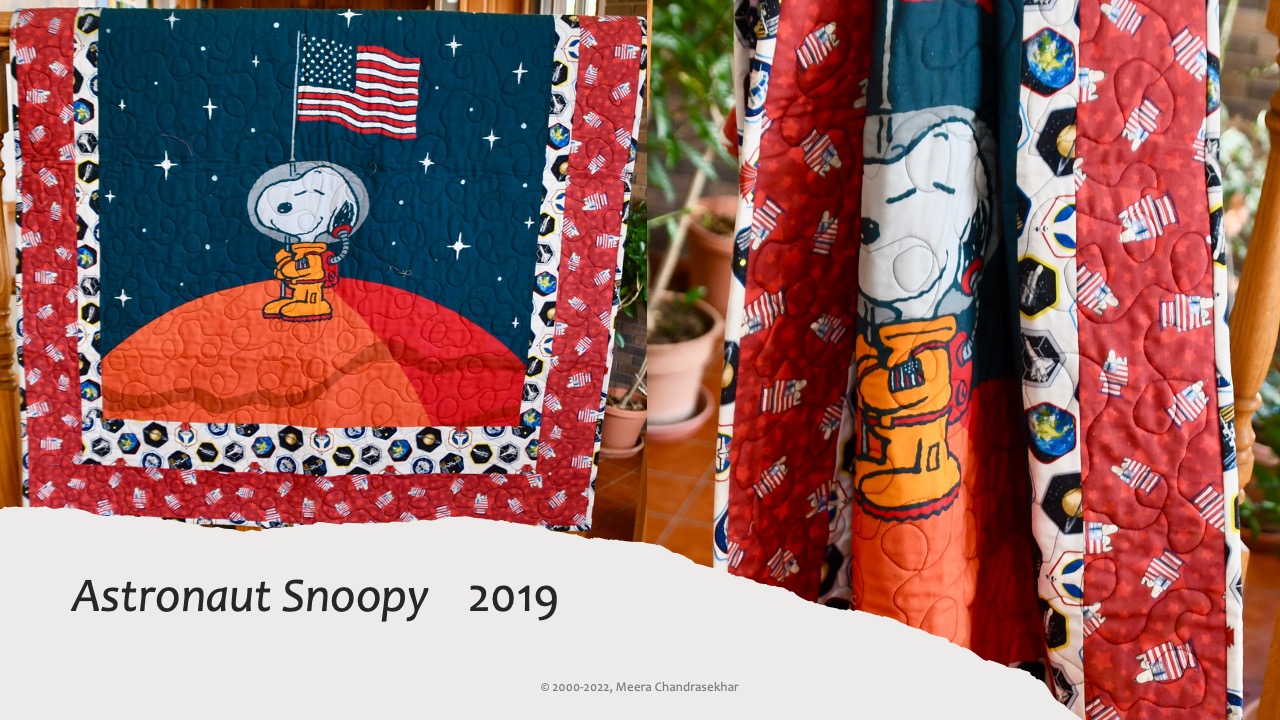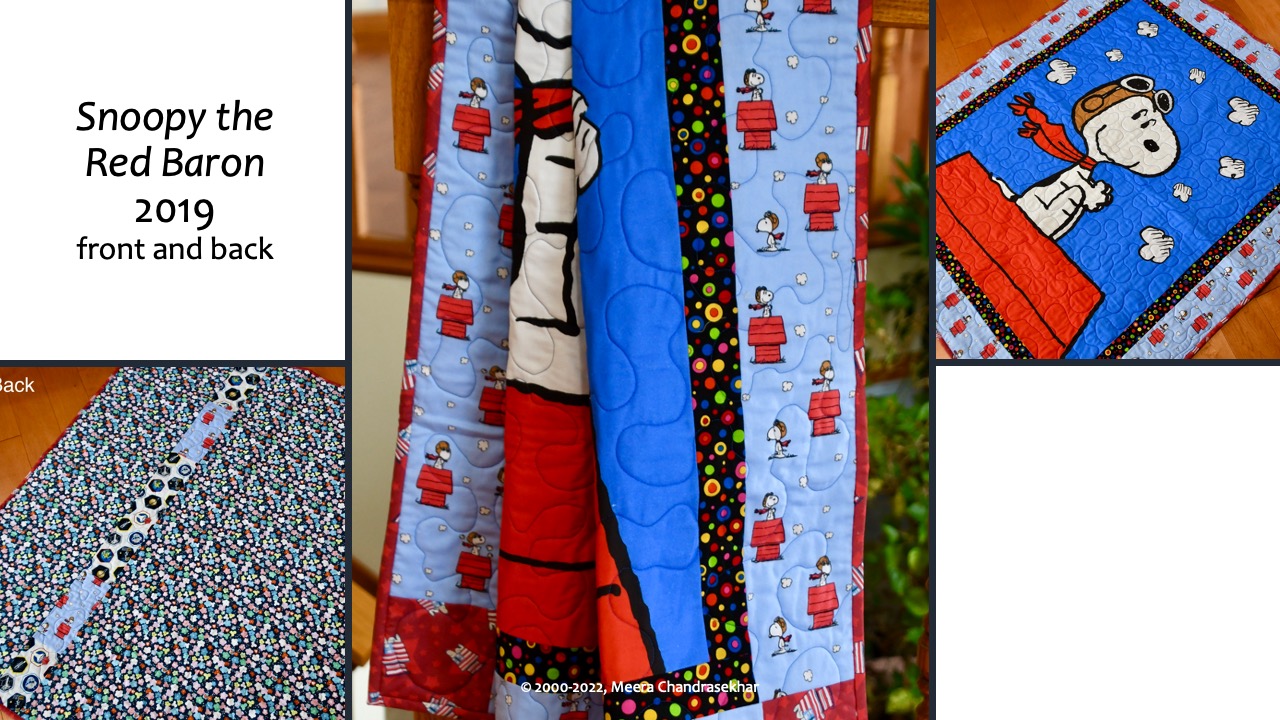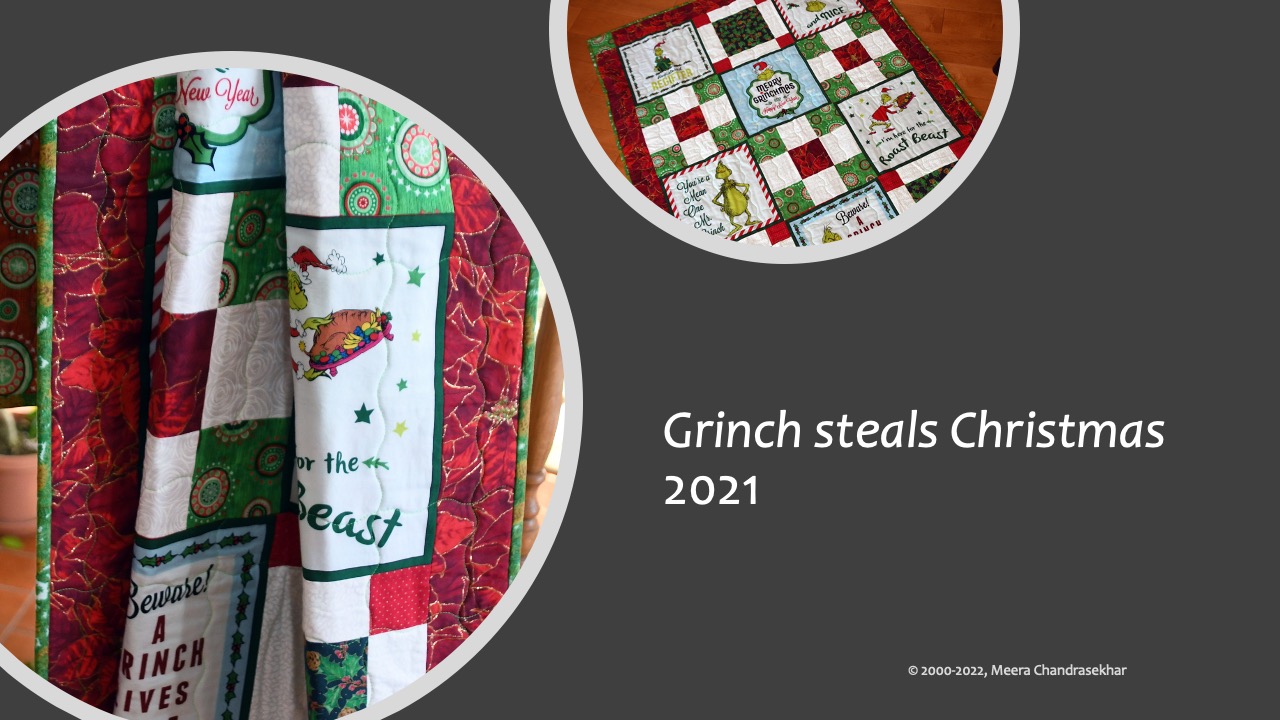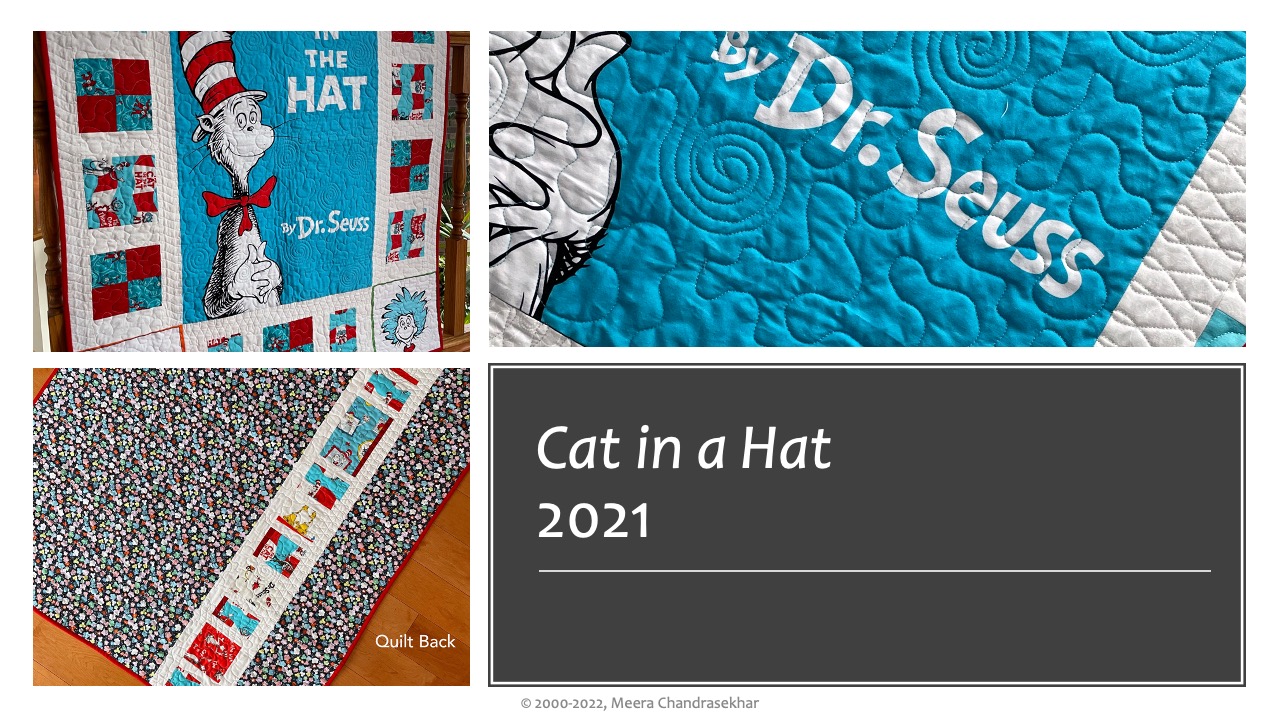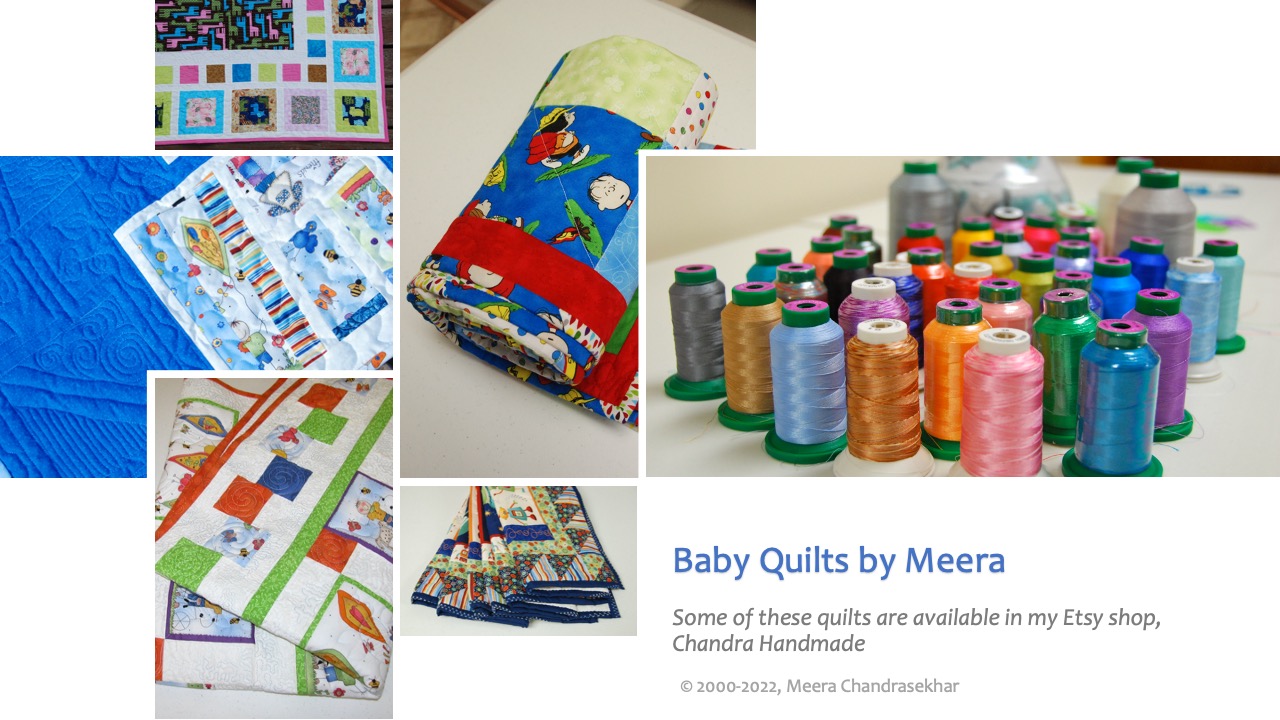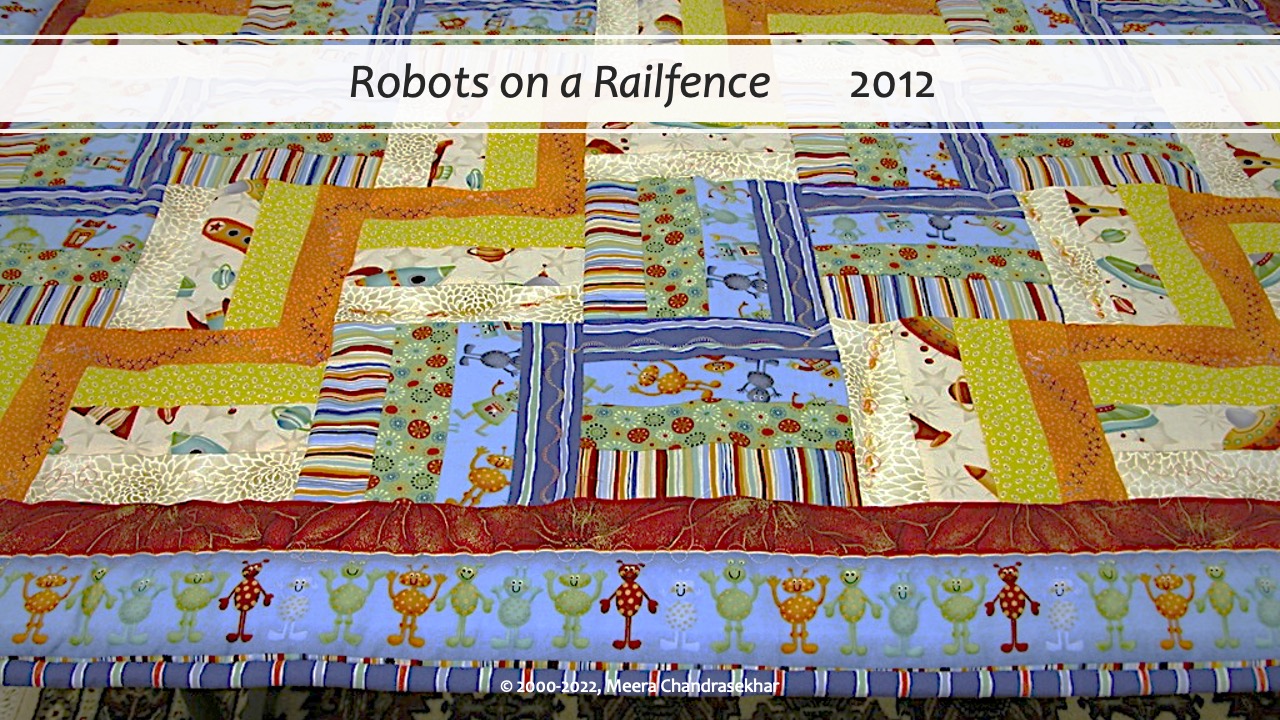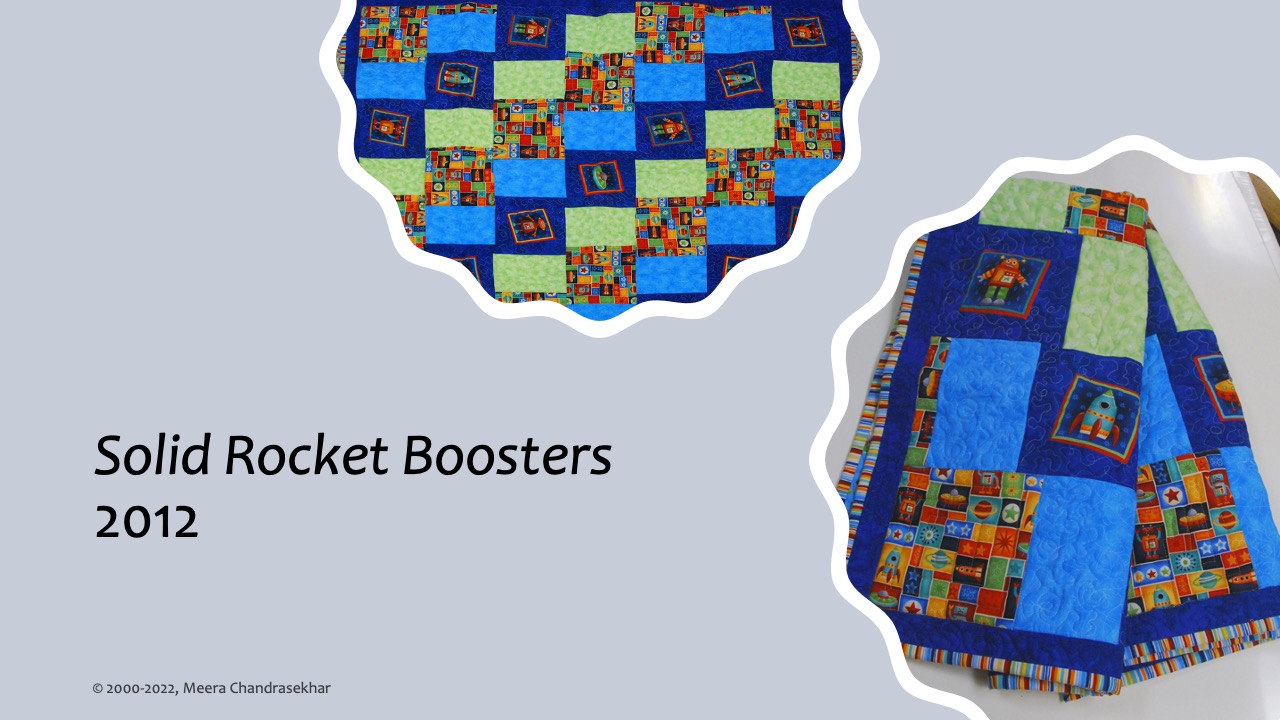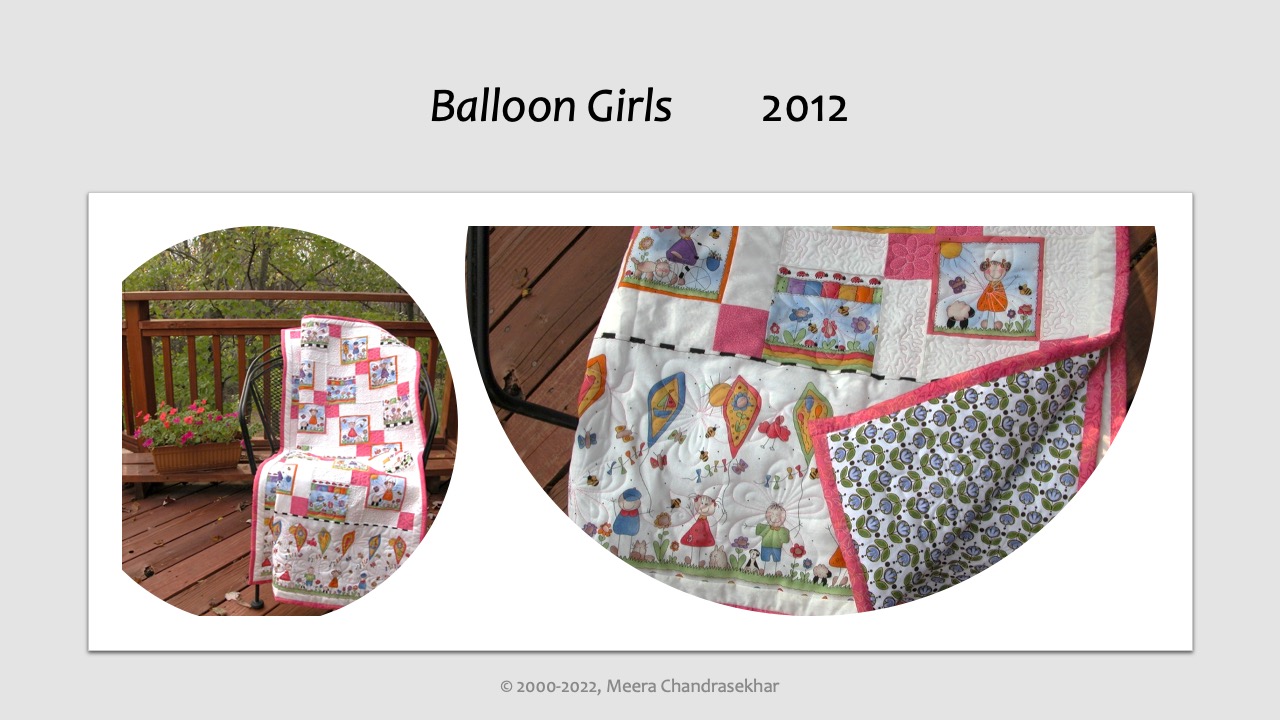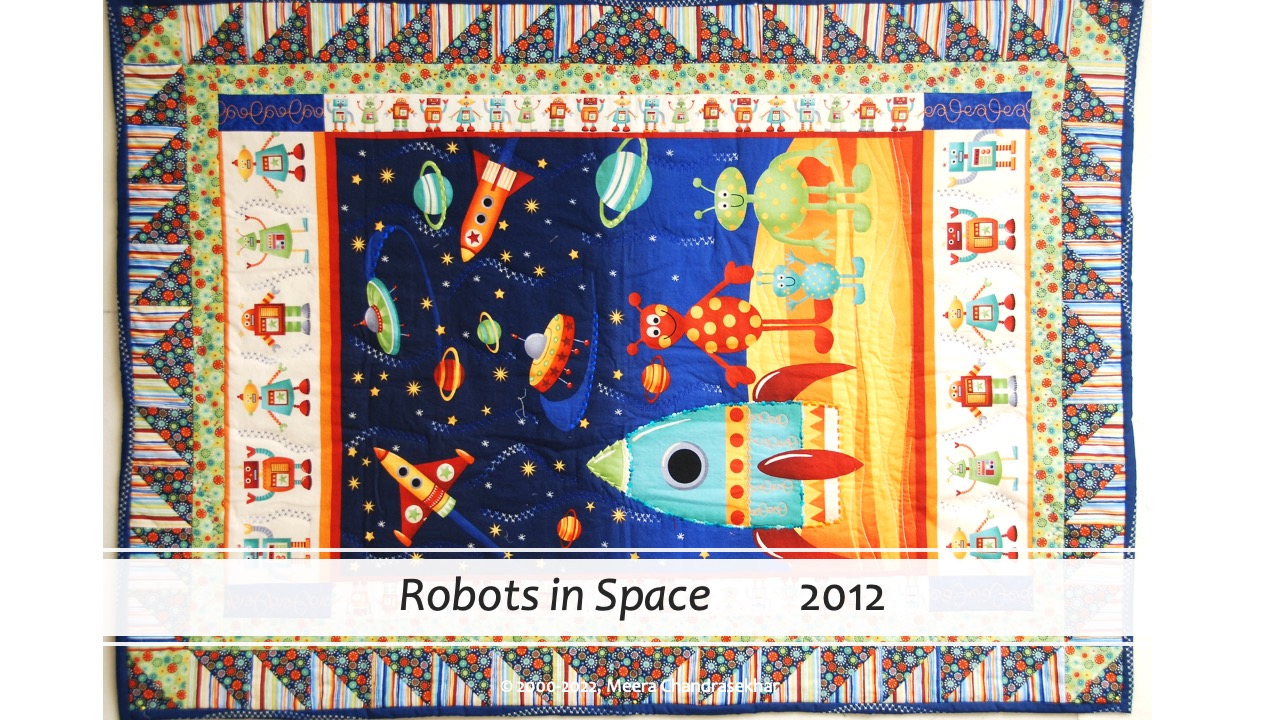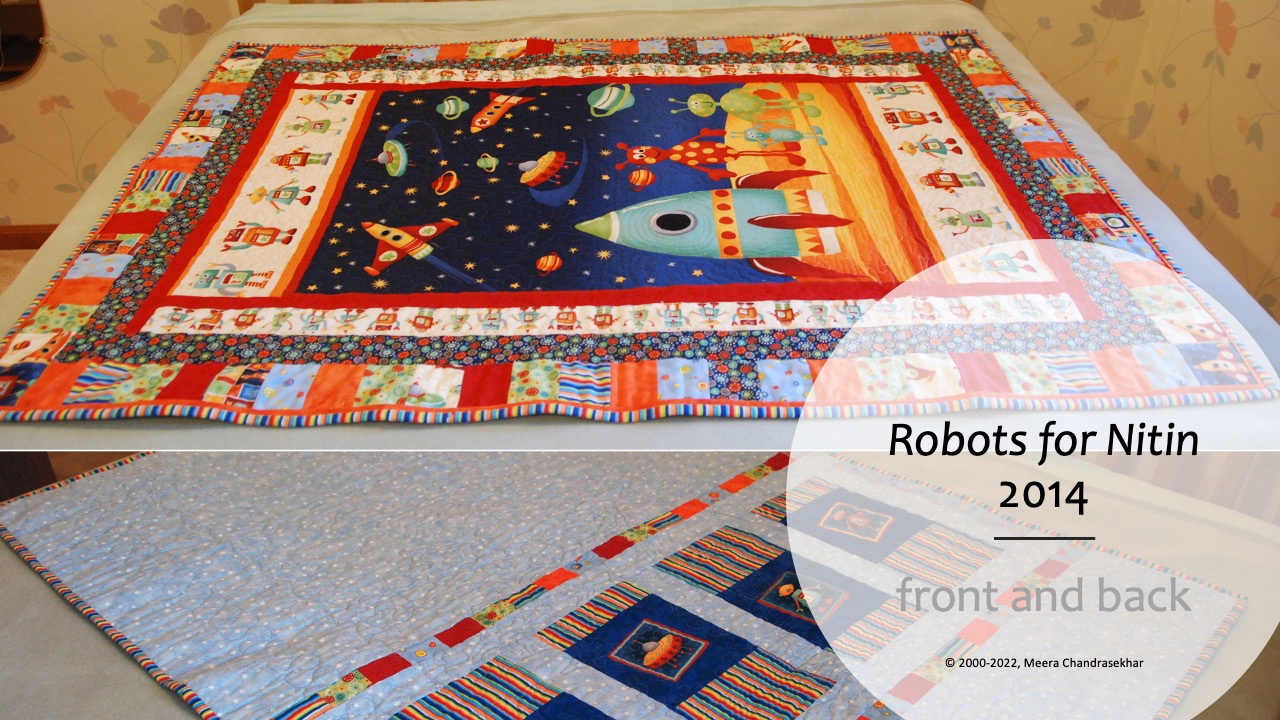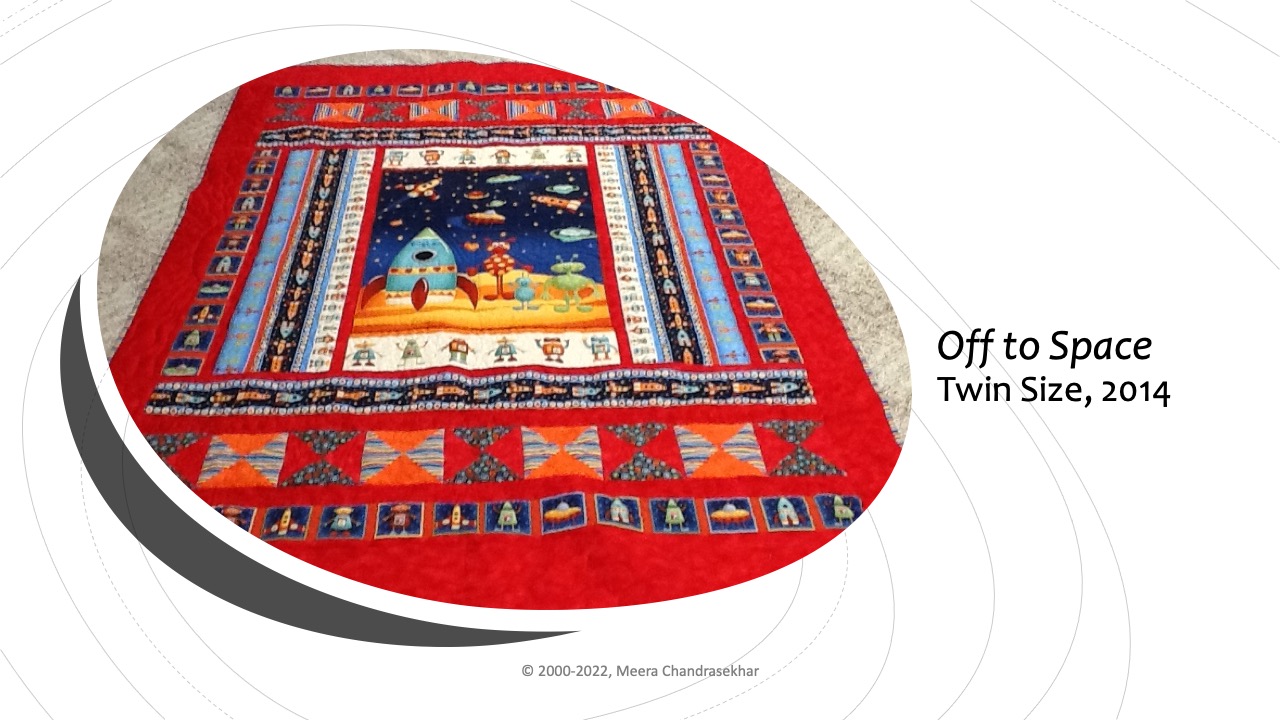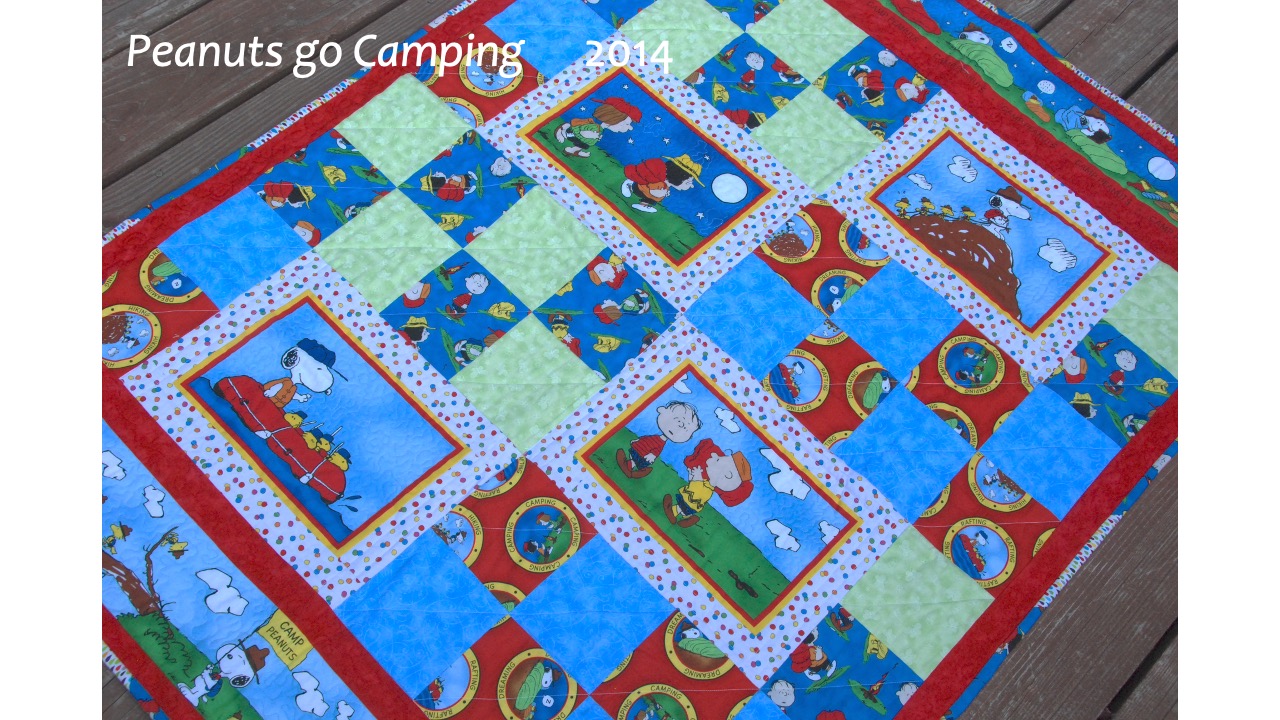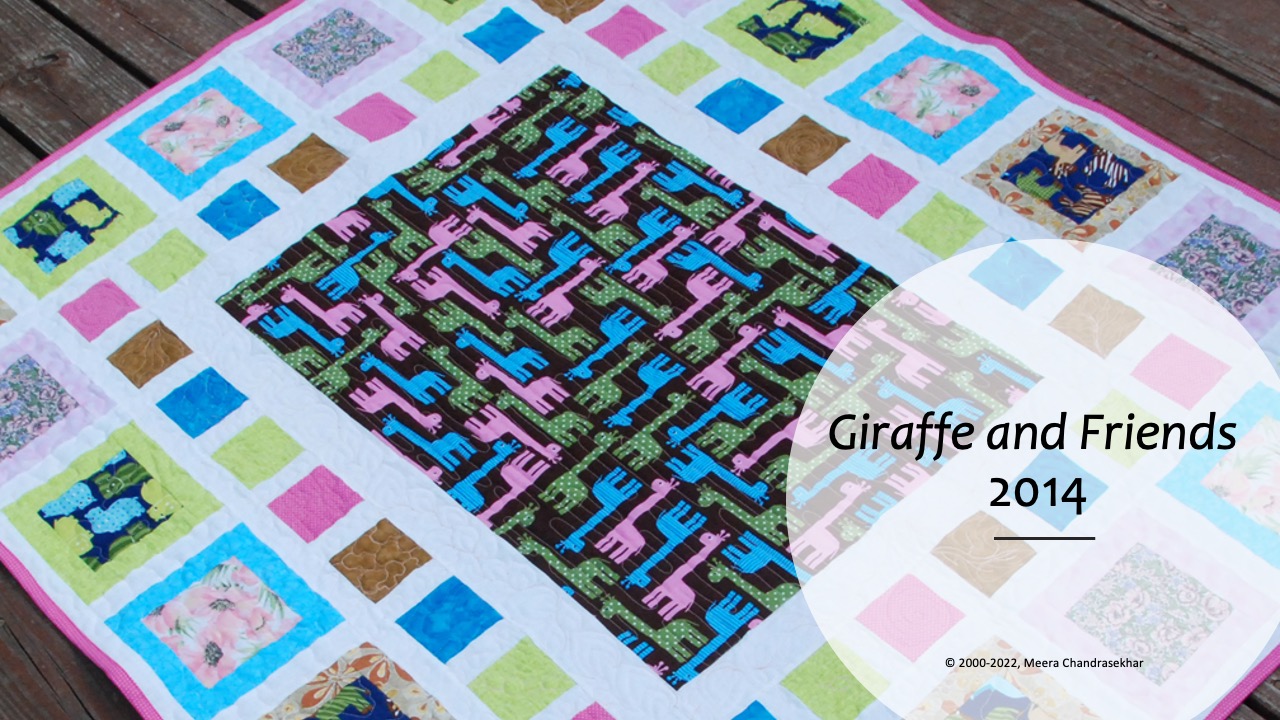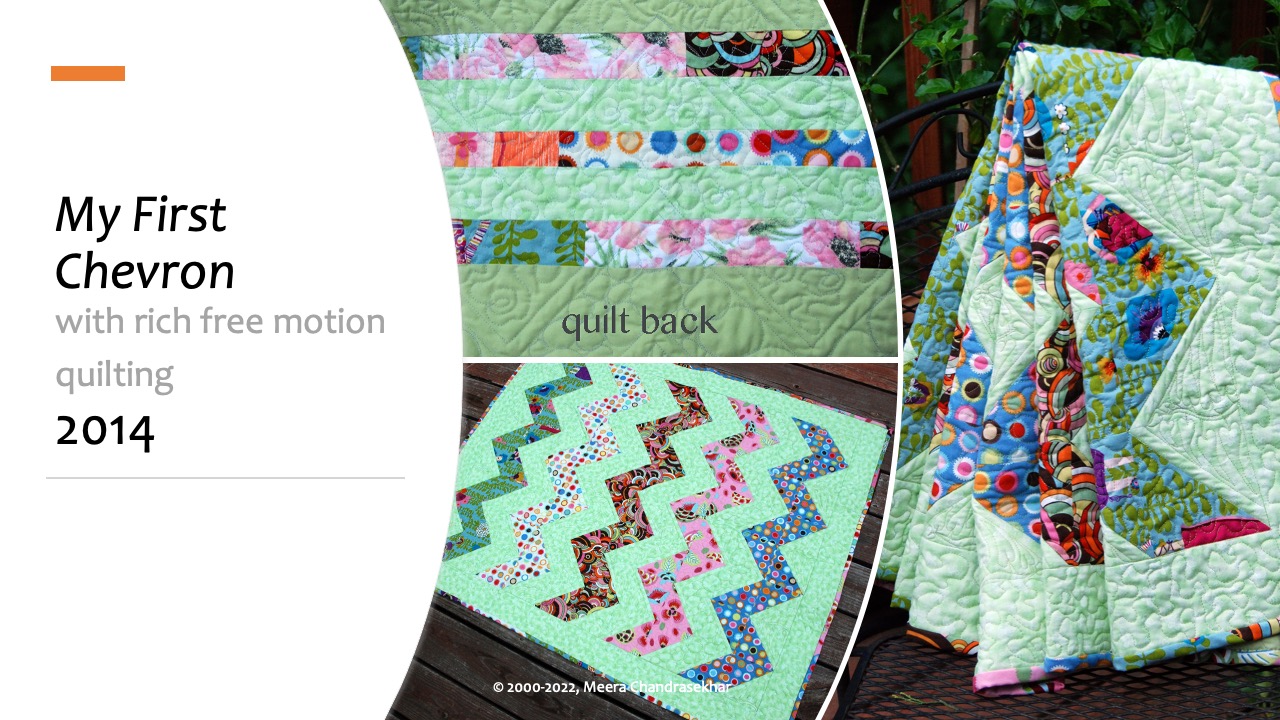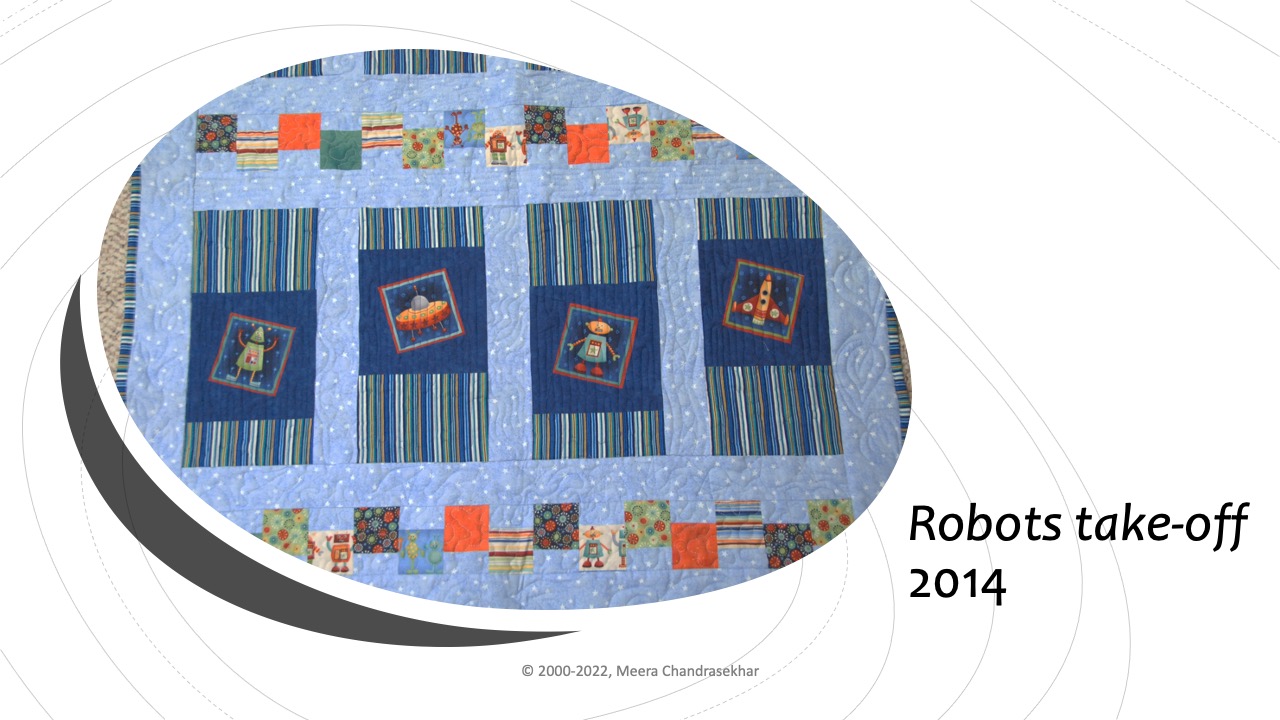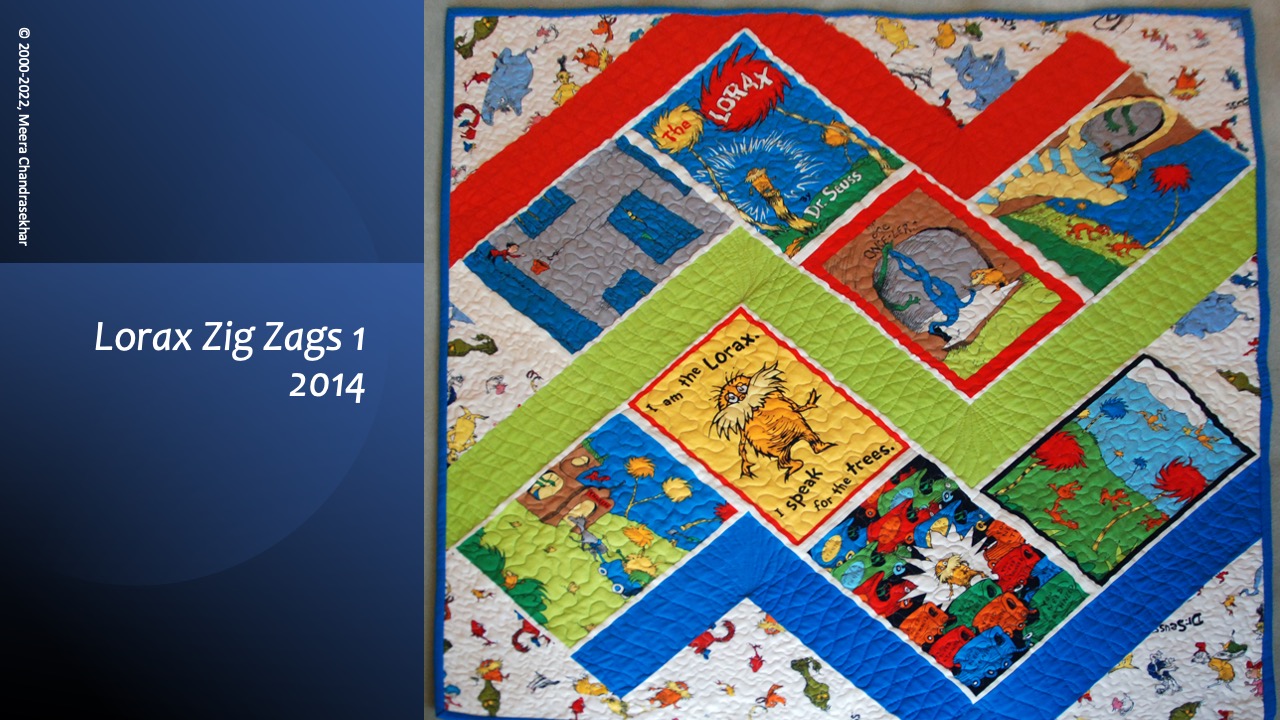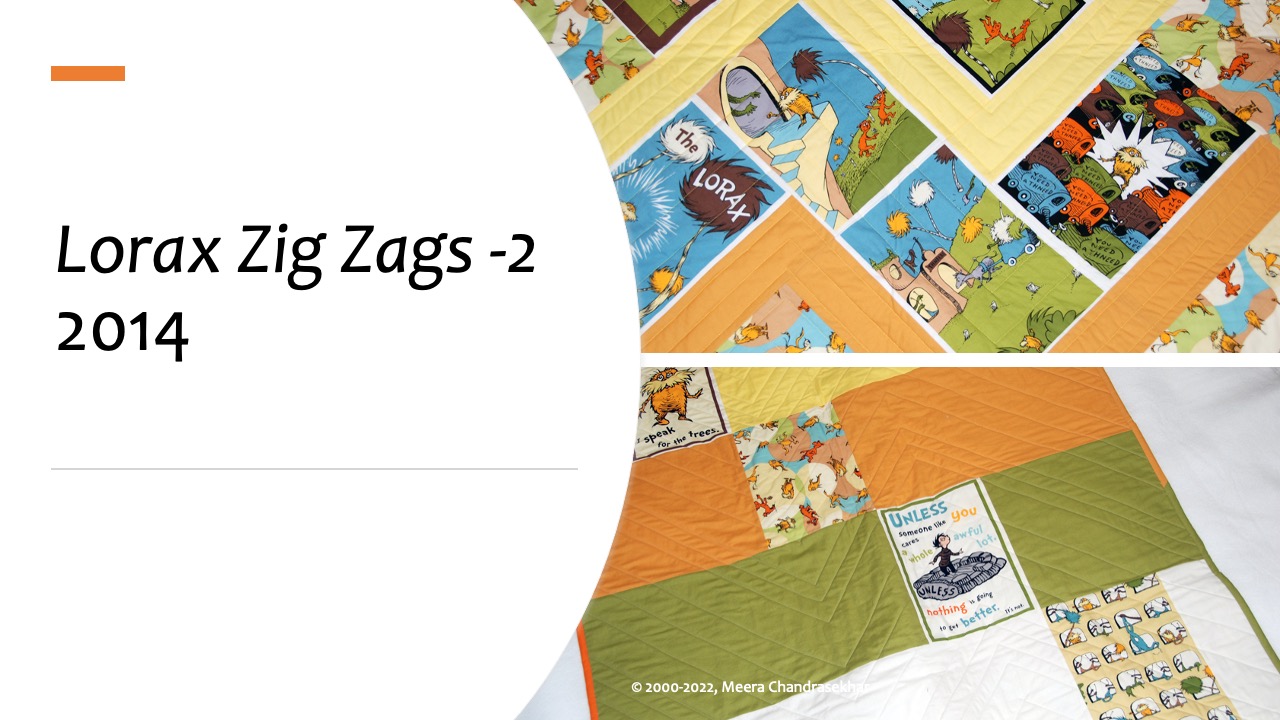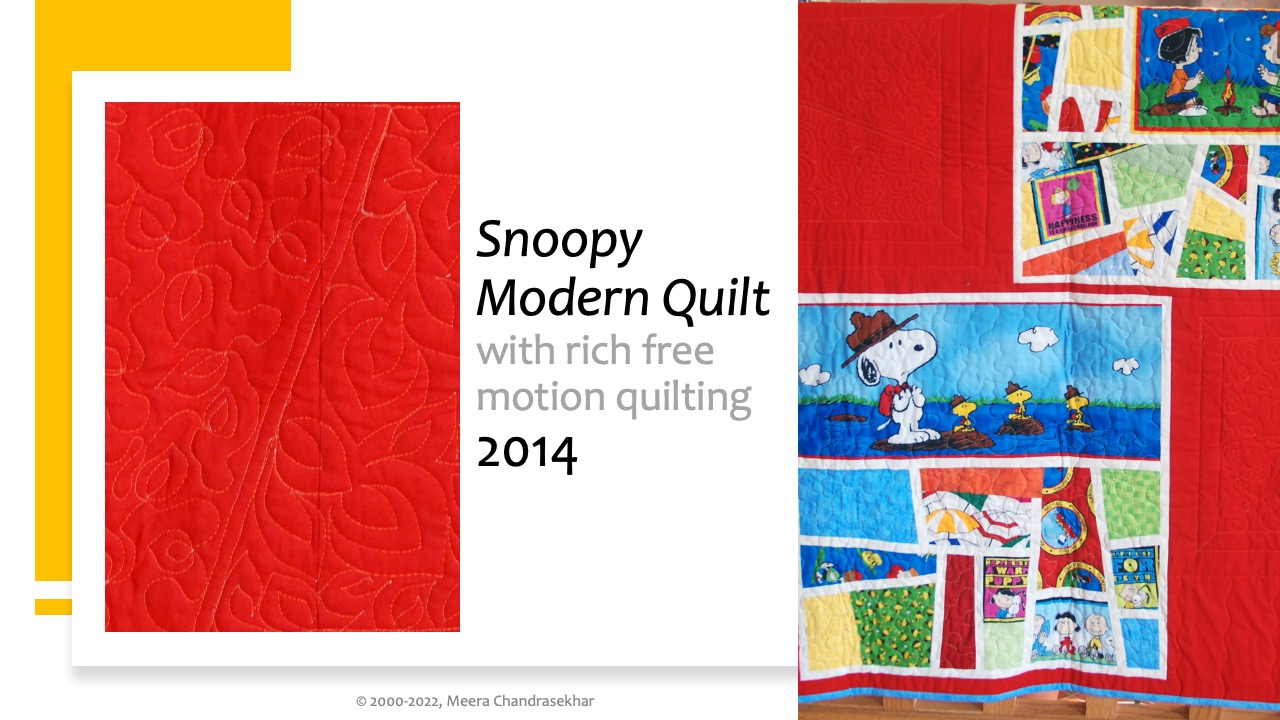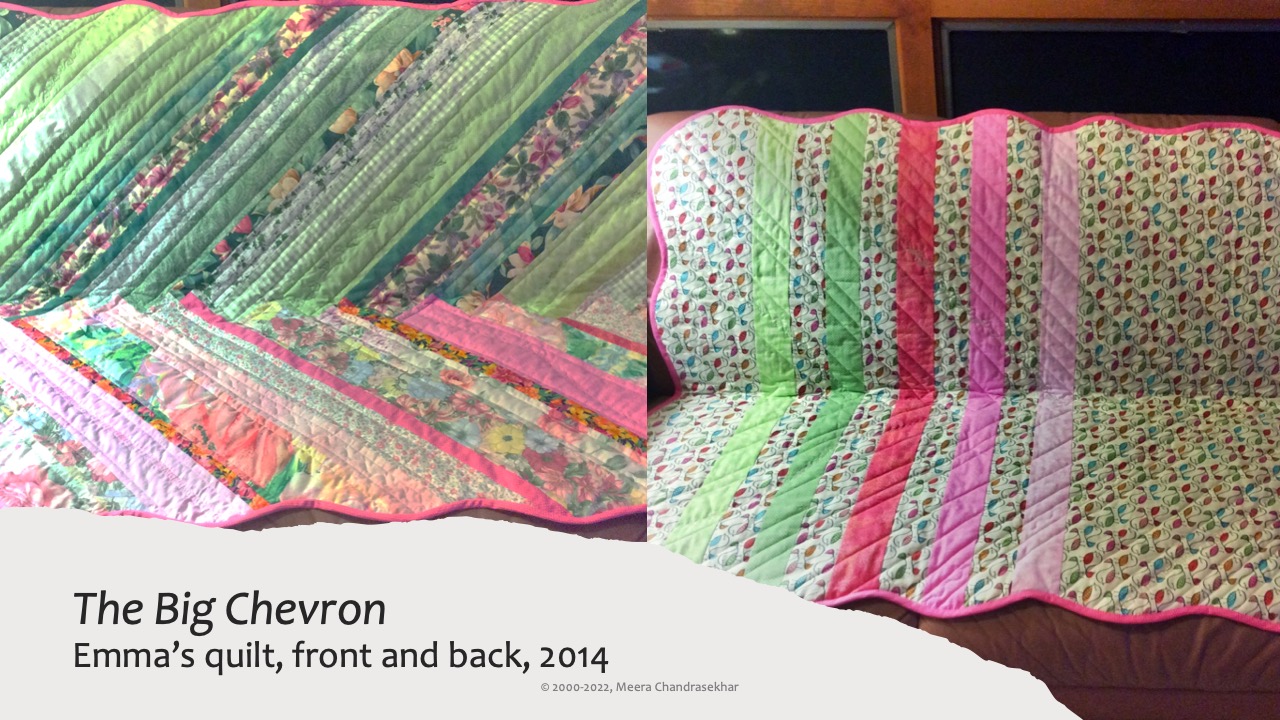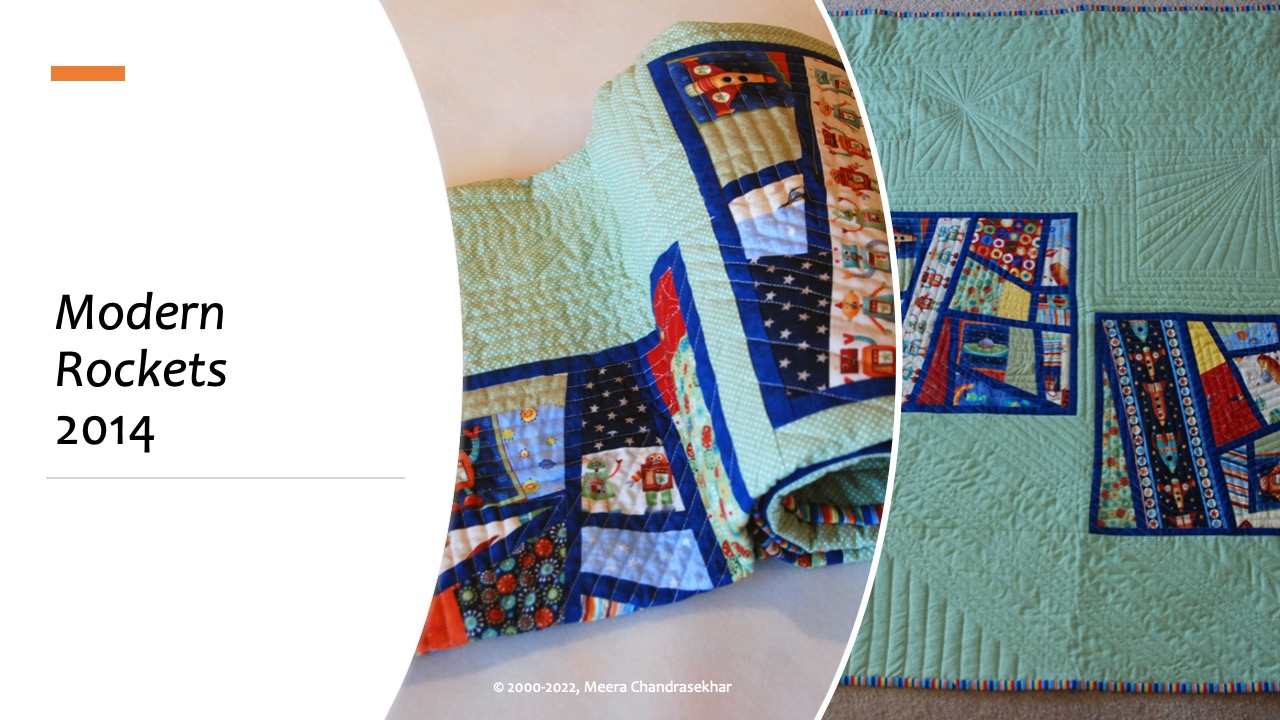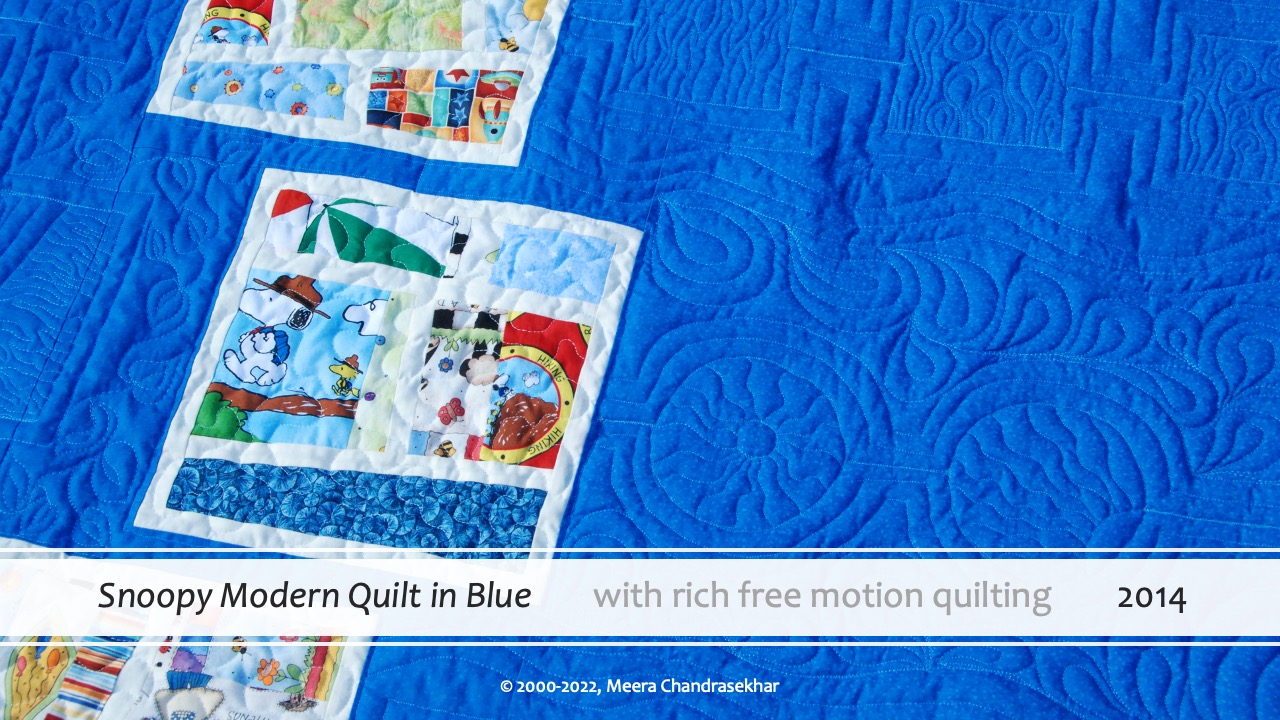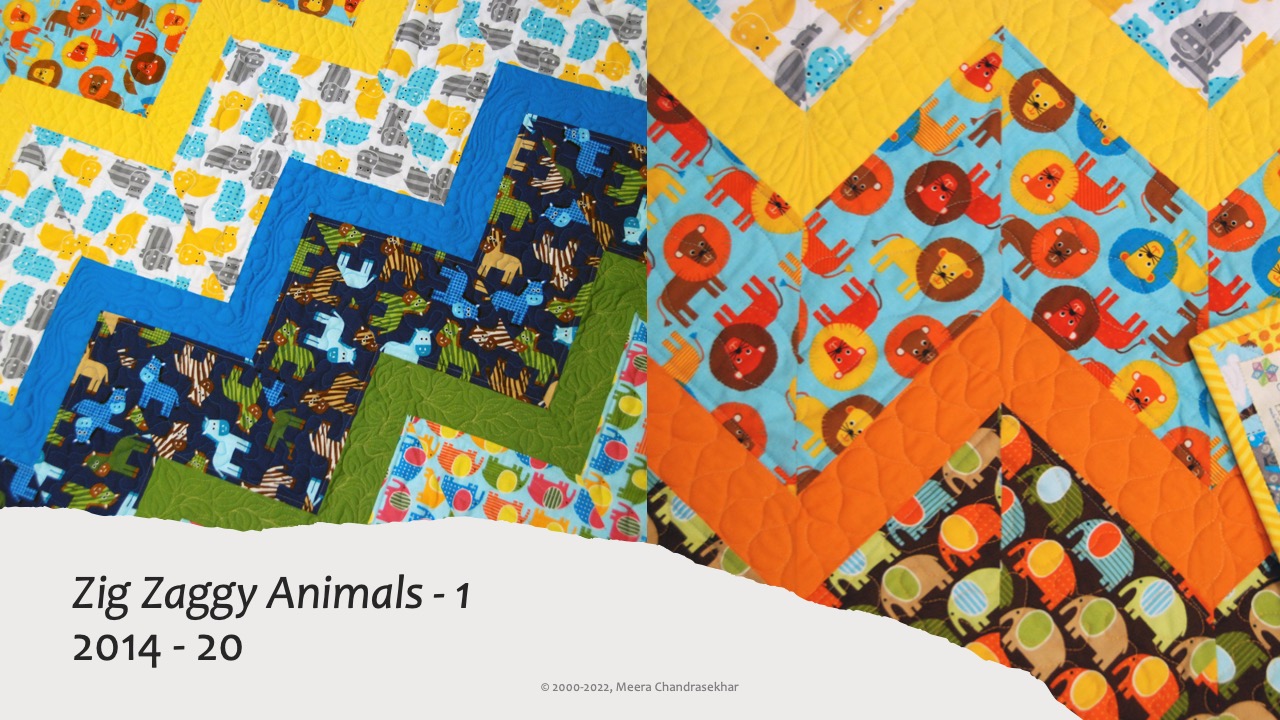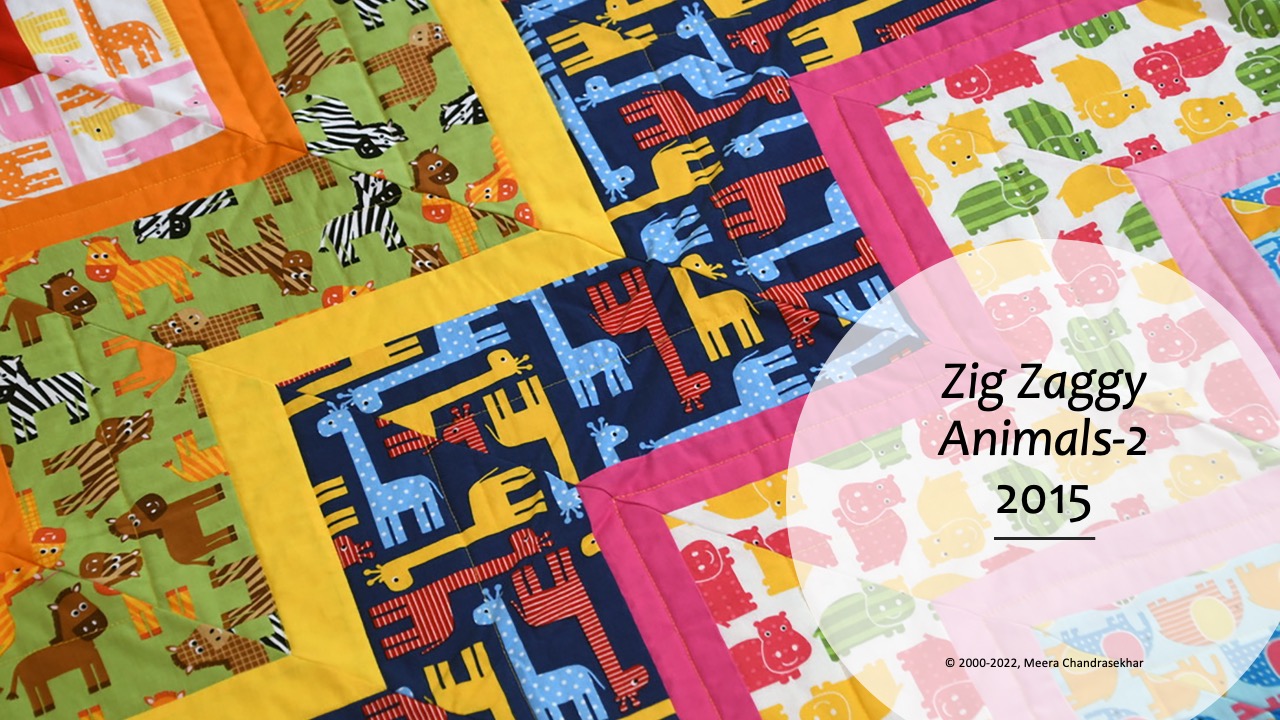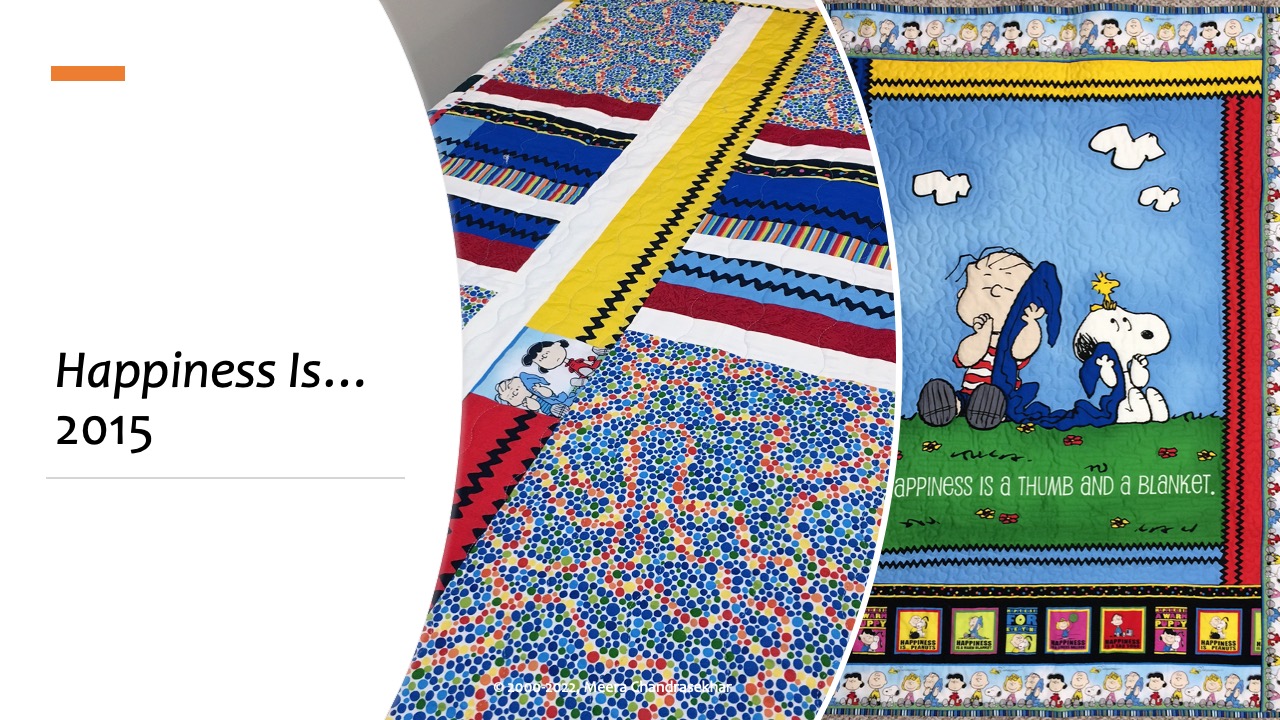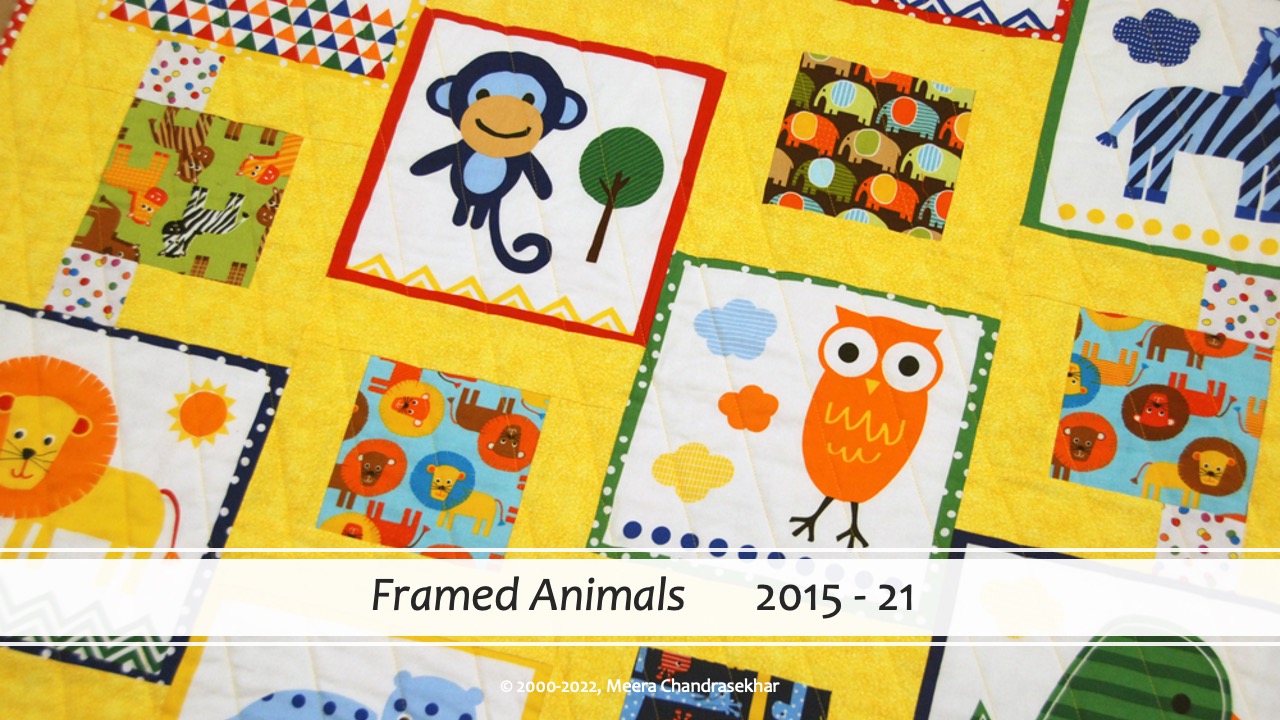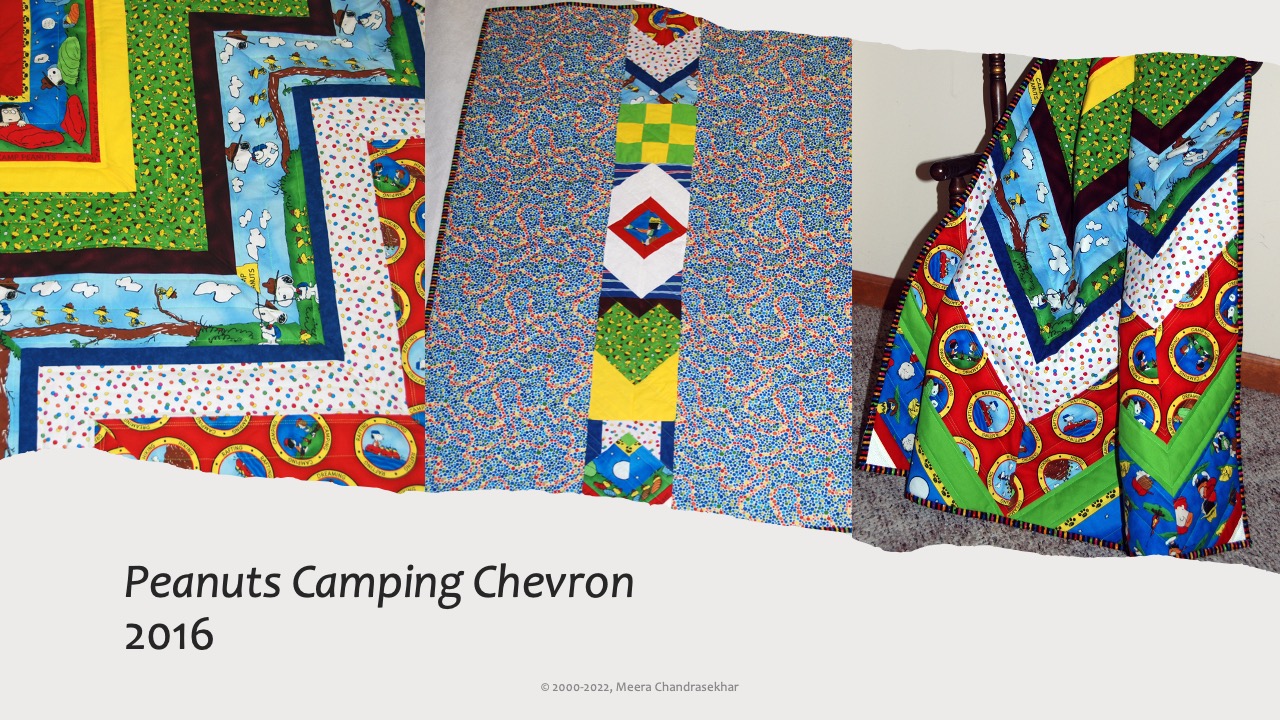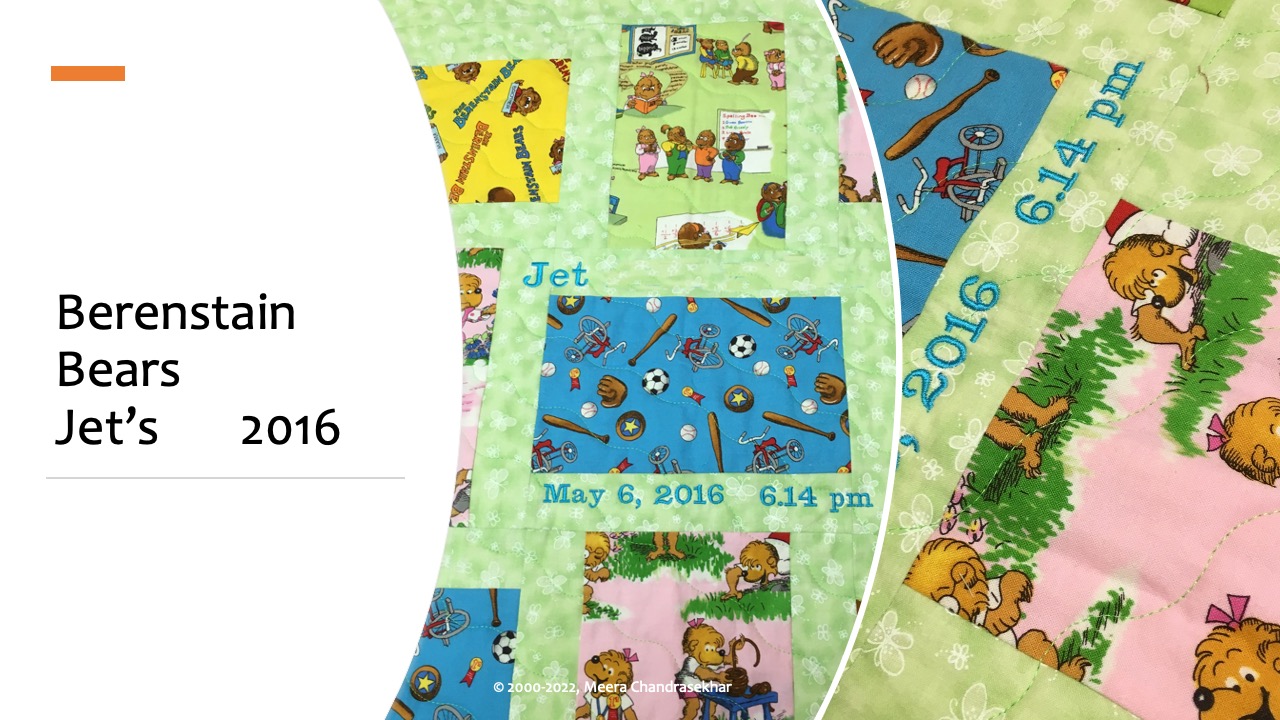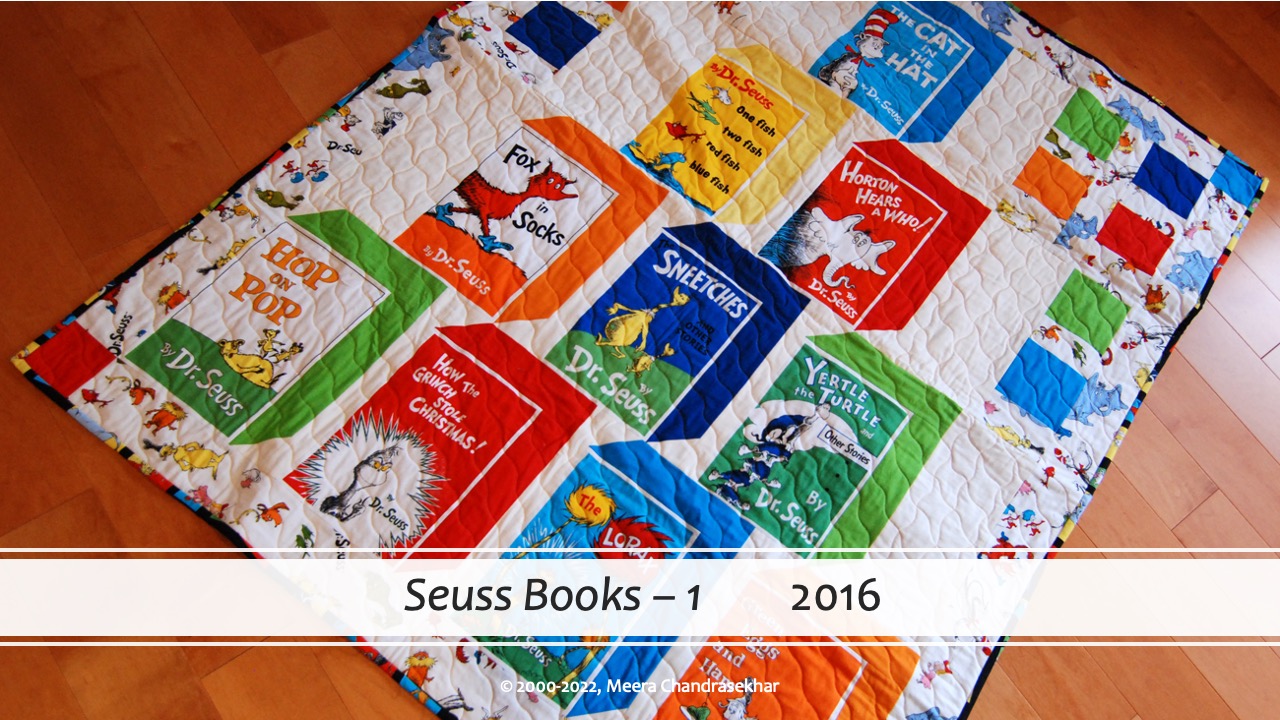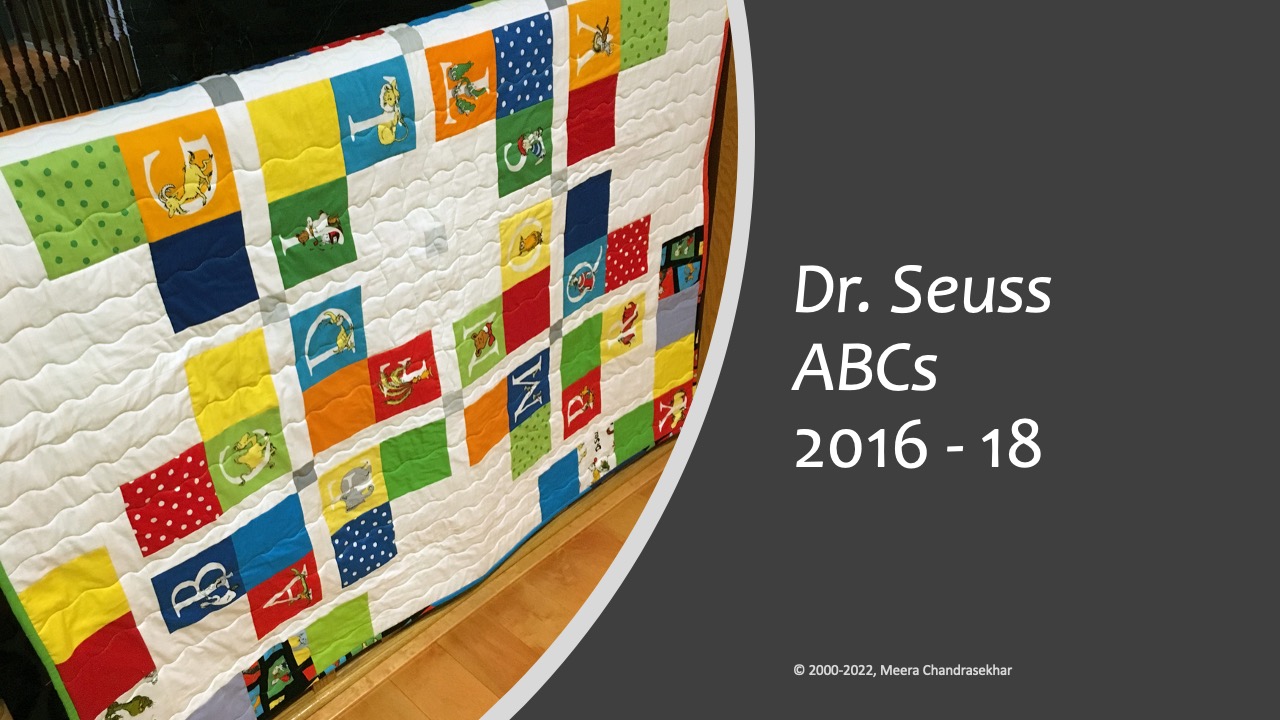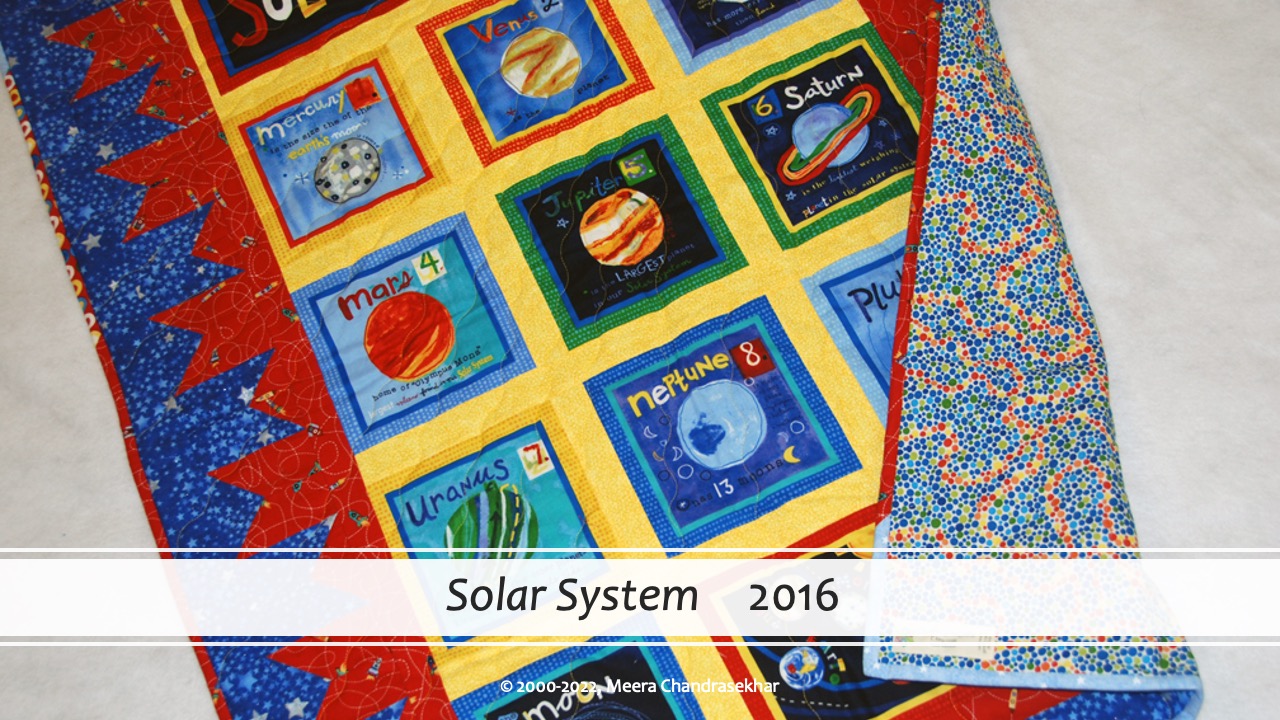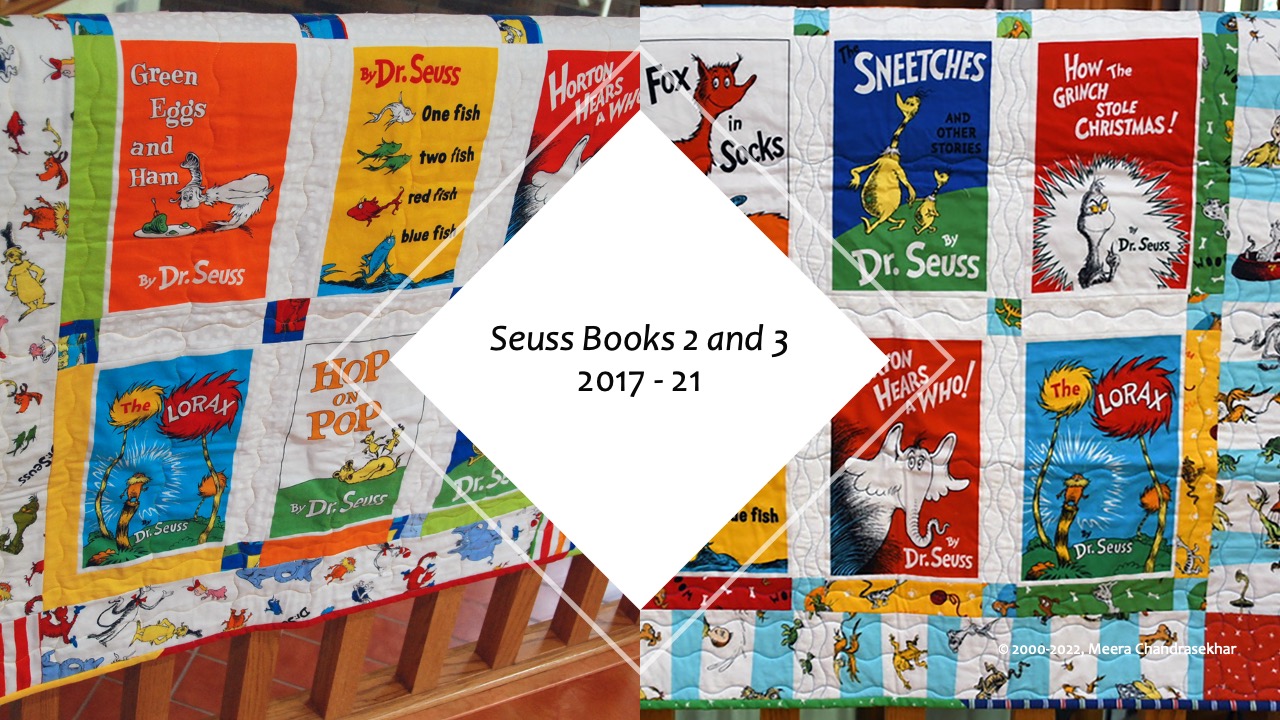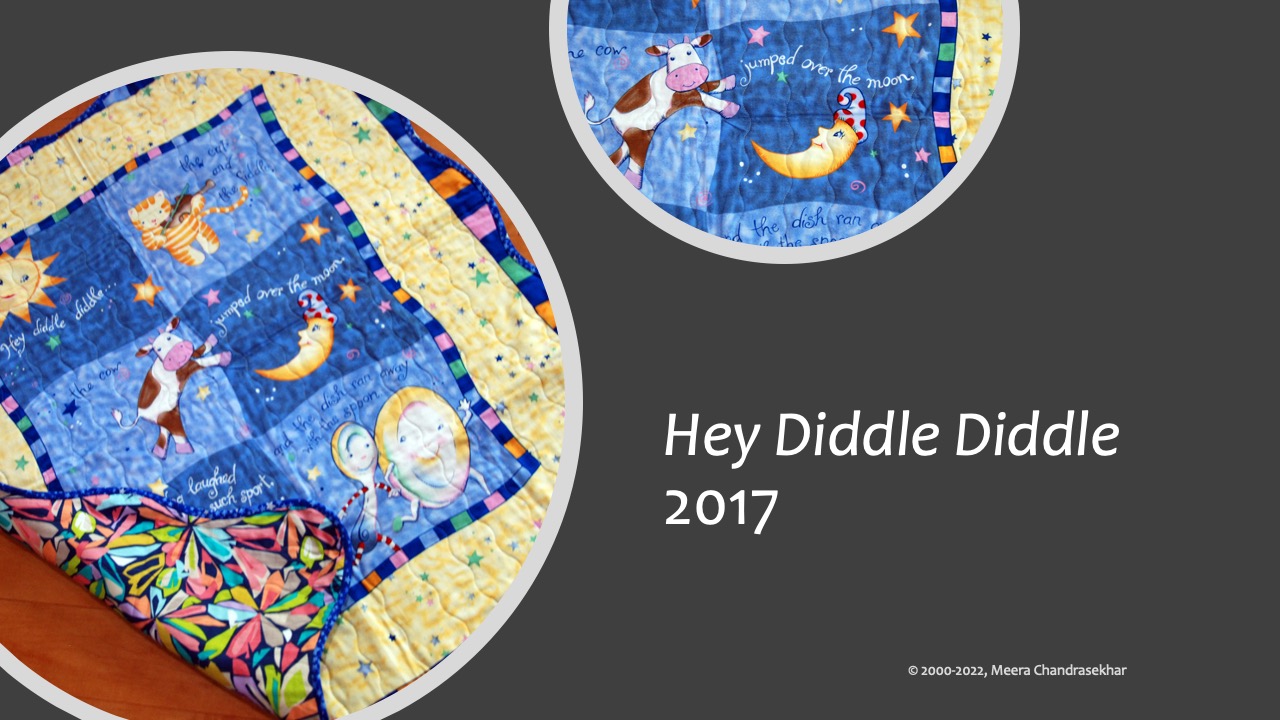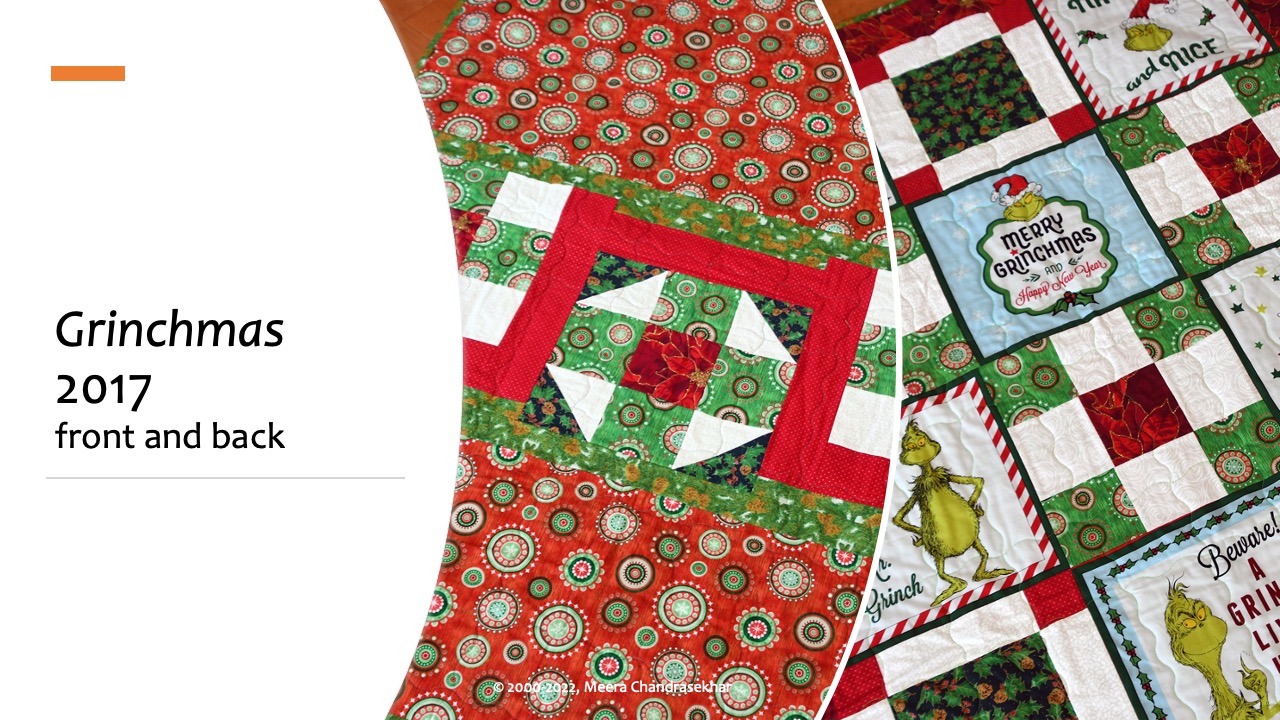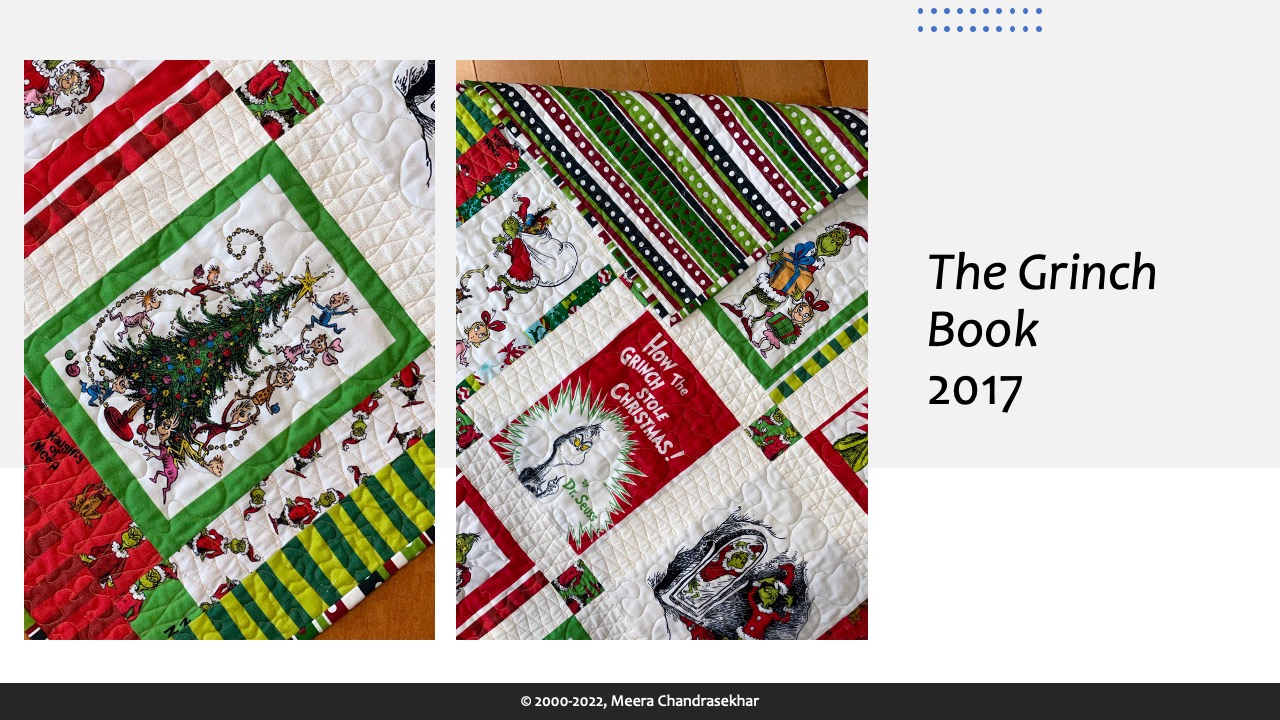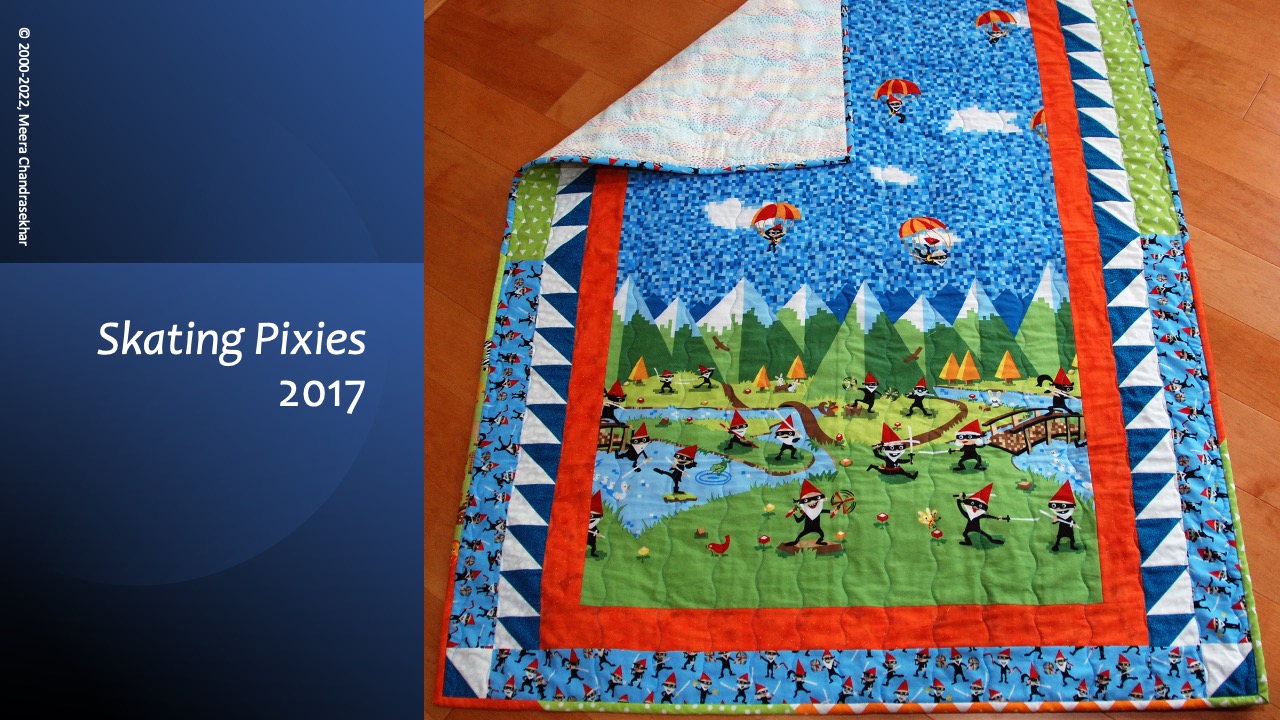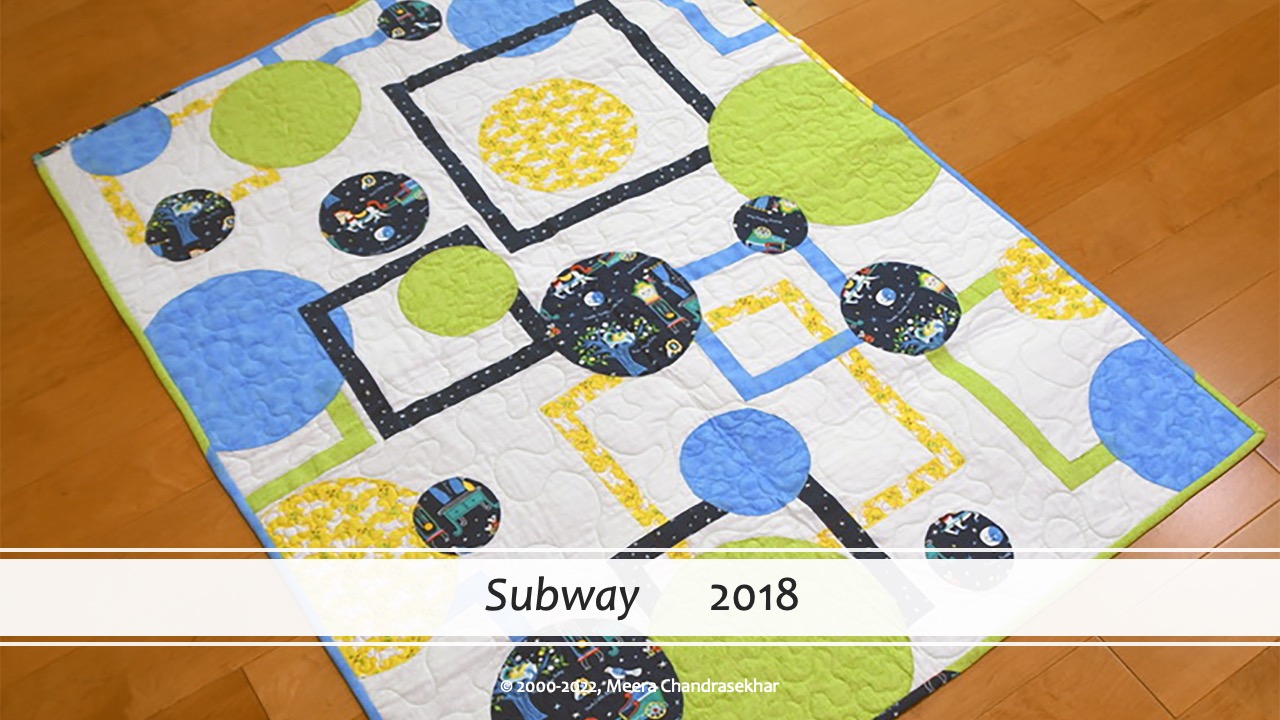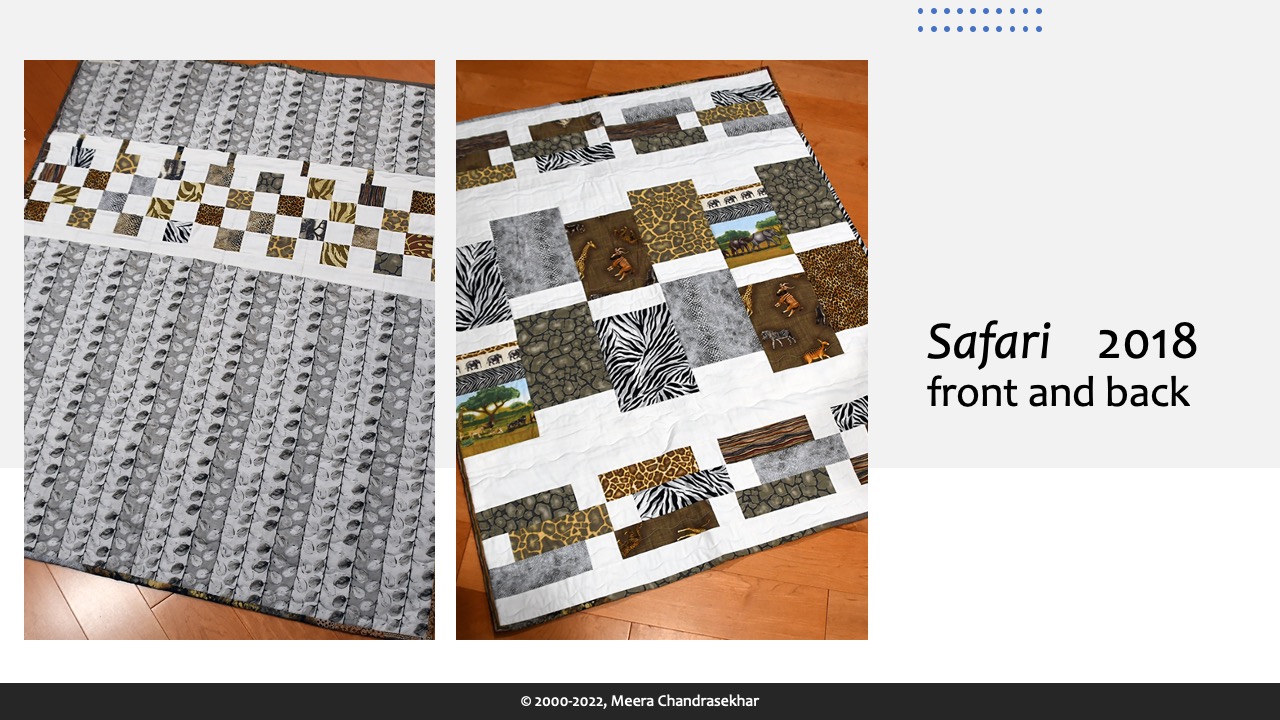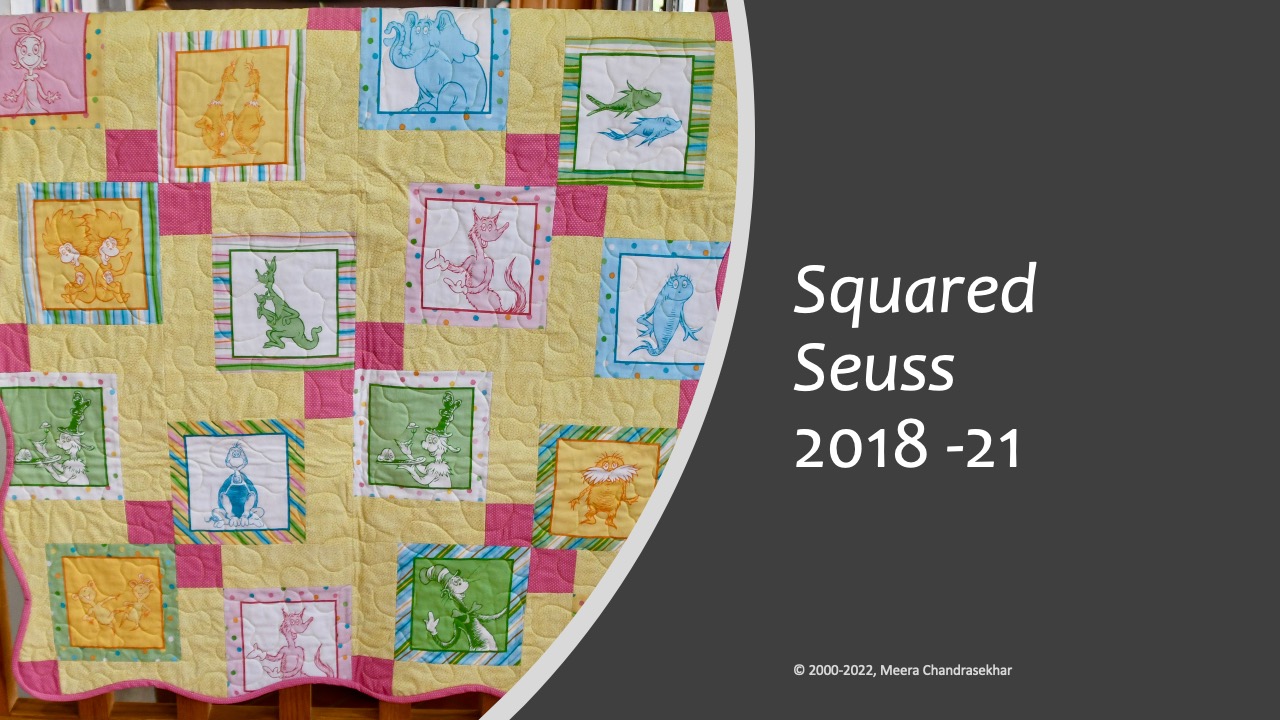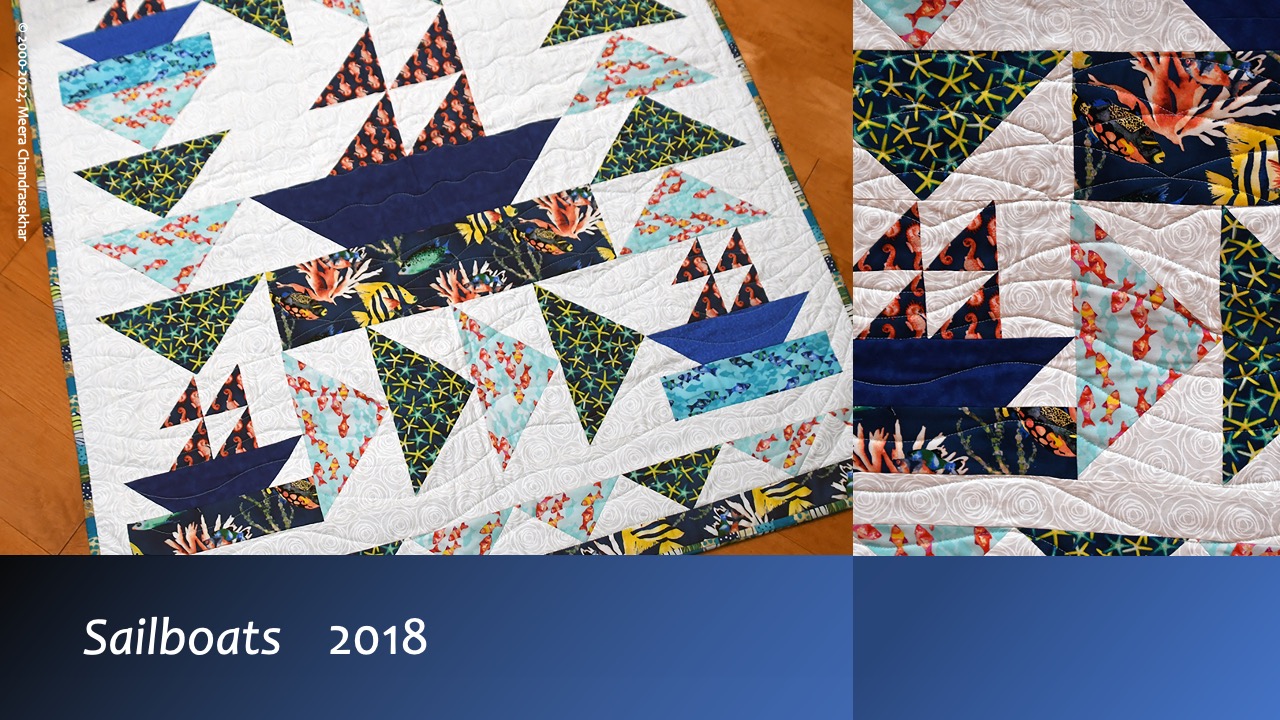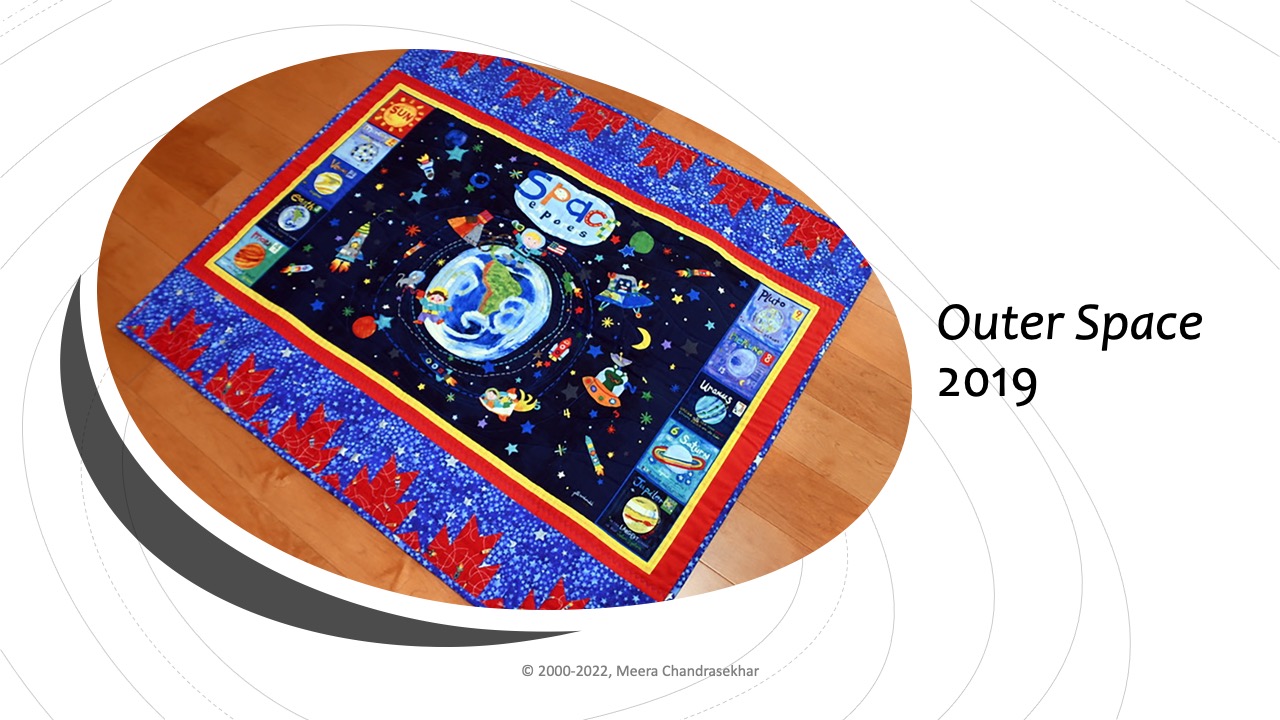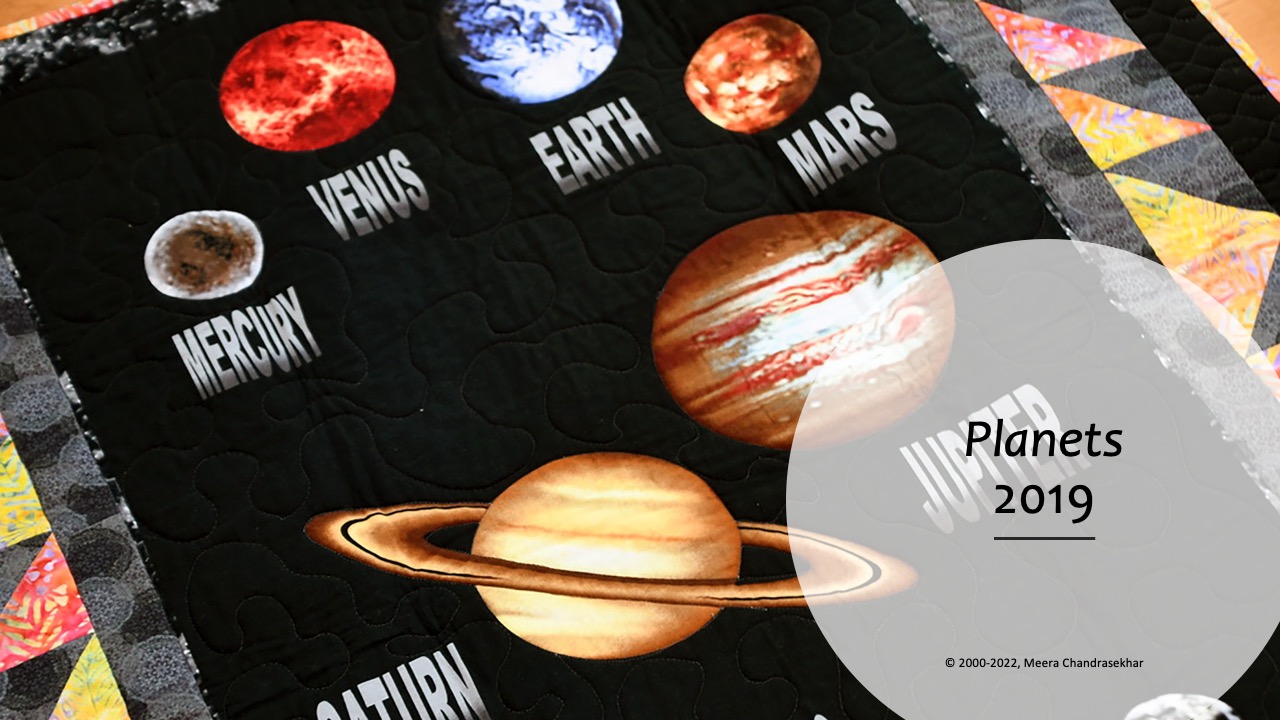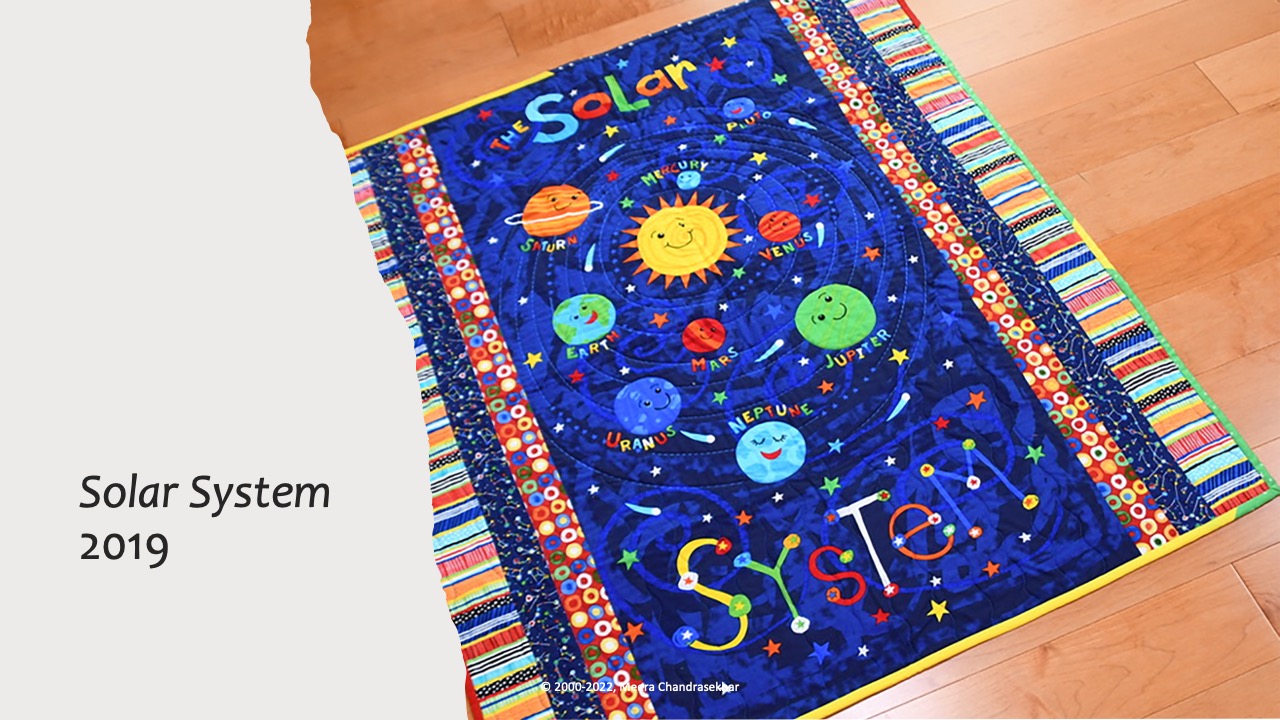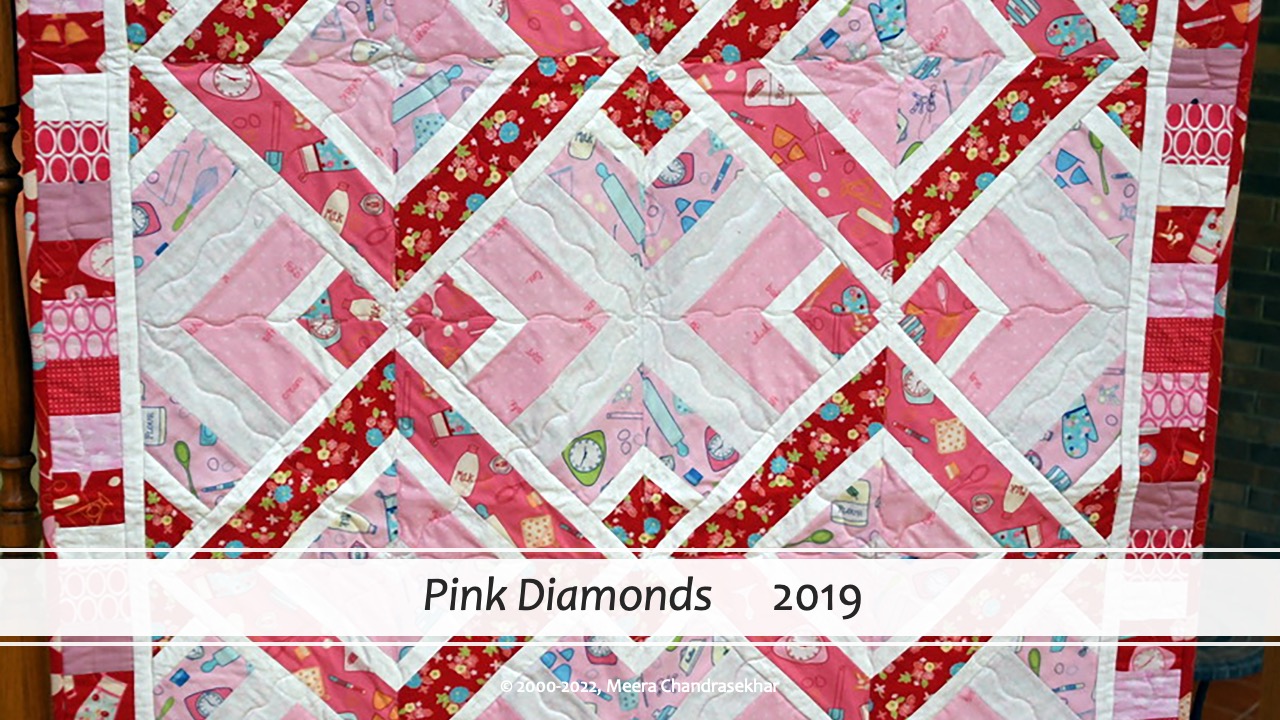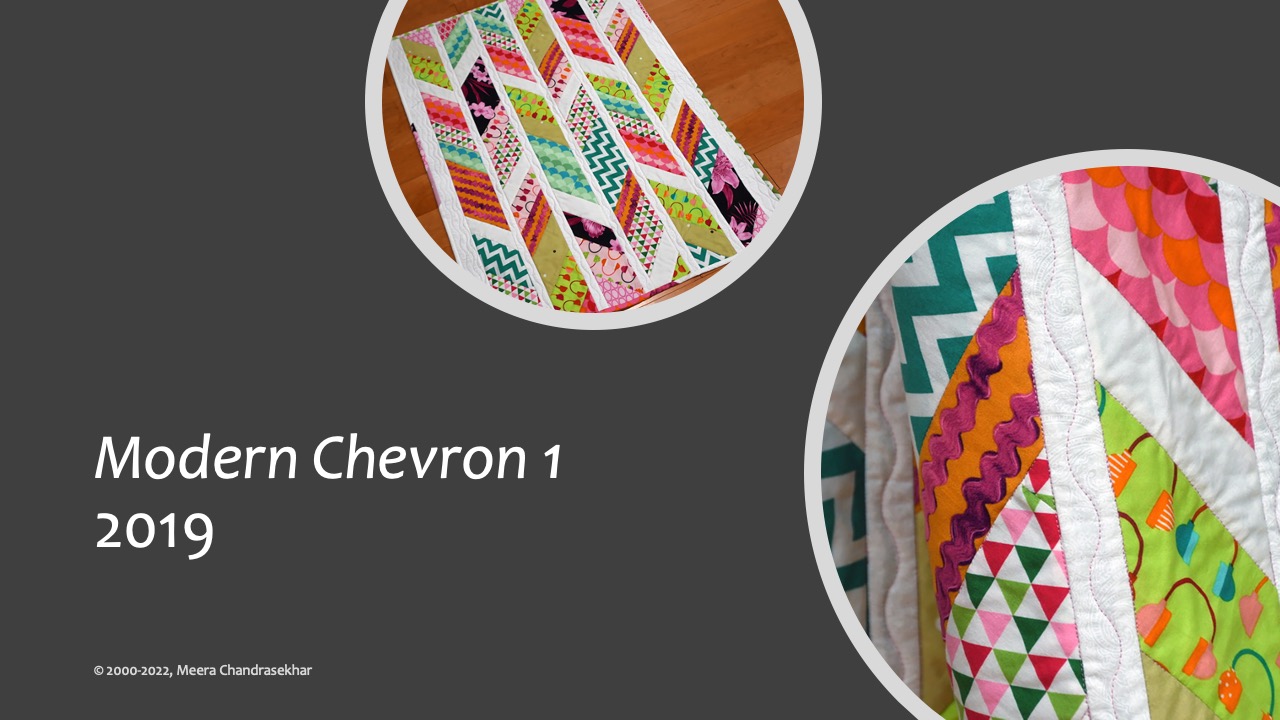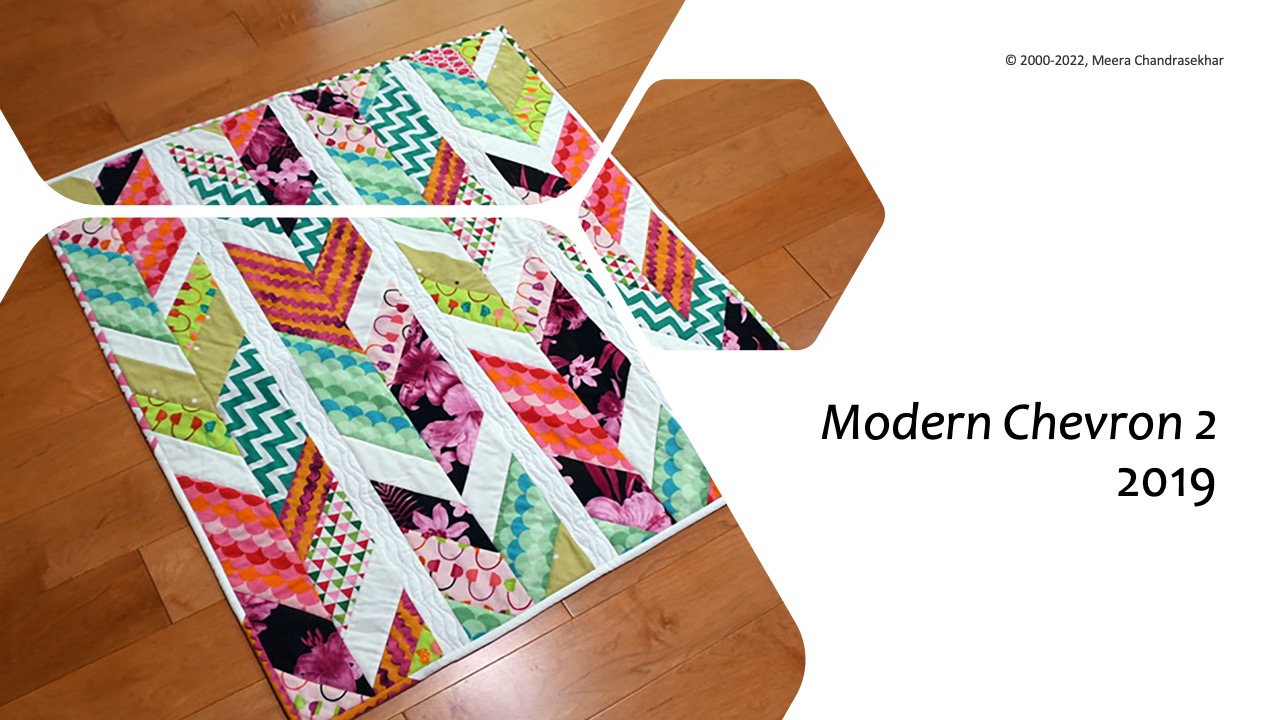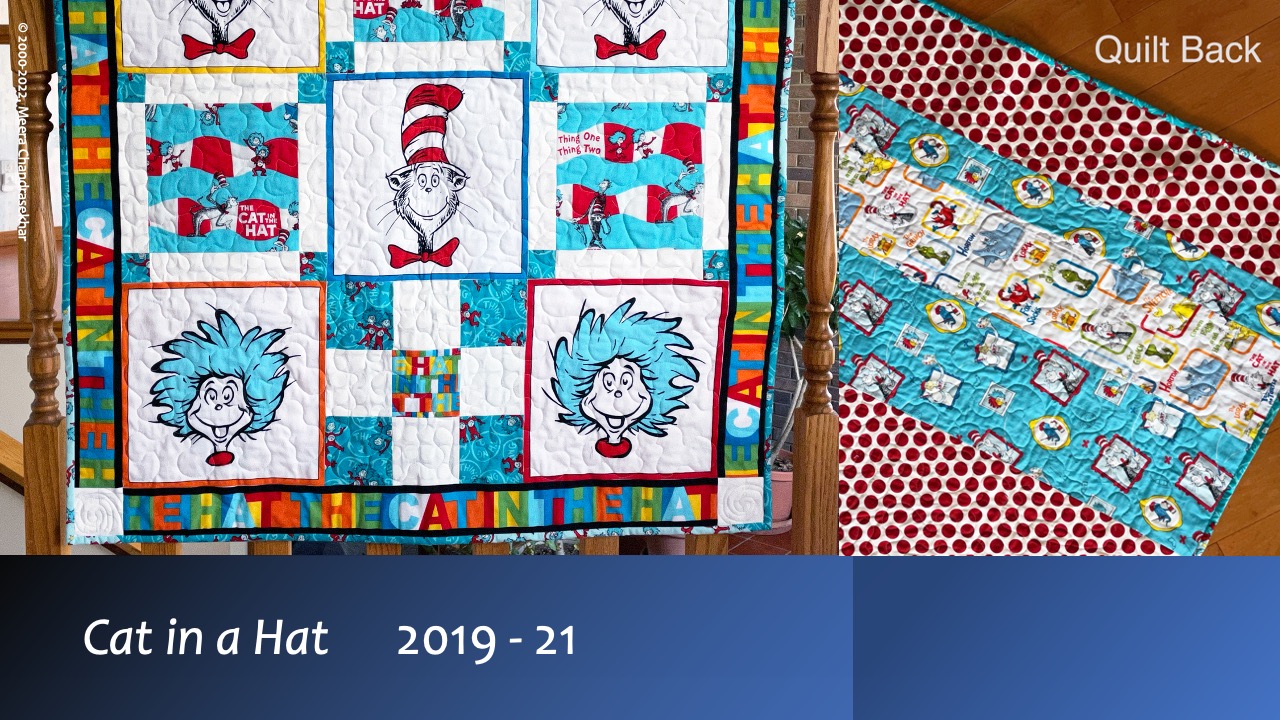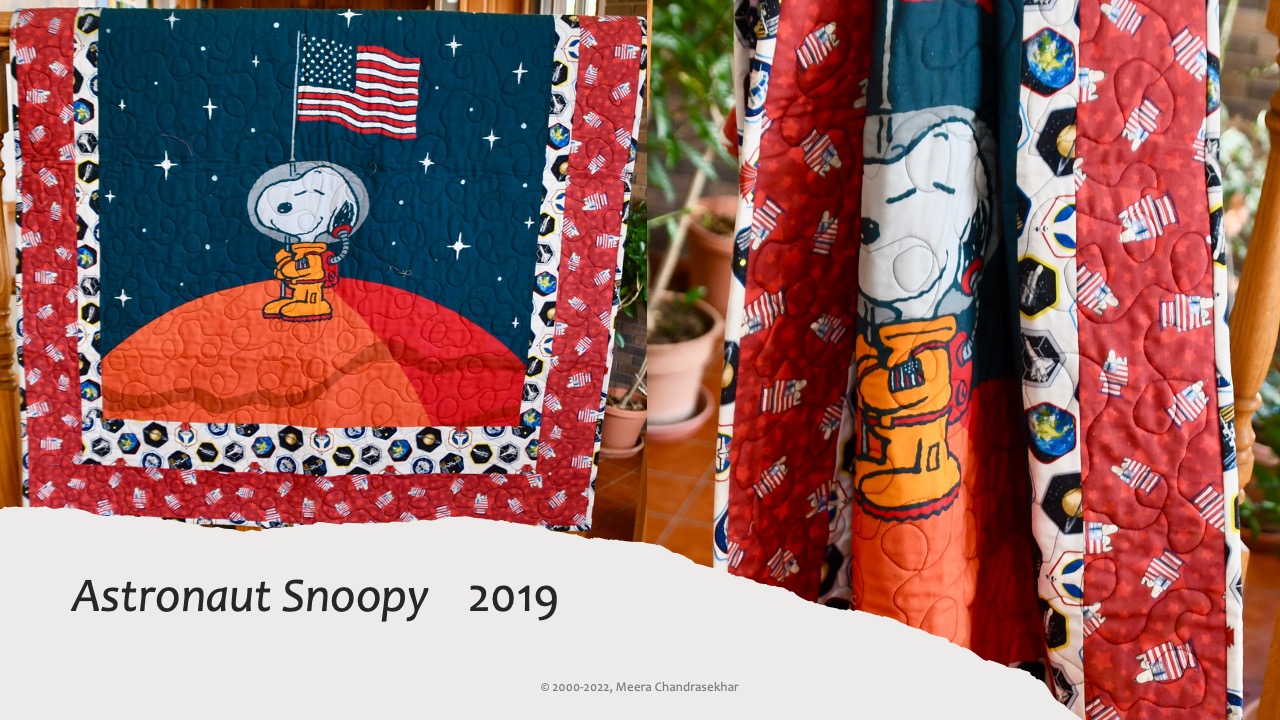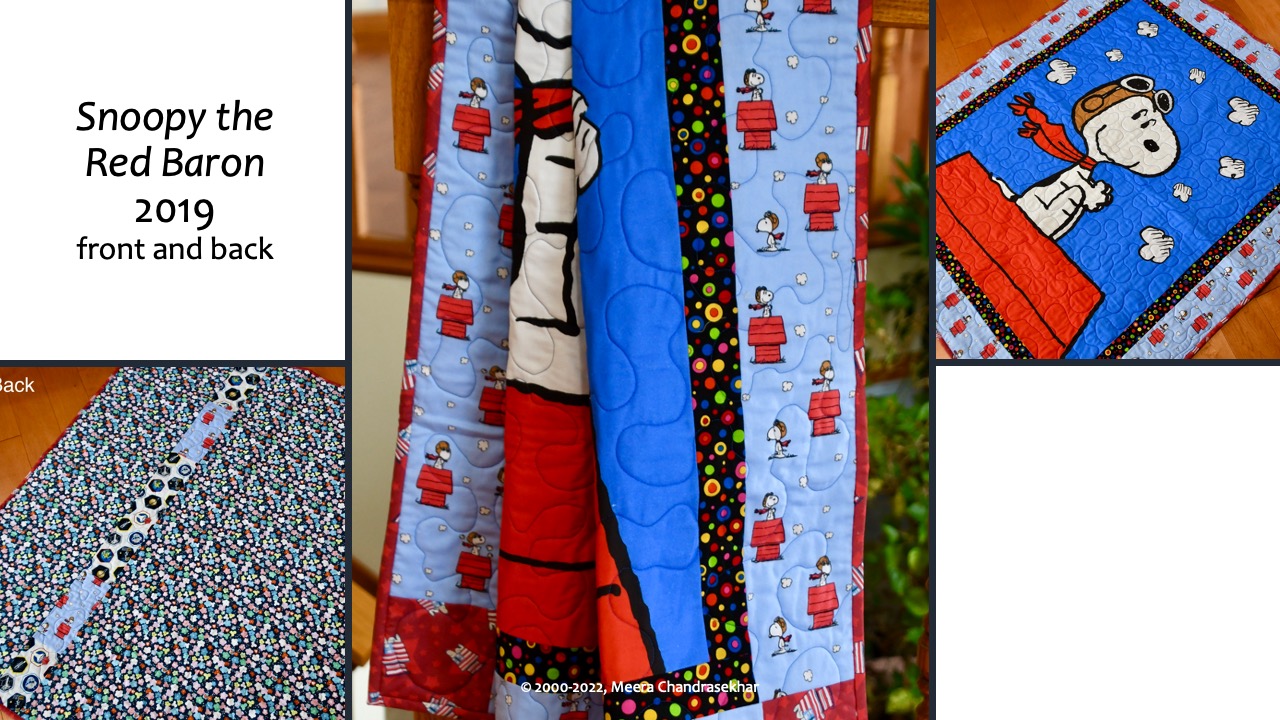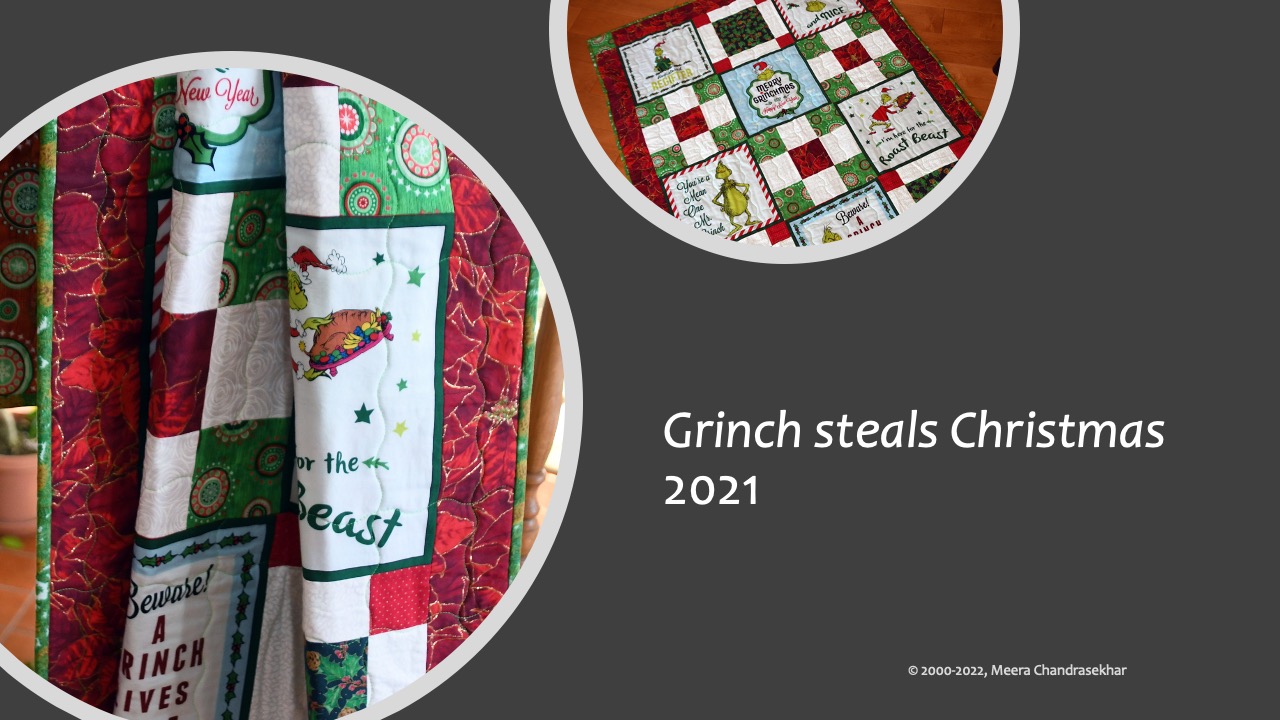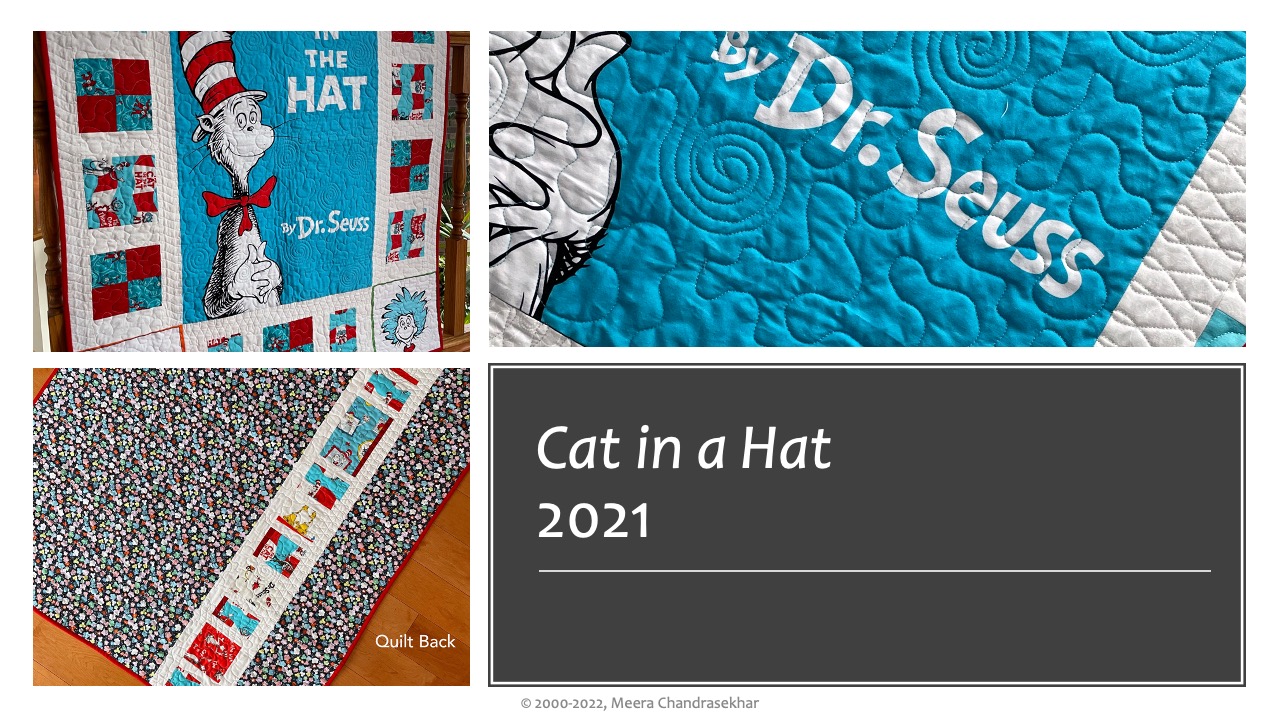 Wall Hangings, 1994 – present
The easiest quilt for a beginner is a table topper or a small wall hanging – and that is where my journey began. I still recommend Quilting by Machine, published by the Singer Sewing Reference Library in 1990. Lots of variety, detailed instructions, but not overwhelming. As the pros will tell us, combine learning, skill and the right tools, and life becomes so much more fun!
The slides below are a compendium of my wall quilts. My quilts started out with tiny amounts of quilting, done using a transparent filament thread. In 2008 I acquired a Viking embroidery machine that I used primarily for free-motion quilting, learned from Craftsy's online classes and a smattering of other online sources. In 2020, just as Covid confined us to our homes, I purchased a Handiquilter Capri, an 18″ sit-down free motion quilting machine. The Capri sure made quilting easier – and I am more willing to take on a large project such as a queen size quilt! (Little secret – my older queen size quilts were quilted by others.)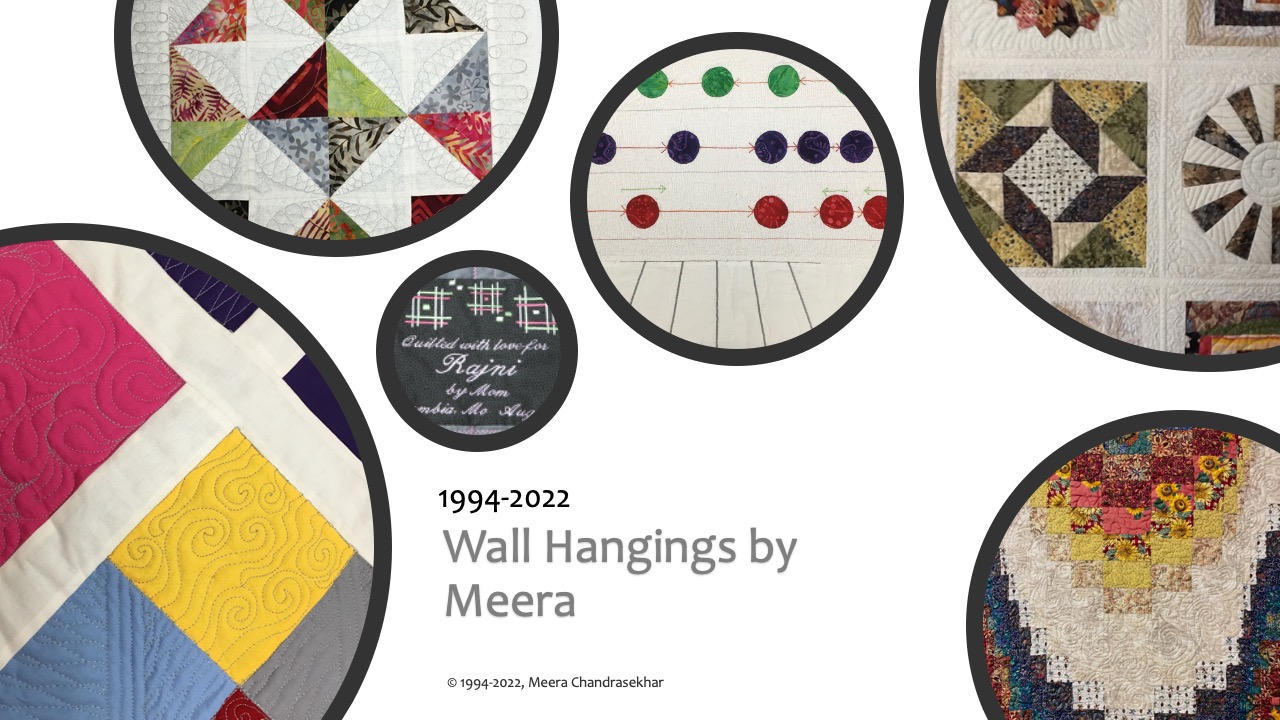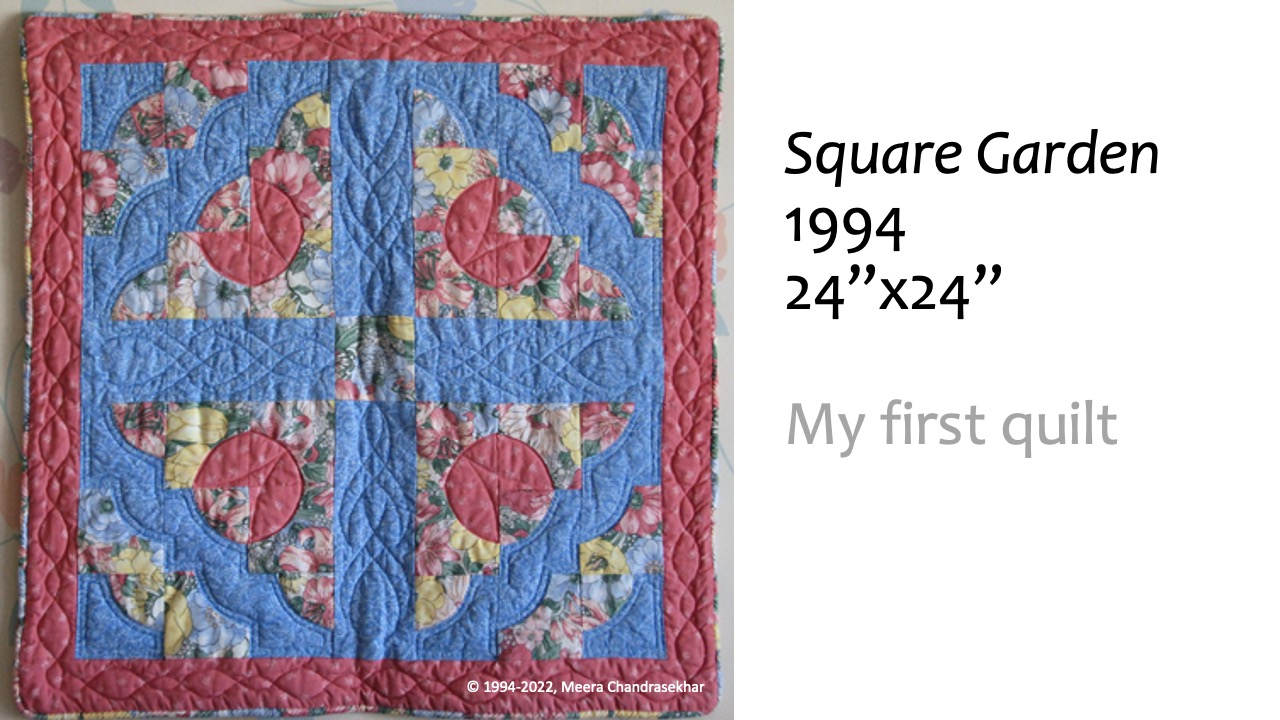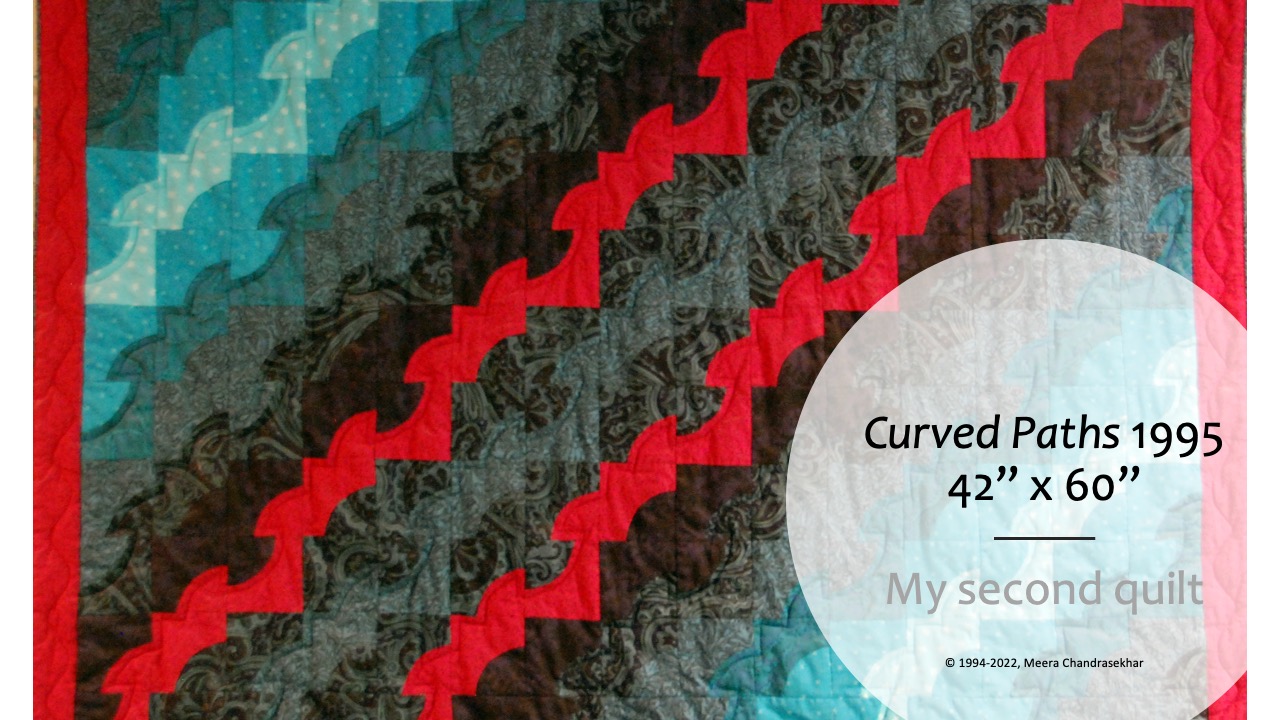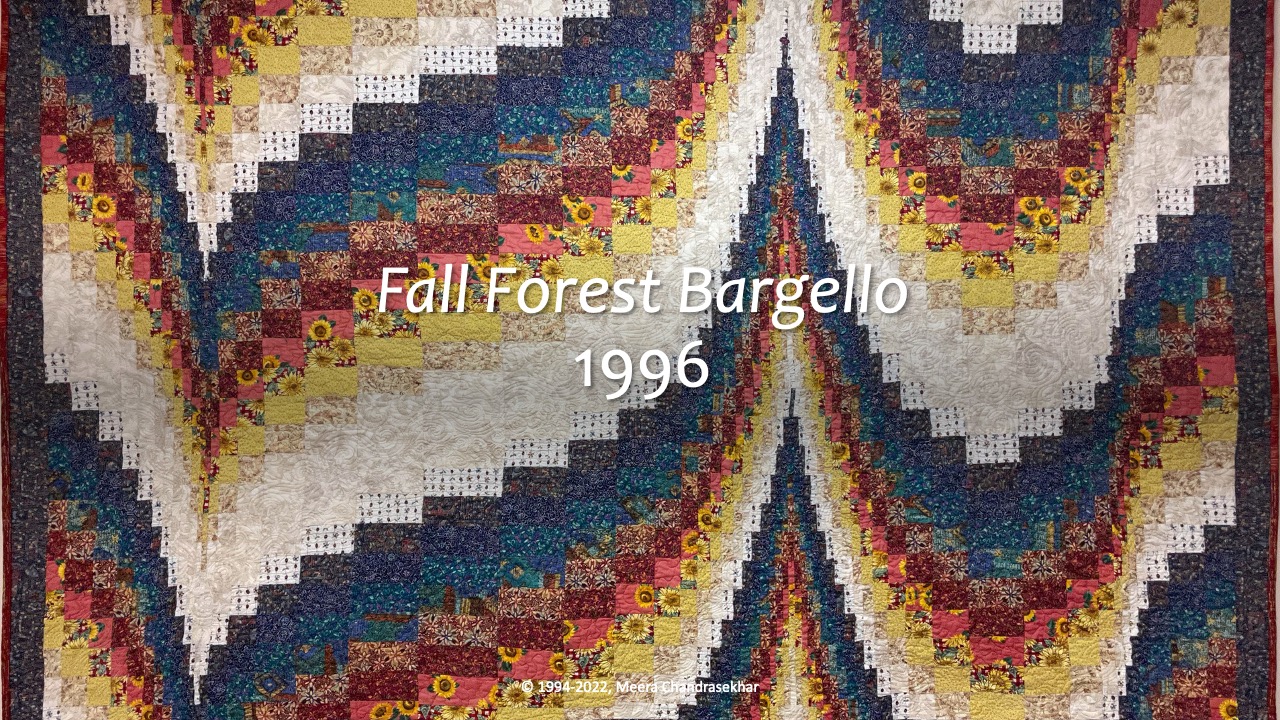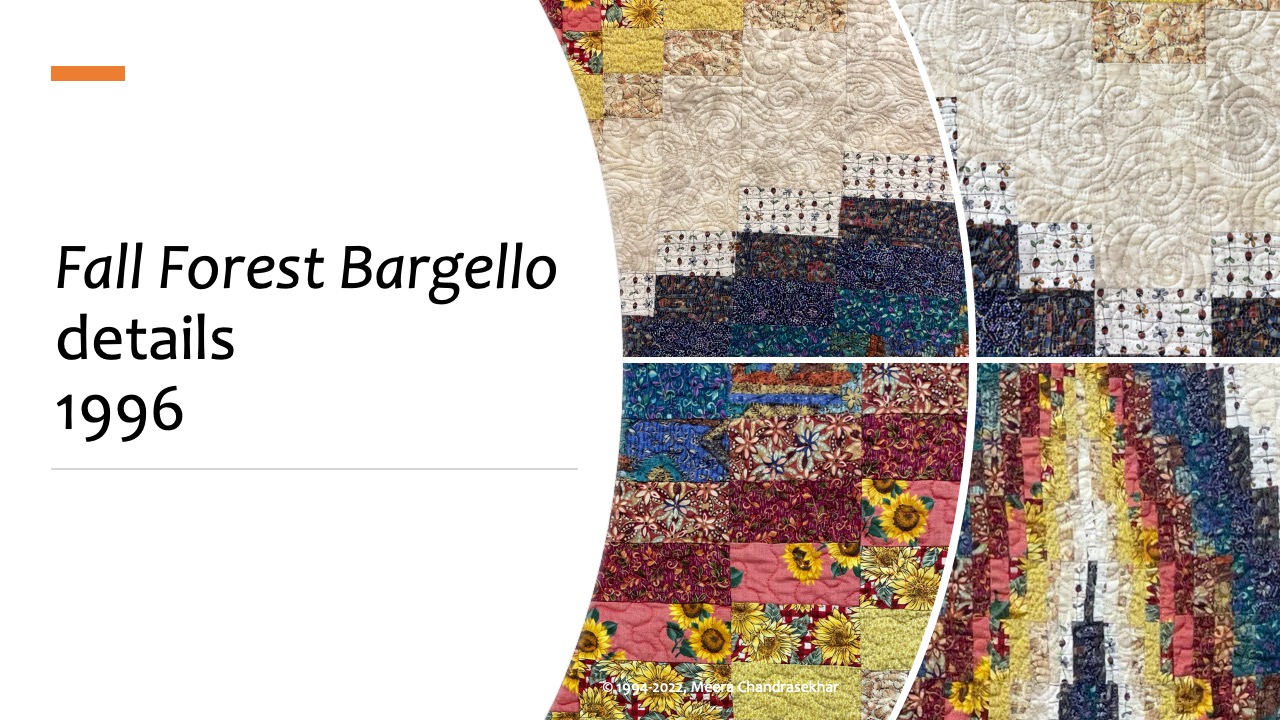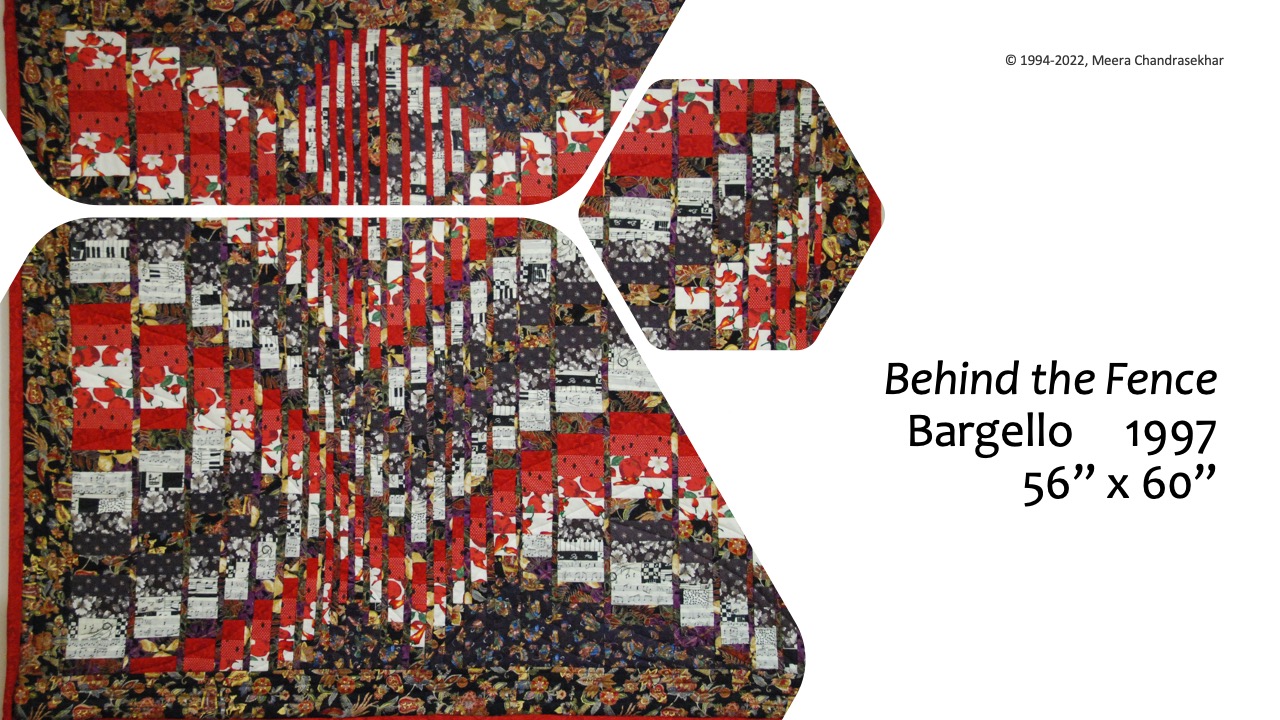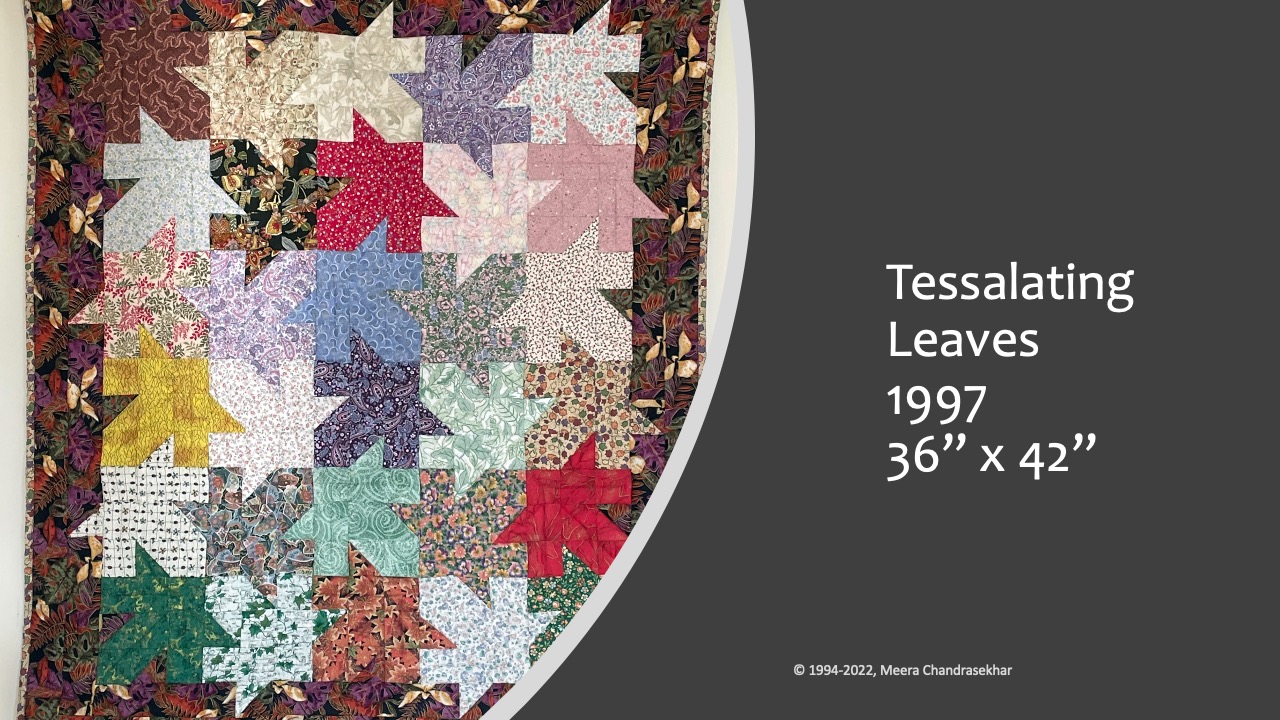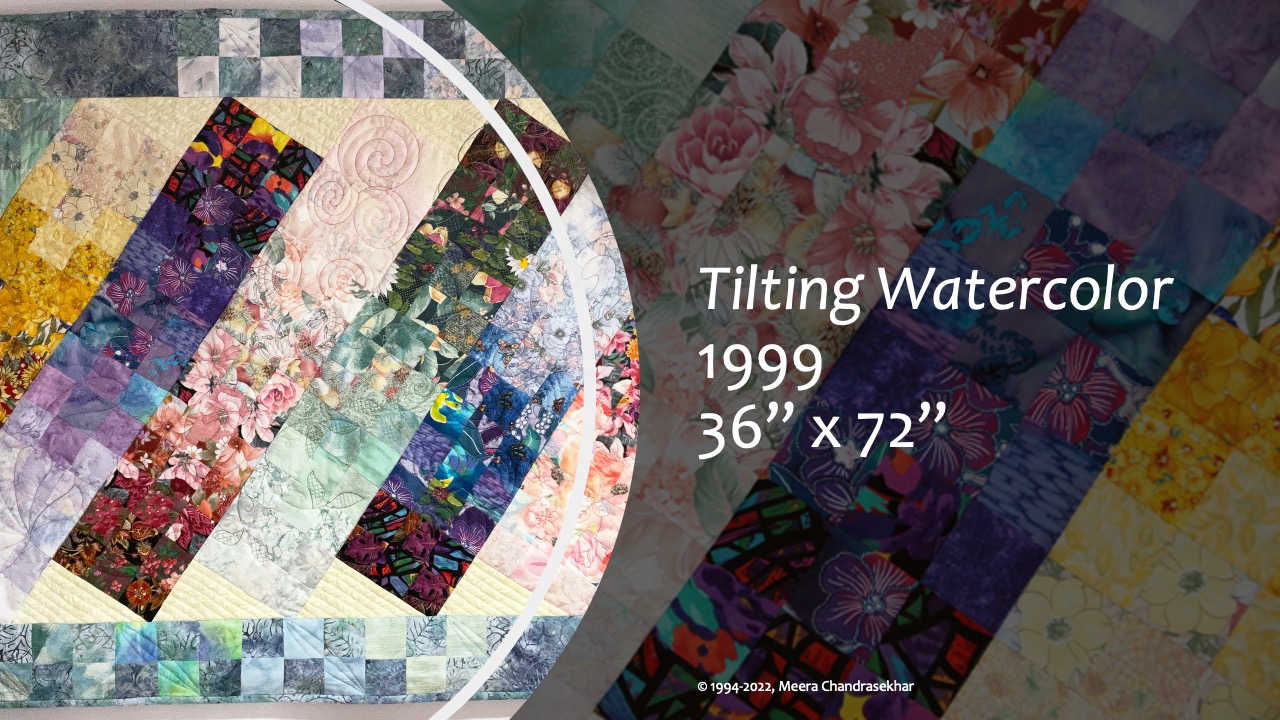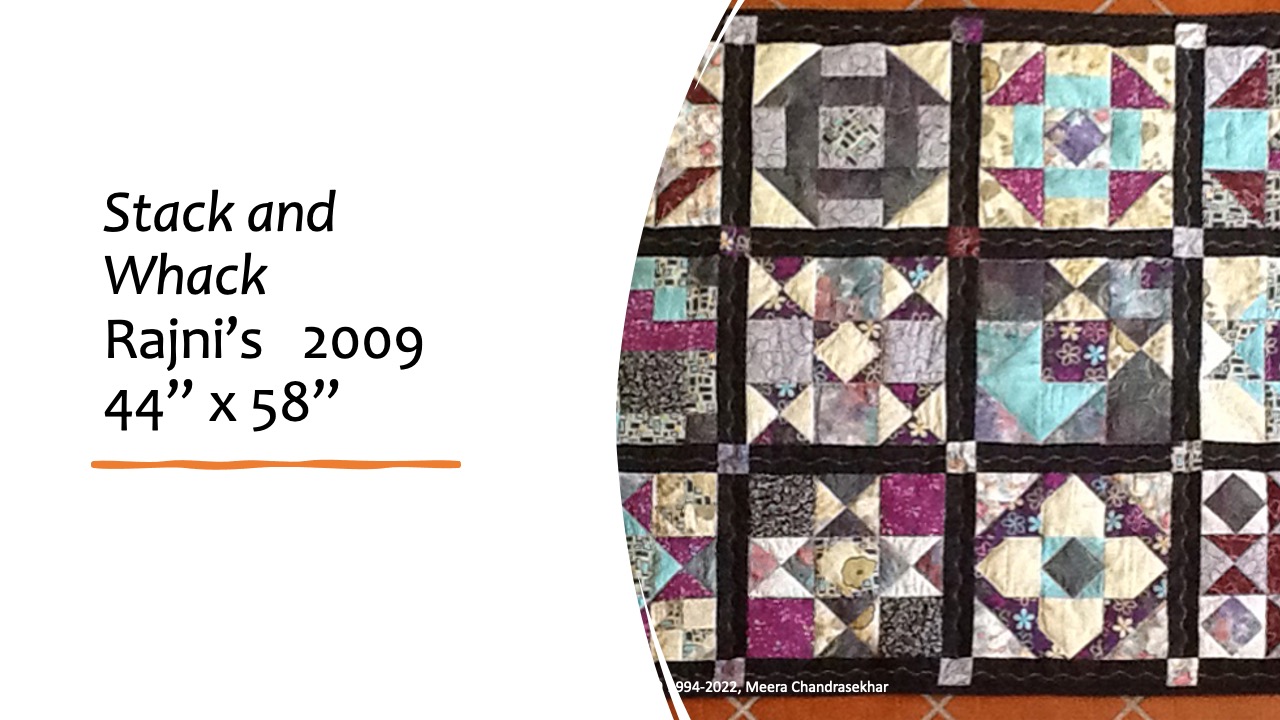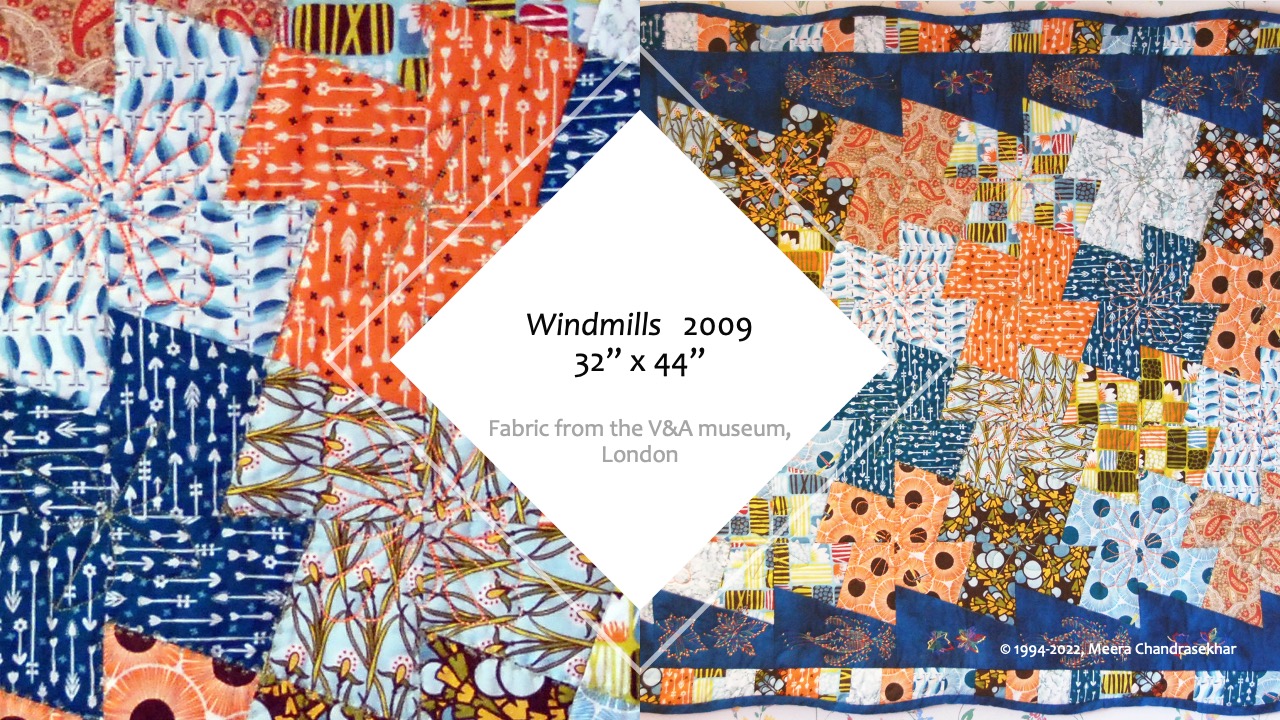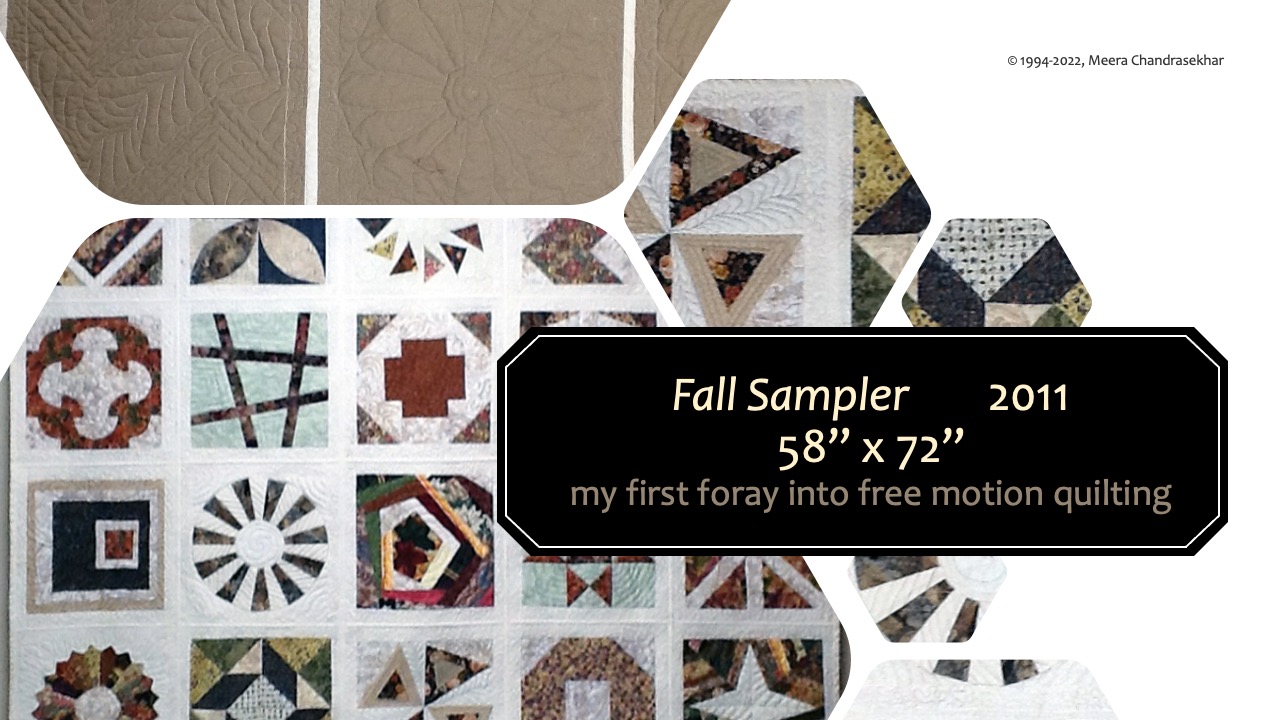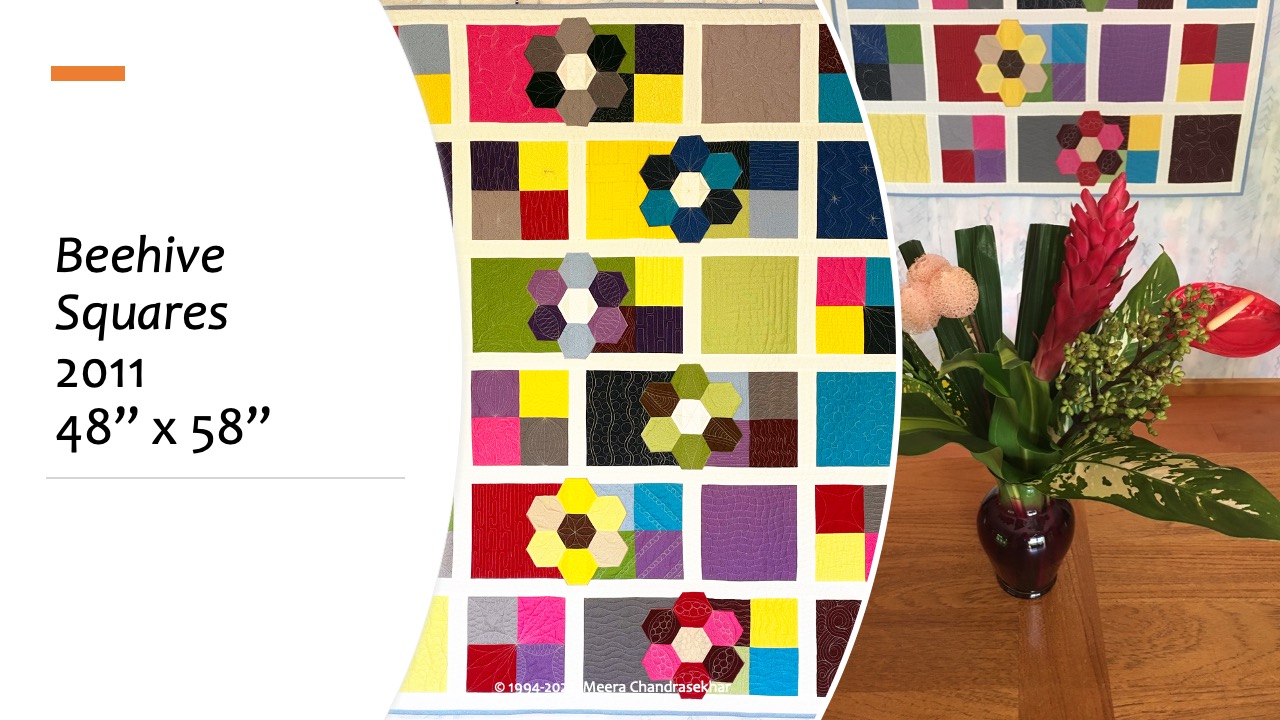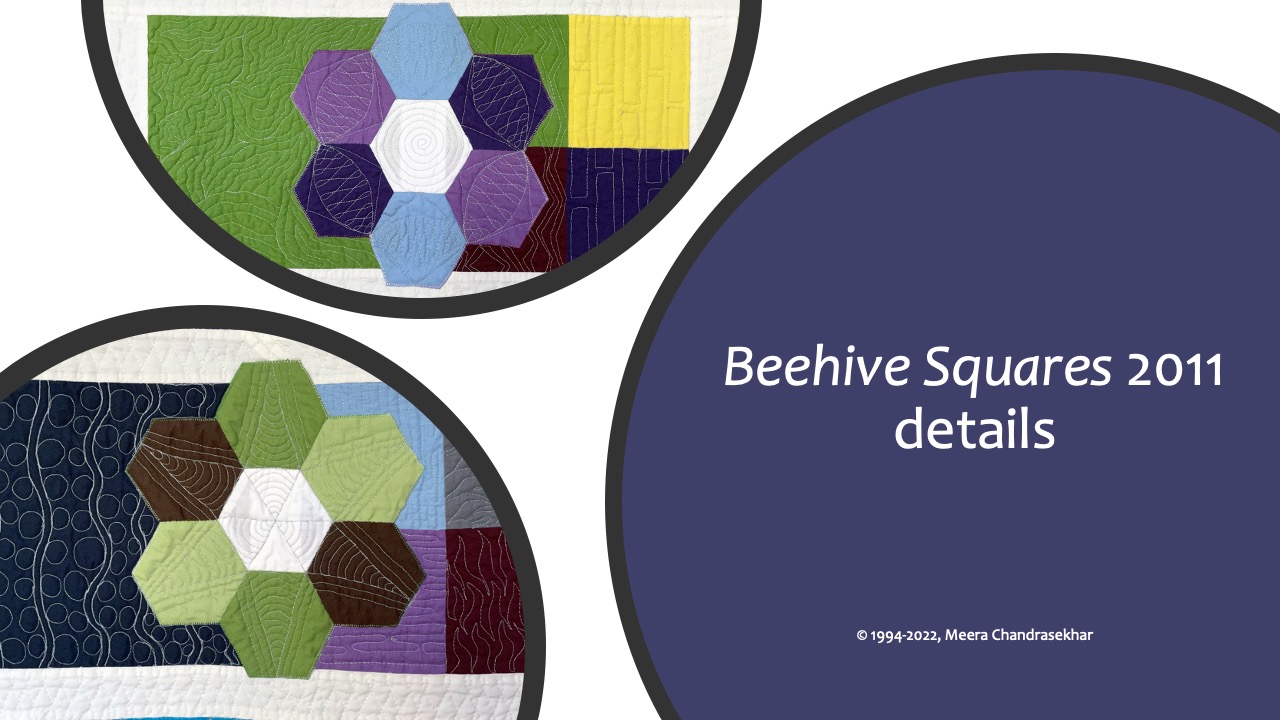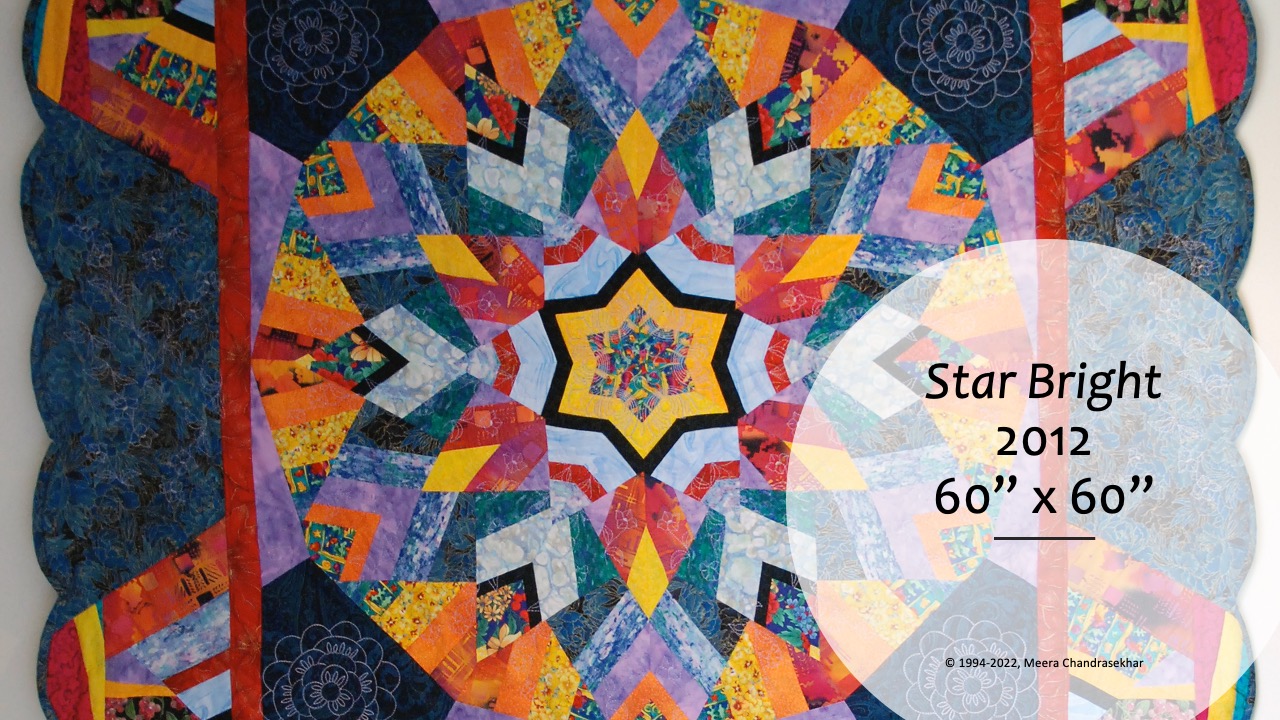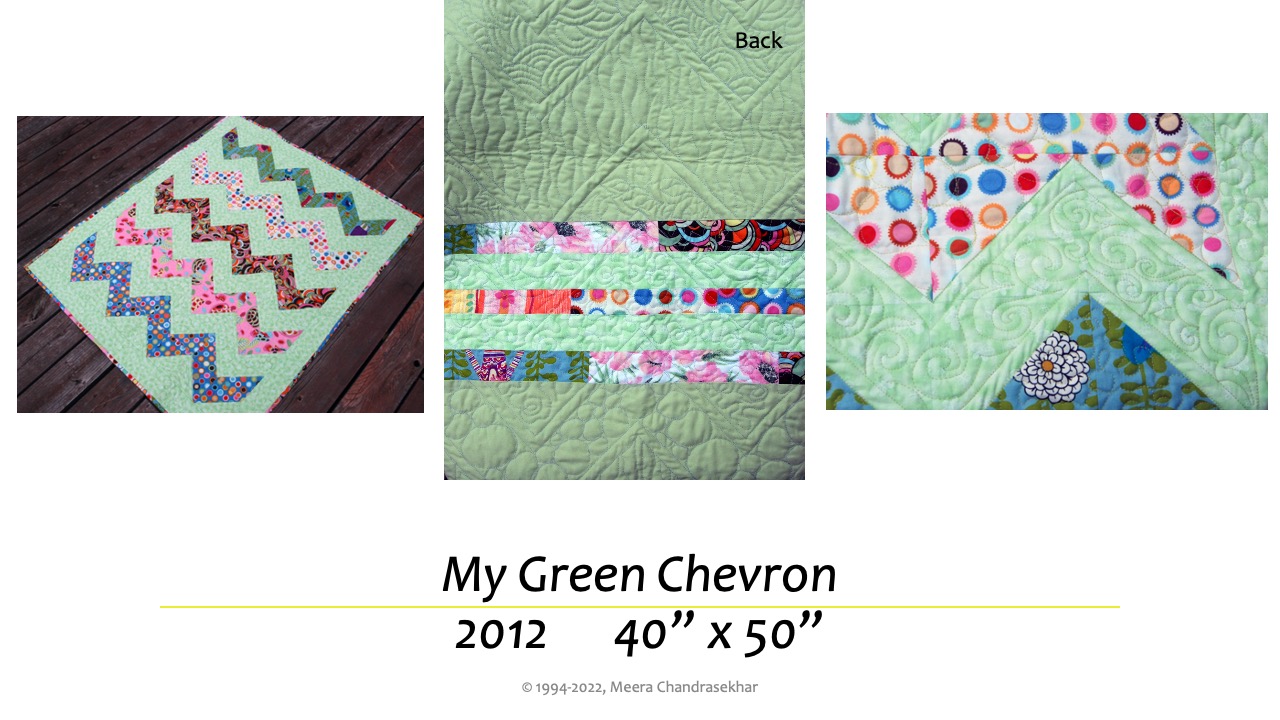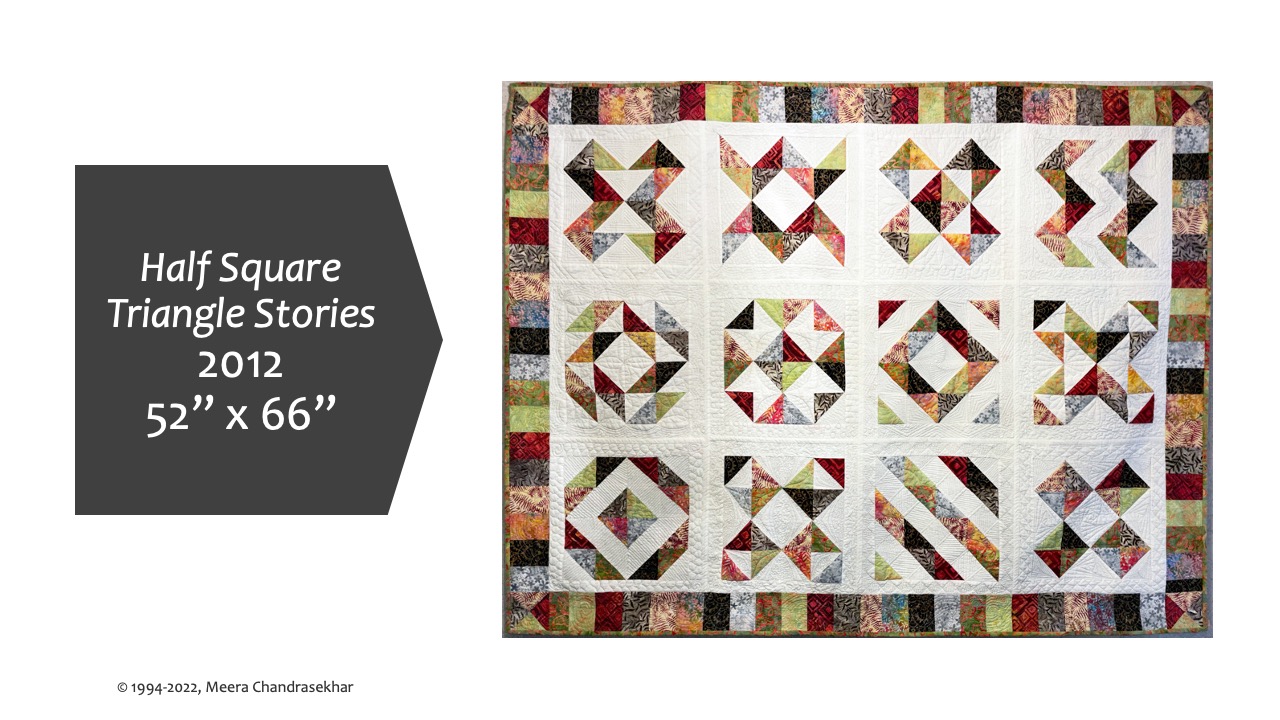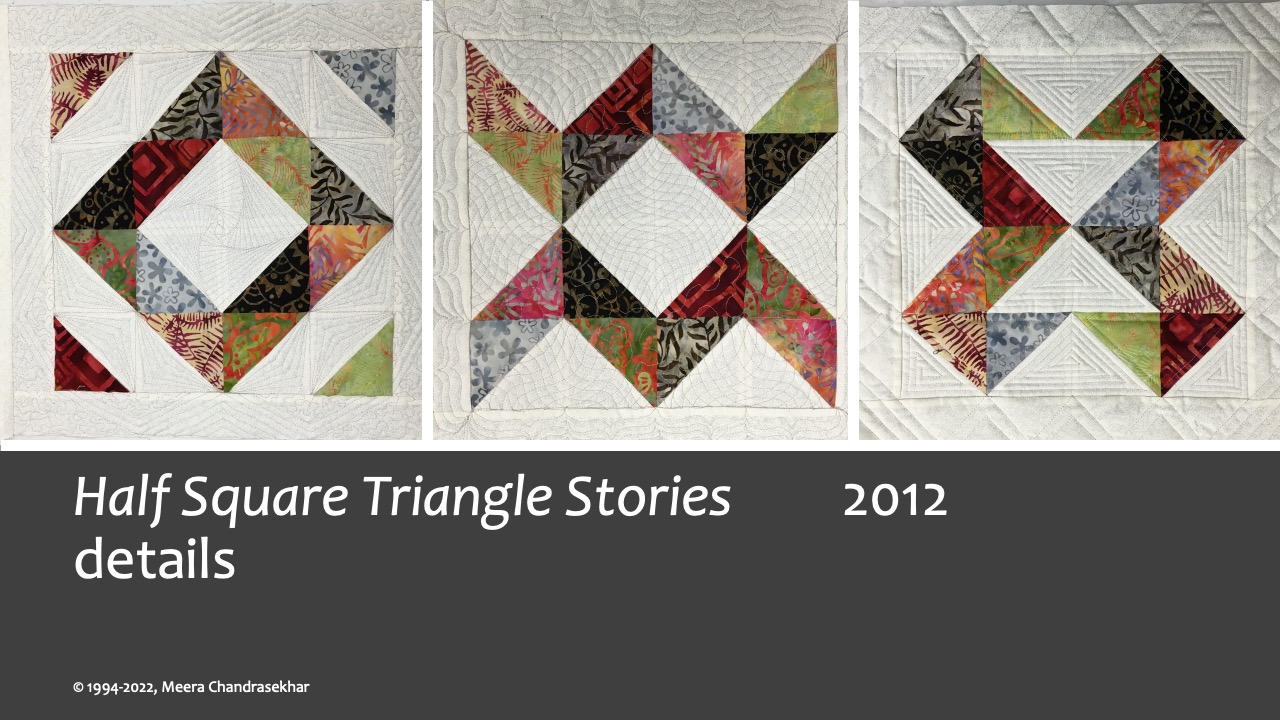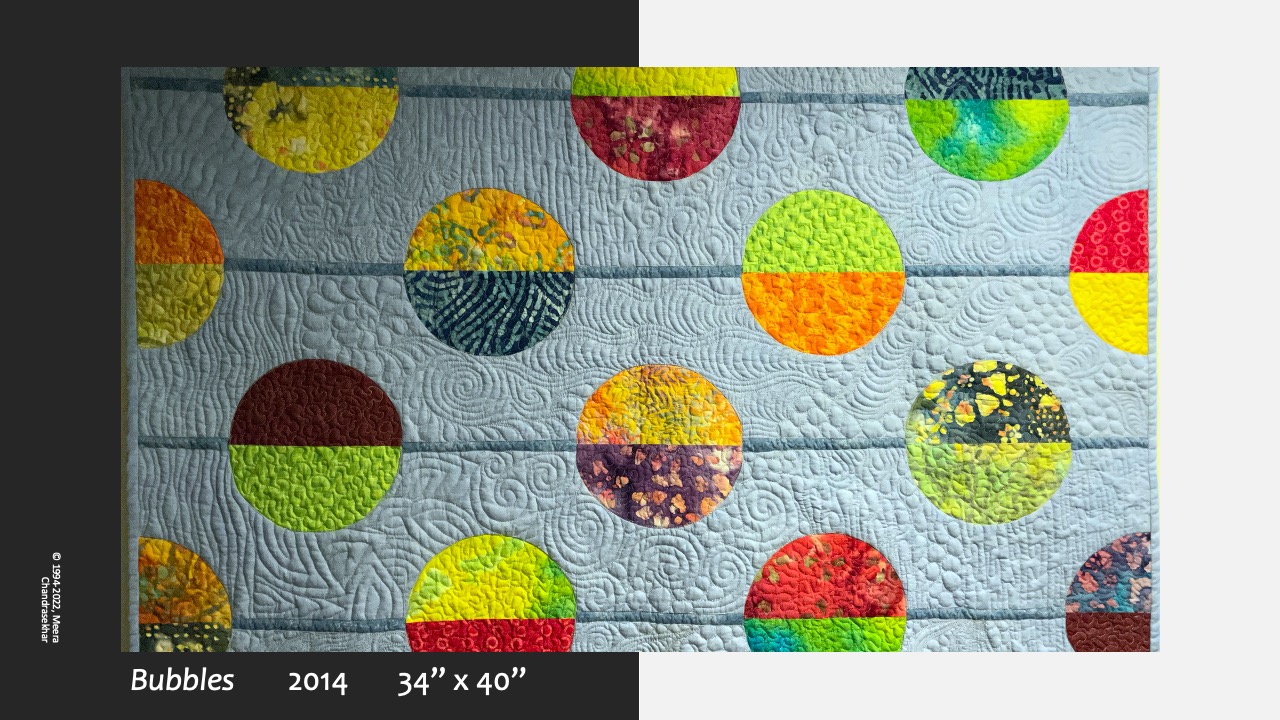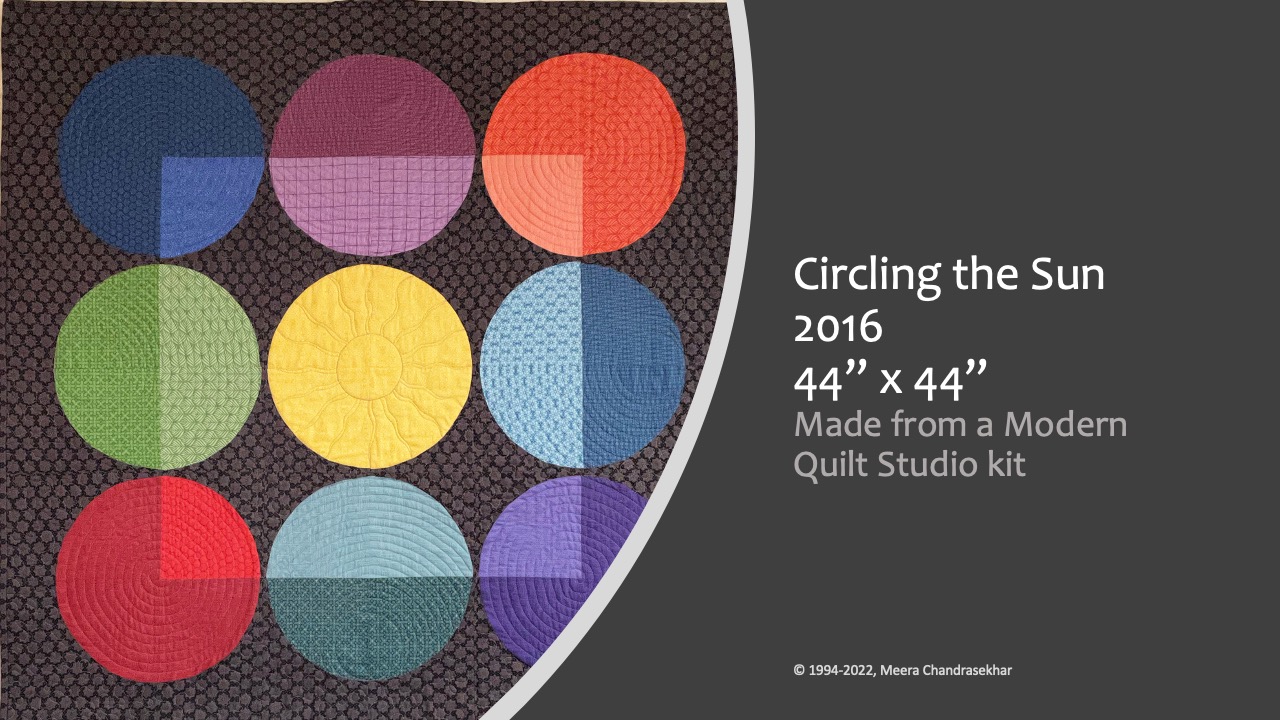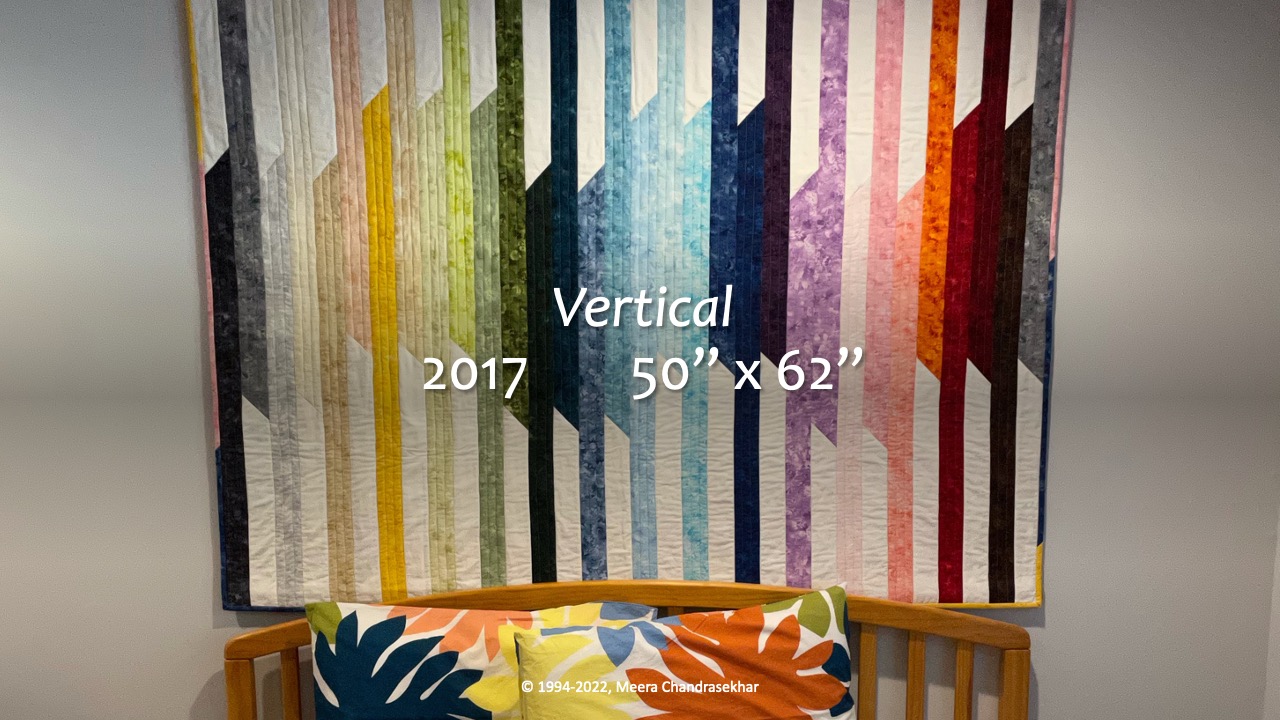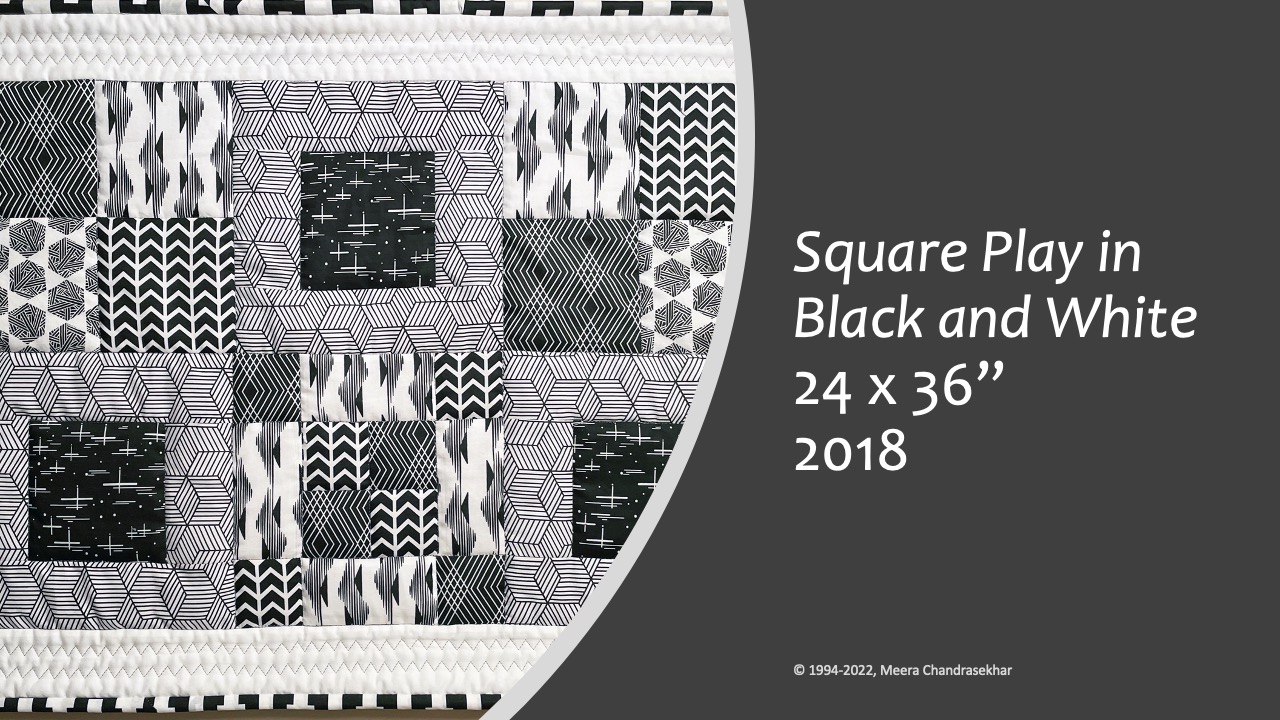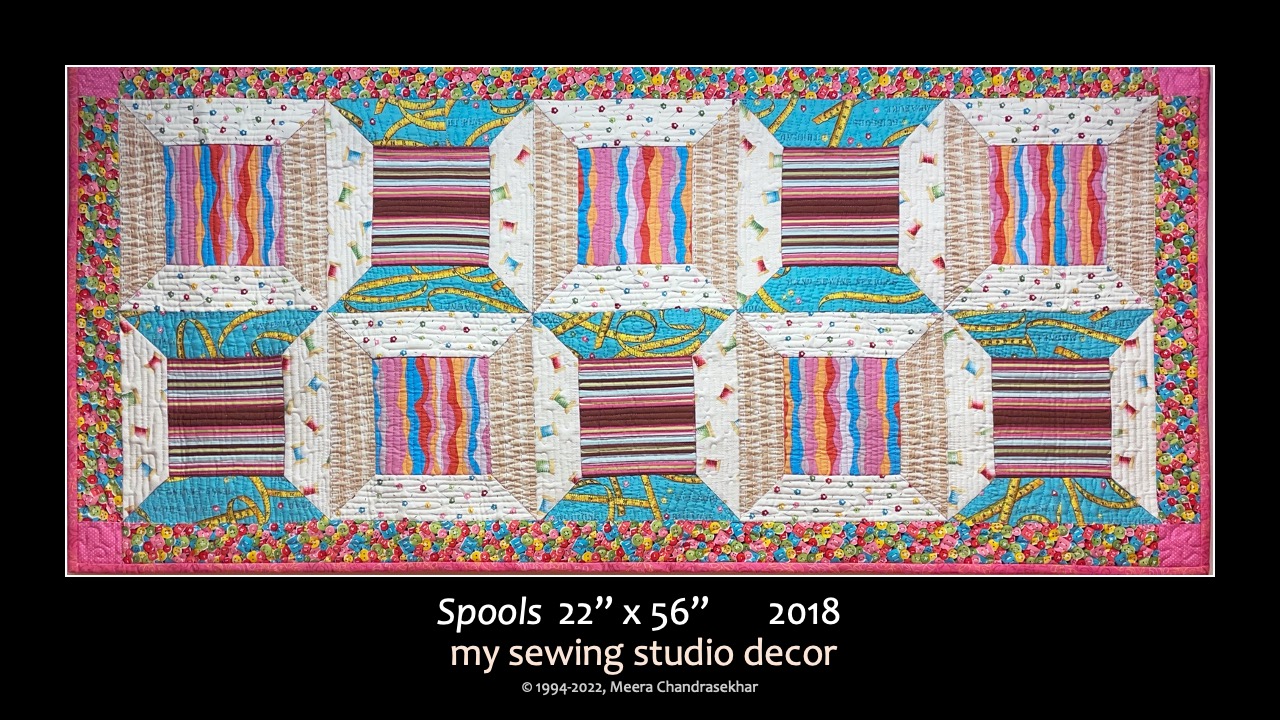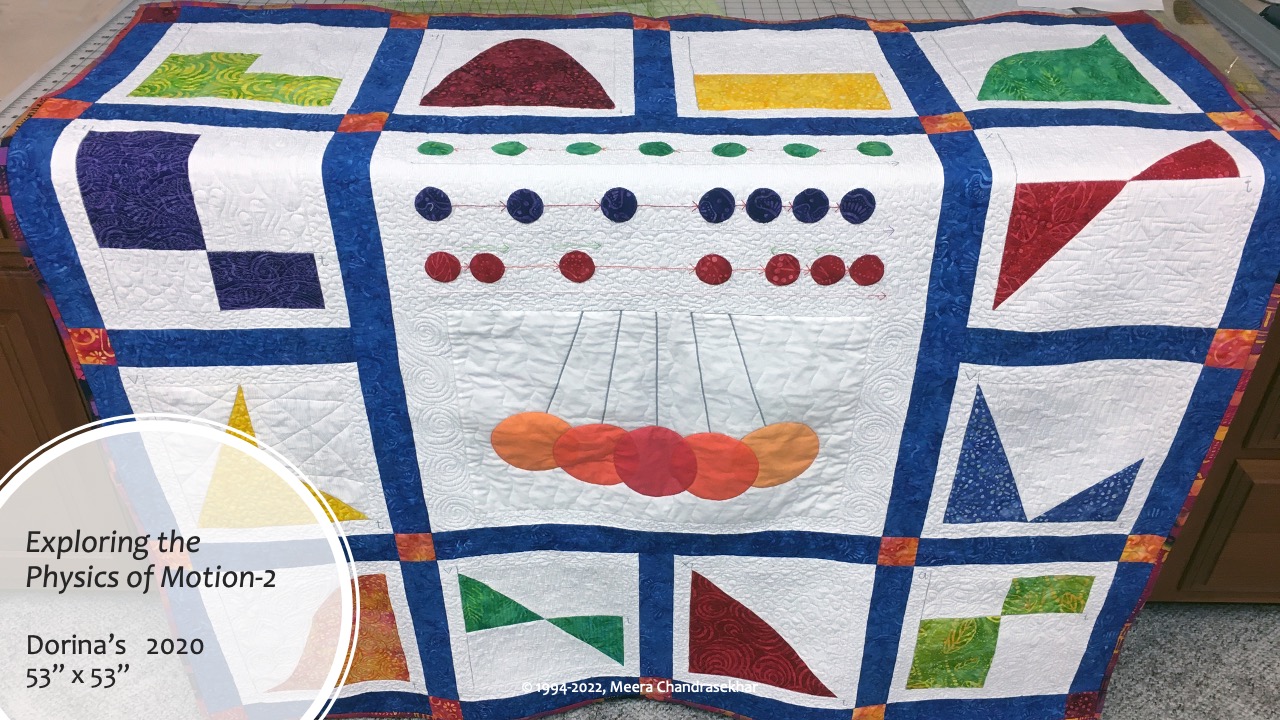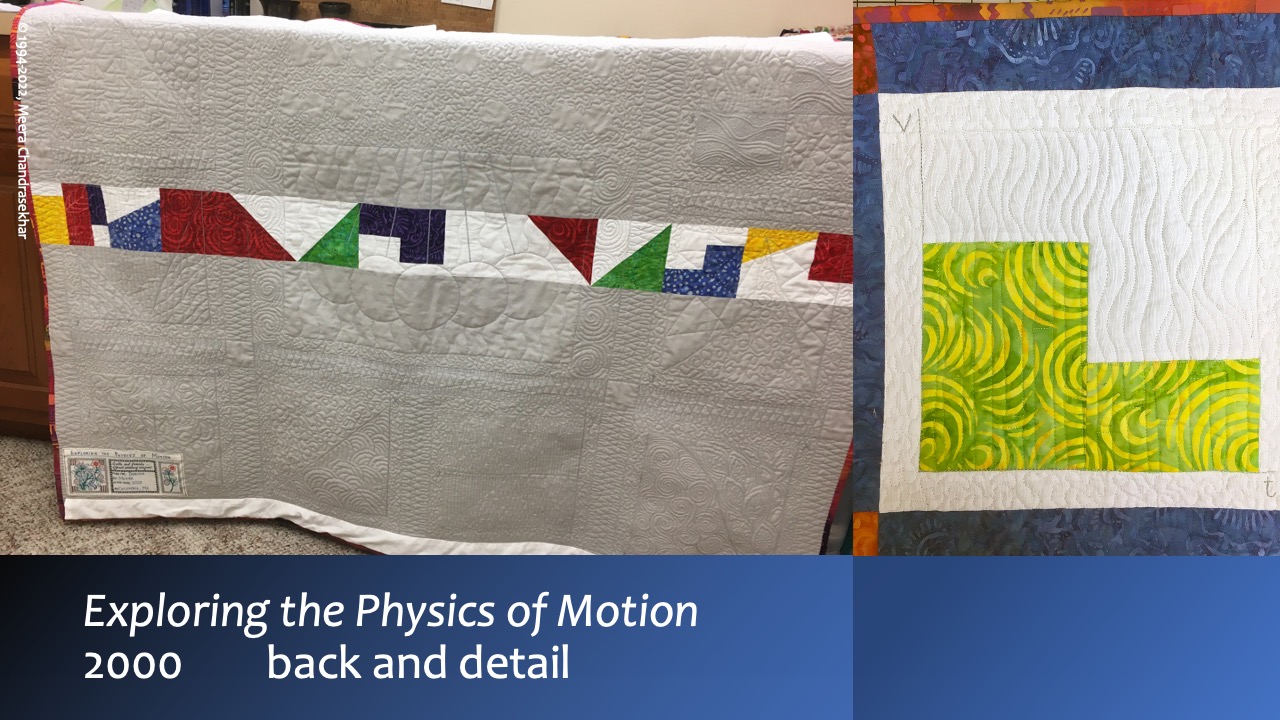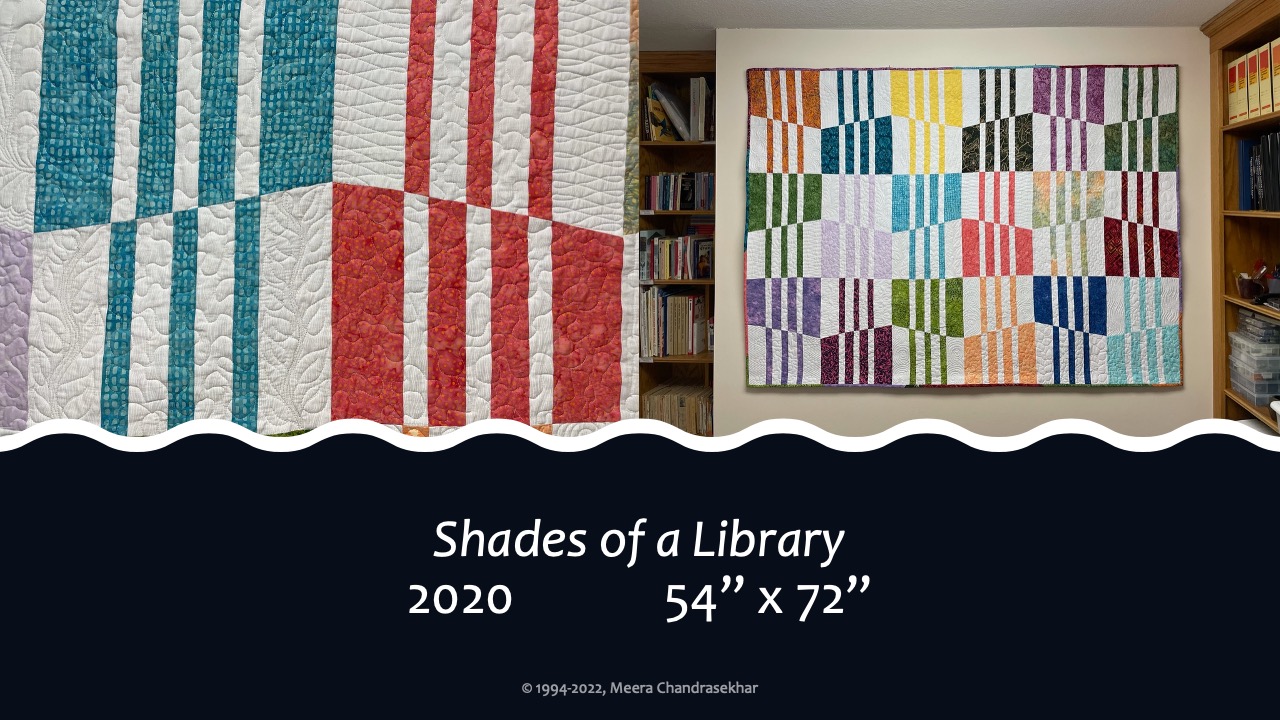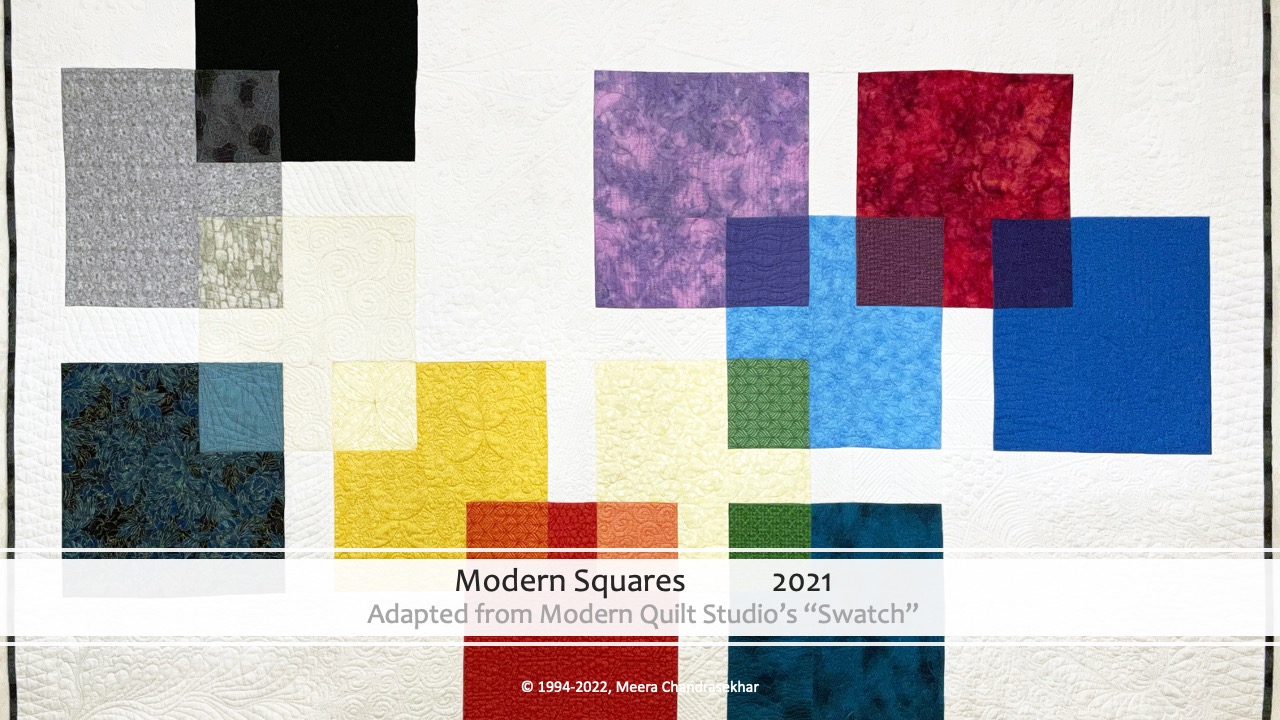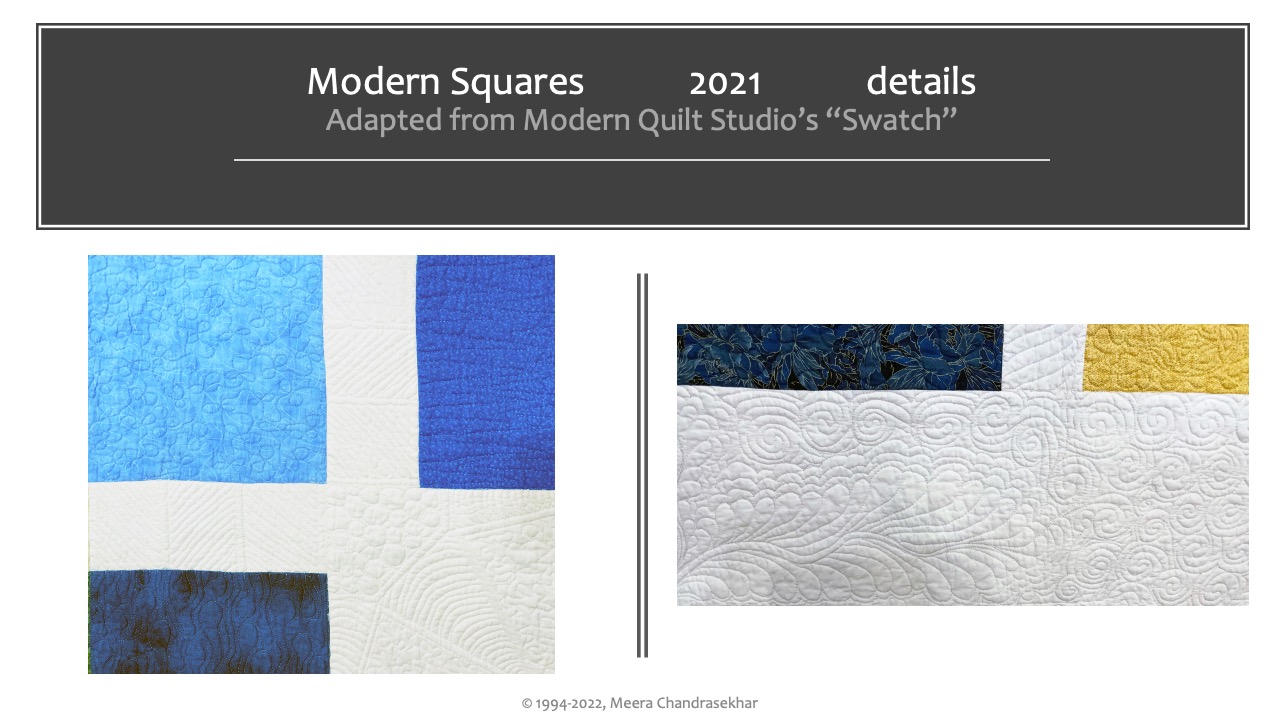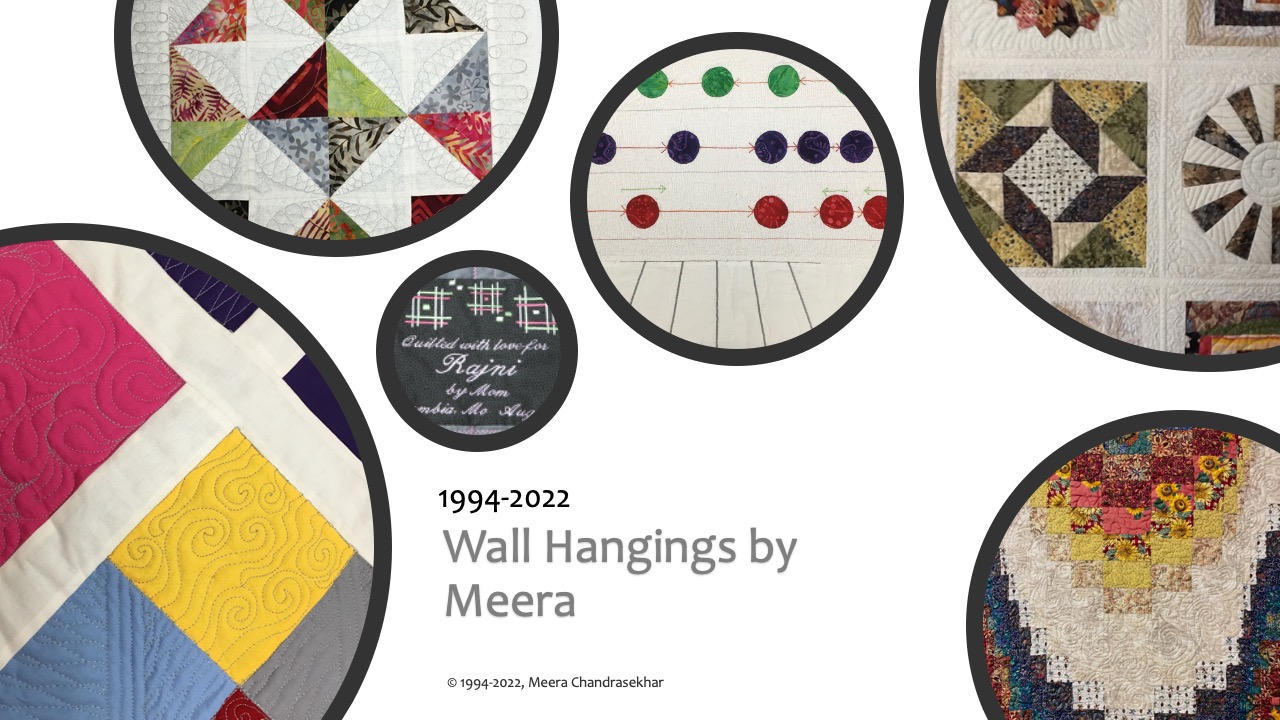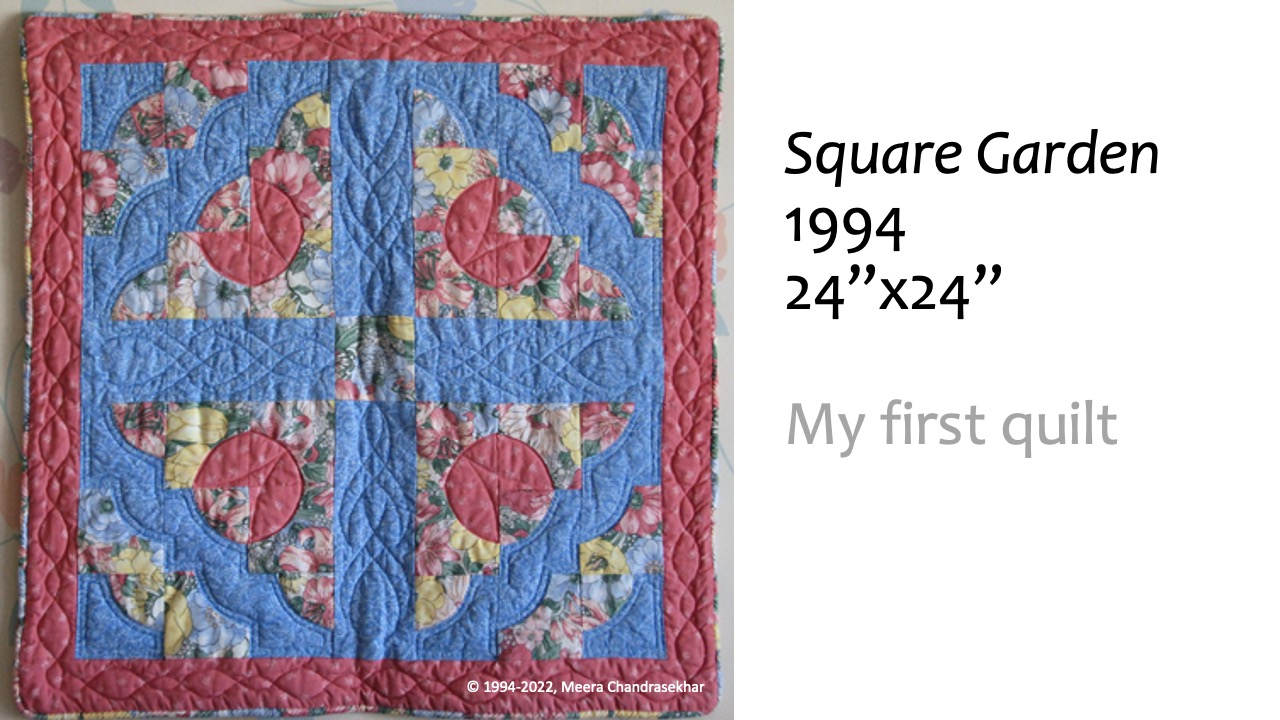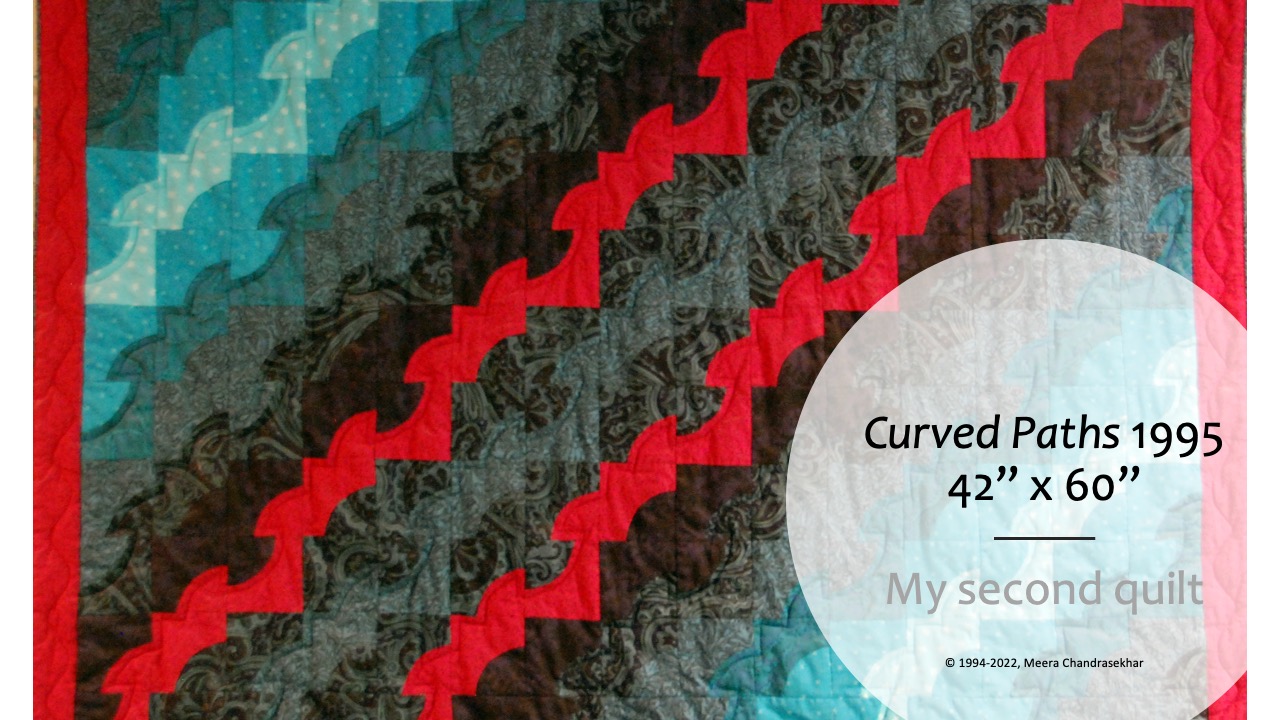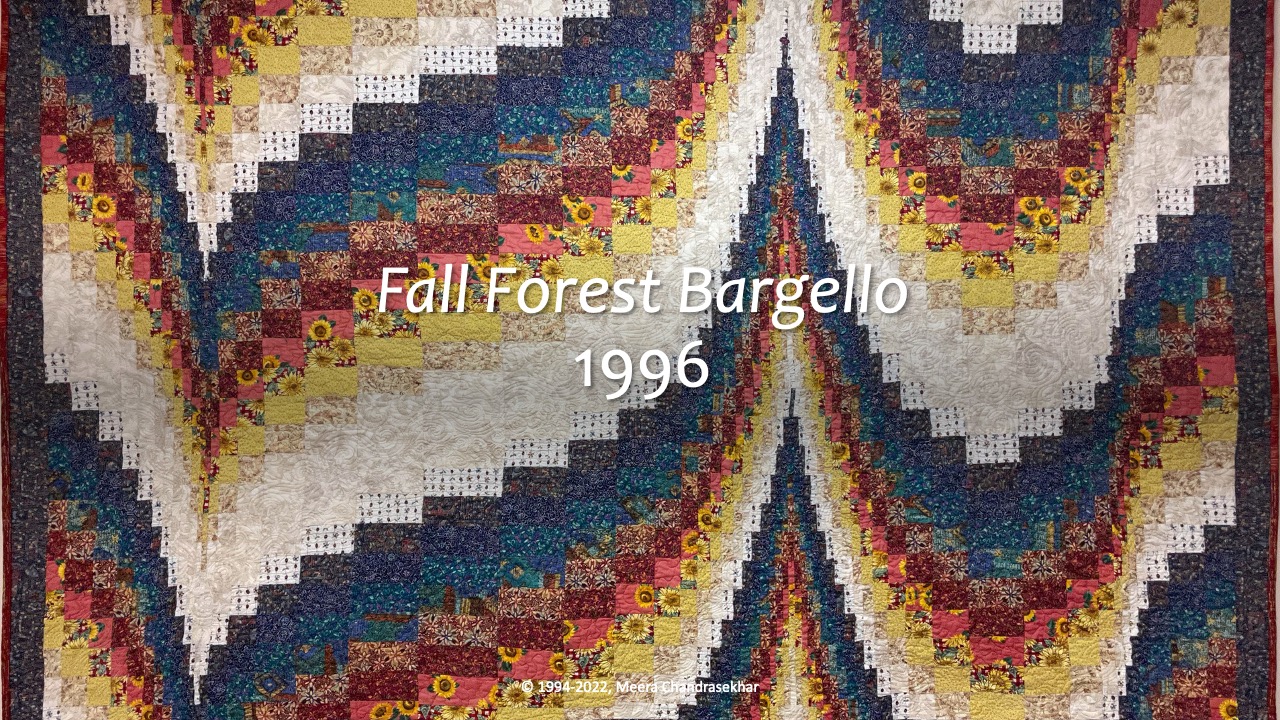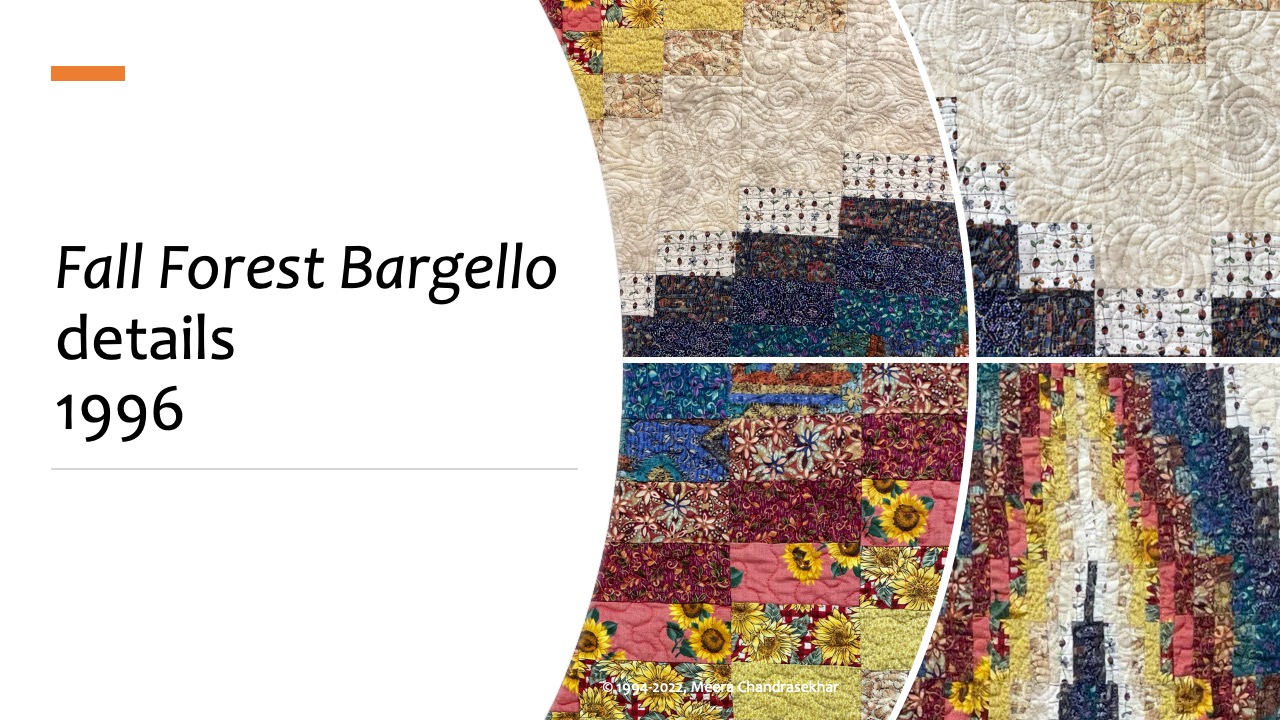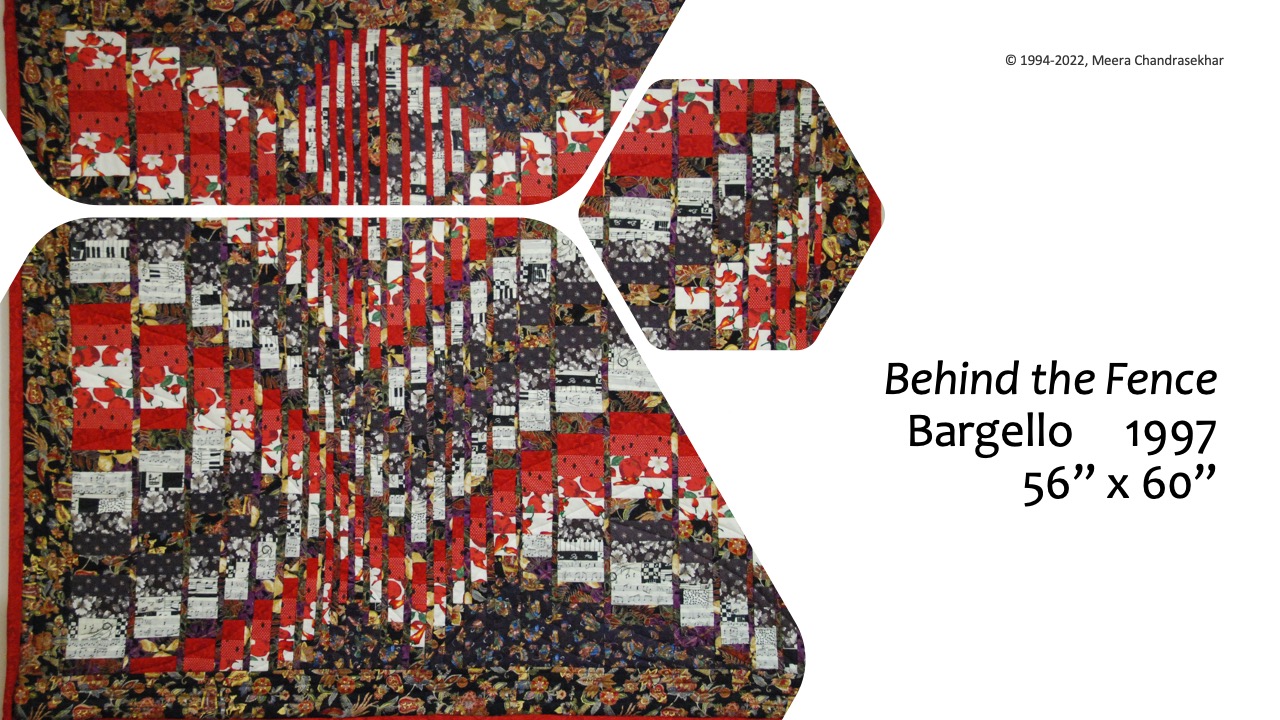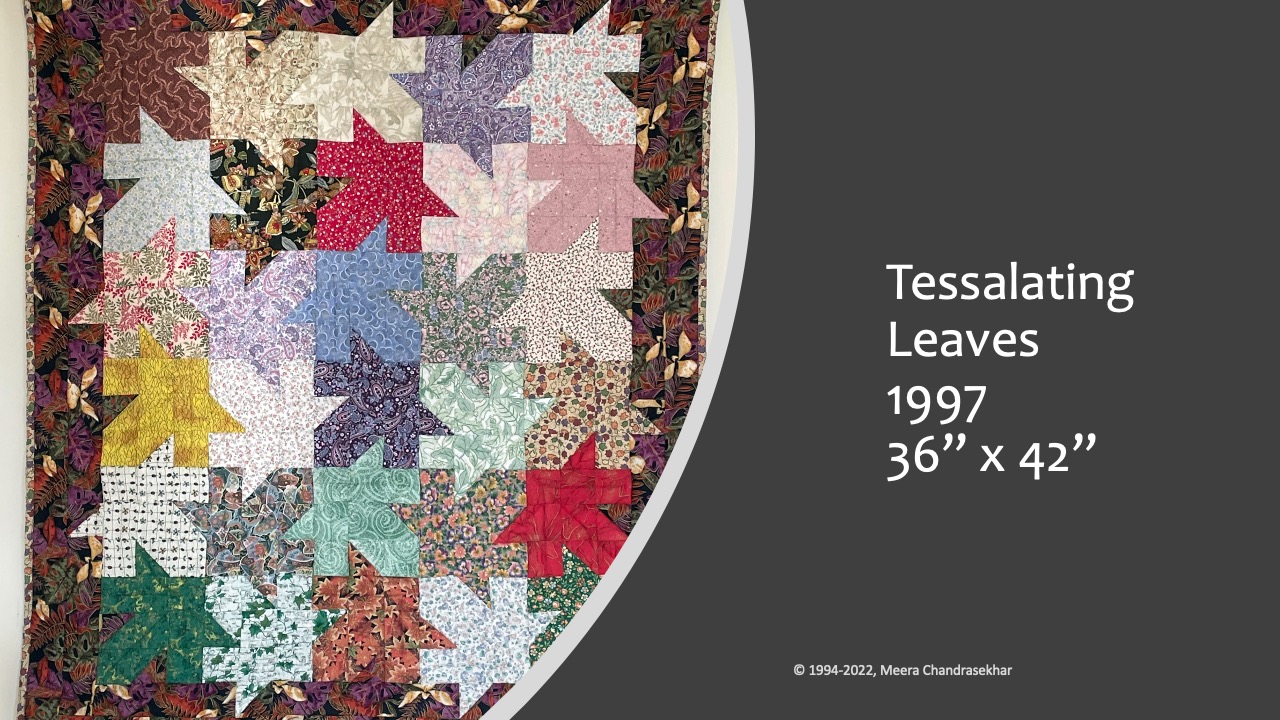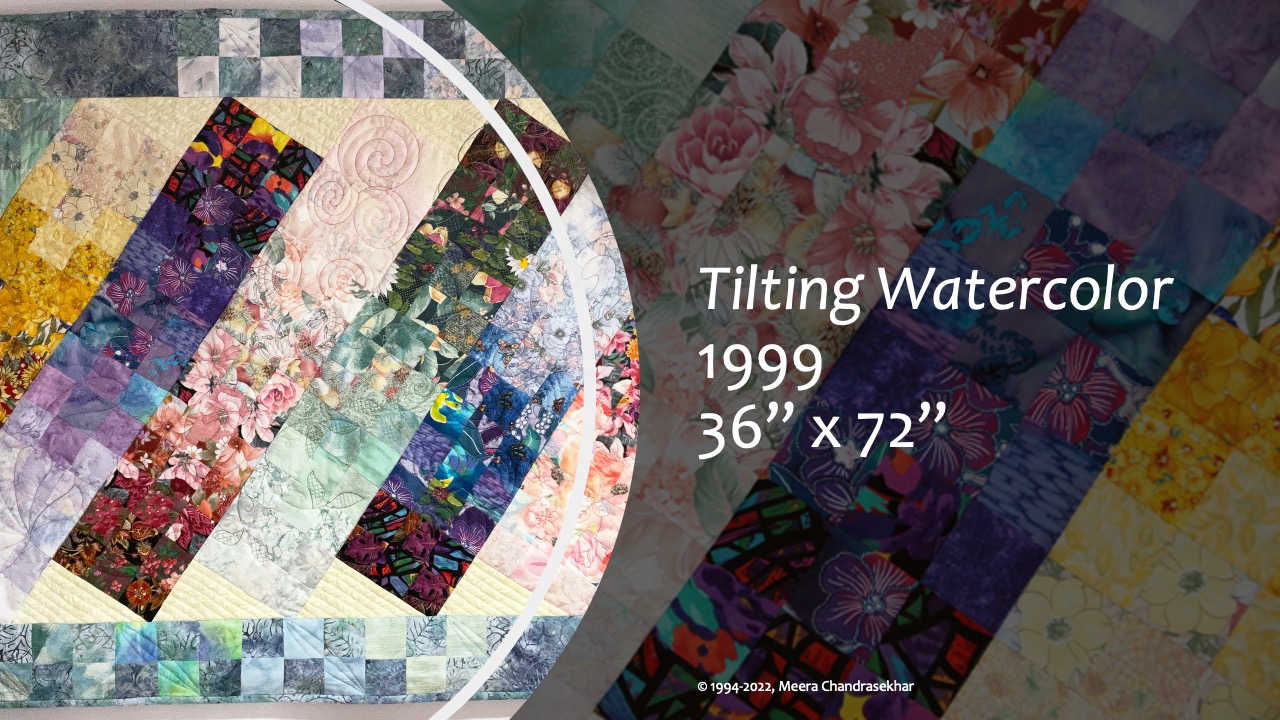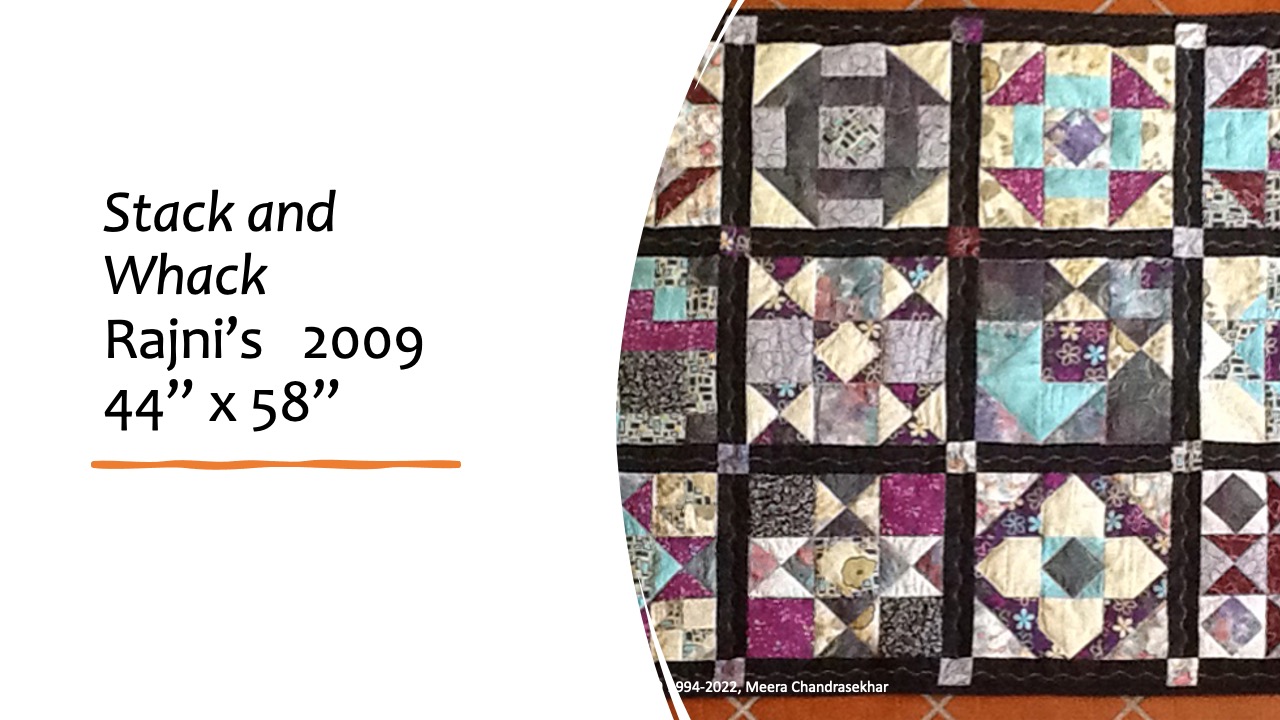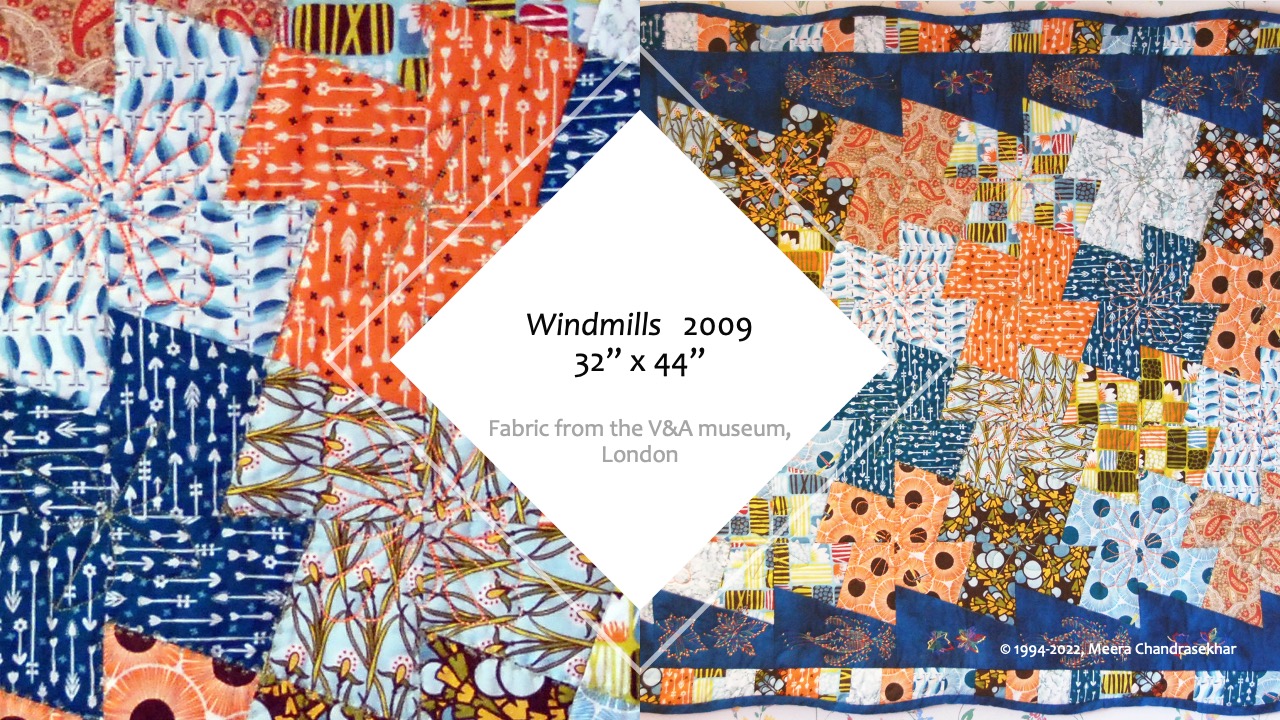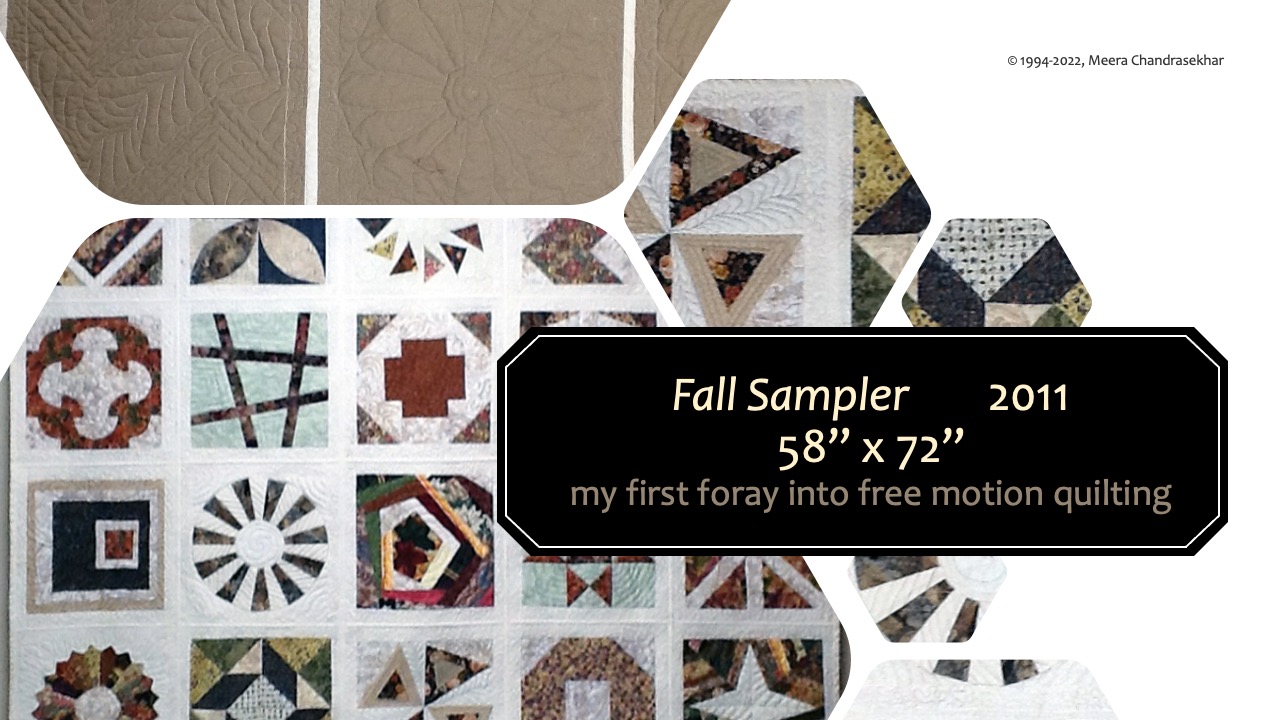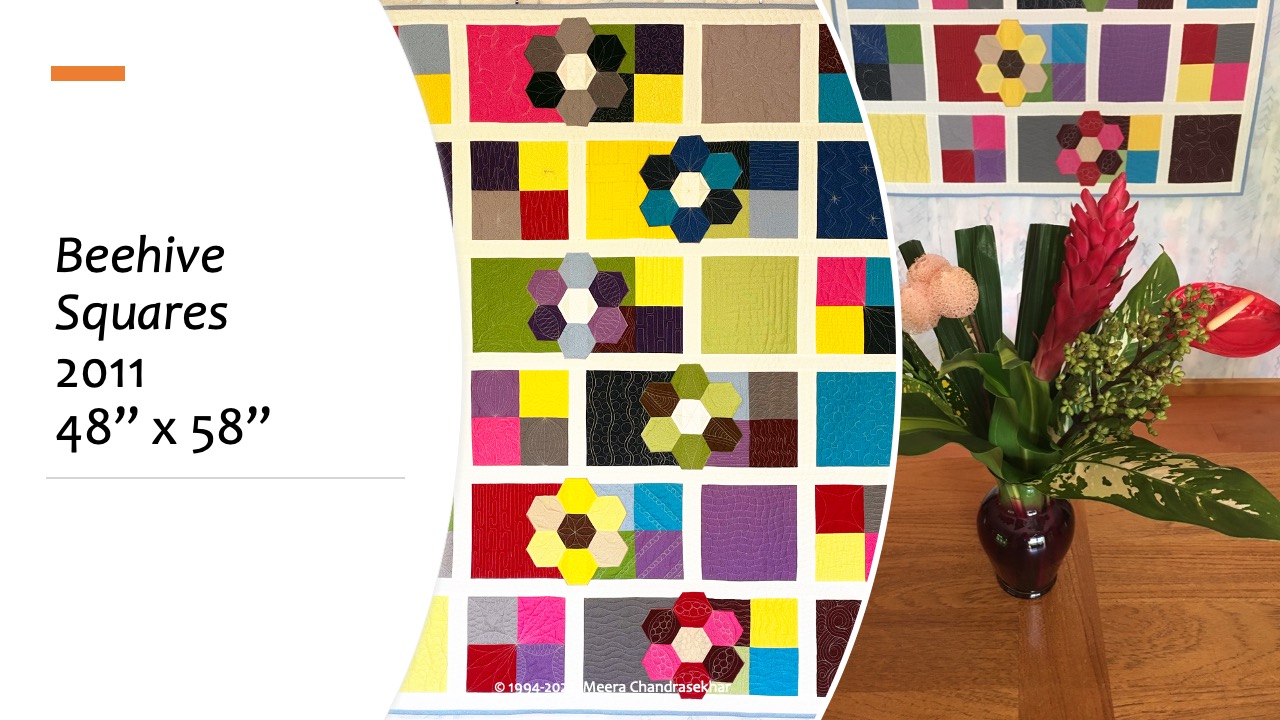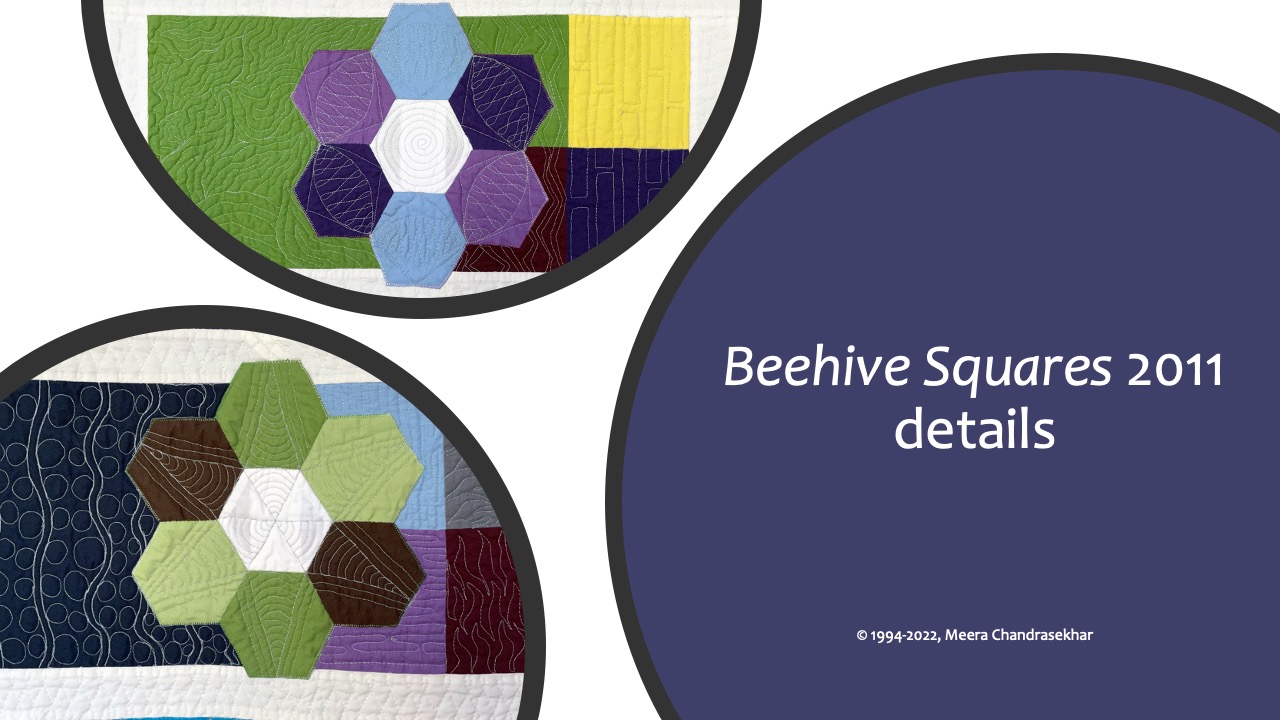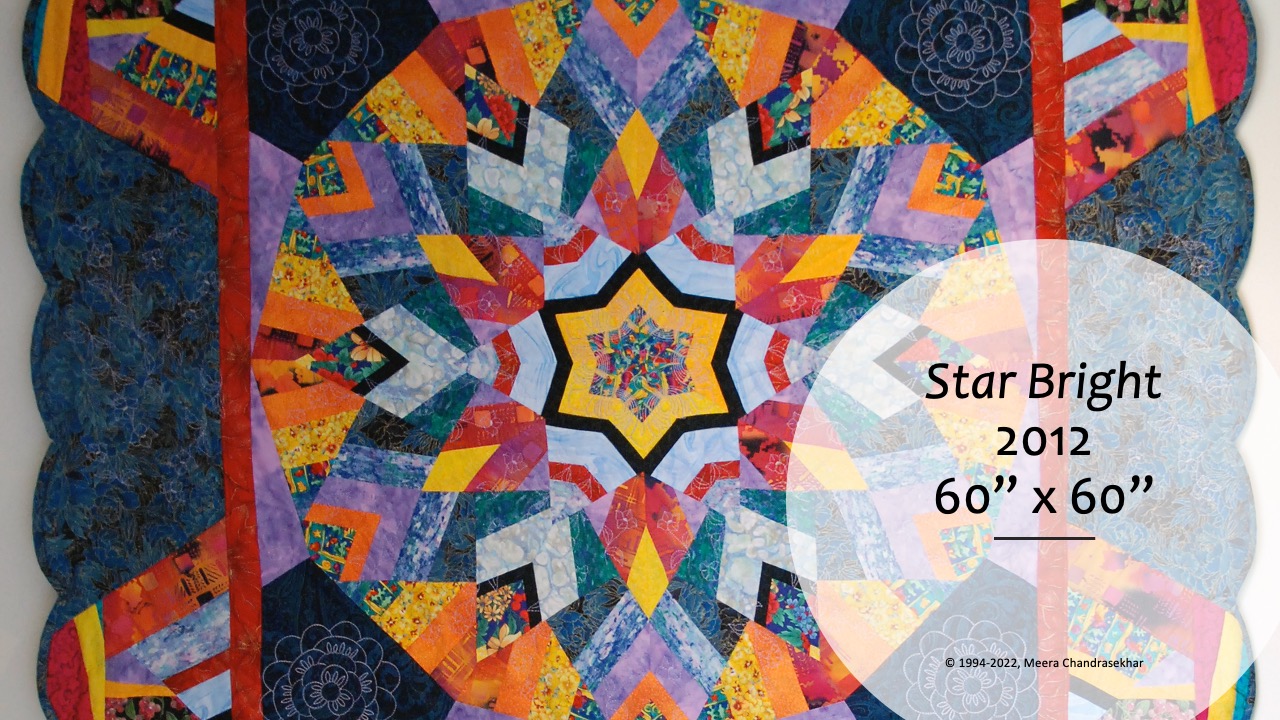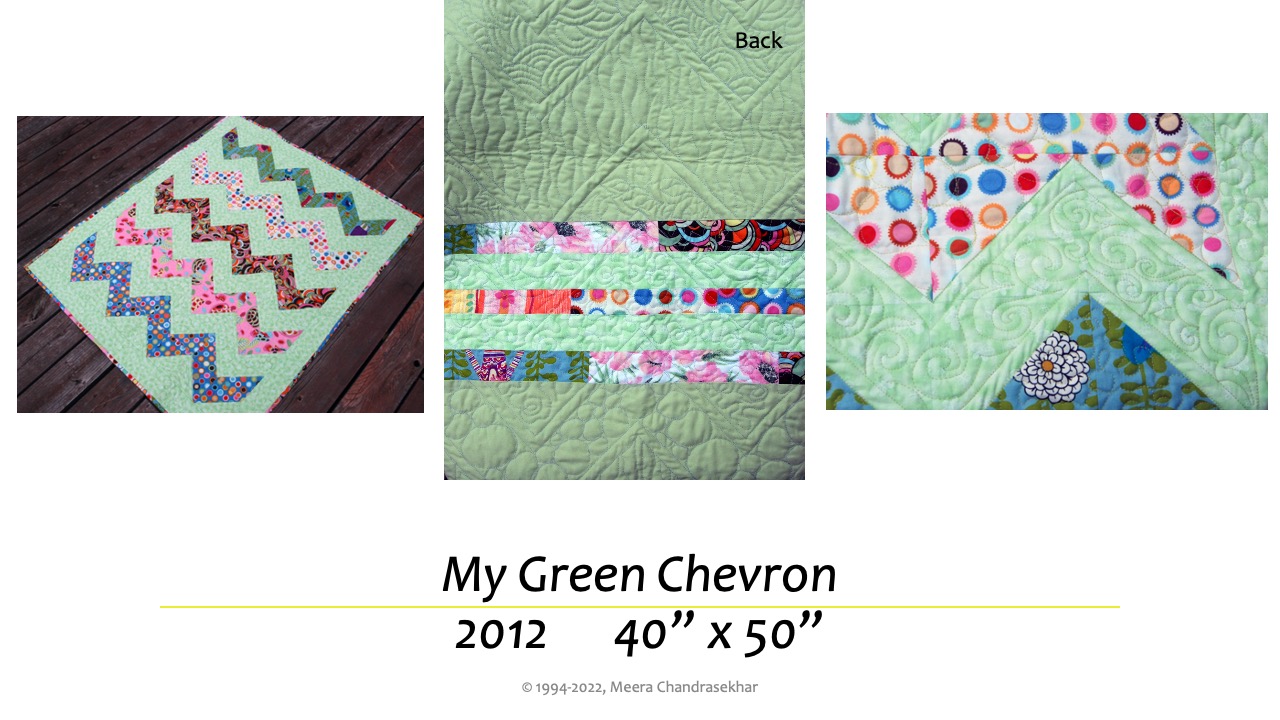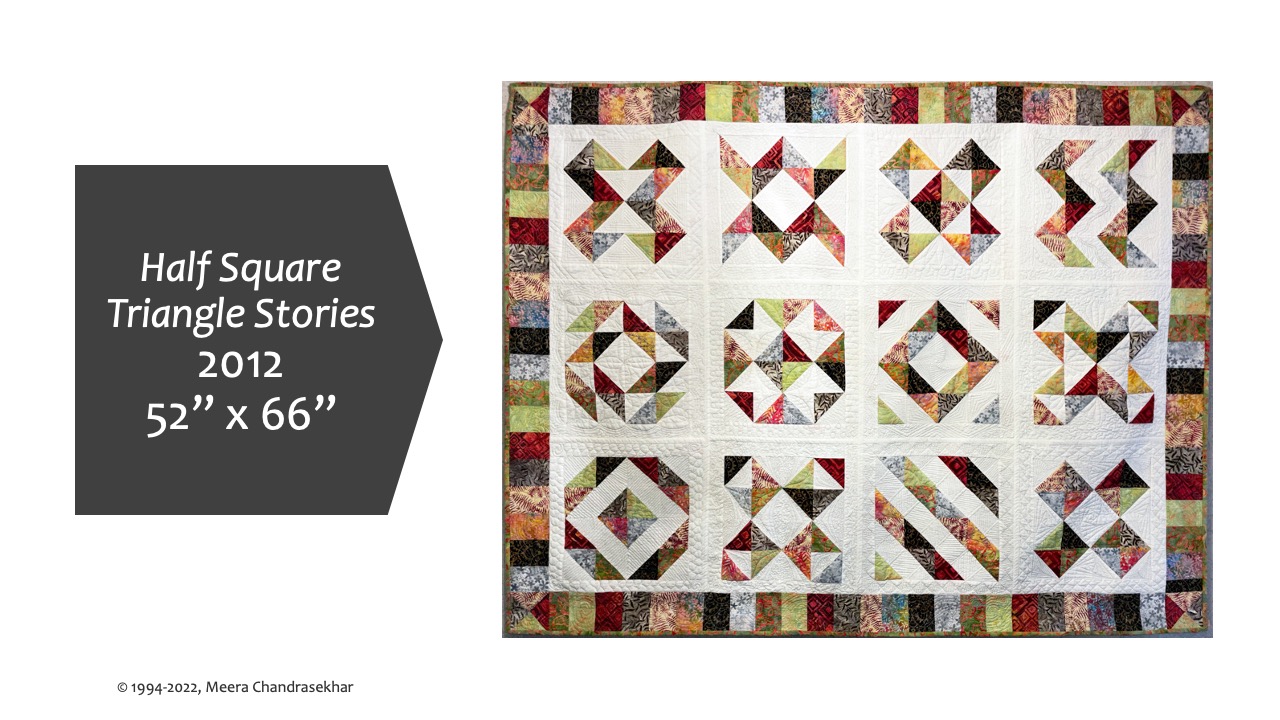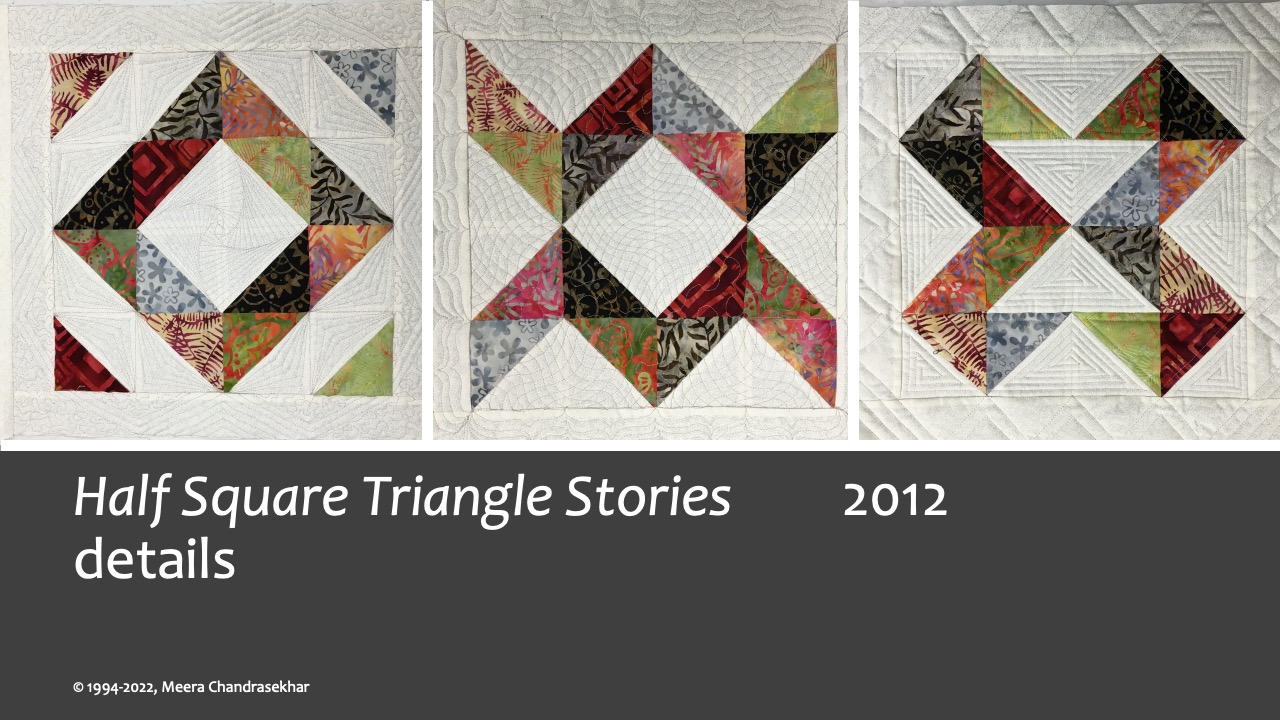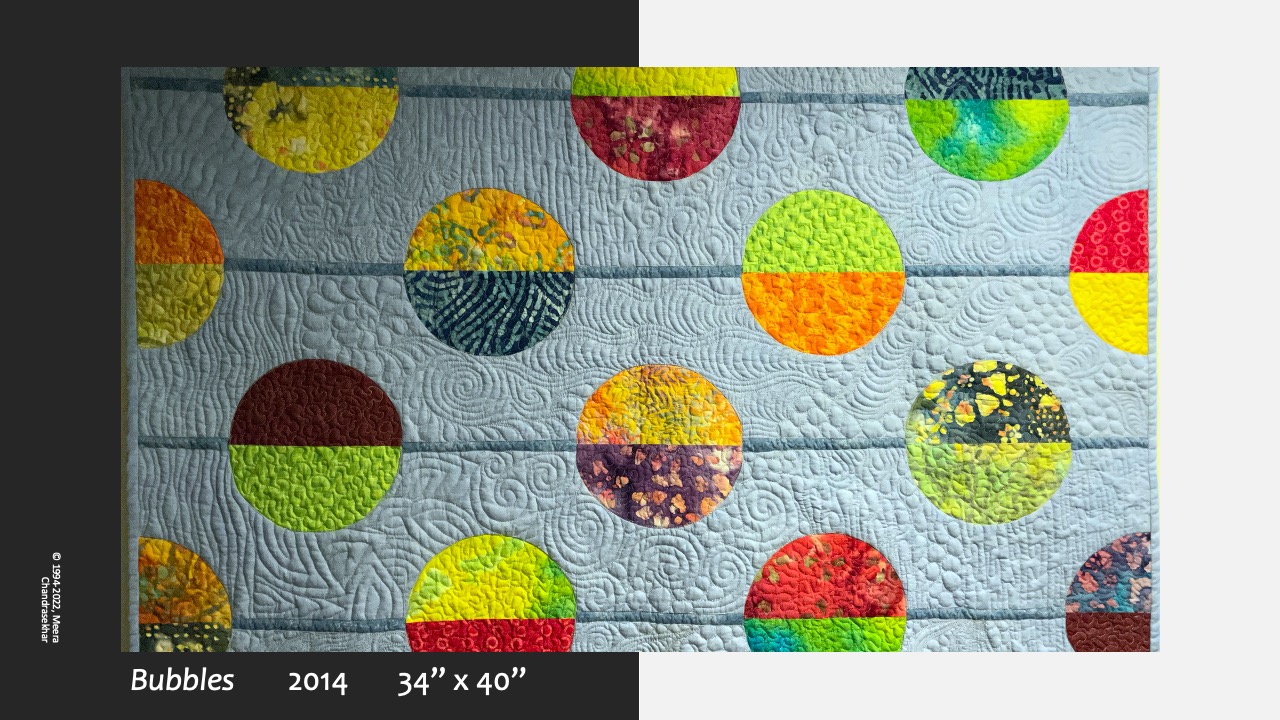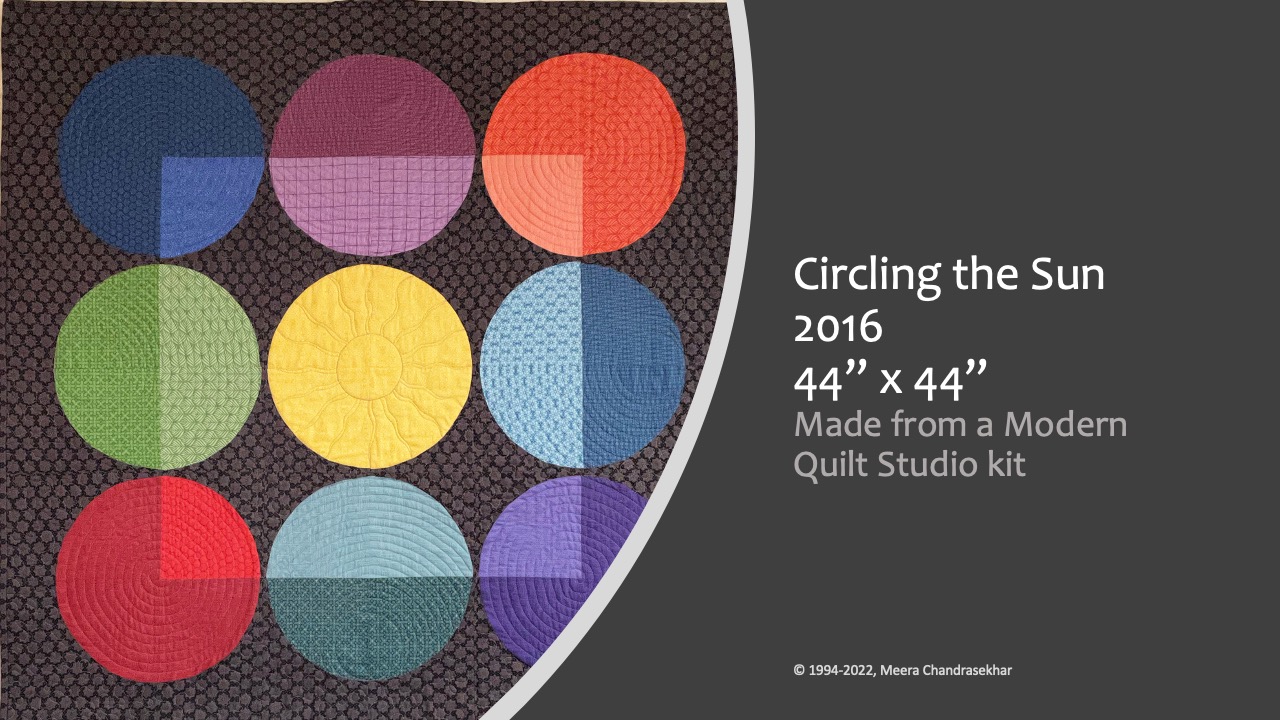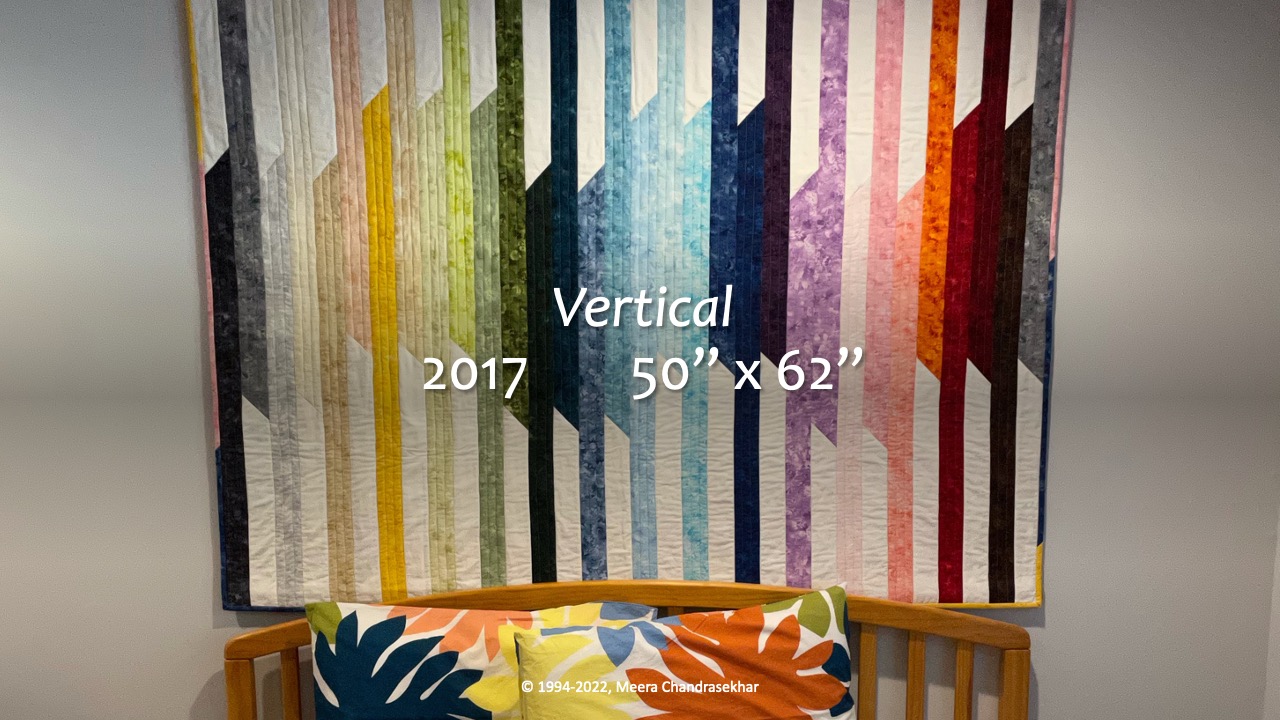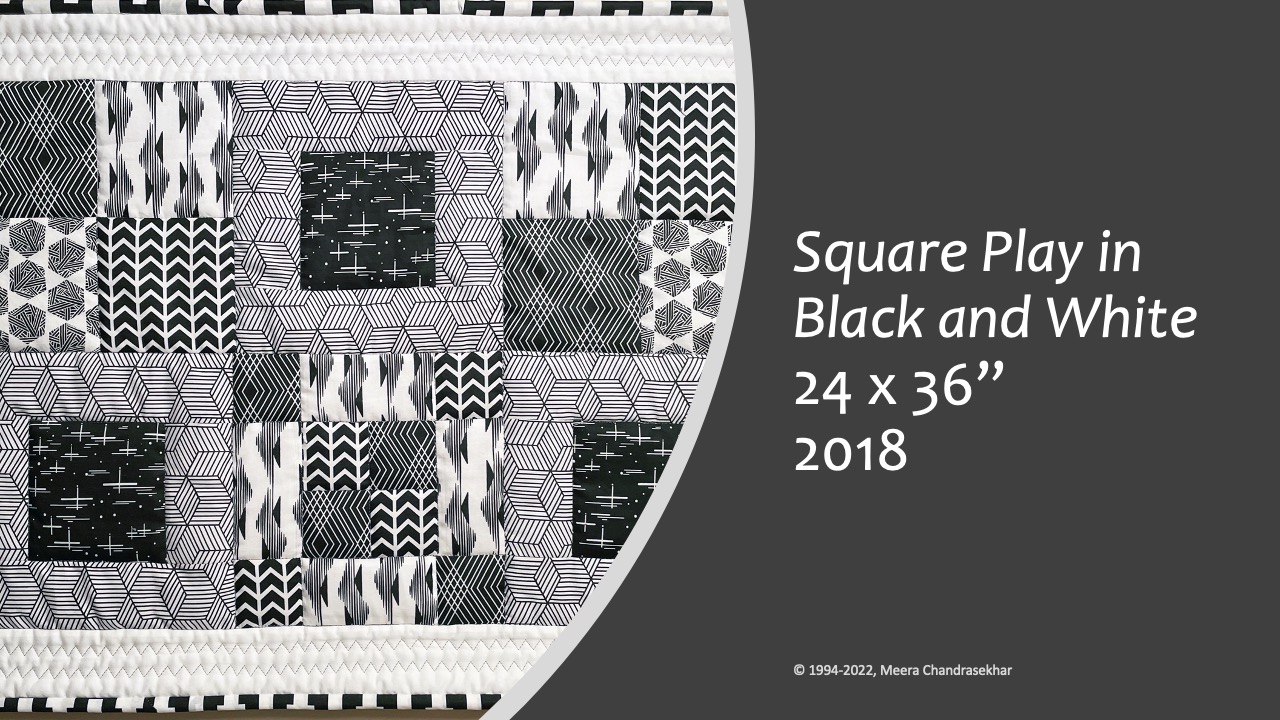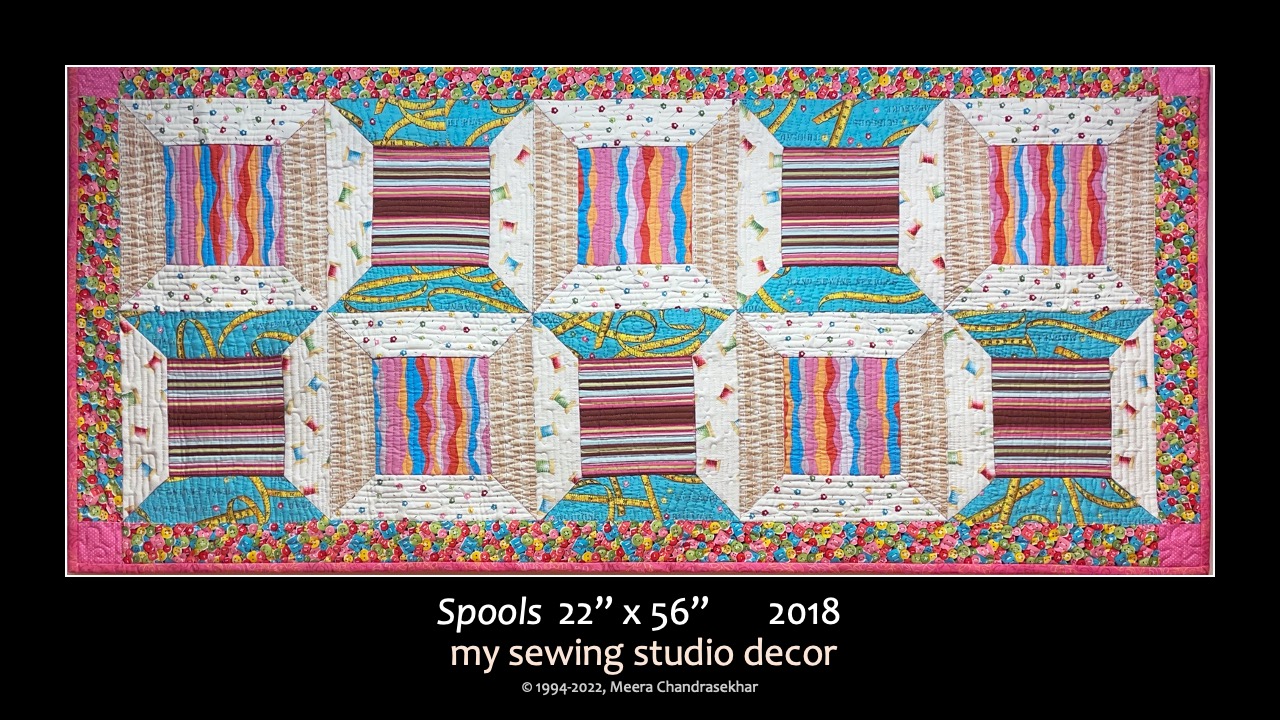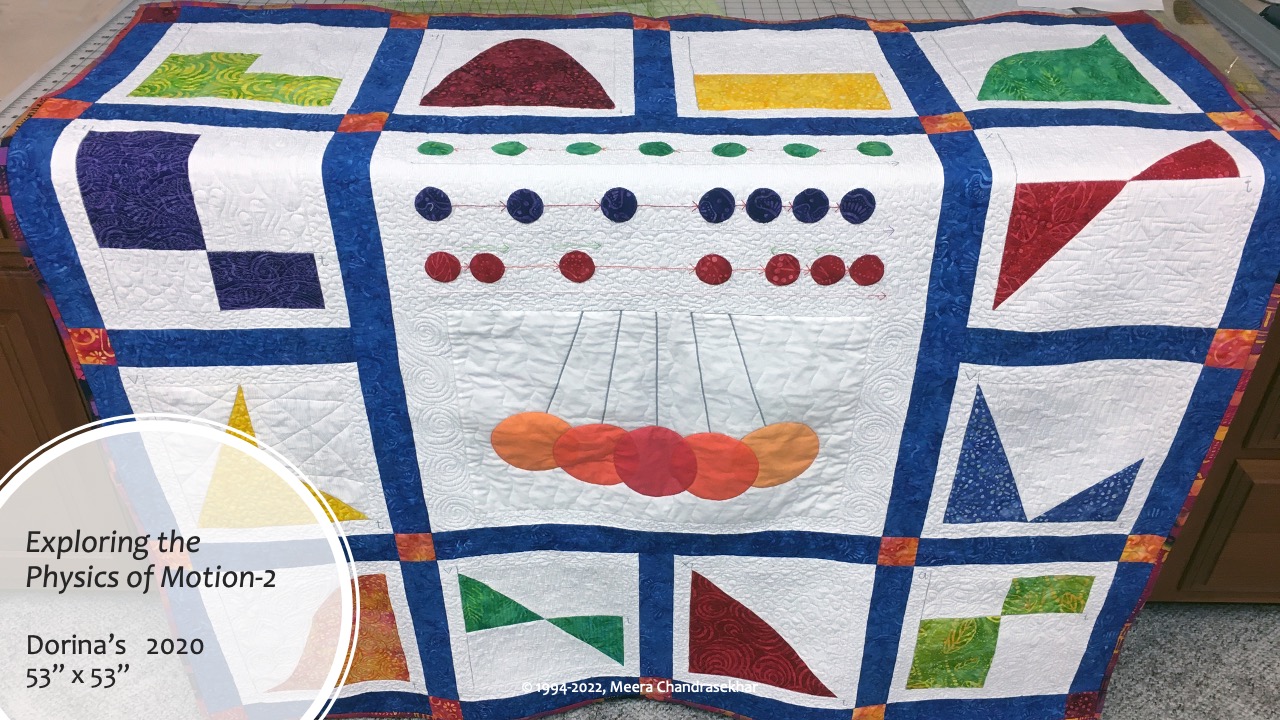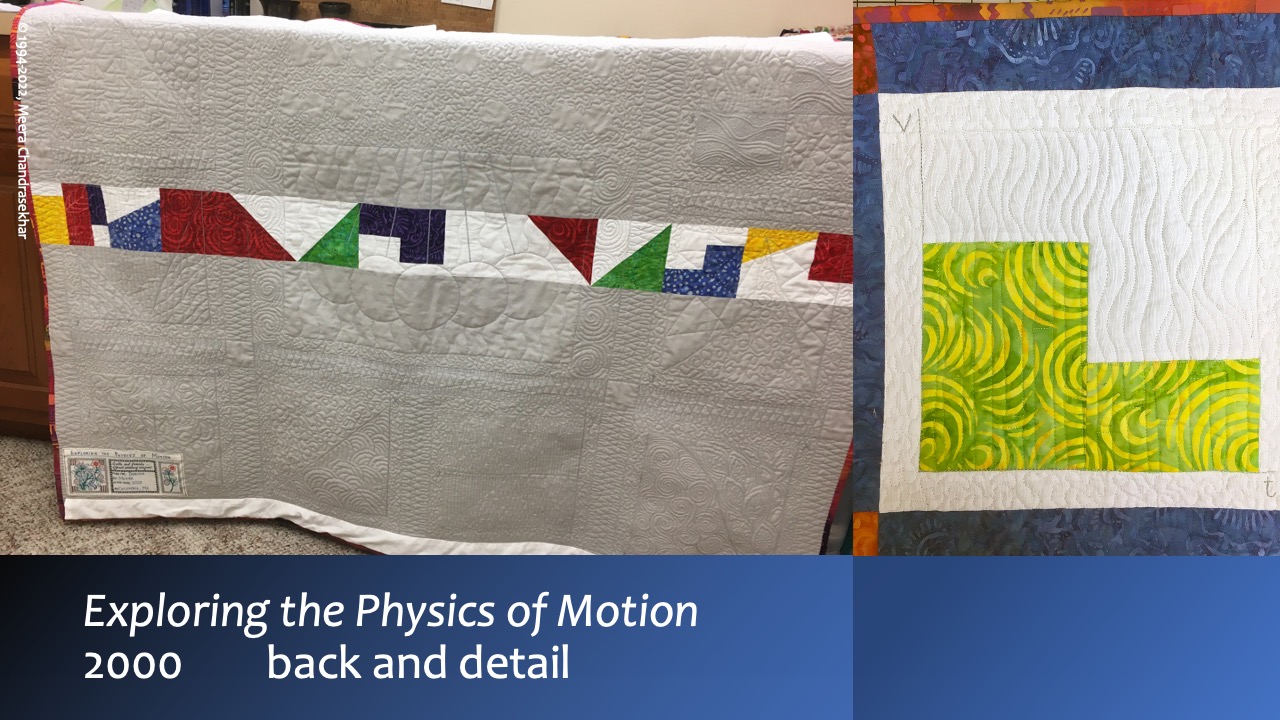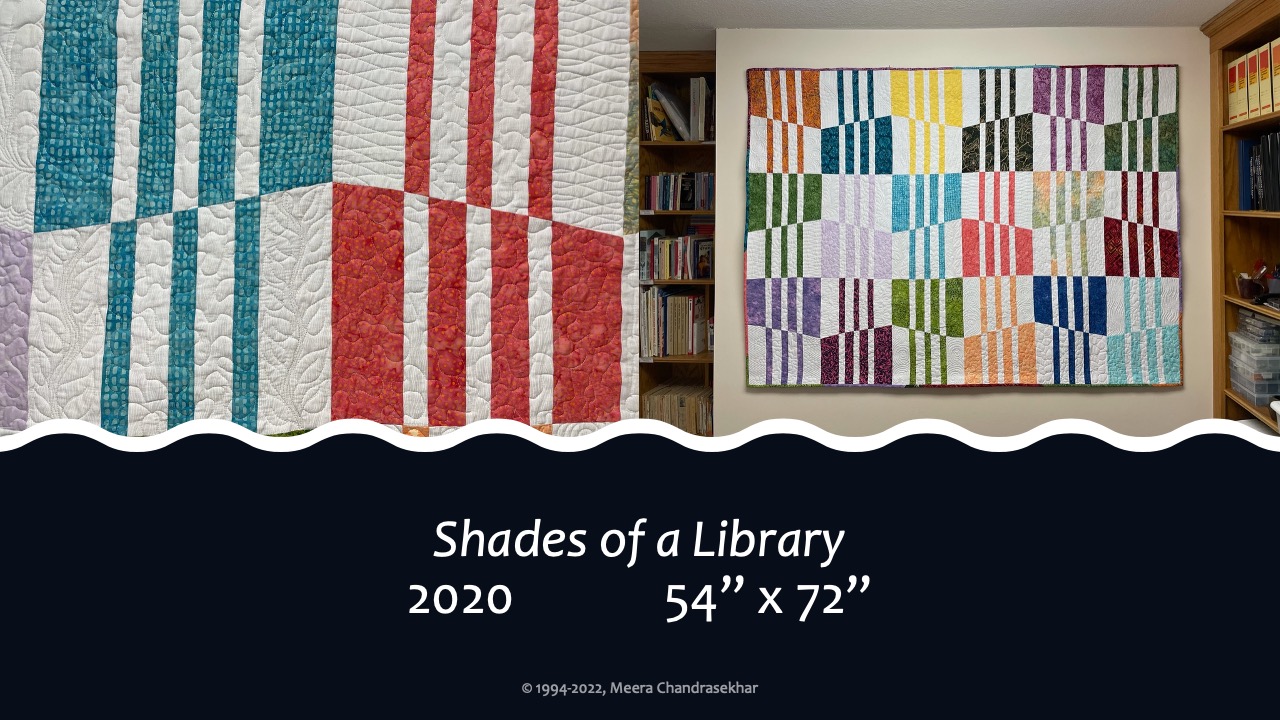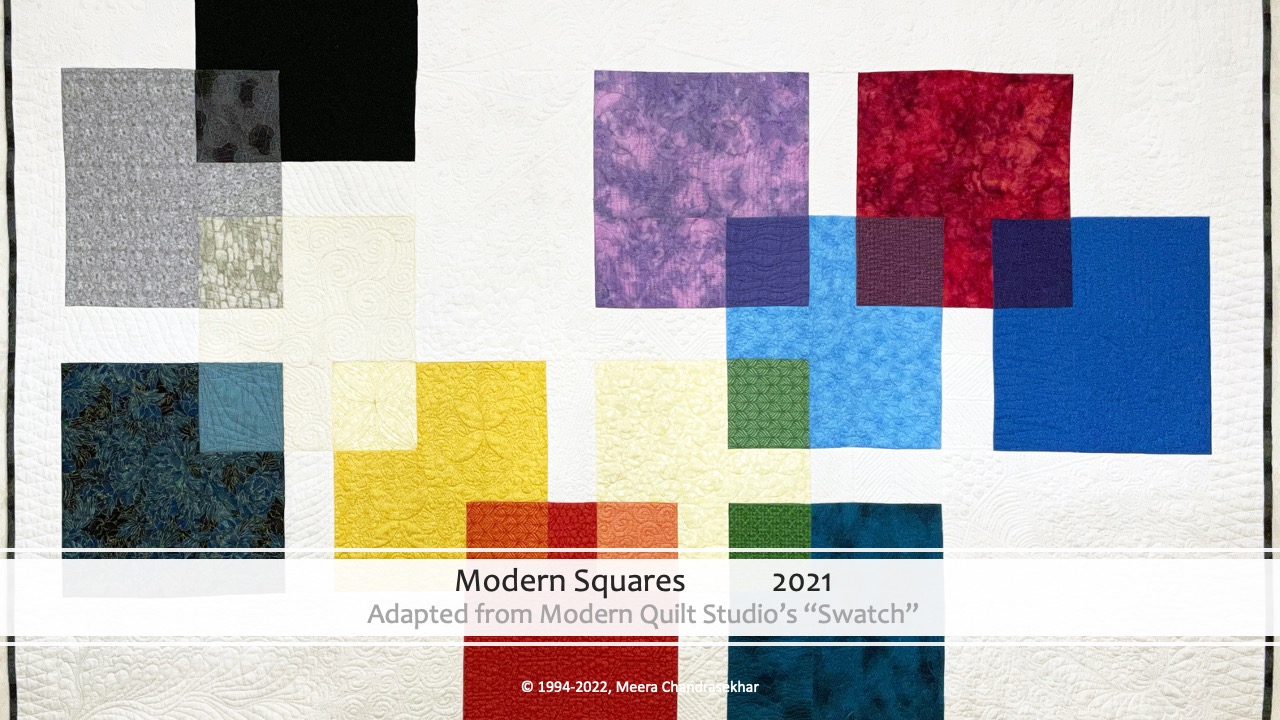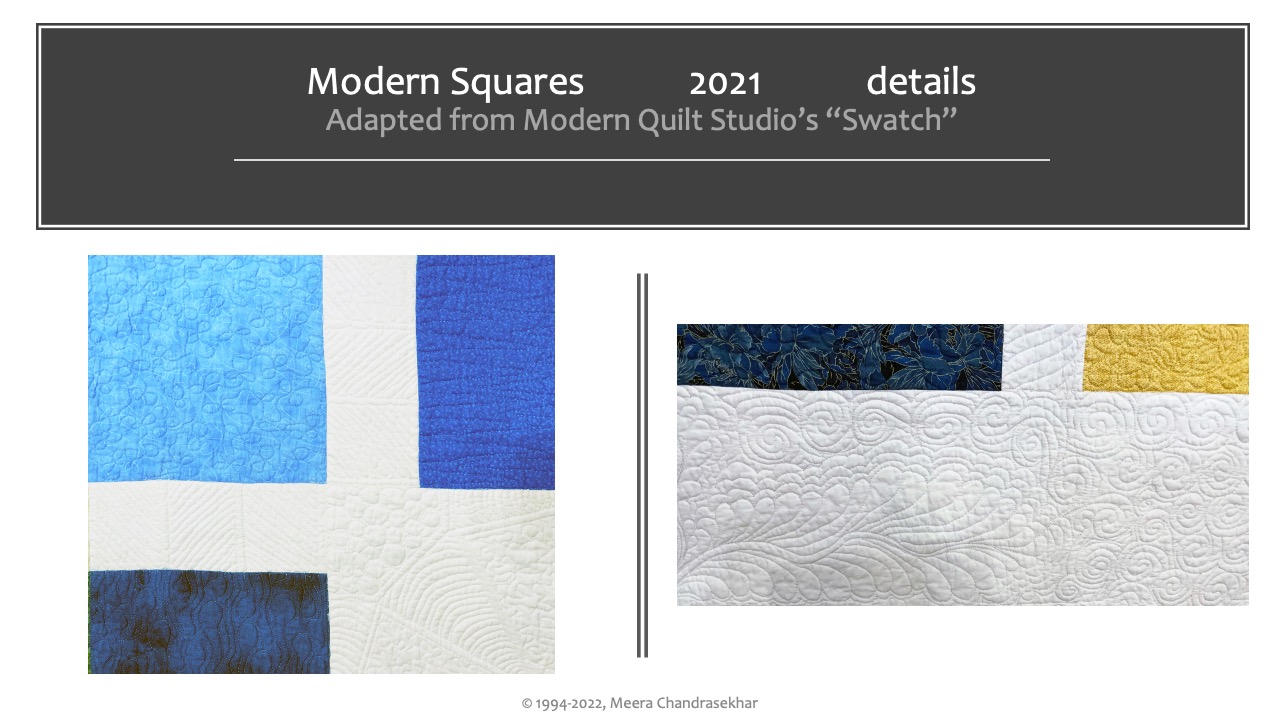 Large Quilts, 1996-present
Having three young kids is a boon – one can make all sorts of stuff for them. My early forays with my 1983 Bernina was into the realm of little-kid clothes for my then 2-year old daughter. By the time my twins turned 5 they no longer wanted mommy-made clothes. In a sense, their rejection turned me into a quilter. Who would have thought 5-year olds would push their mom into a lifelong love!
The second stage of the "I'll make it for you" phase was that 5-year olds are already in twin-size beds, which they will (hopefully) occupy till they go to college 13 years hence. Thus began the quilt-for-your-bed projects. I did not have the courage to take a picture of my first twin-size quilt. The blocks were wonky, the sashing multi-width…what can I say. I learned the importance of accurate cuts and 1/4″ seams the hard way. Eventually I graduated to larger size quilts, t-shirt quilts, and the courage to make them for friends and extended family.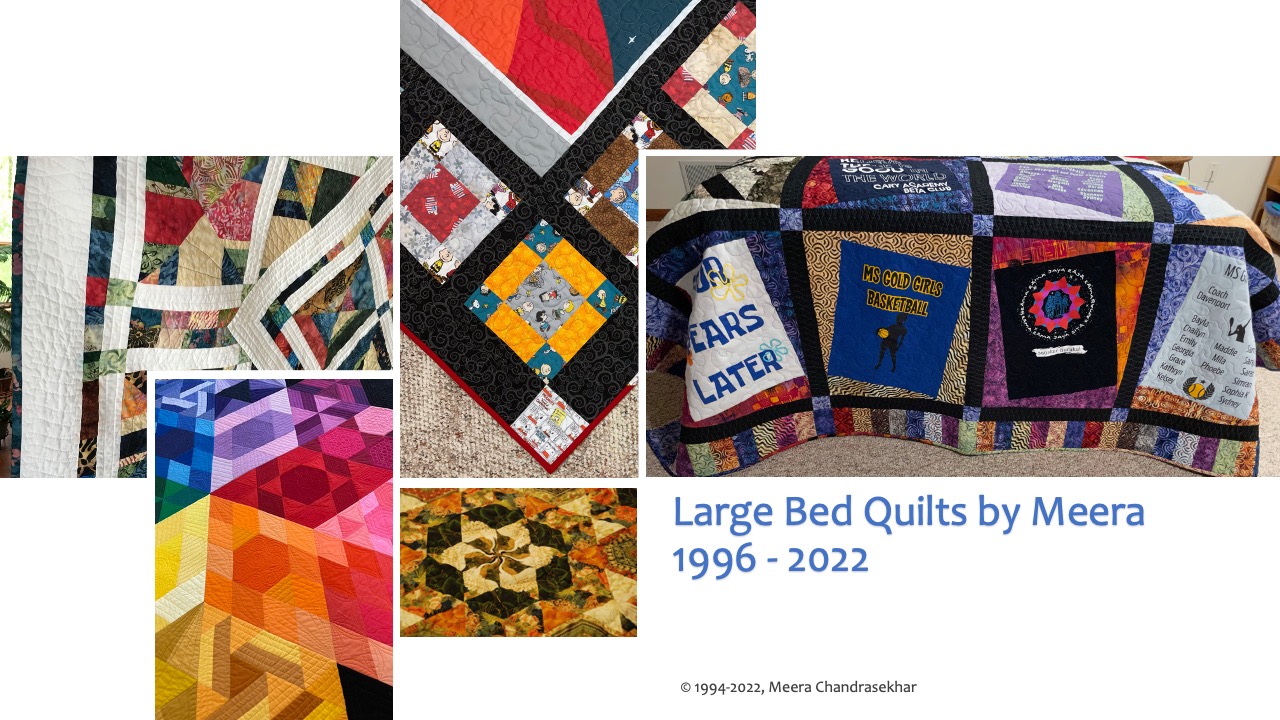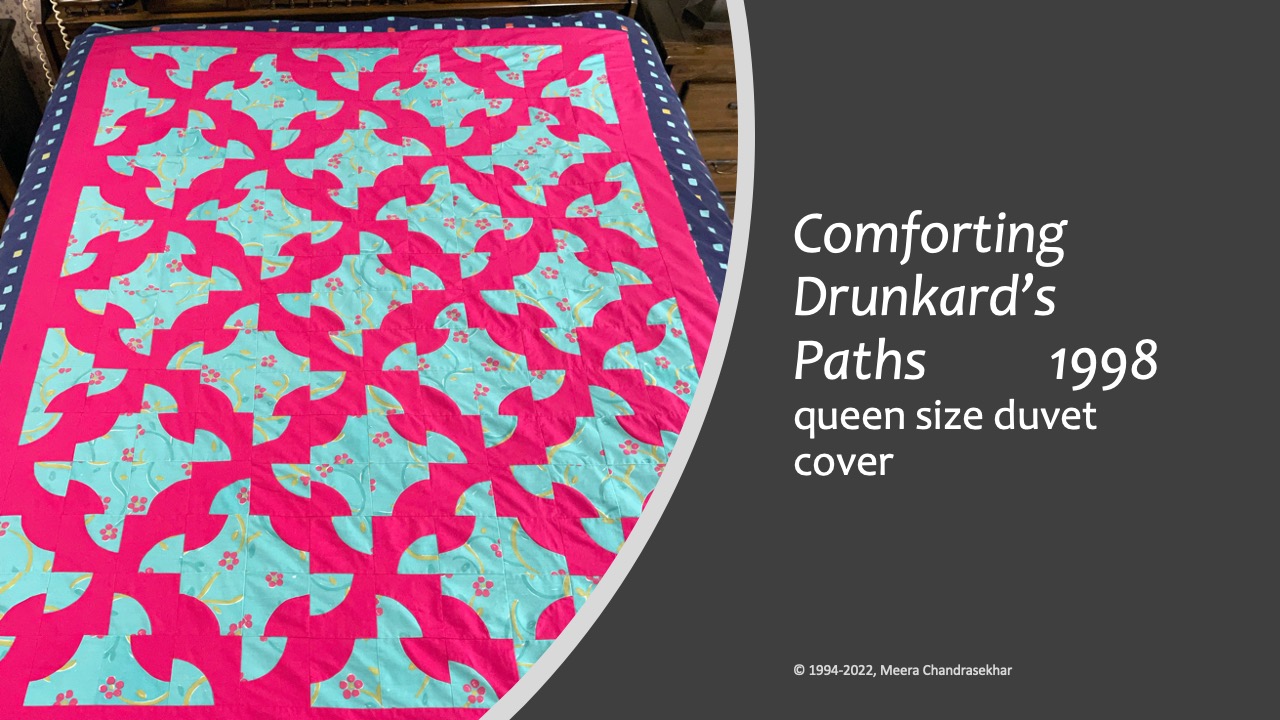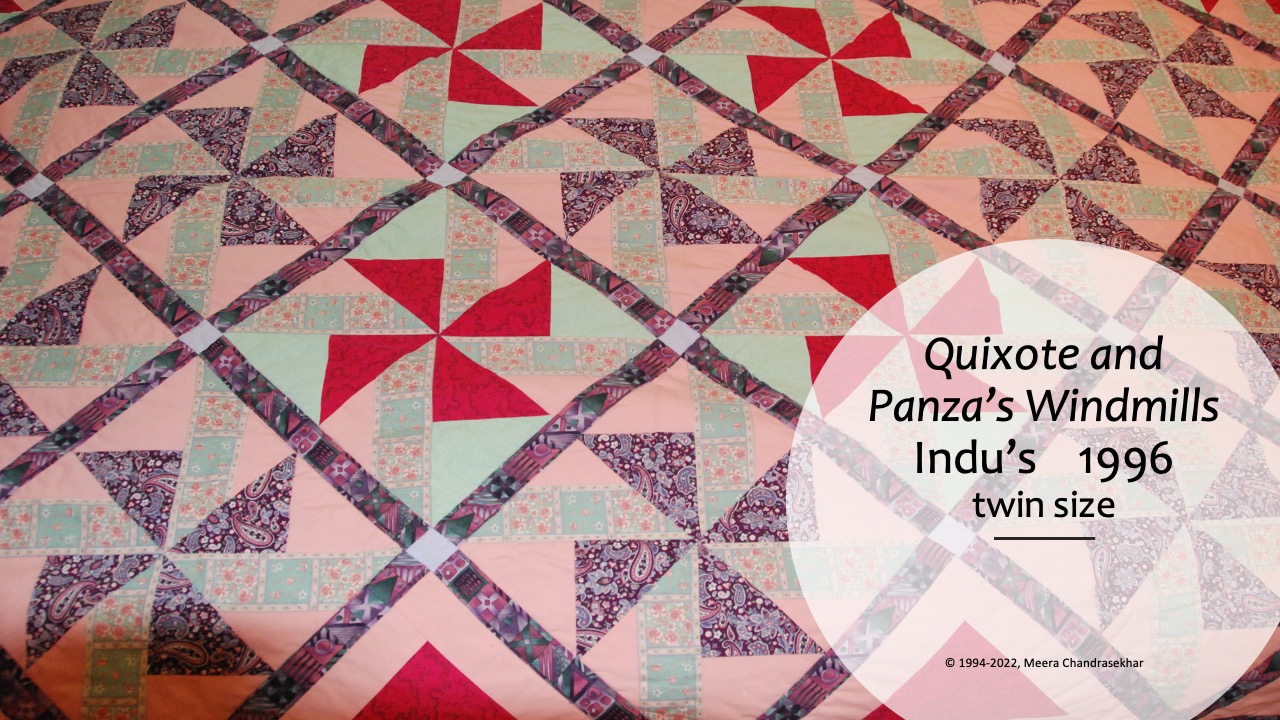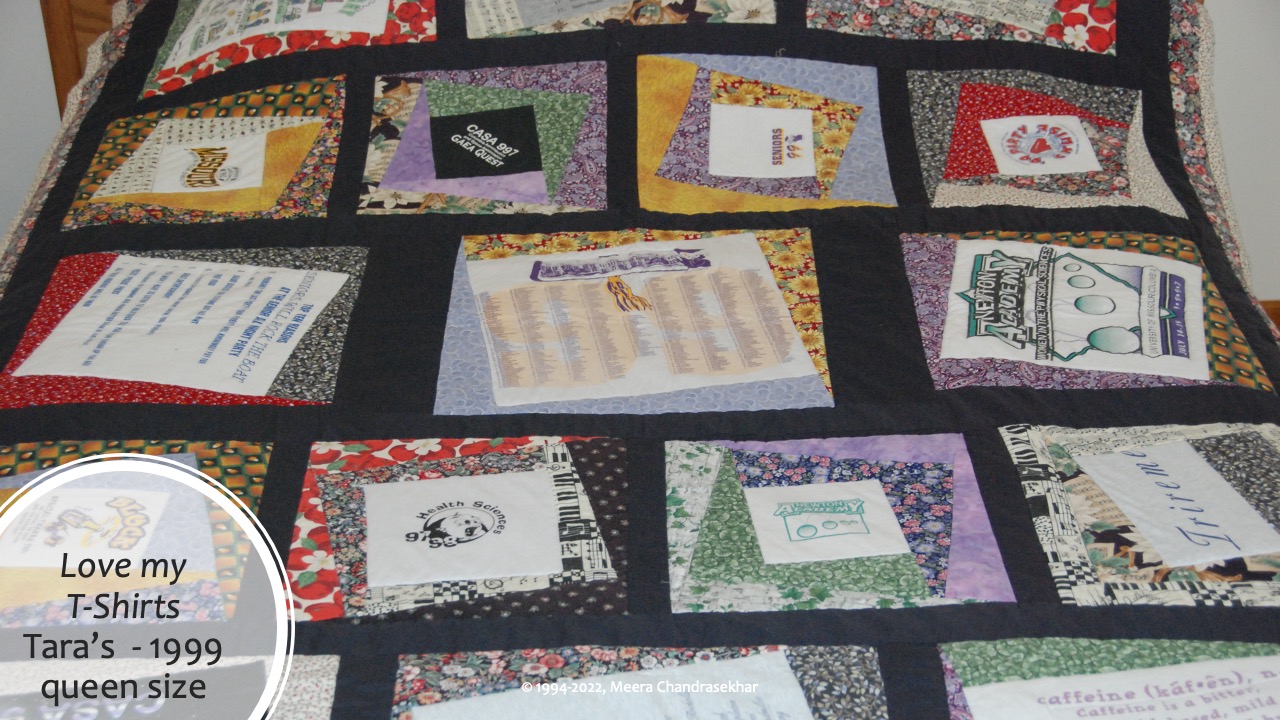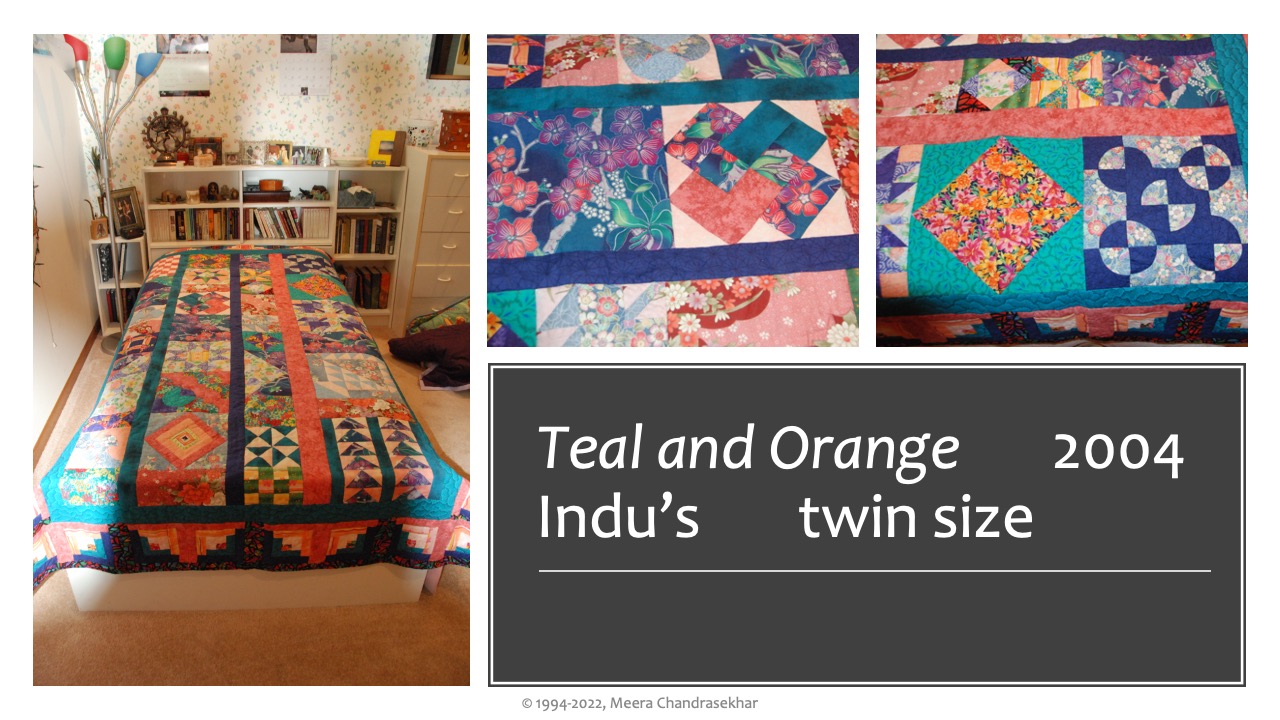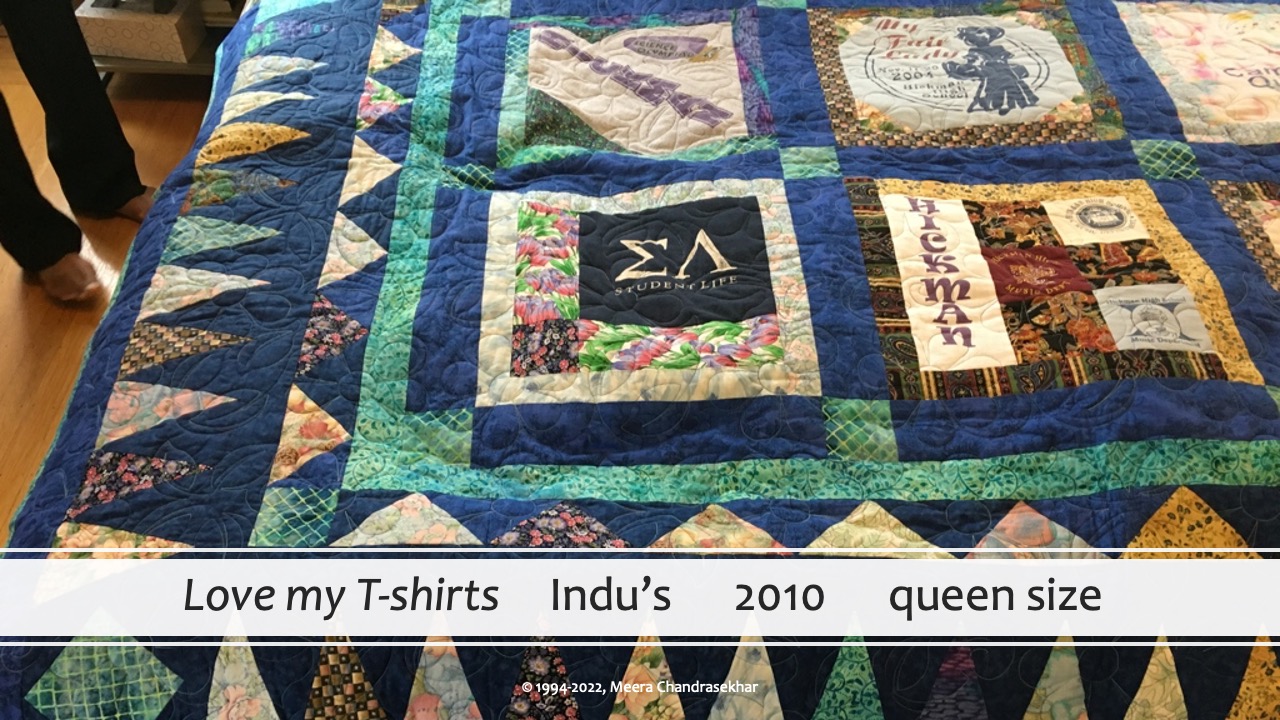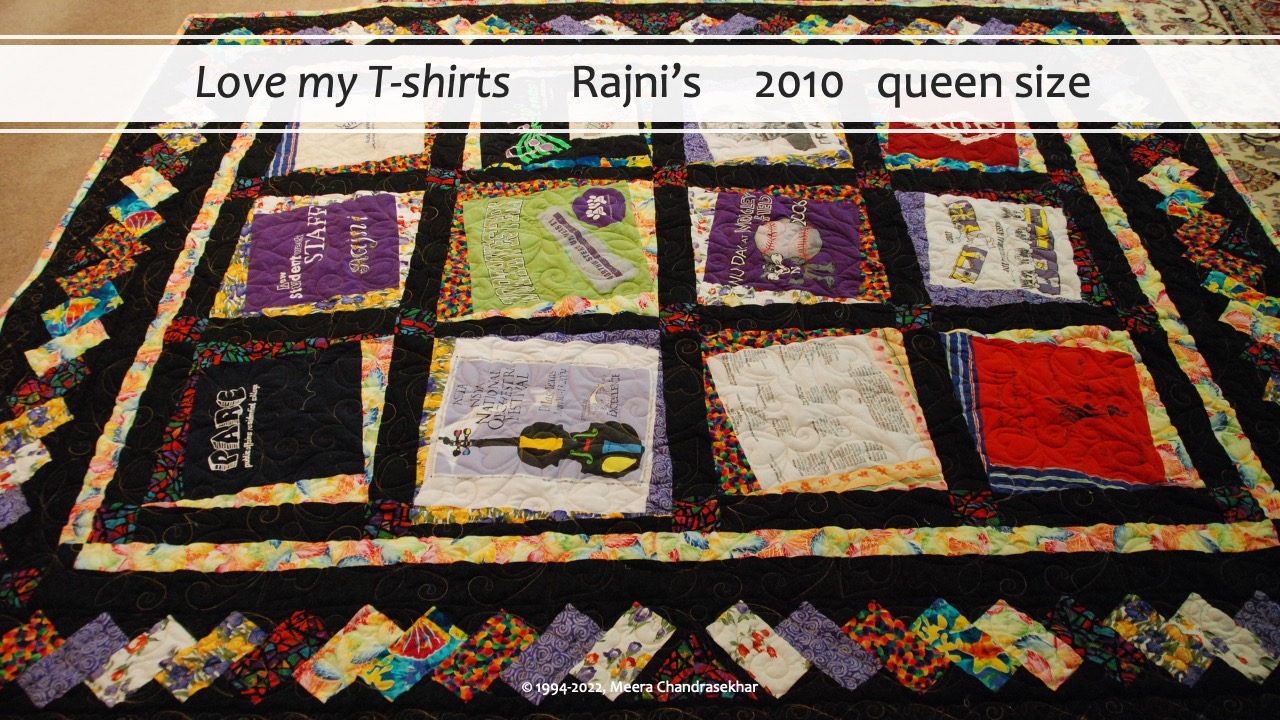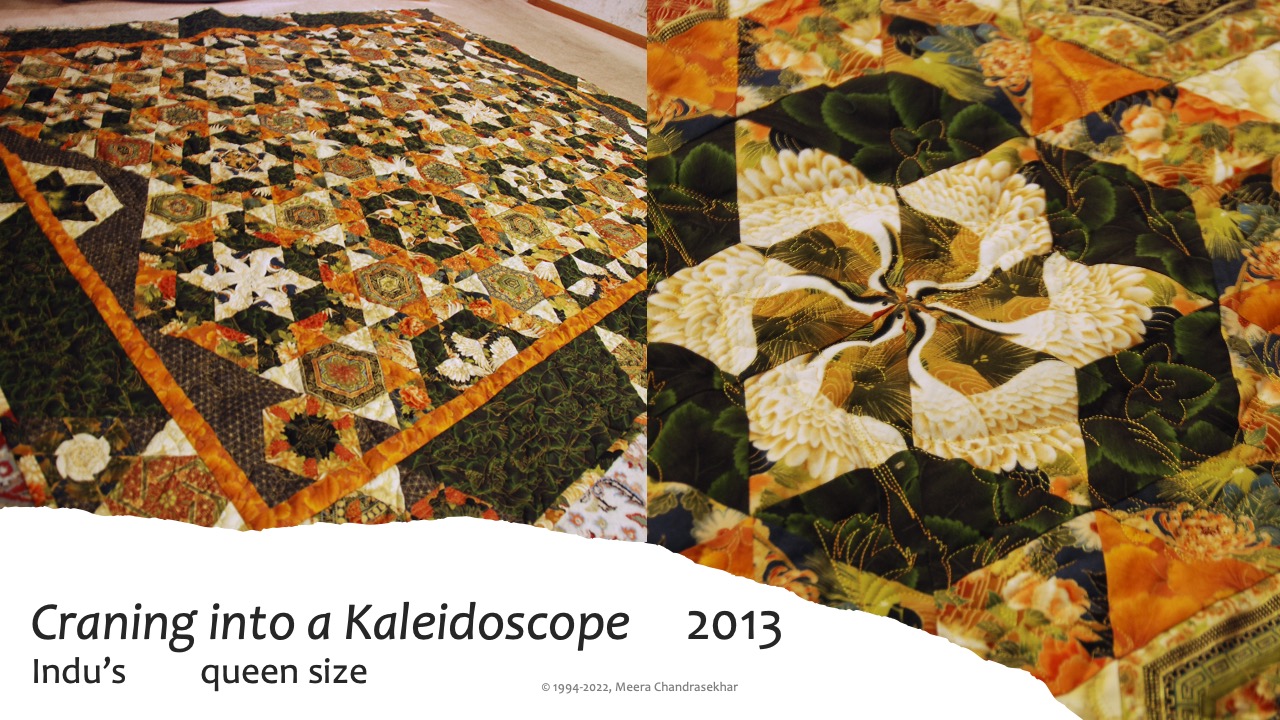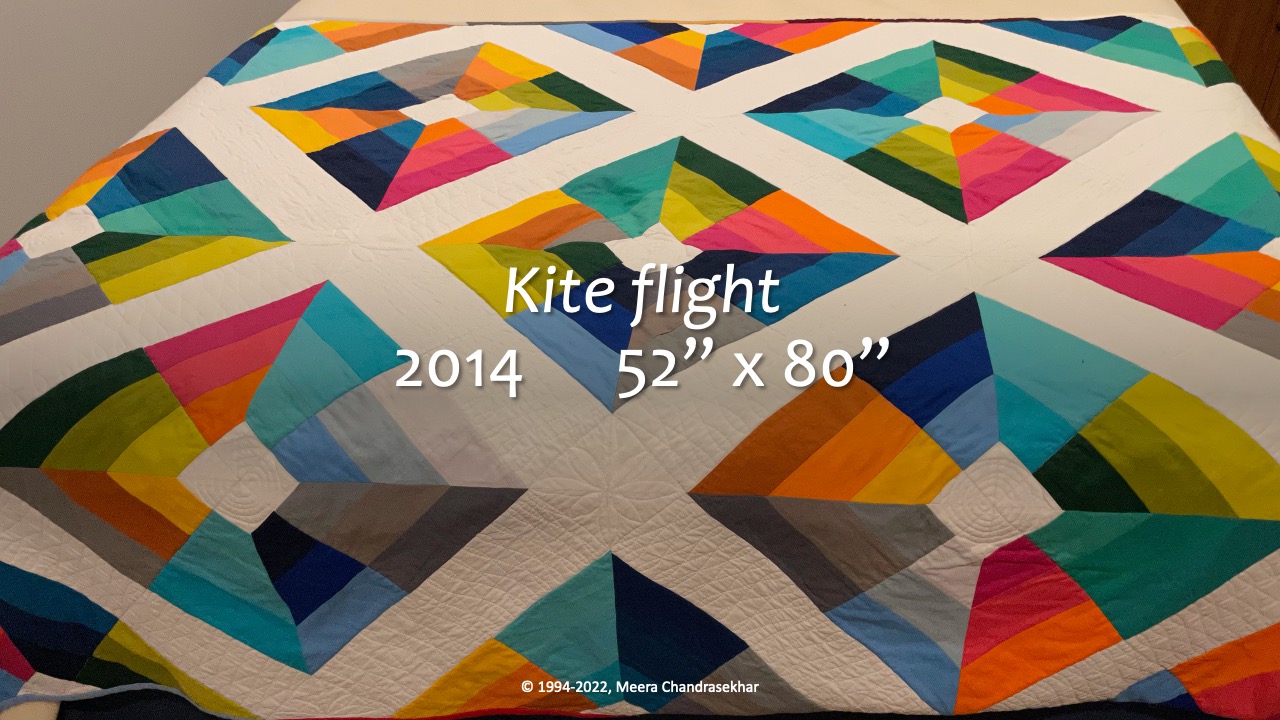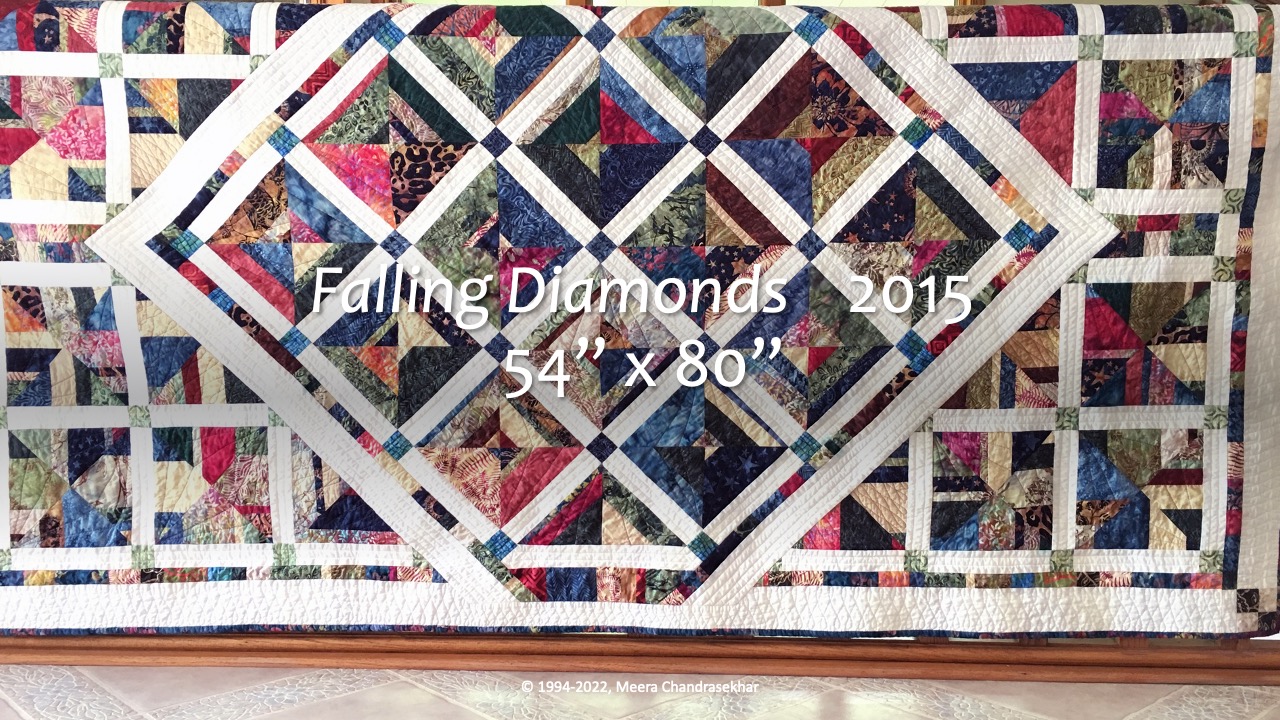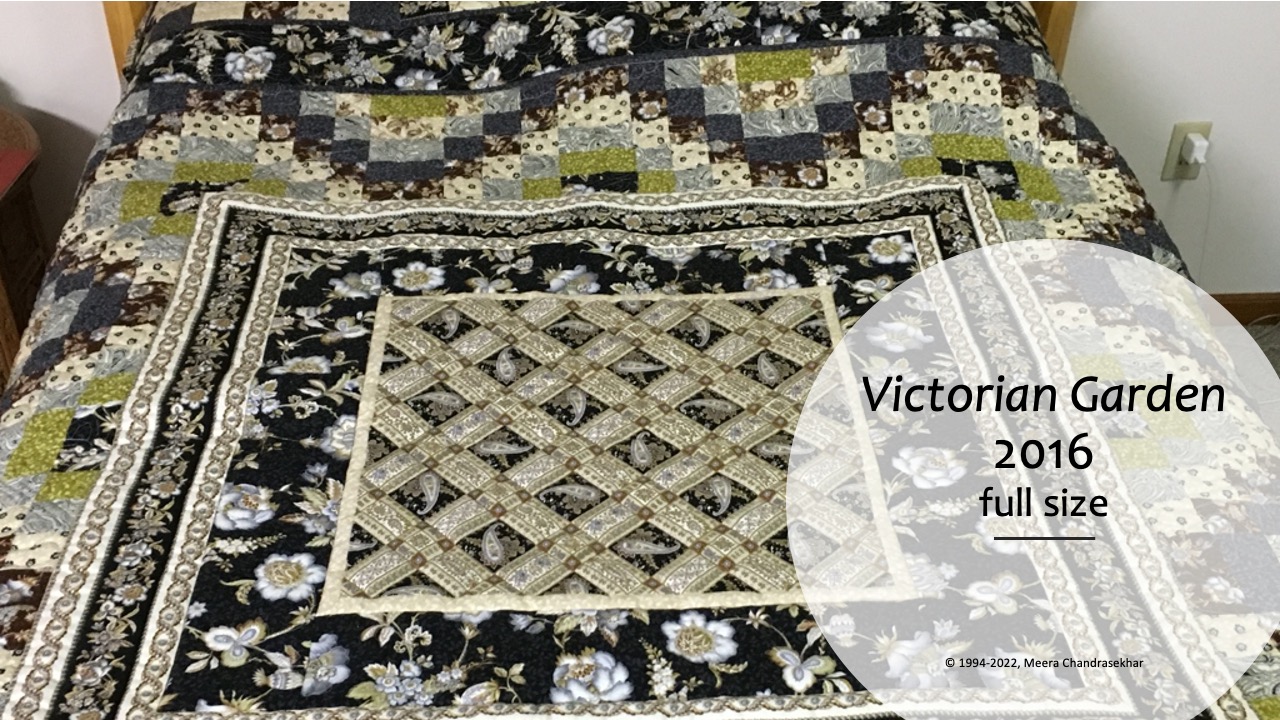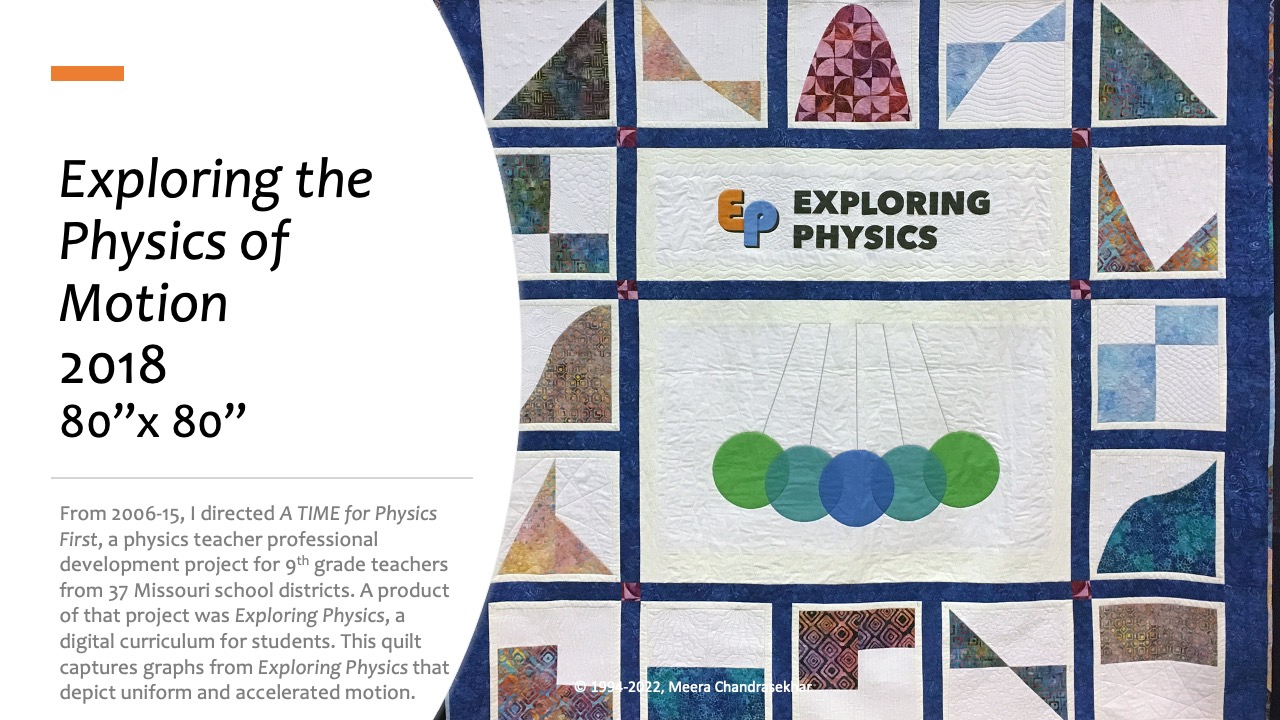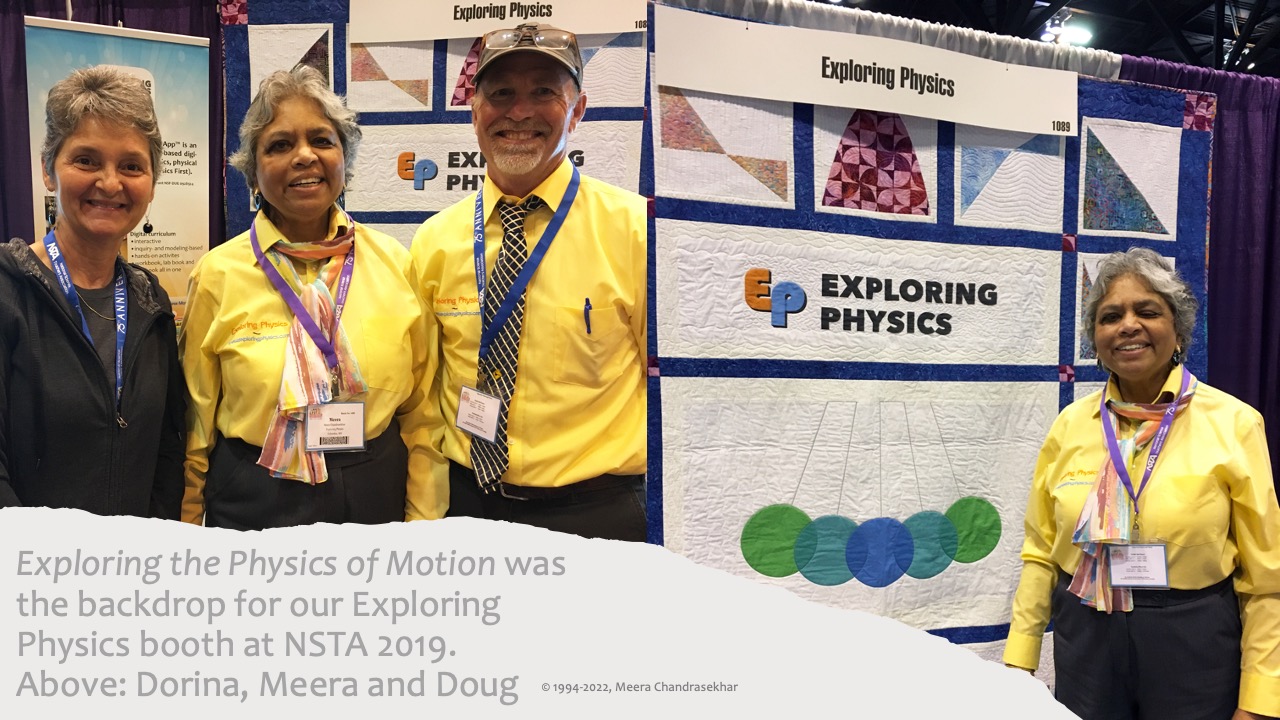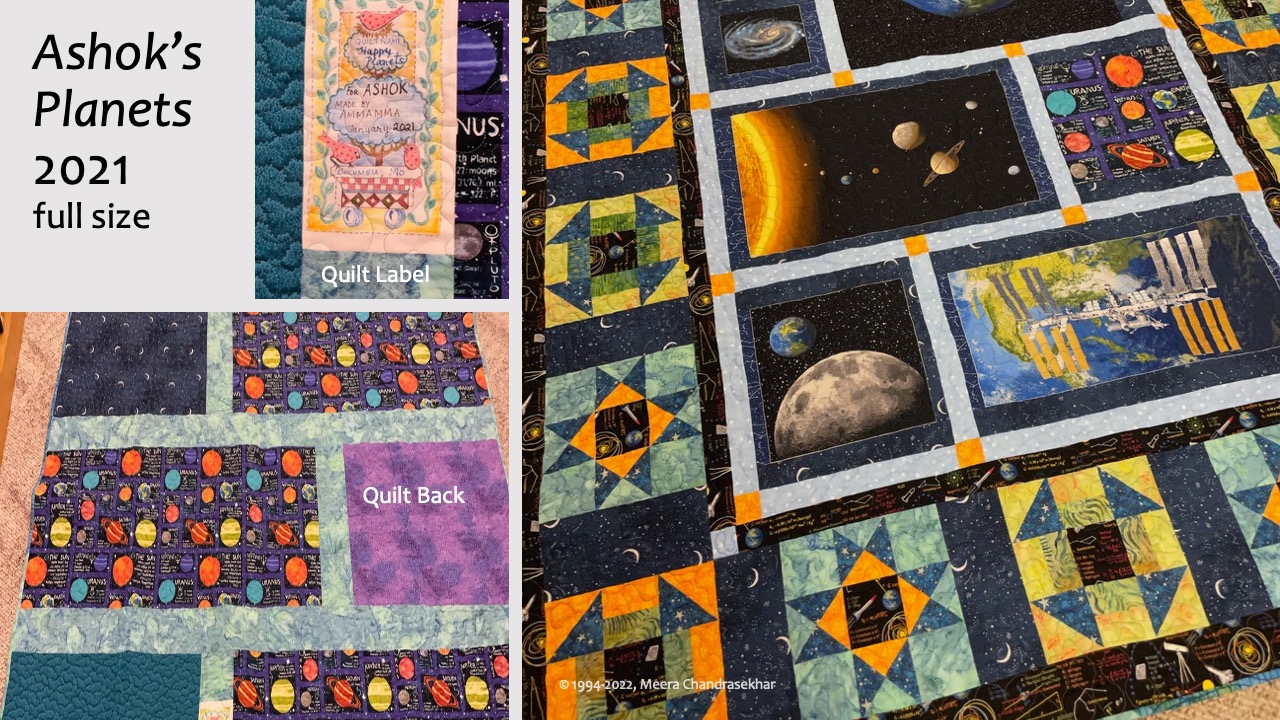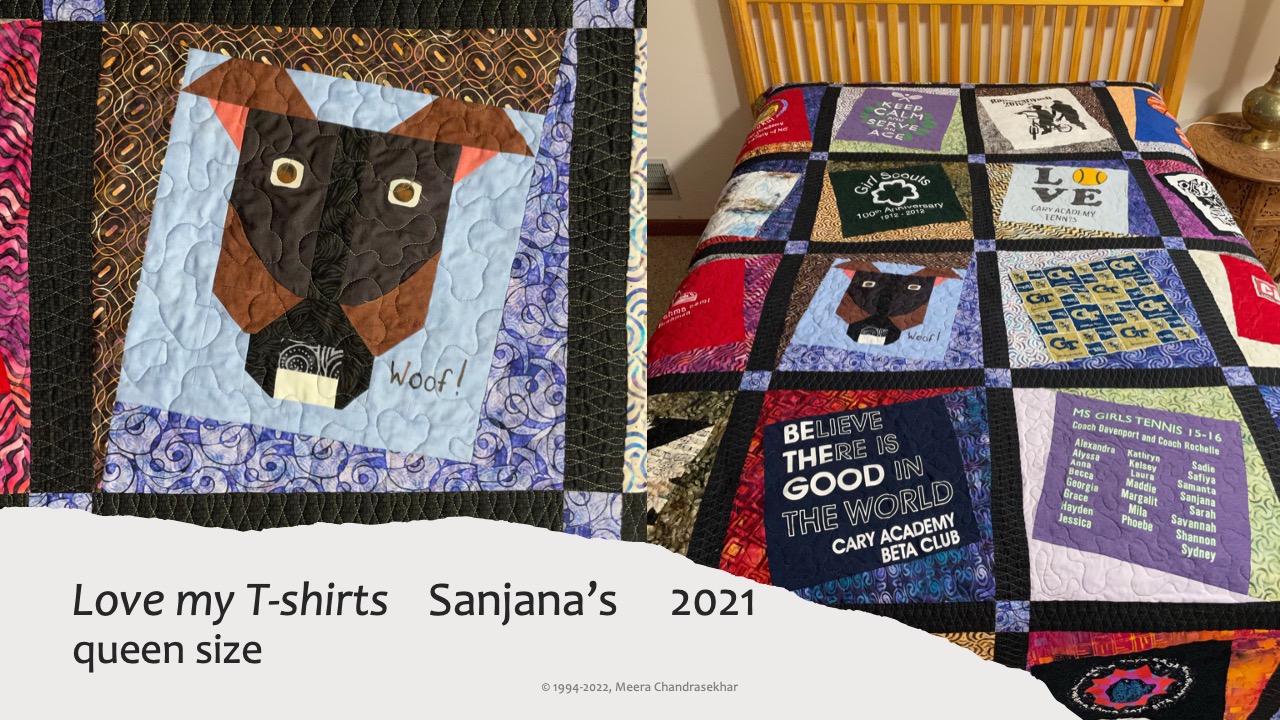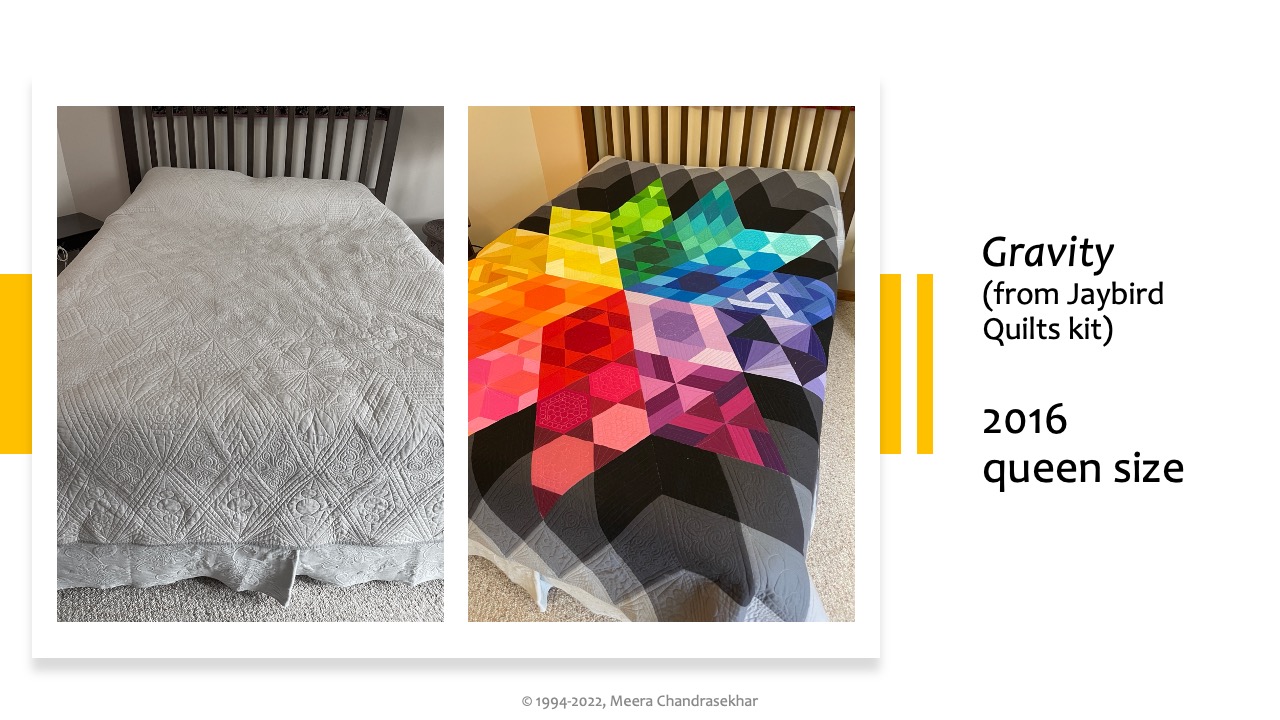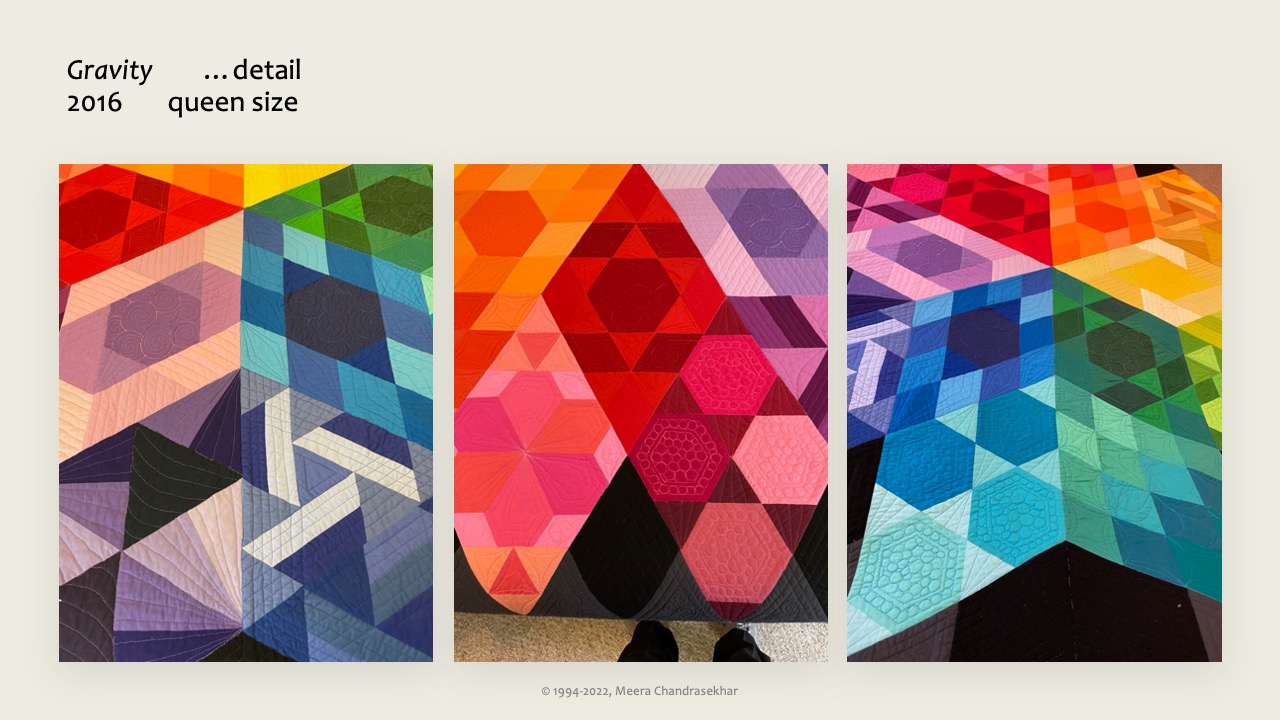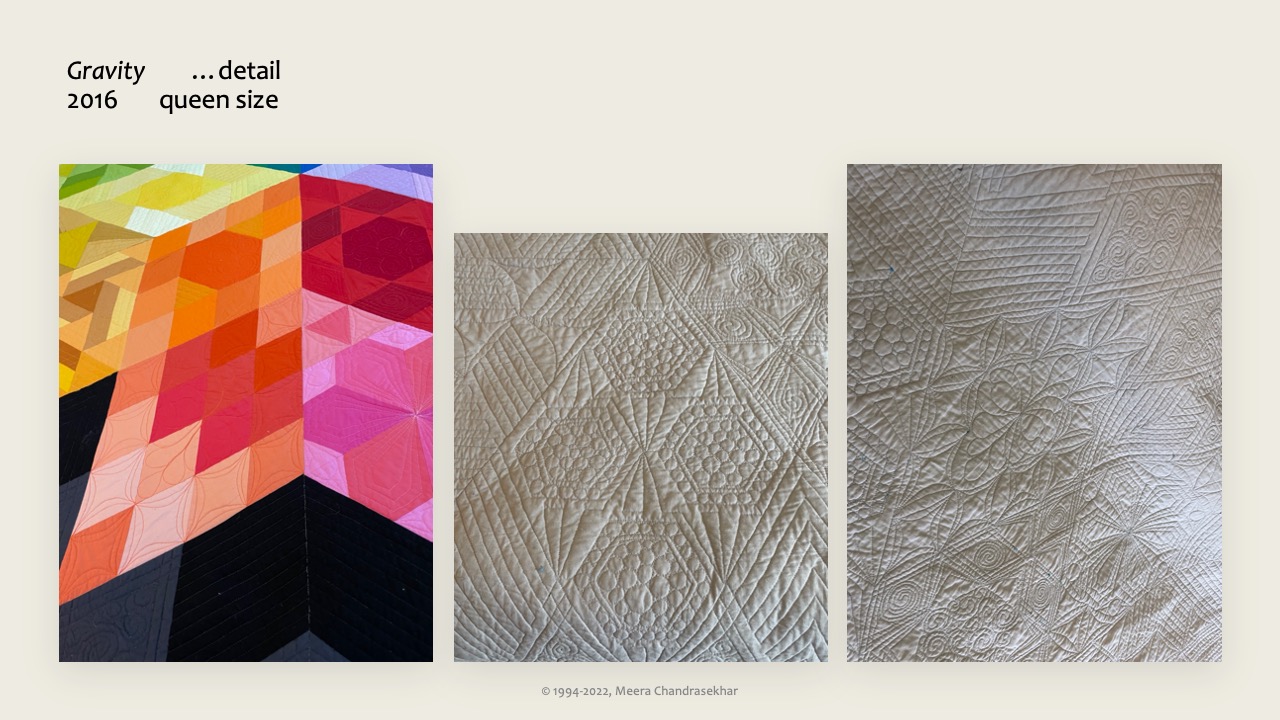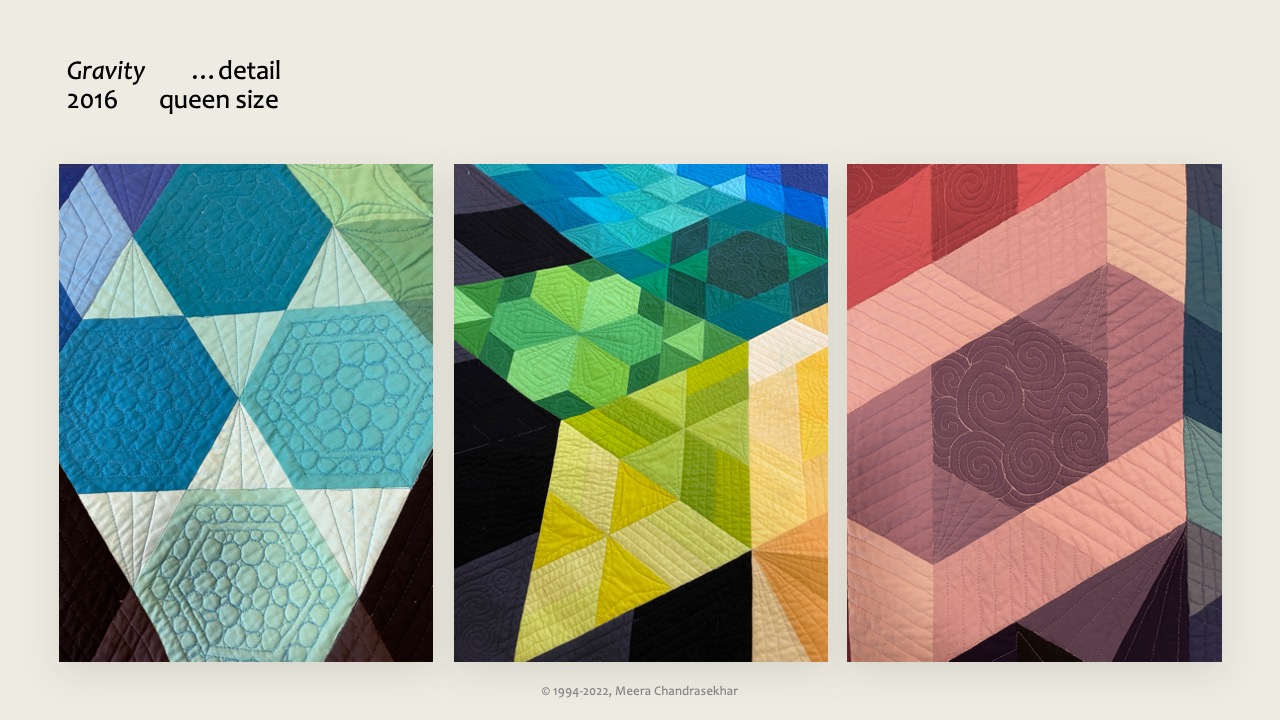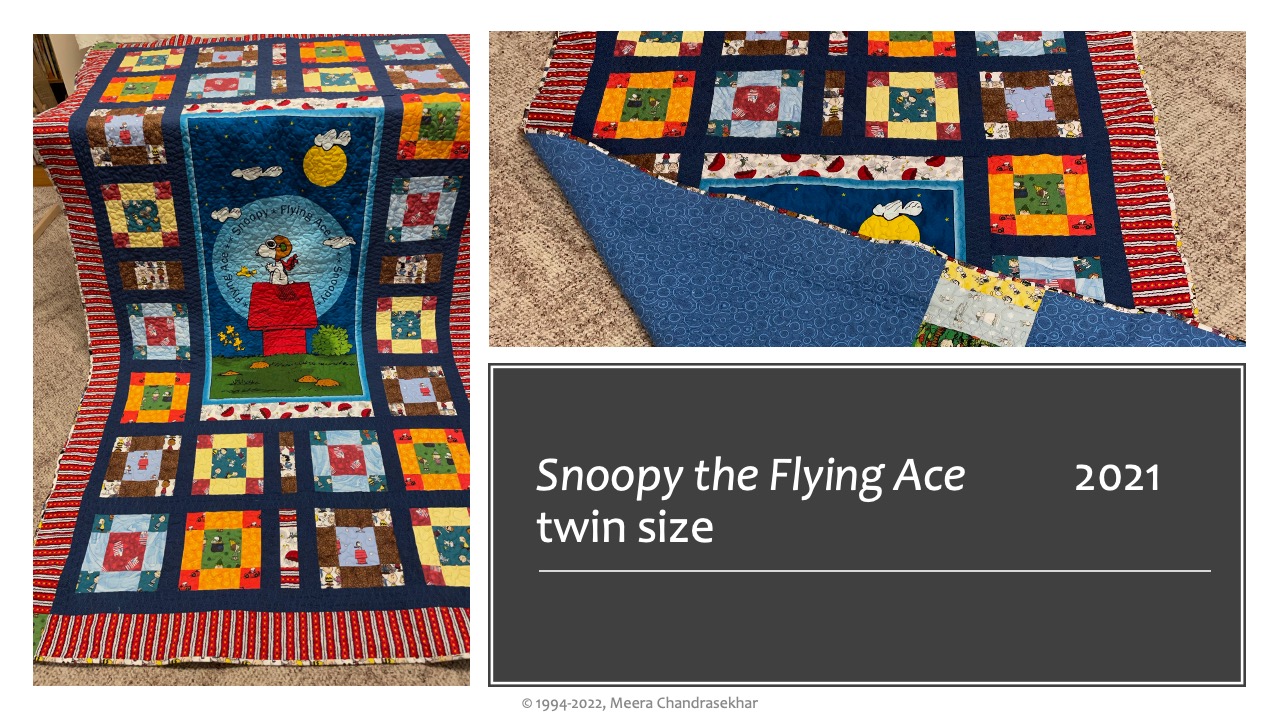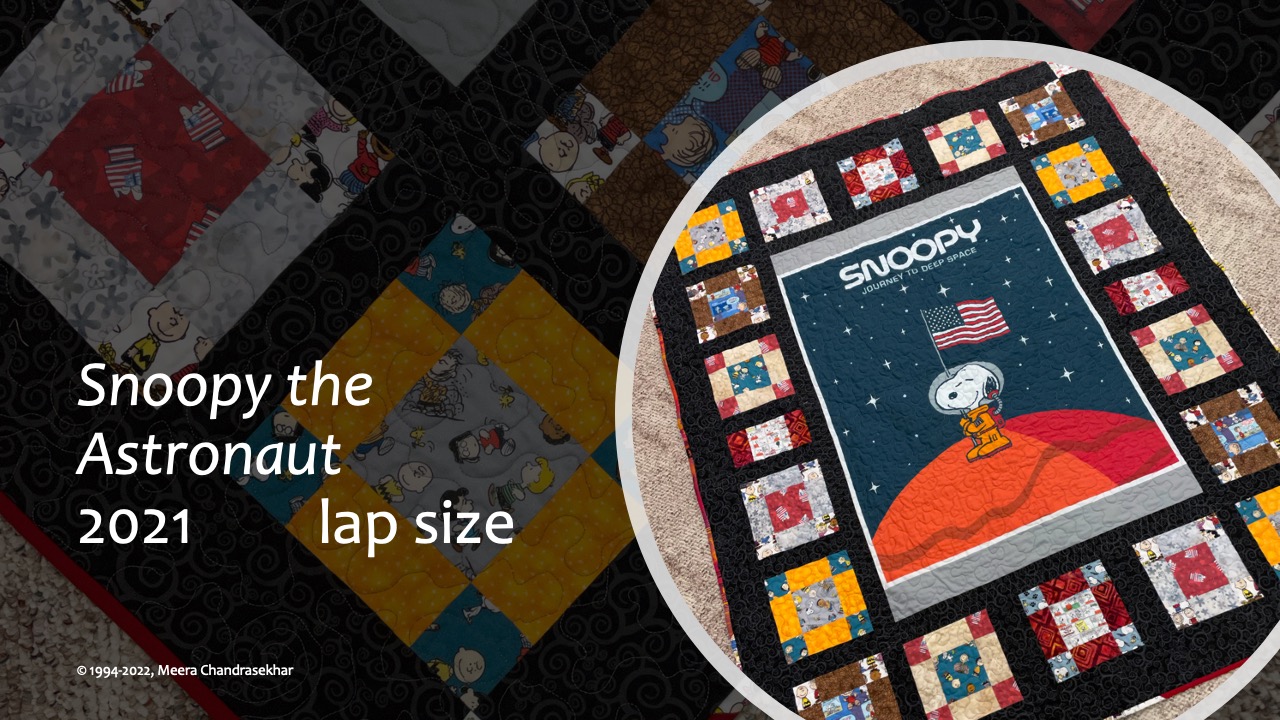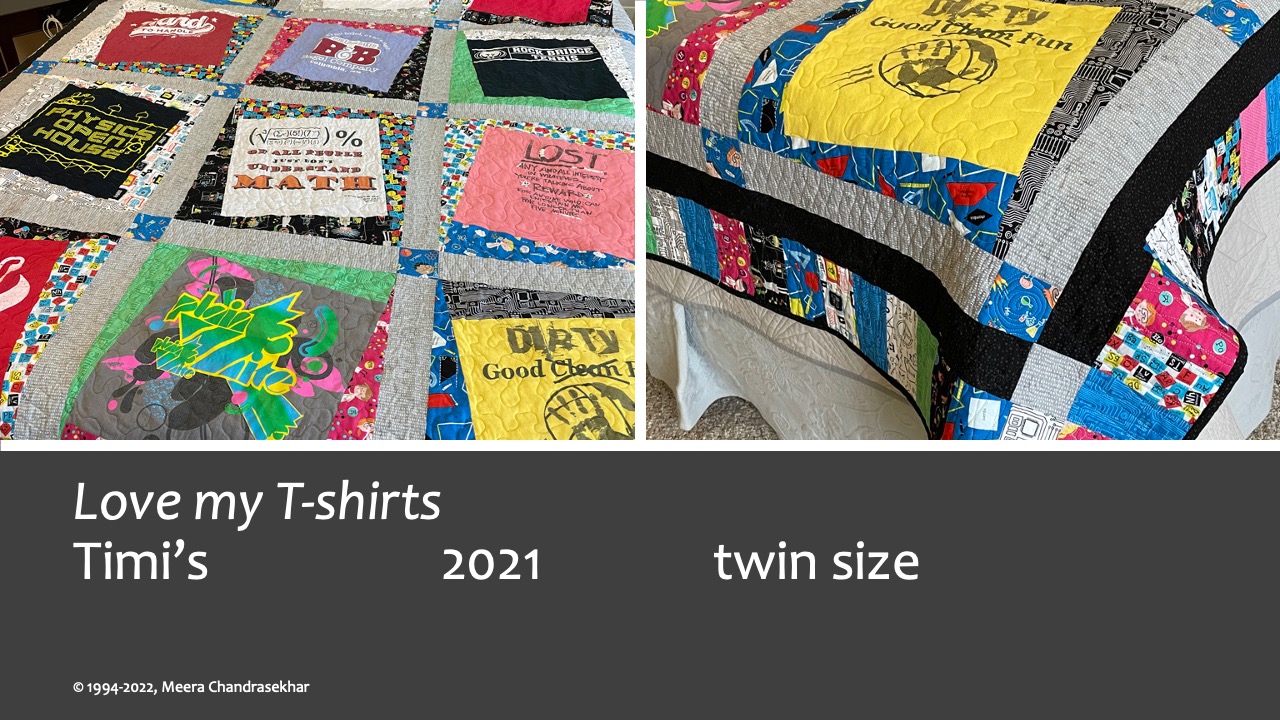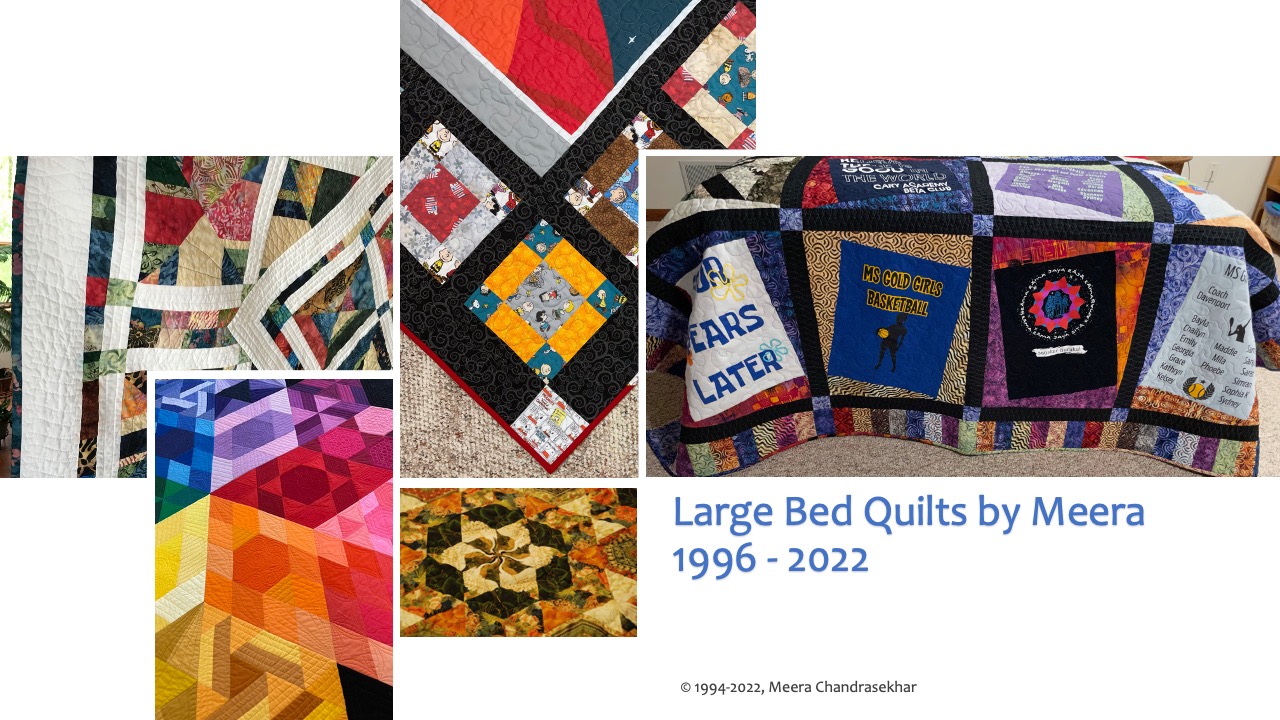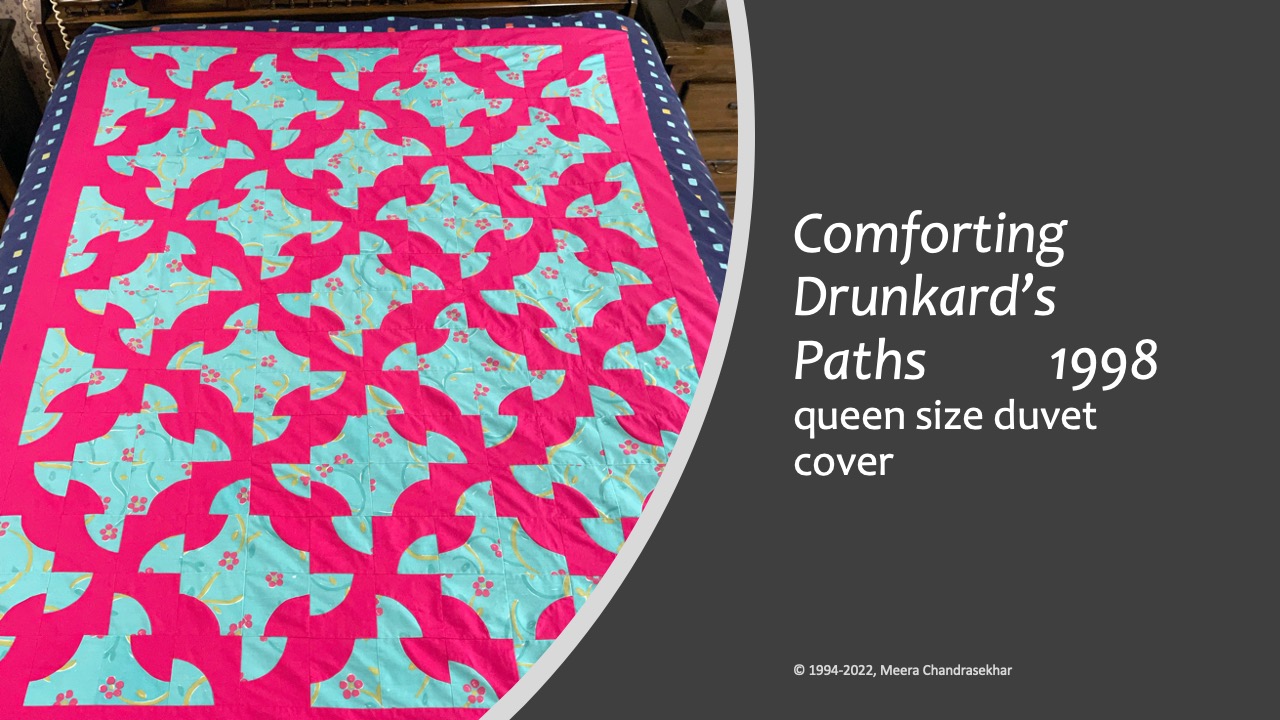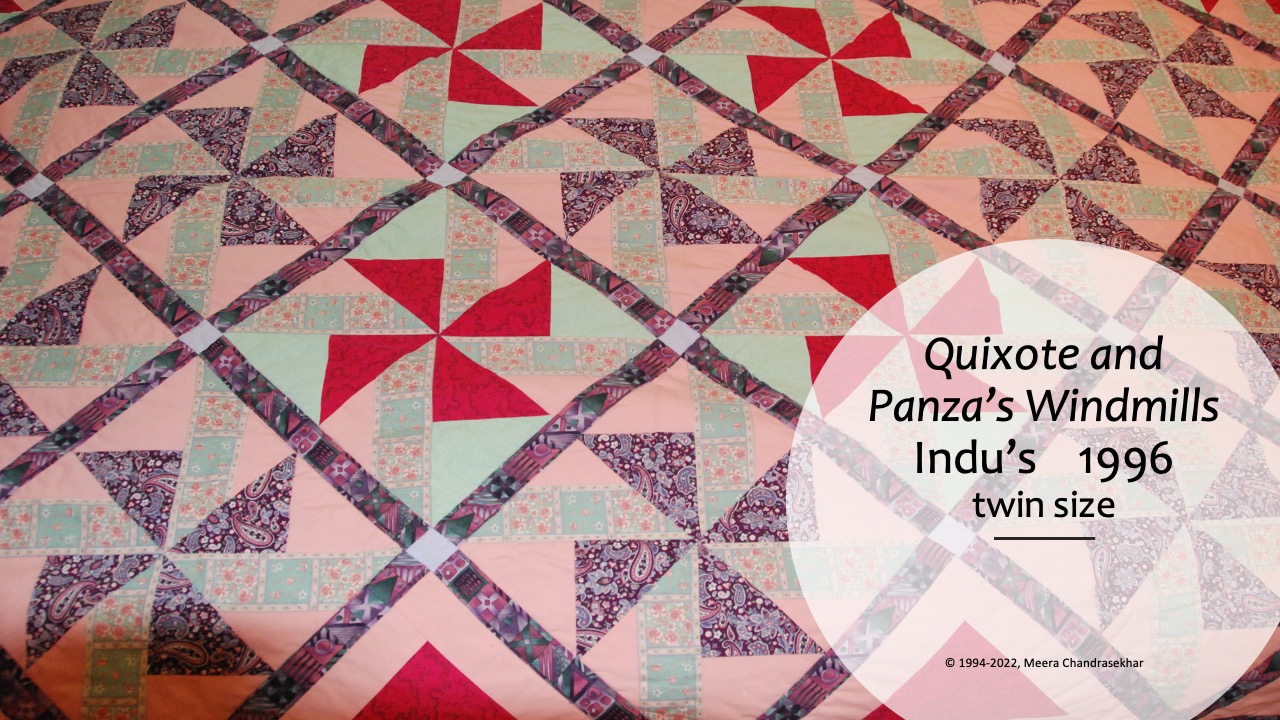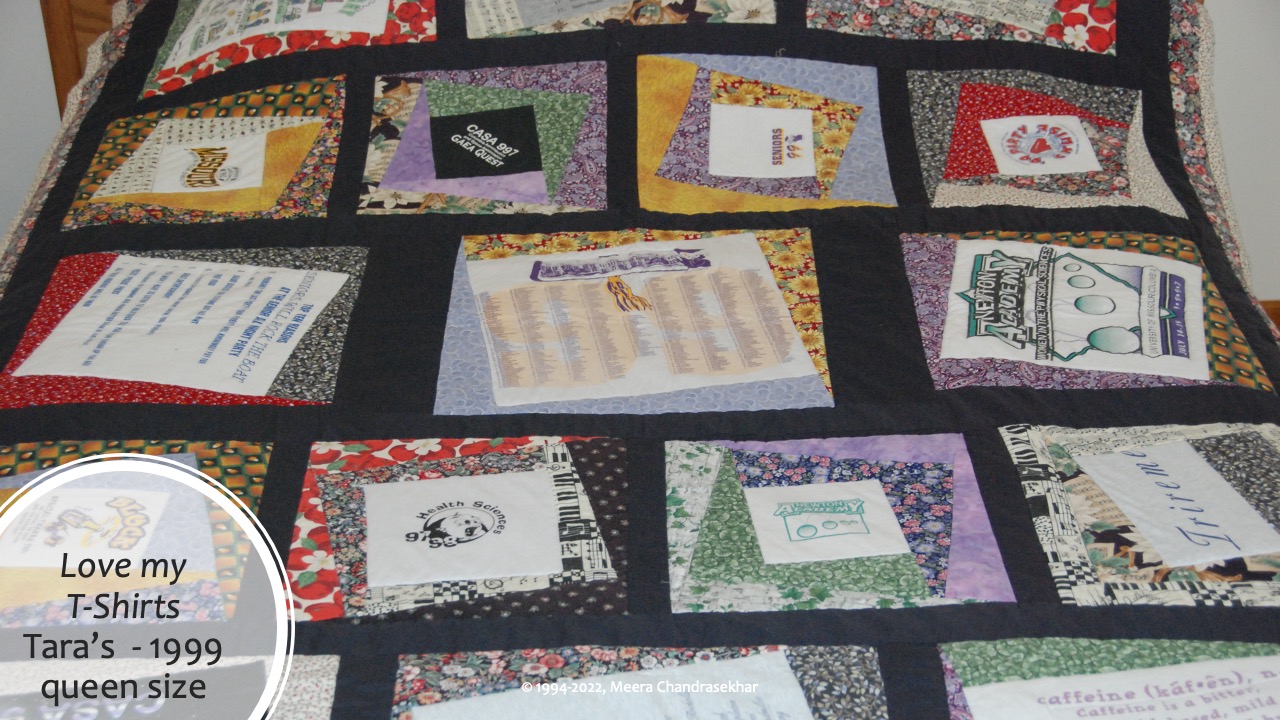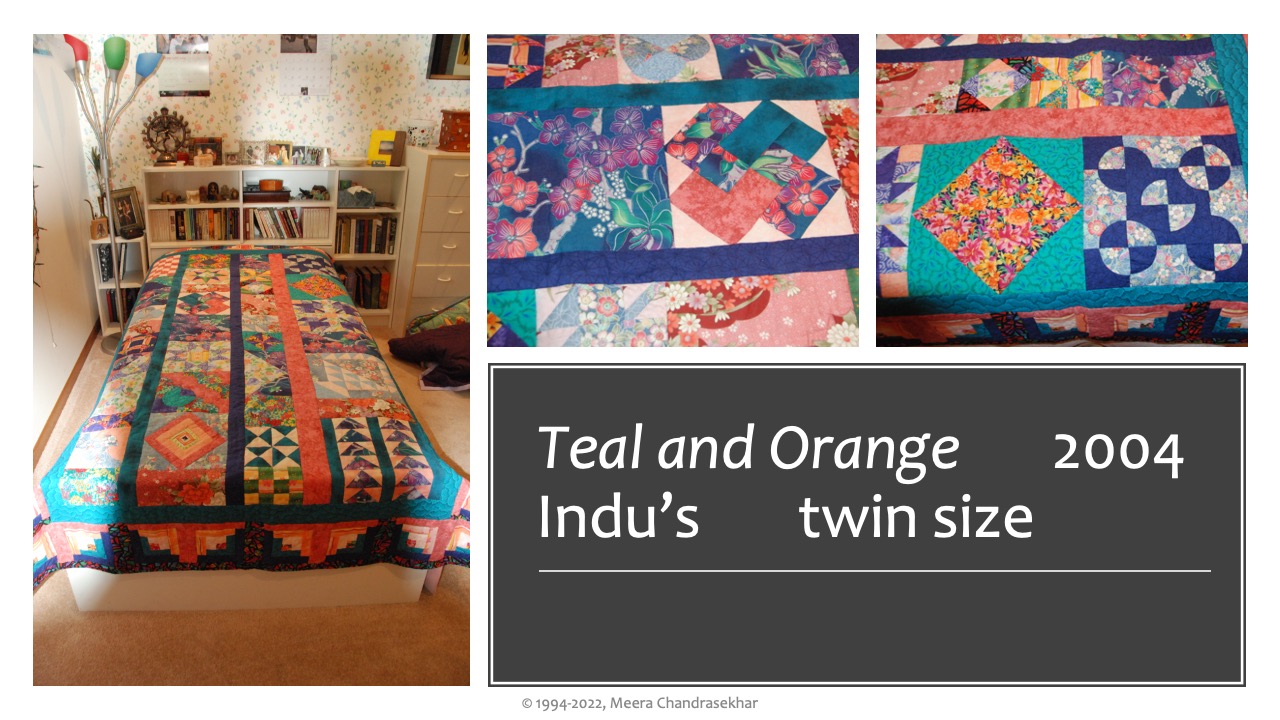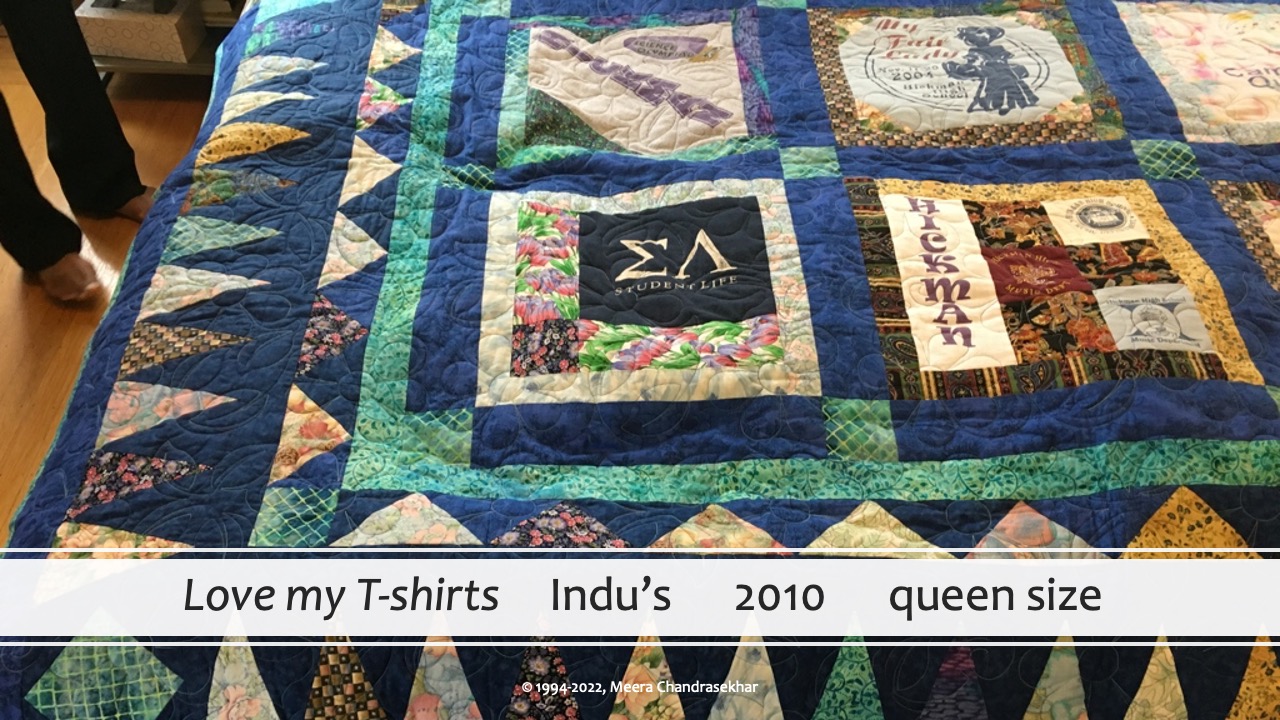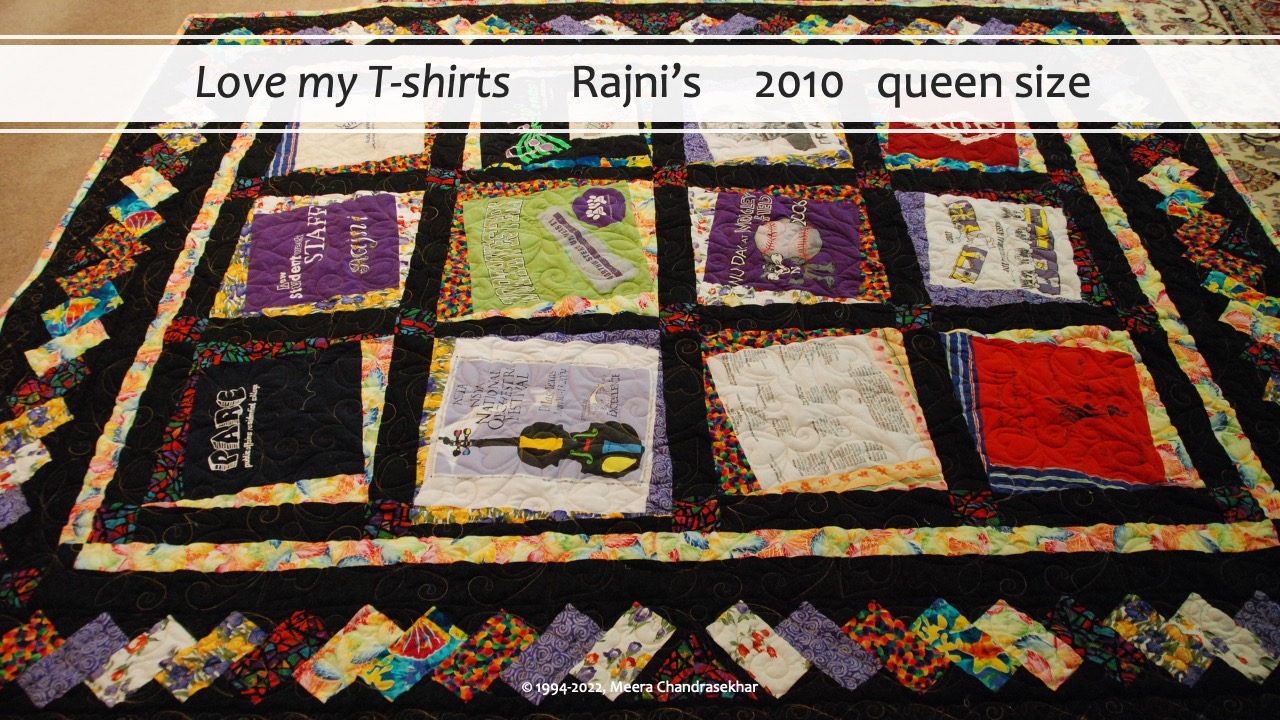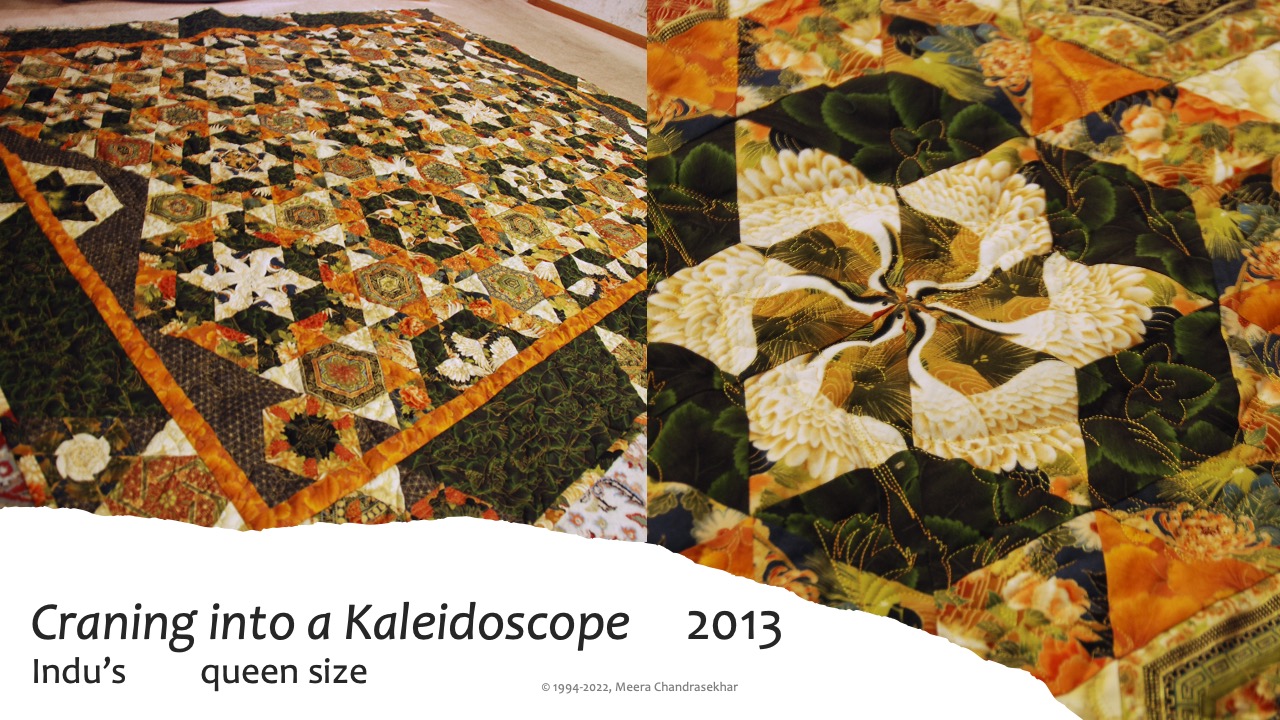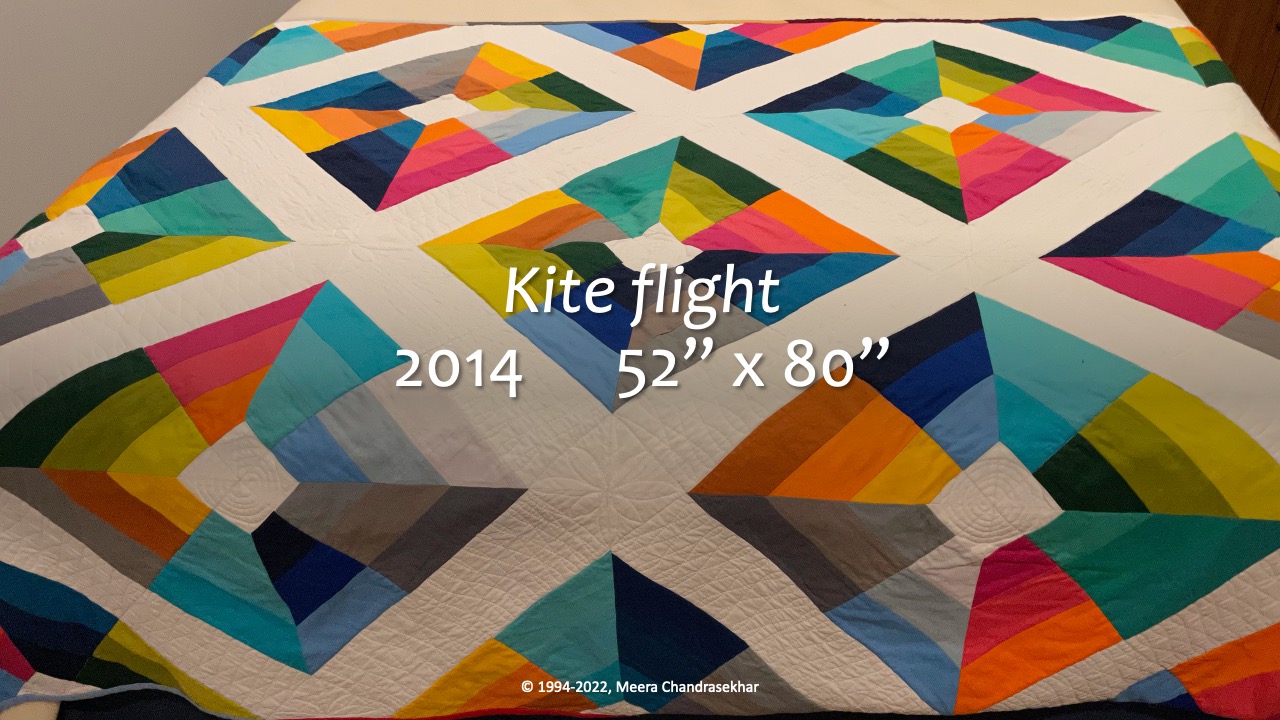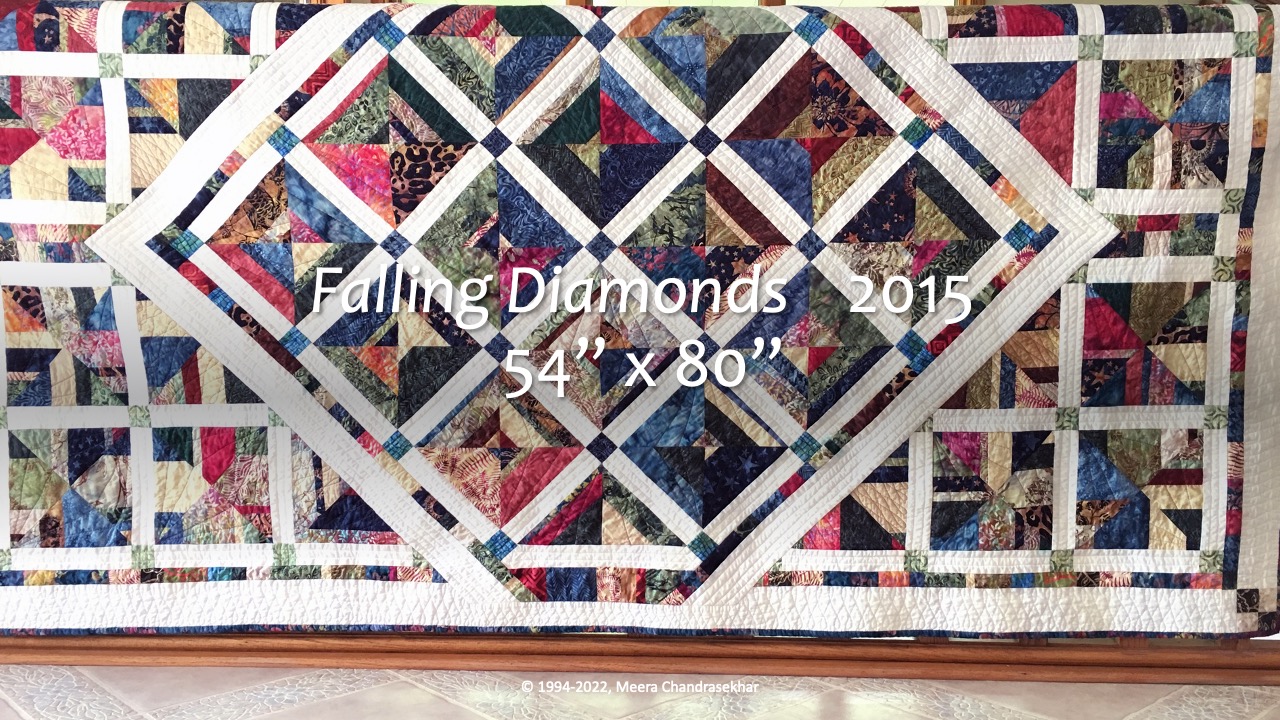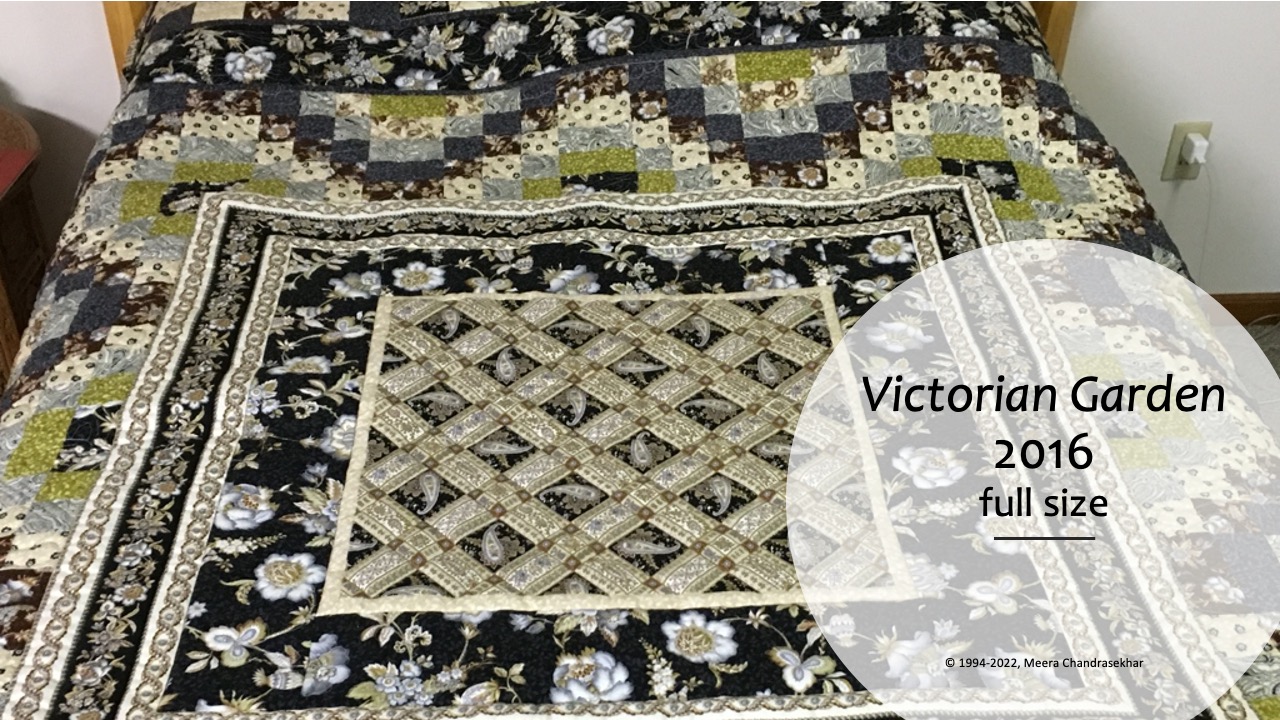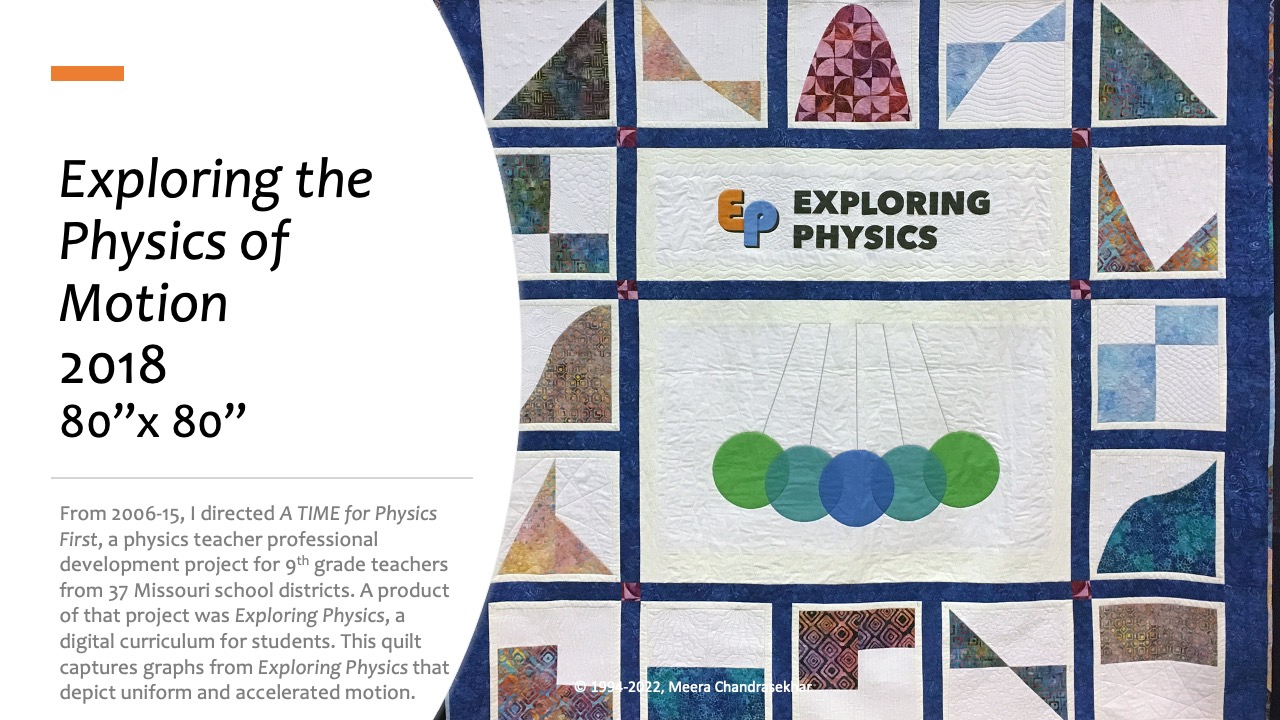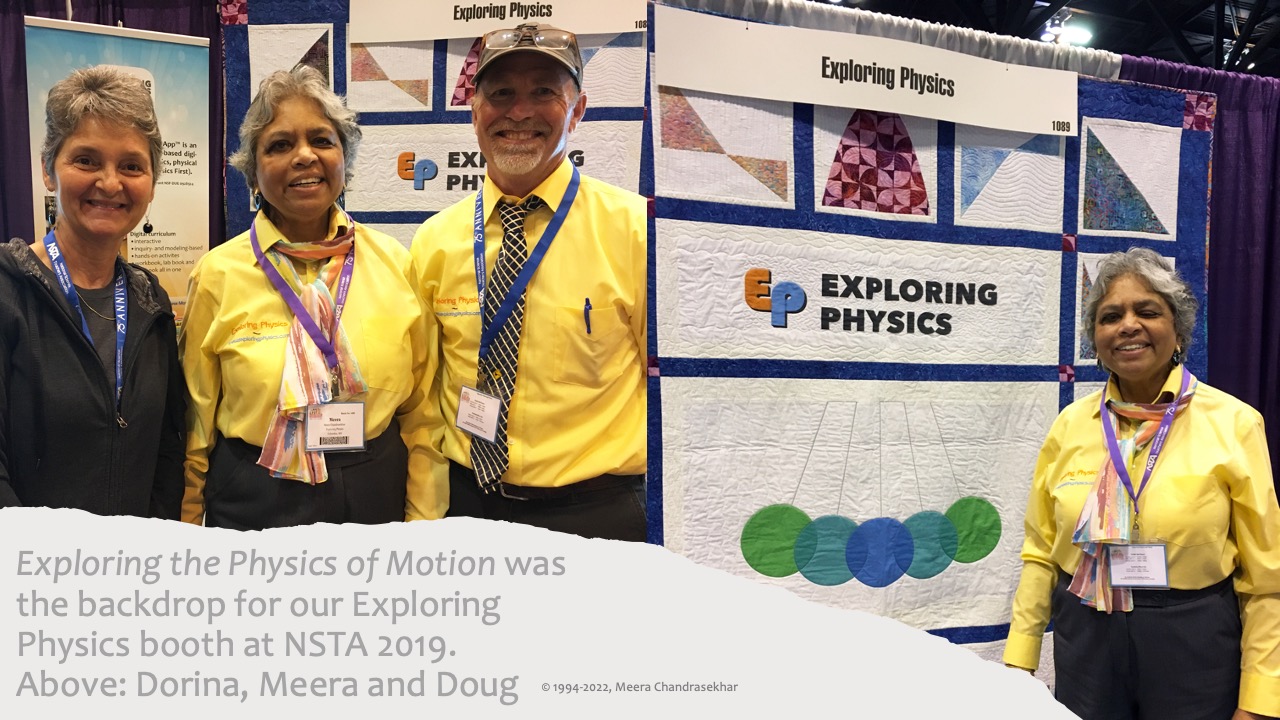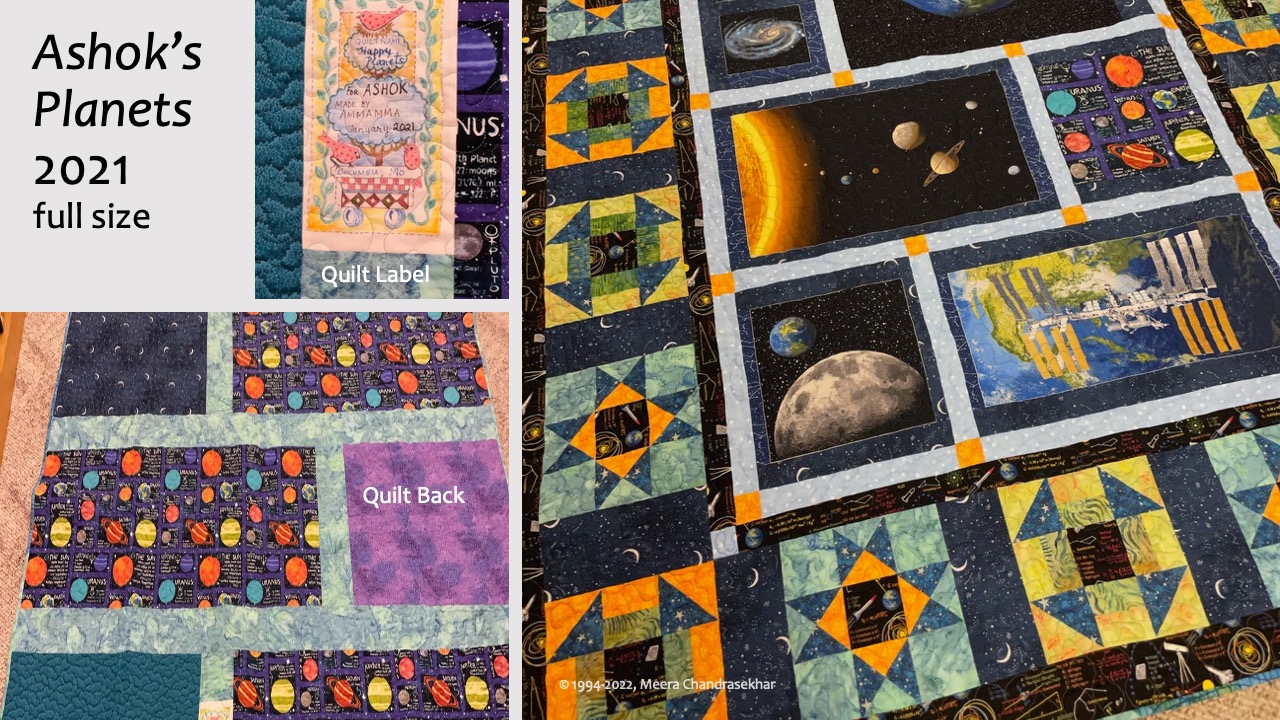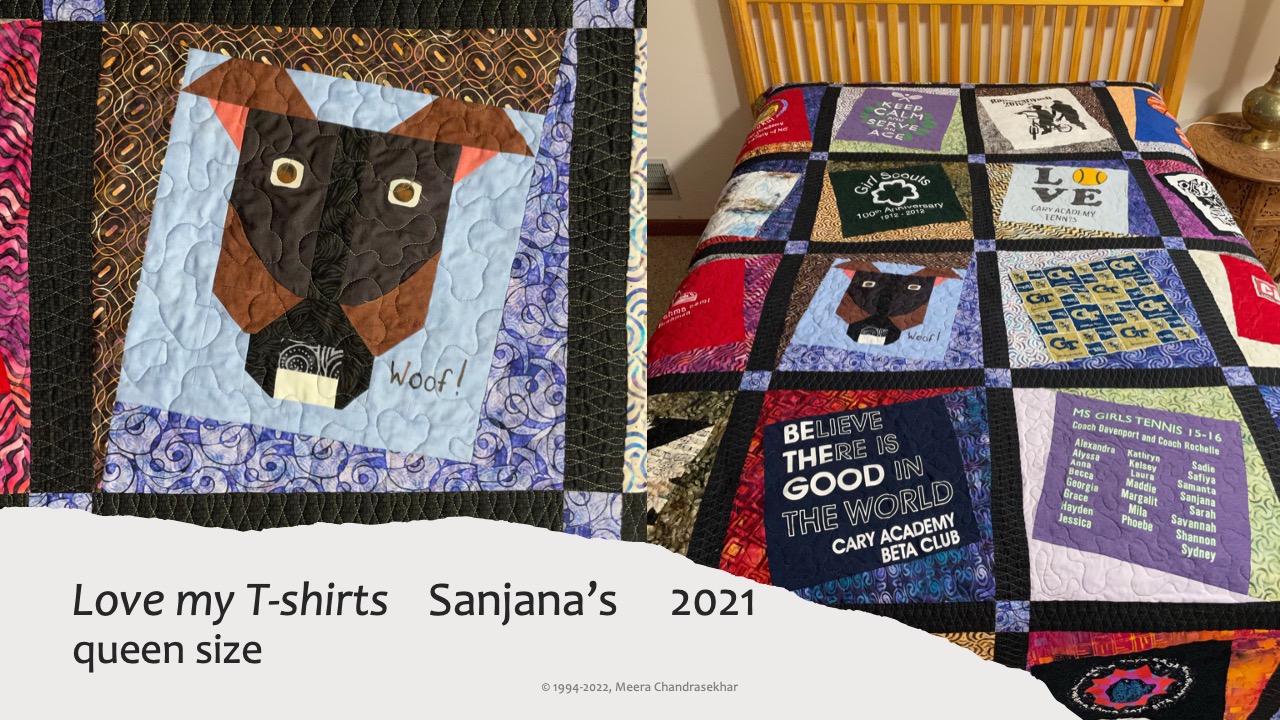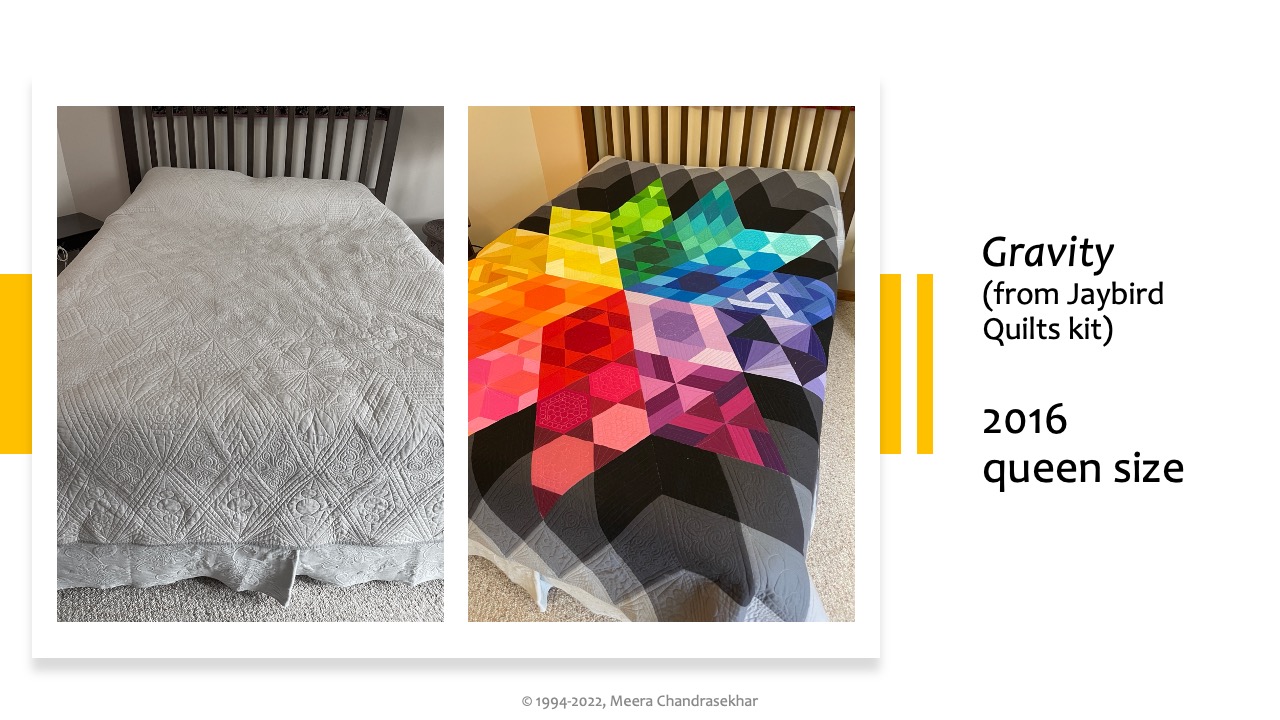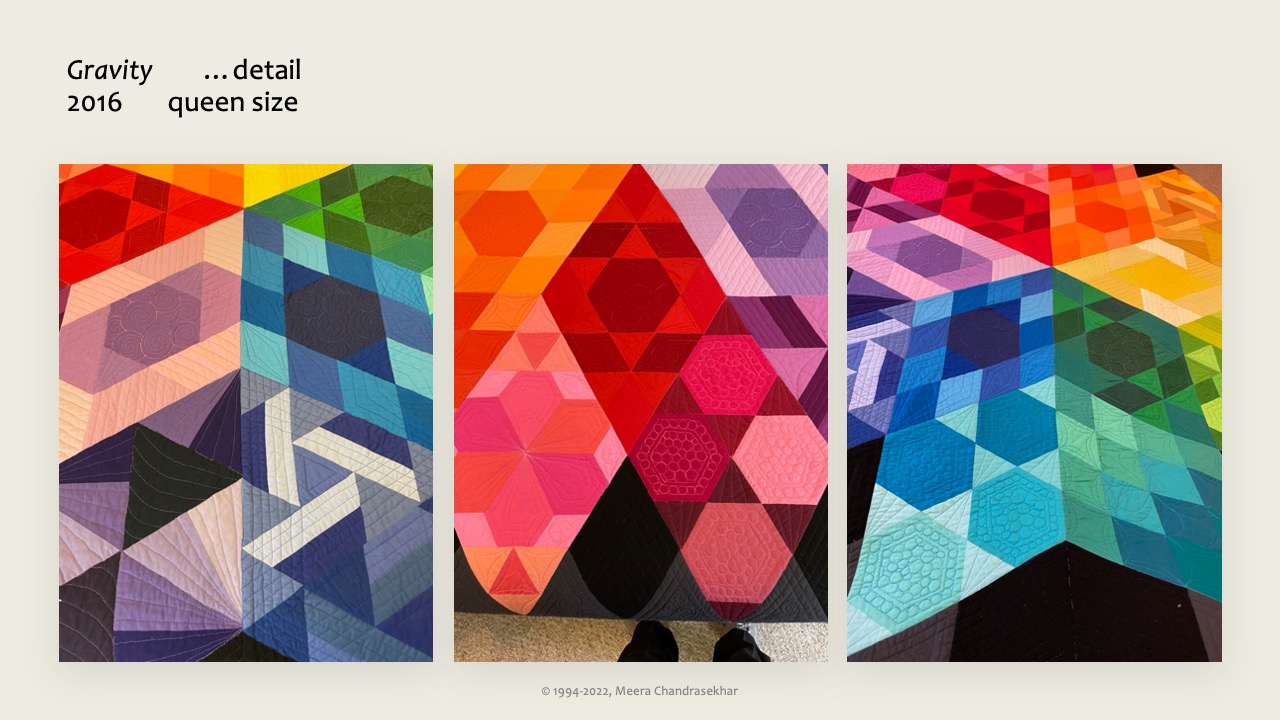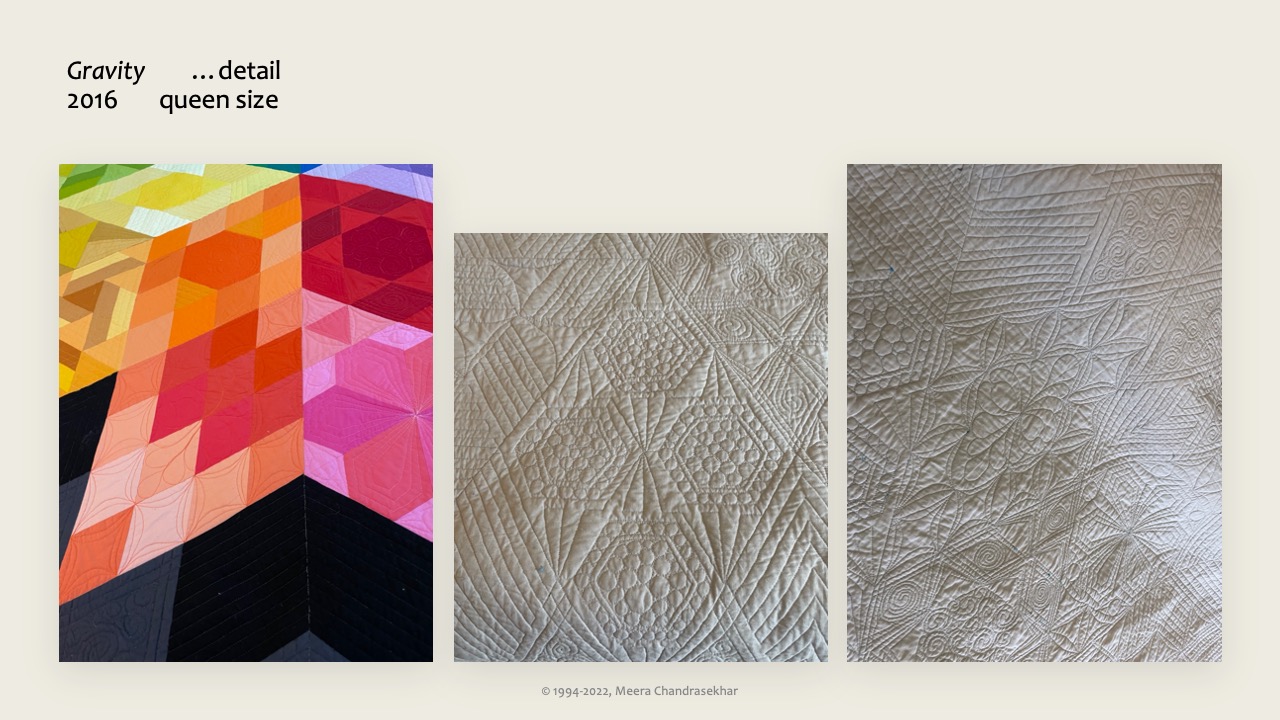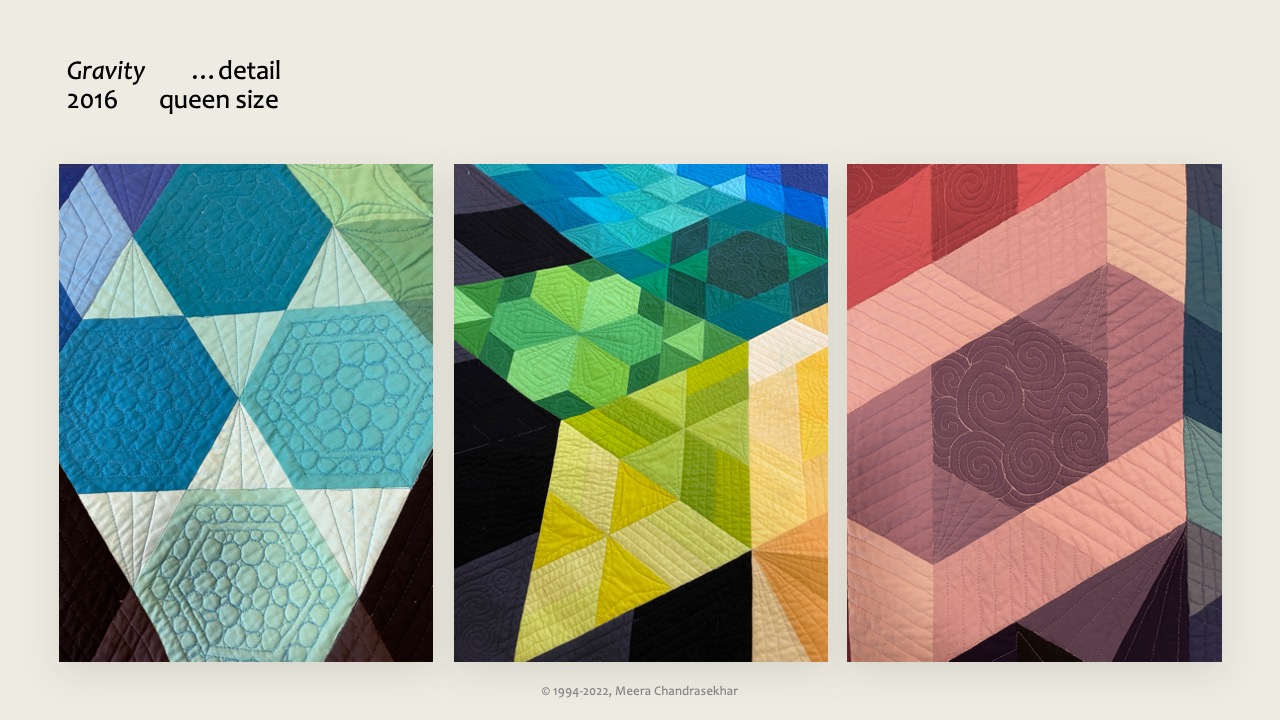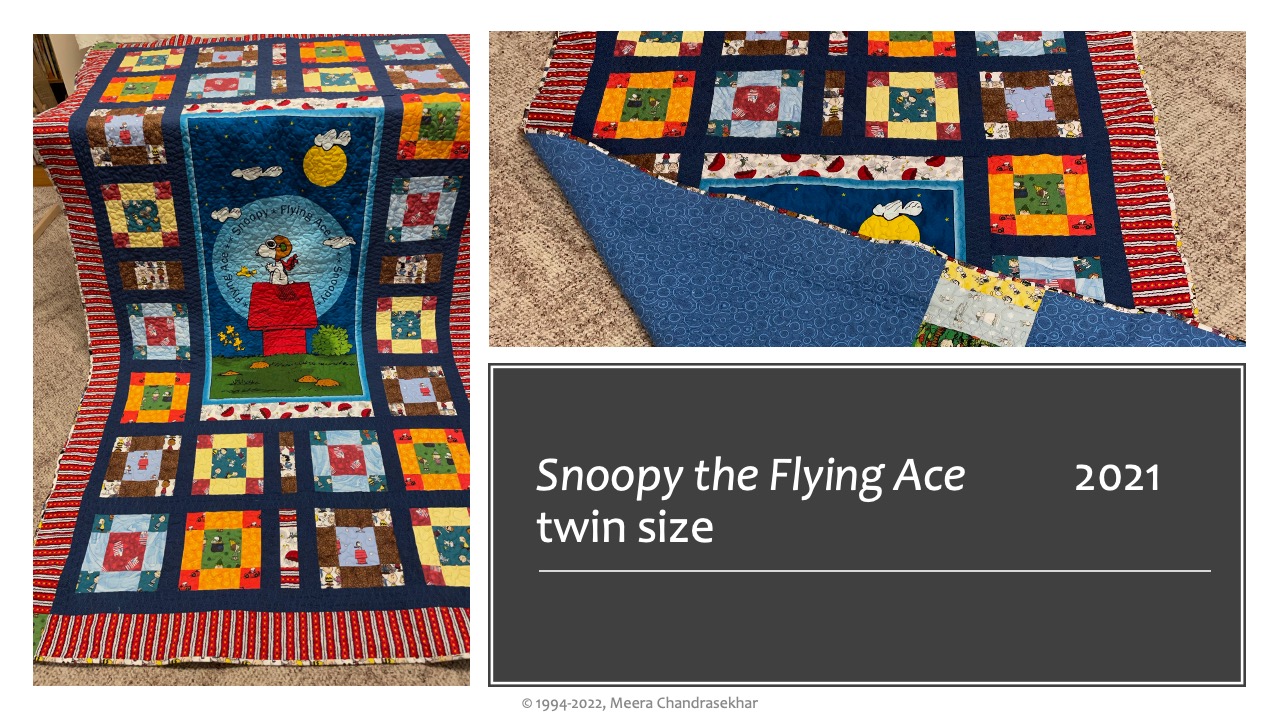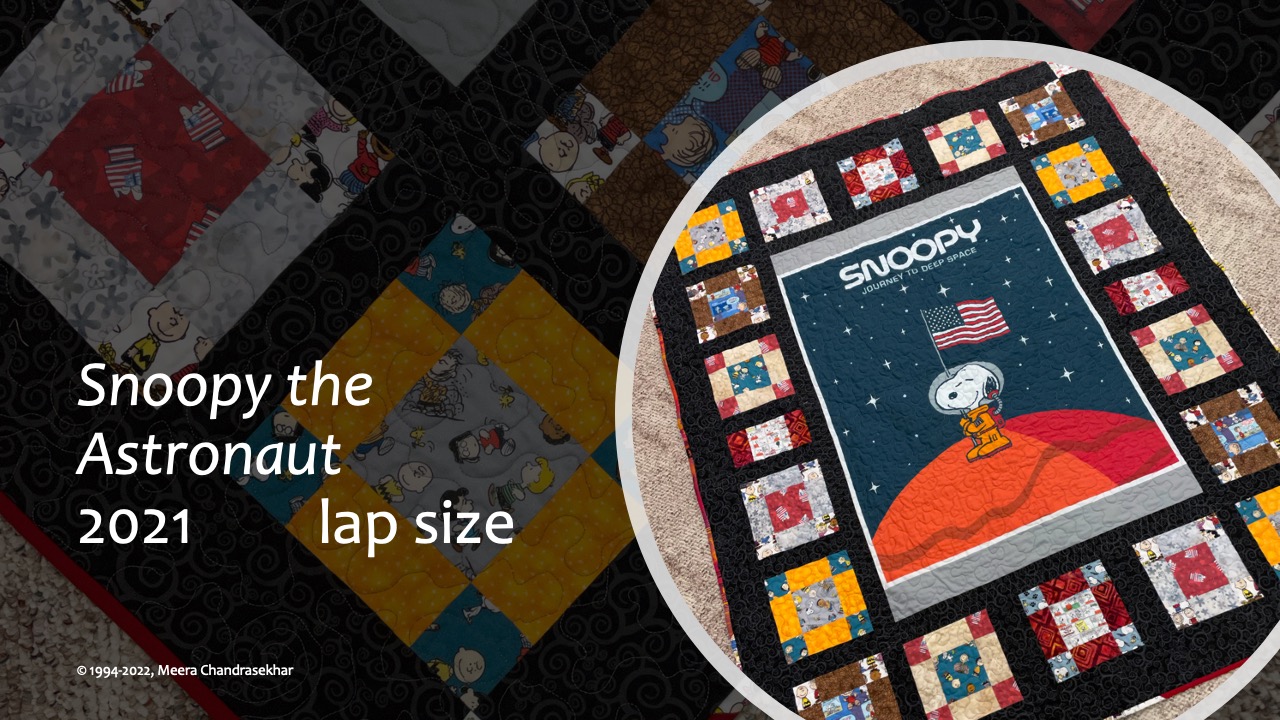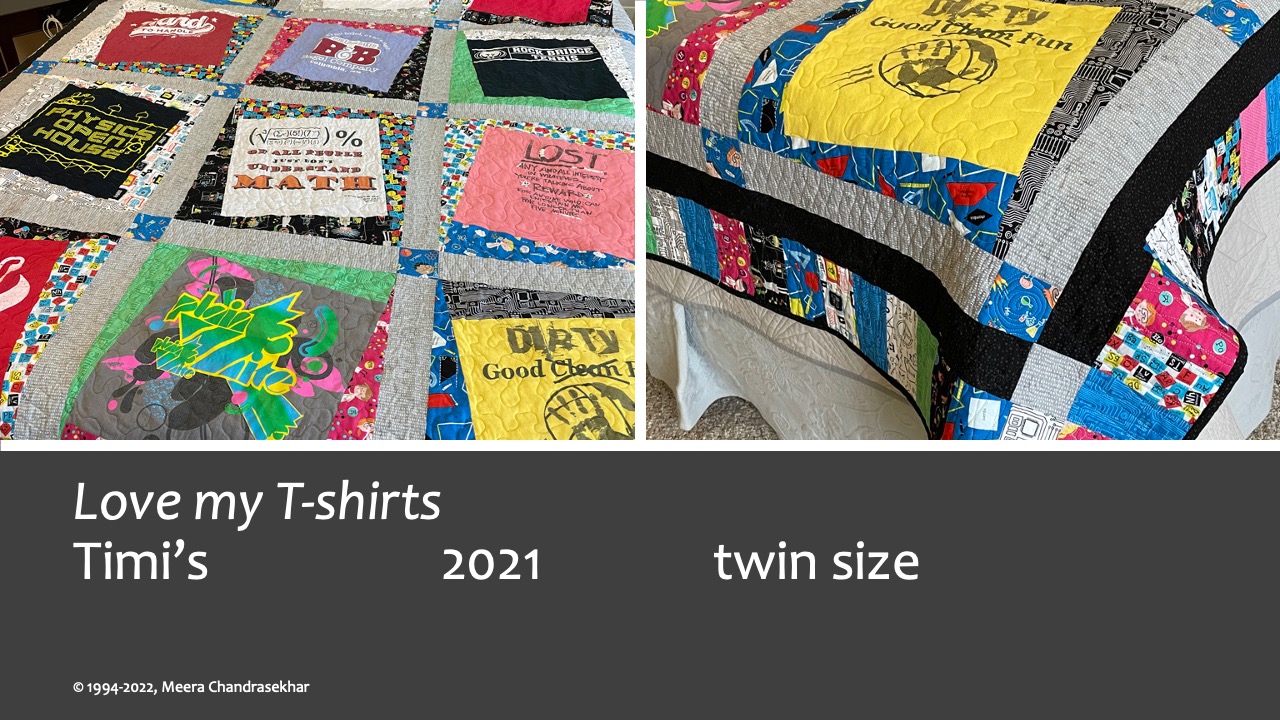 Table Runners 2000-present
Table runners make great first quilts. They are also great when you have just a fraction of a yard left of your favorite fabrics, or you see a pattern you simply must try out. They make fantastic gifts too!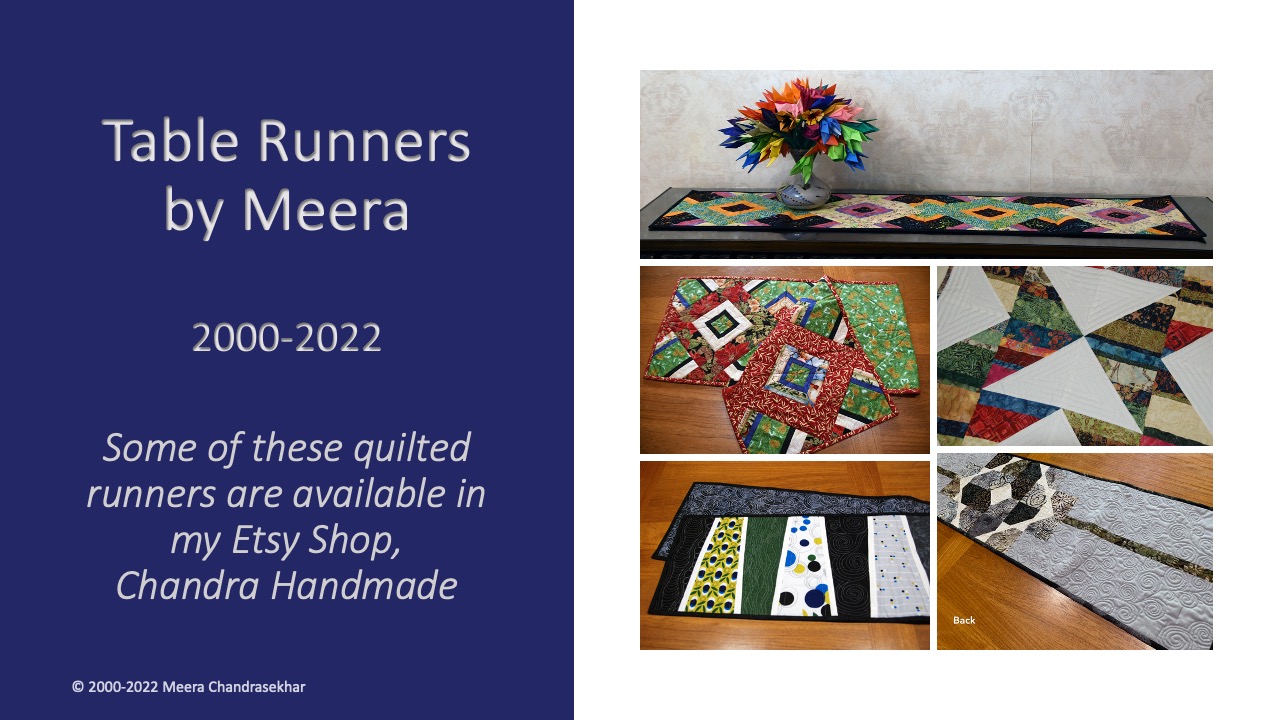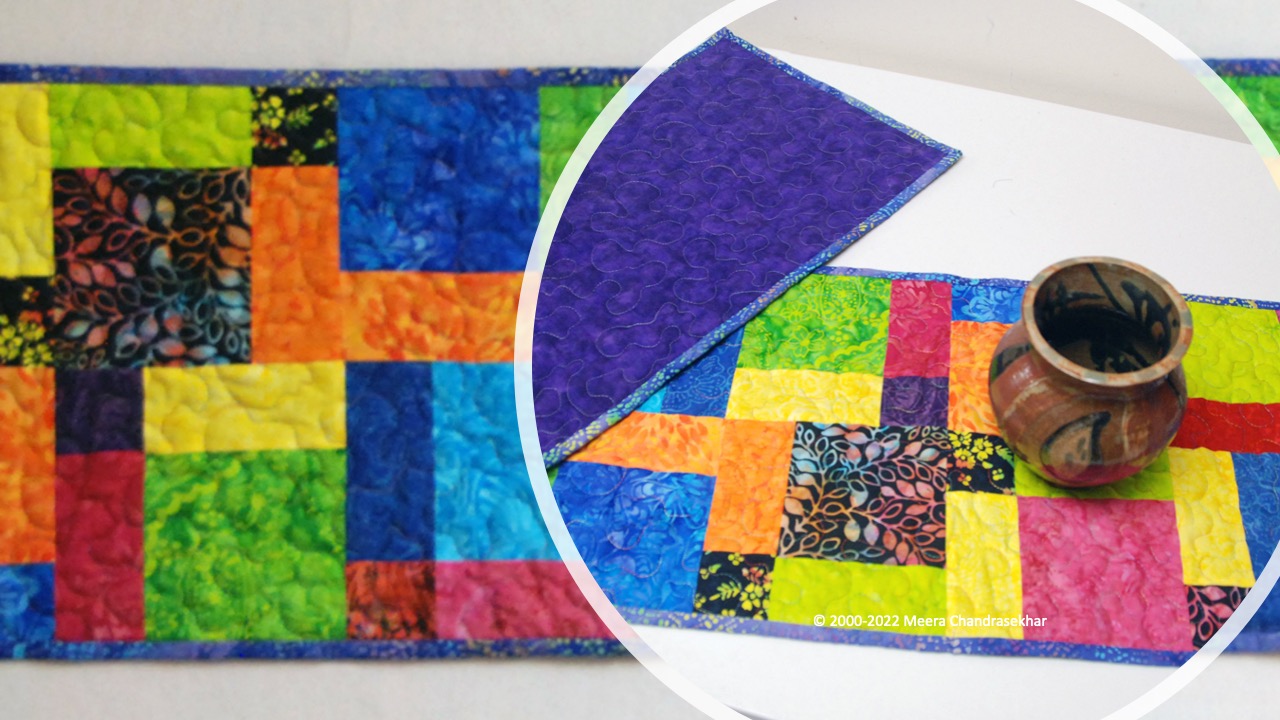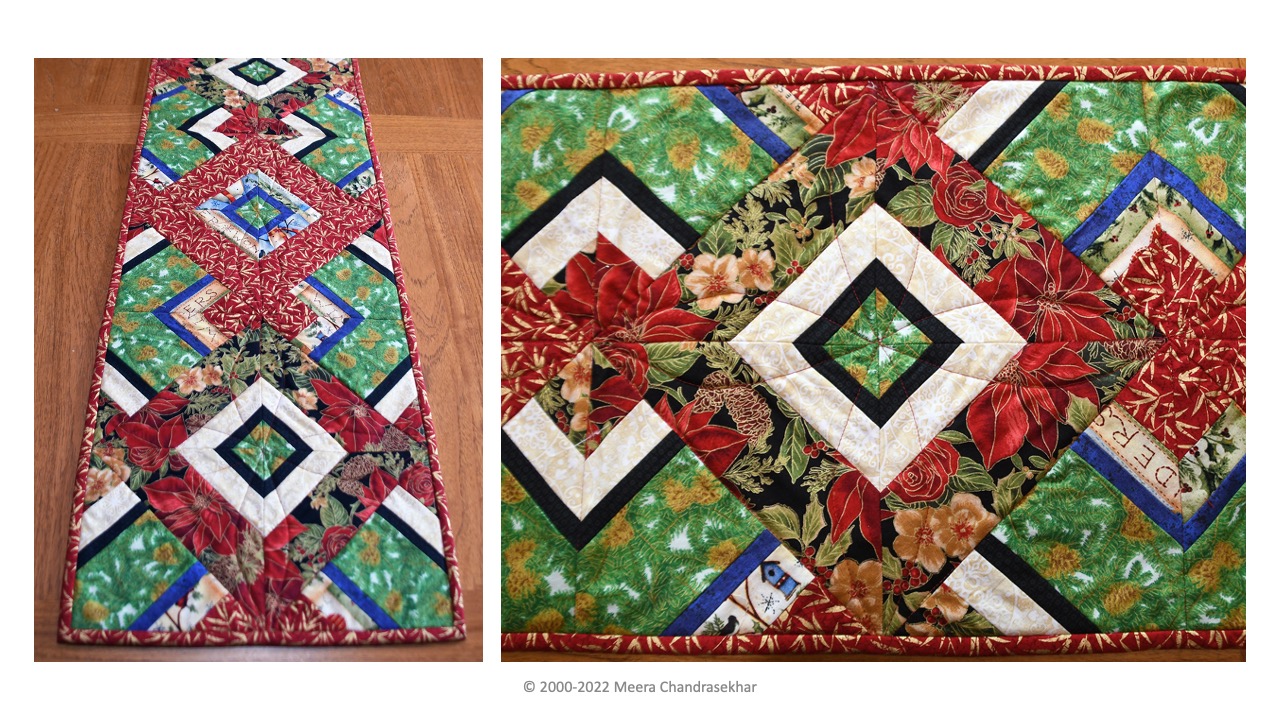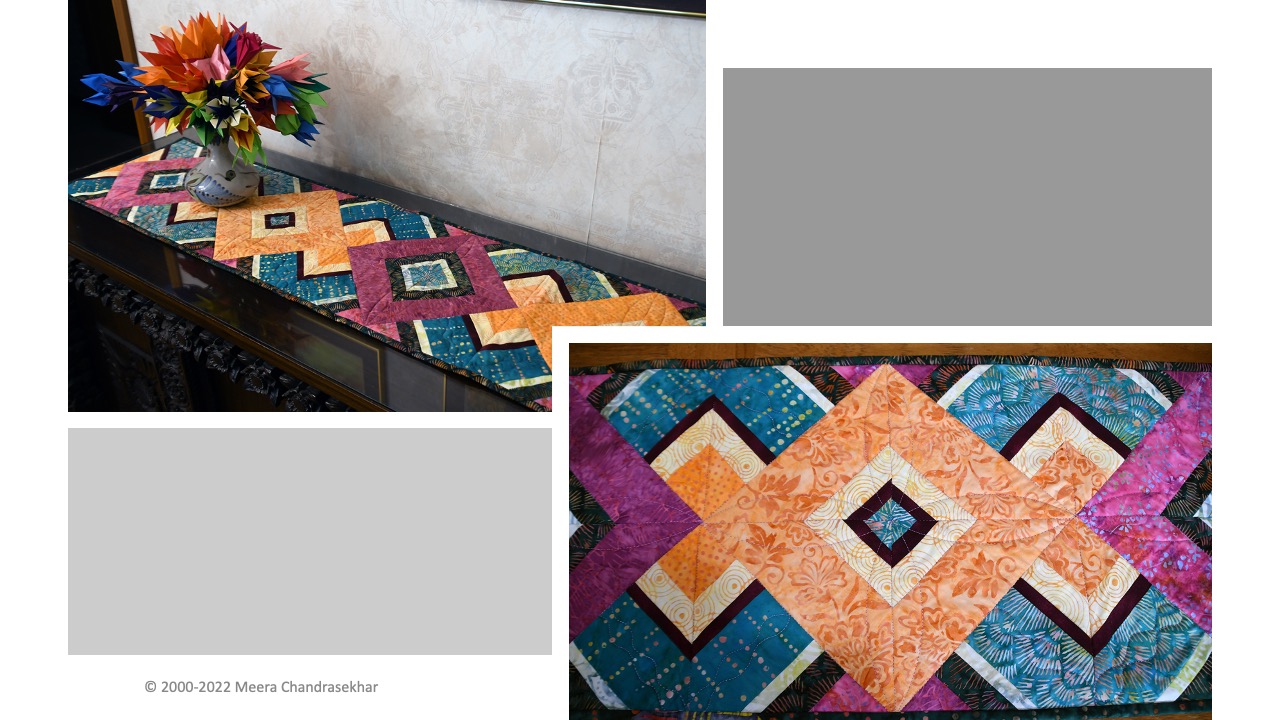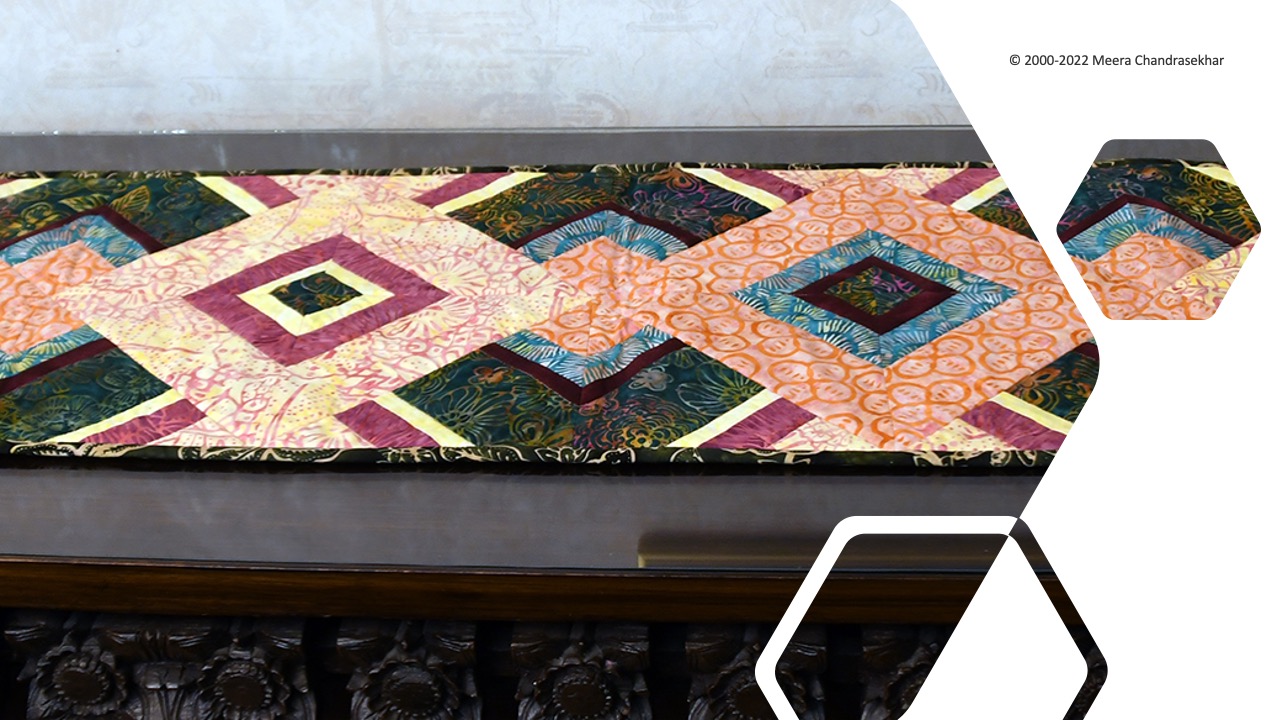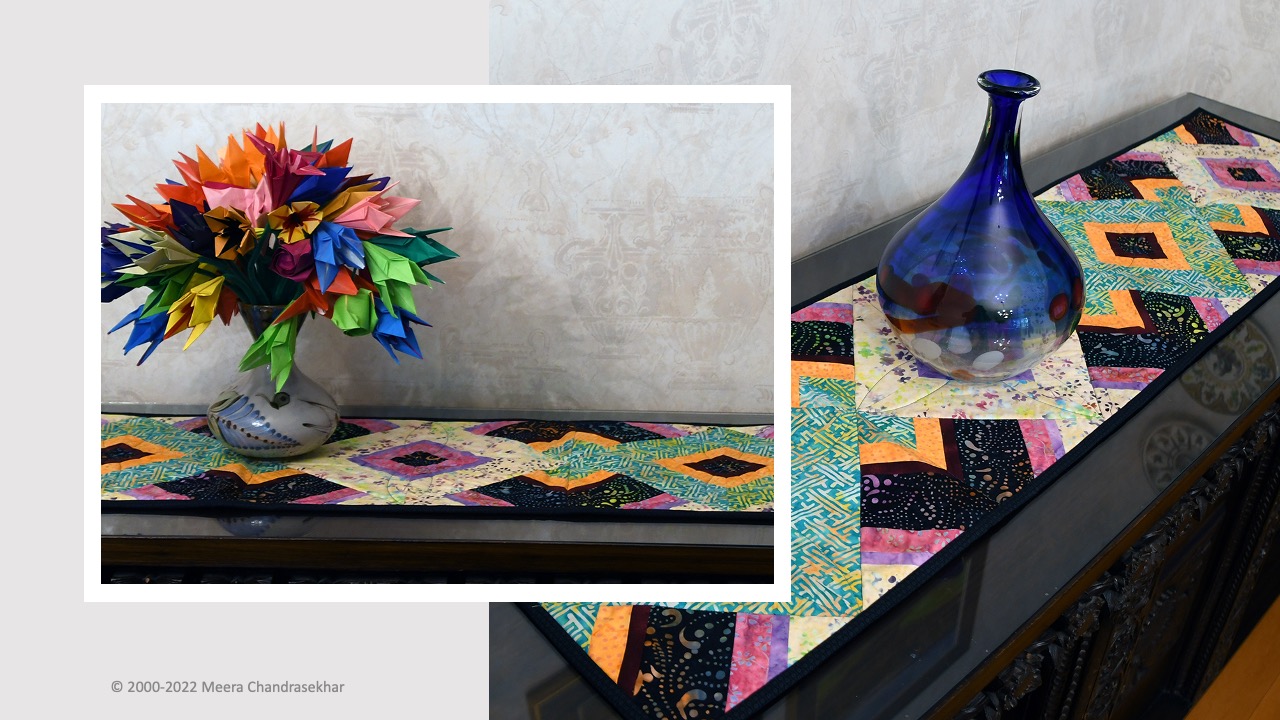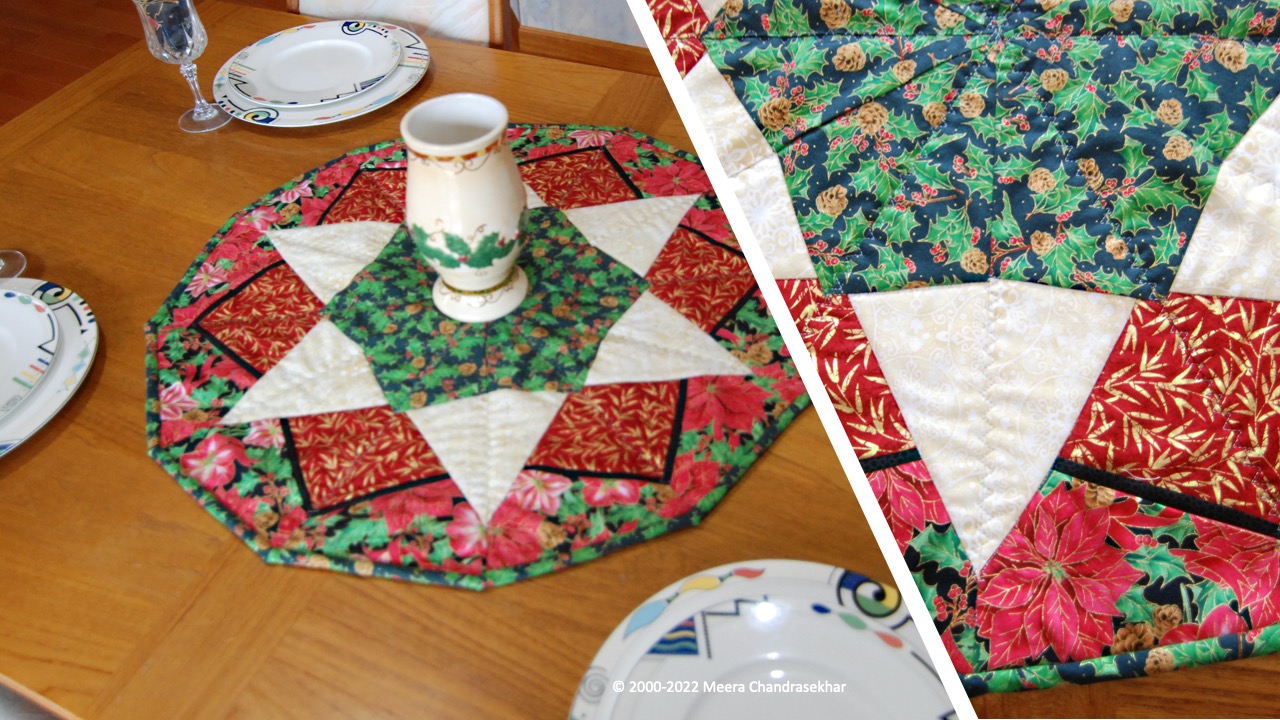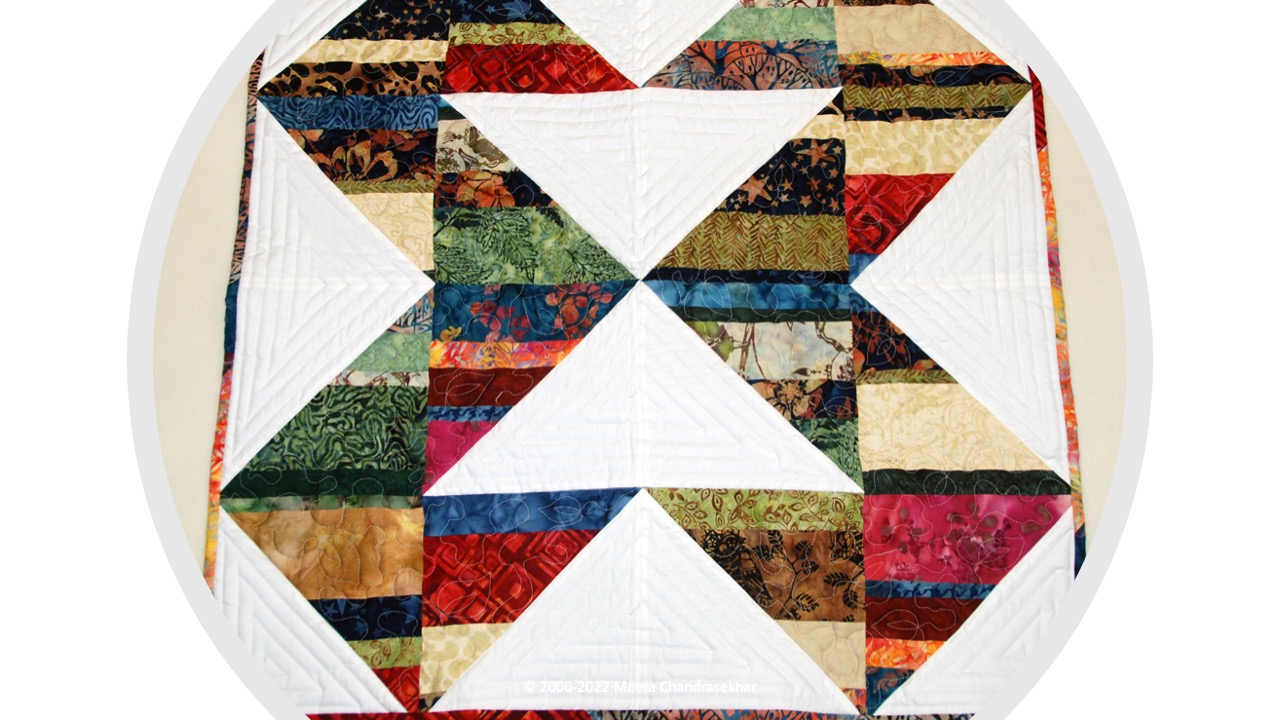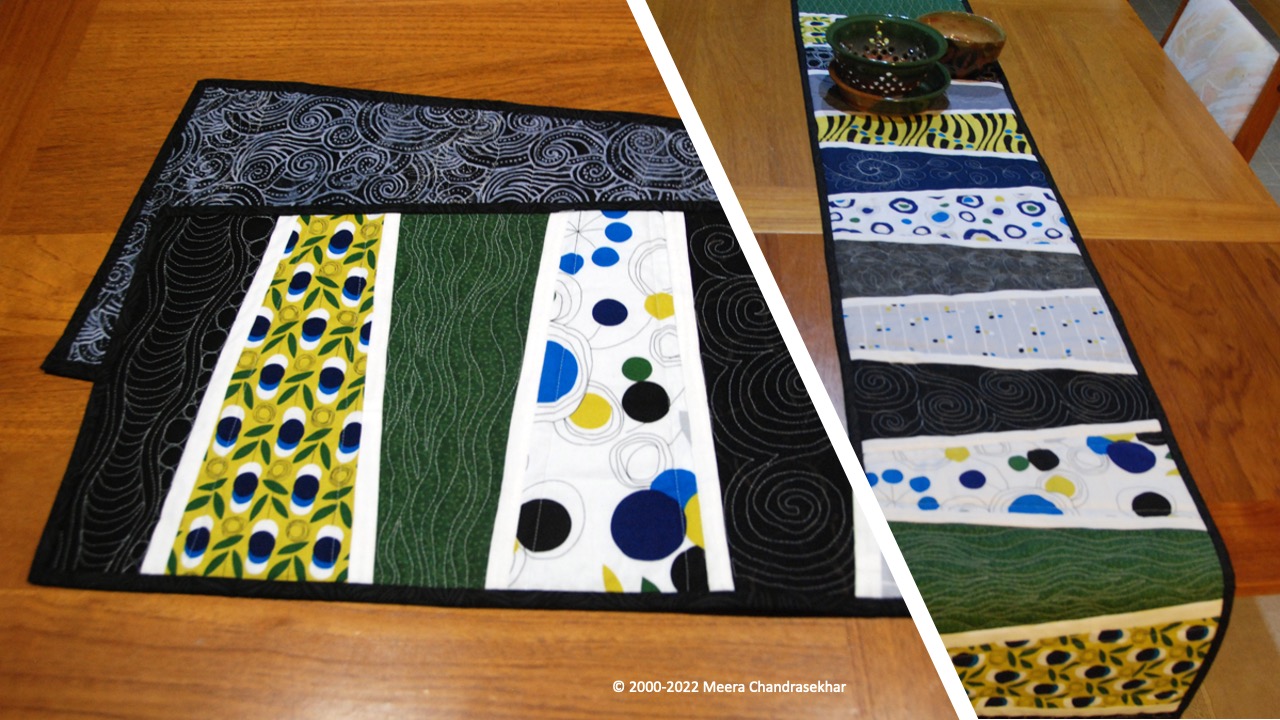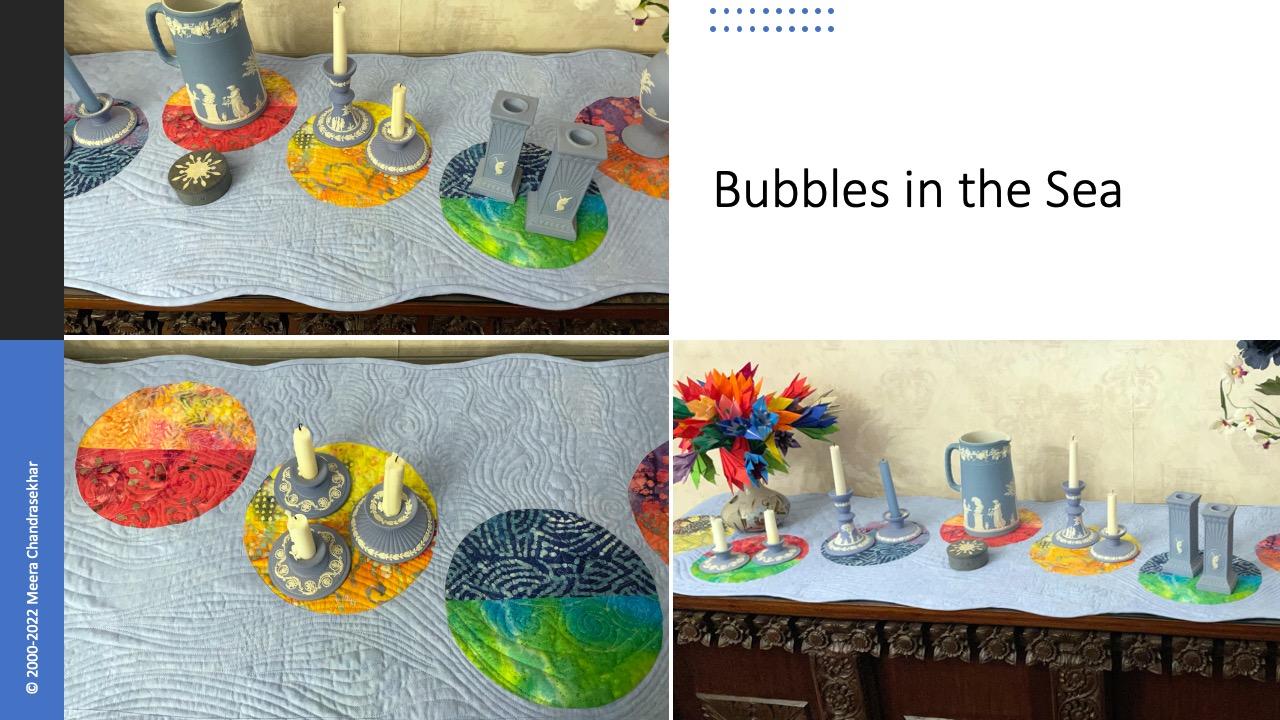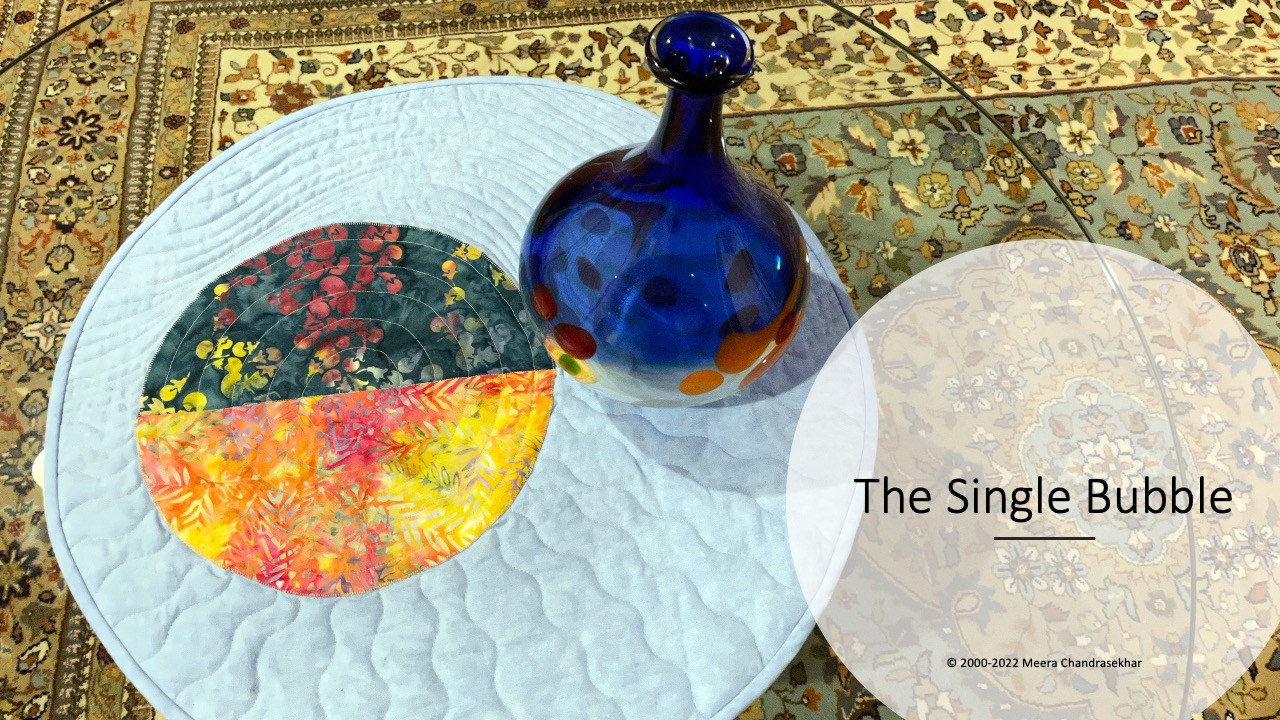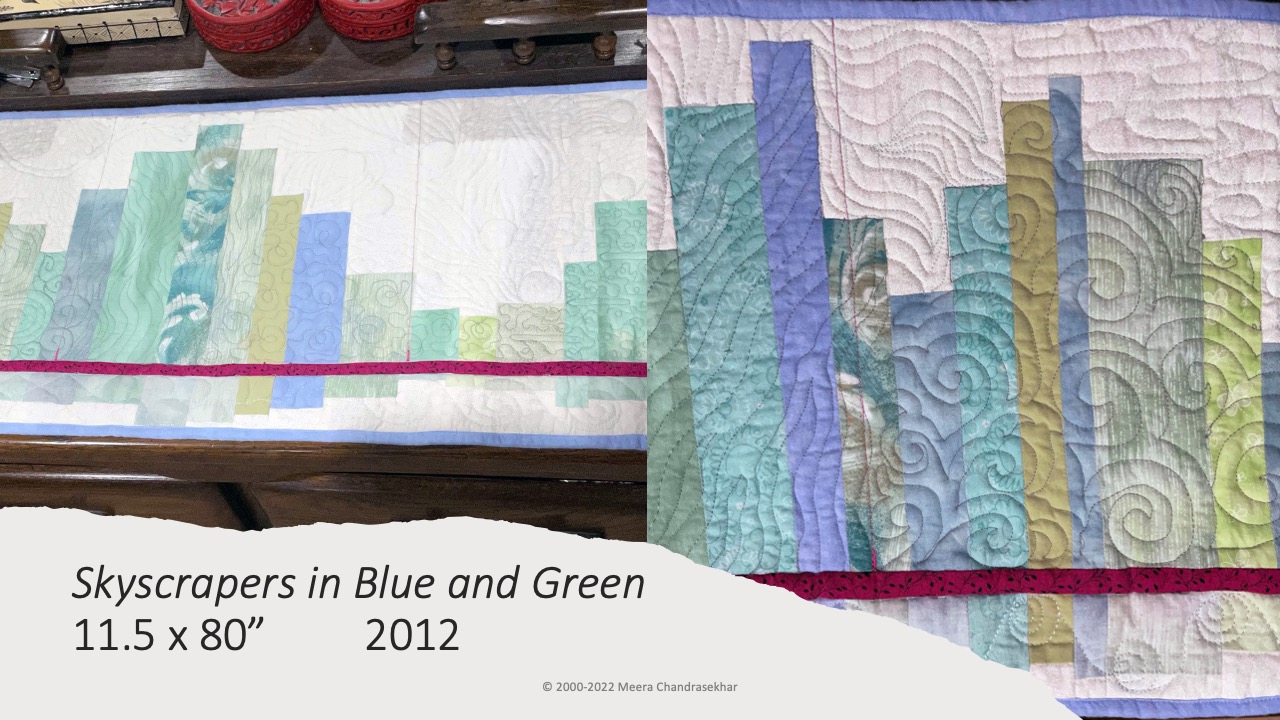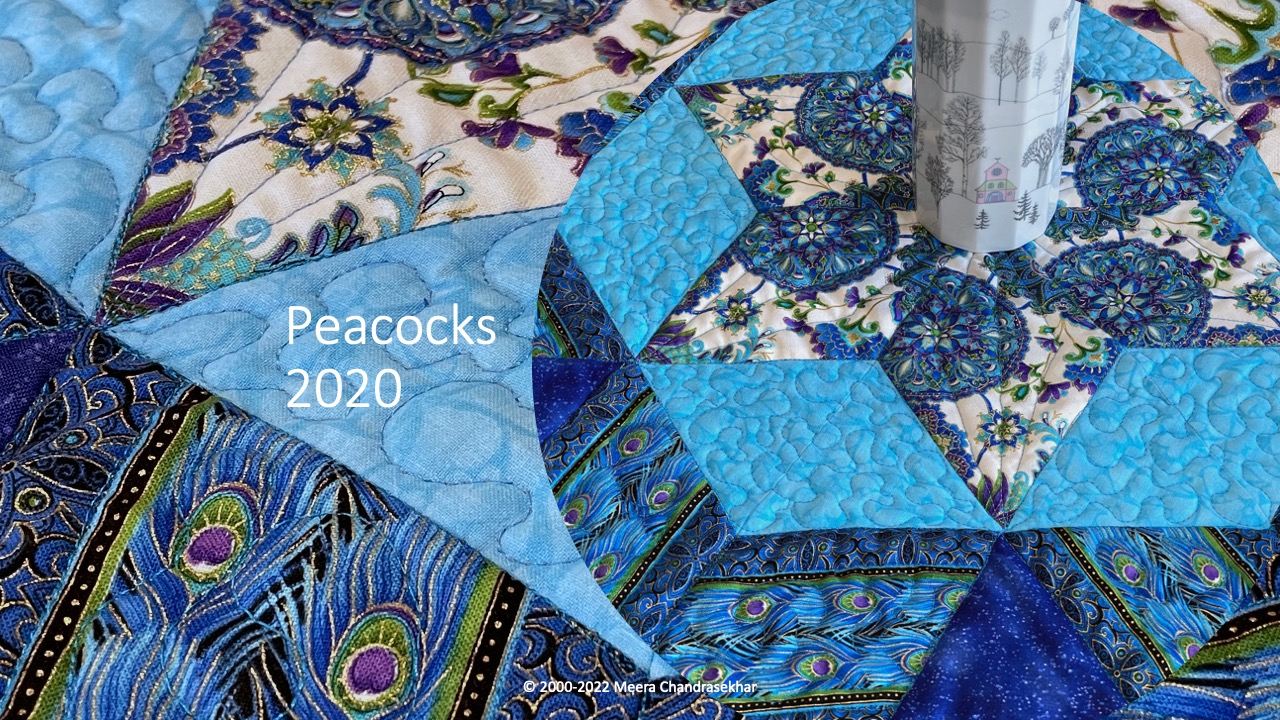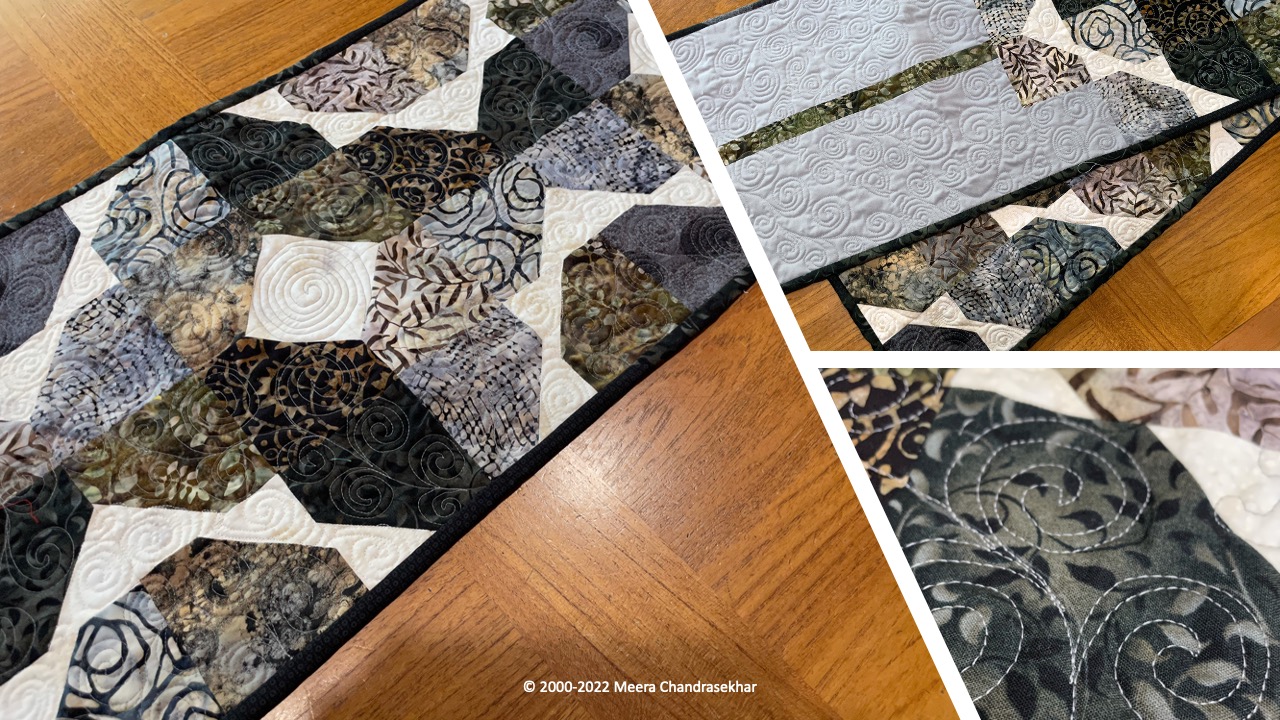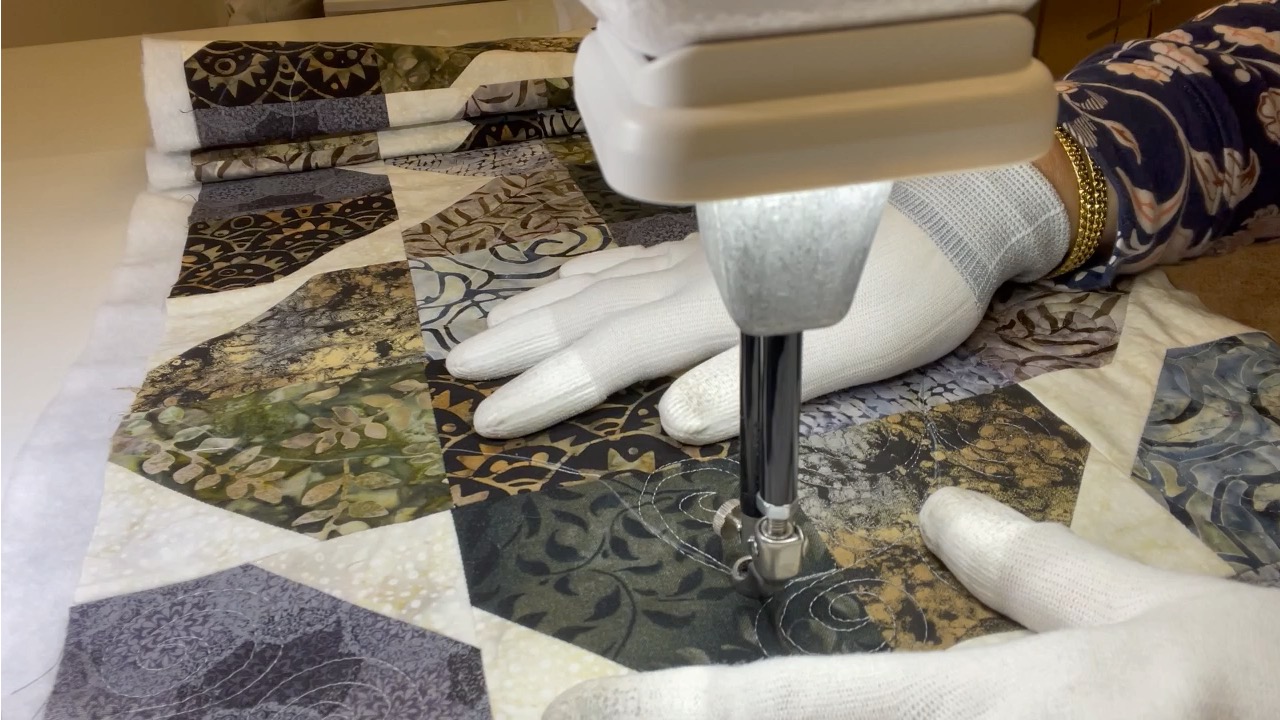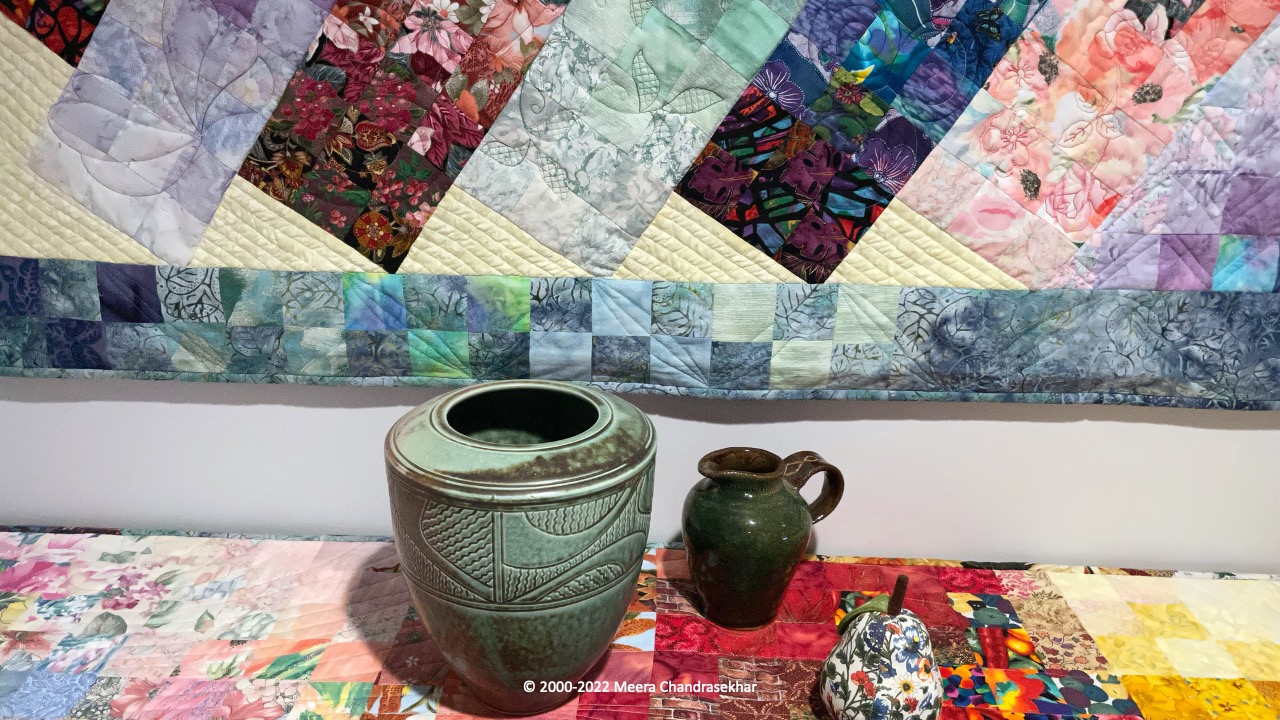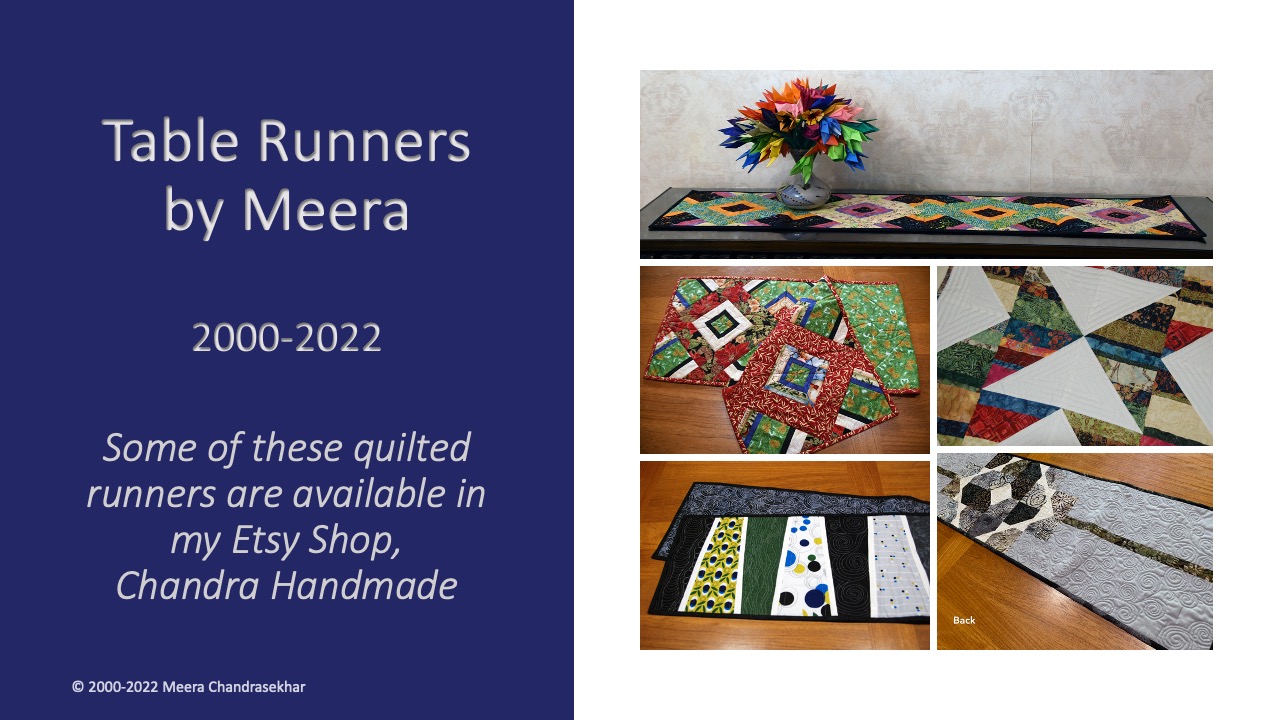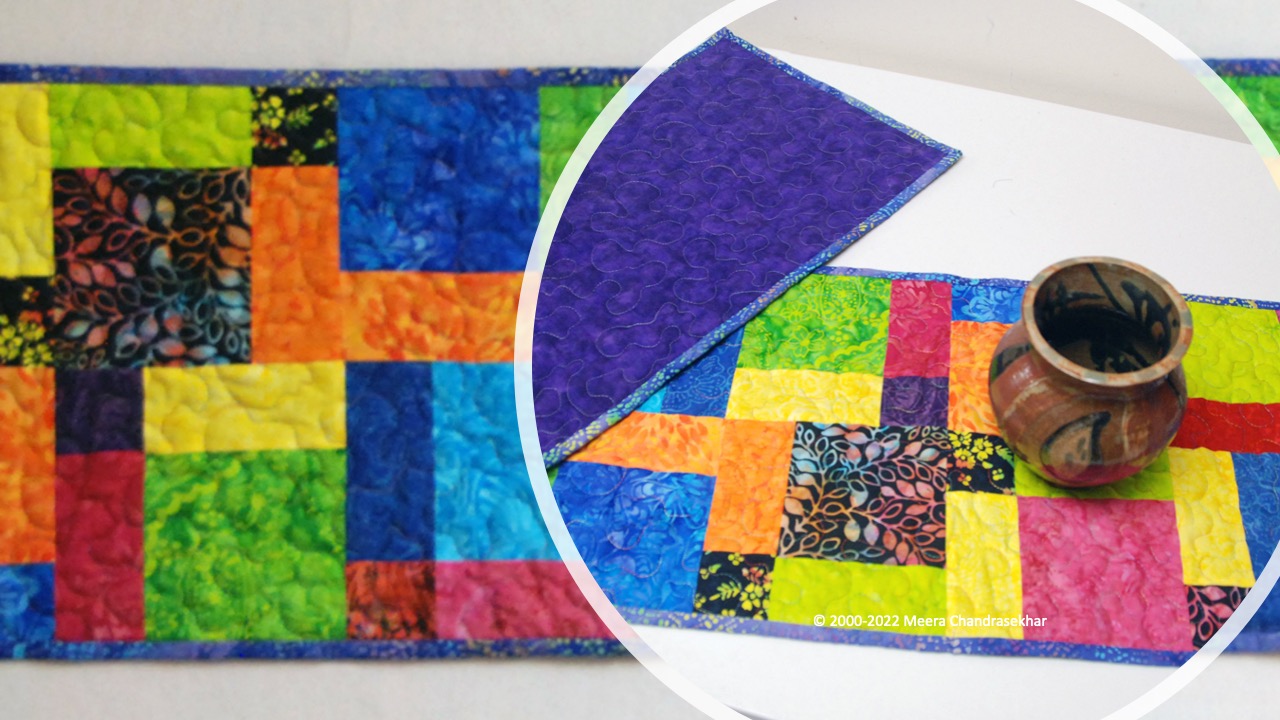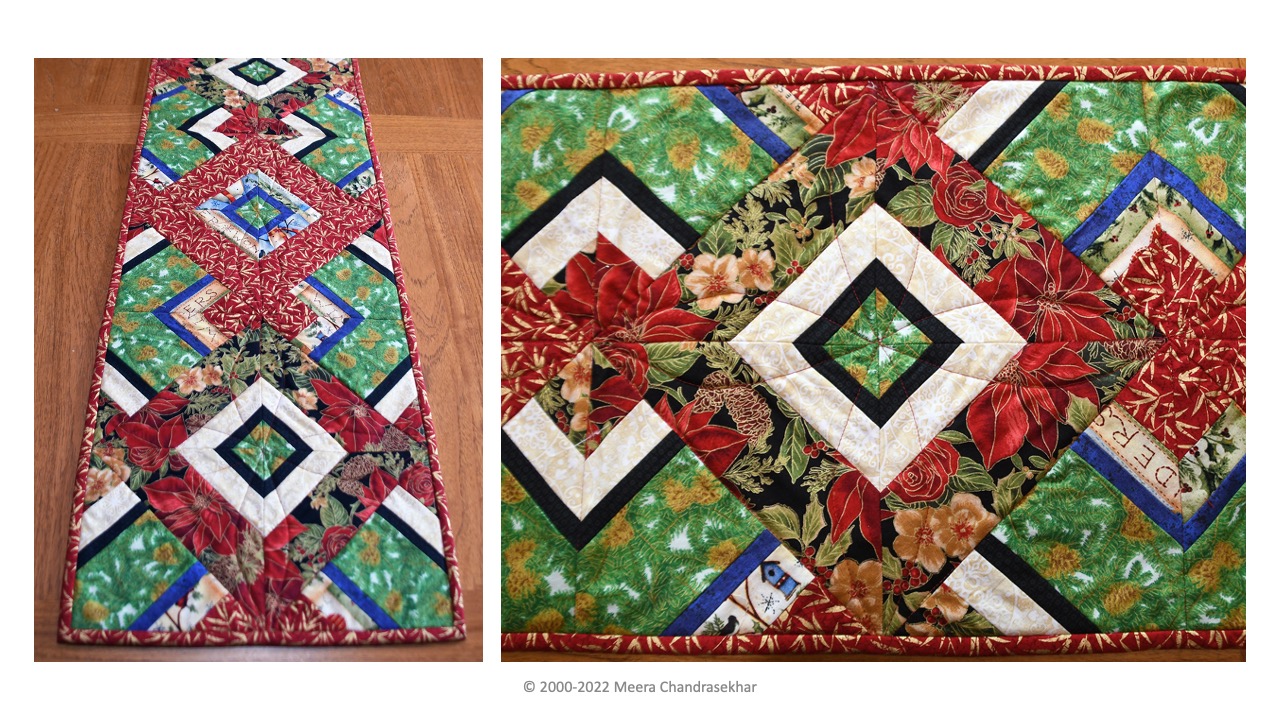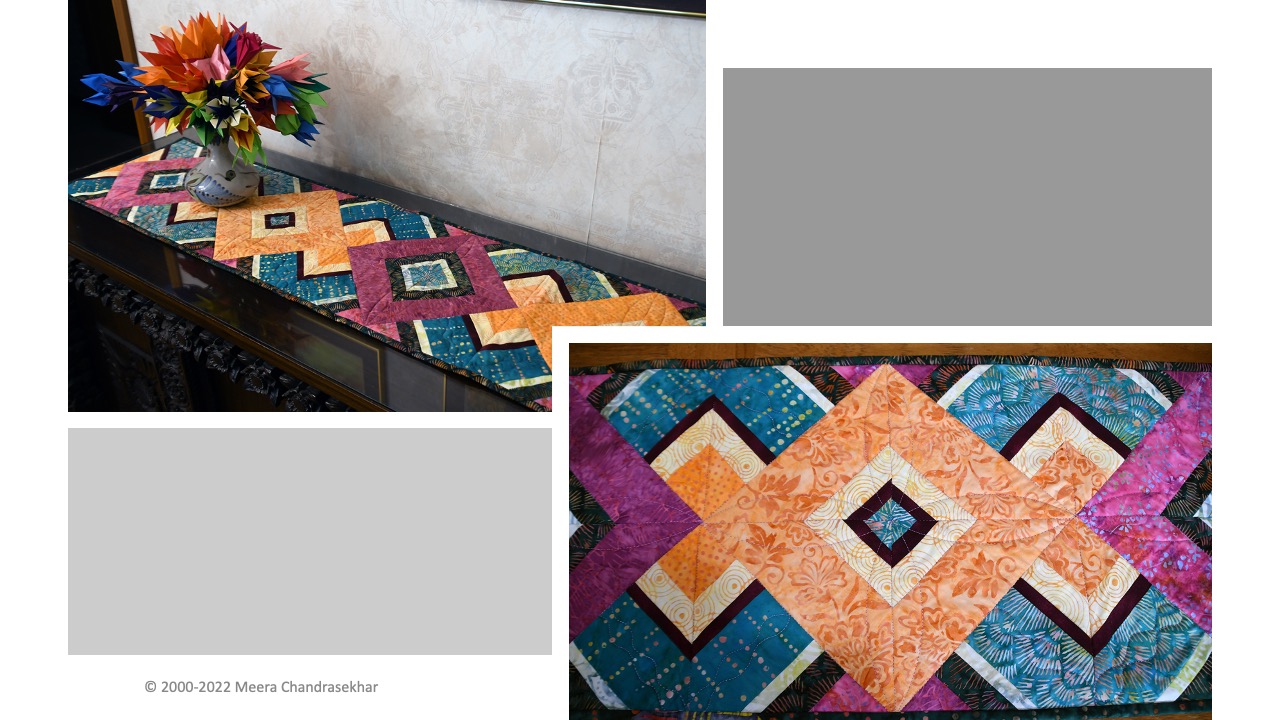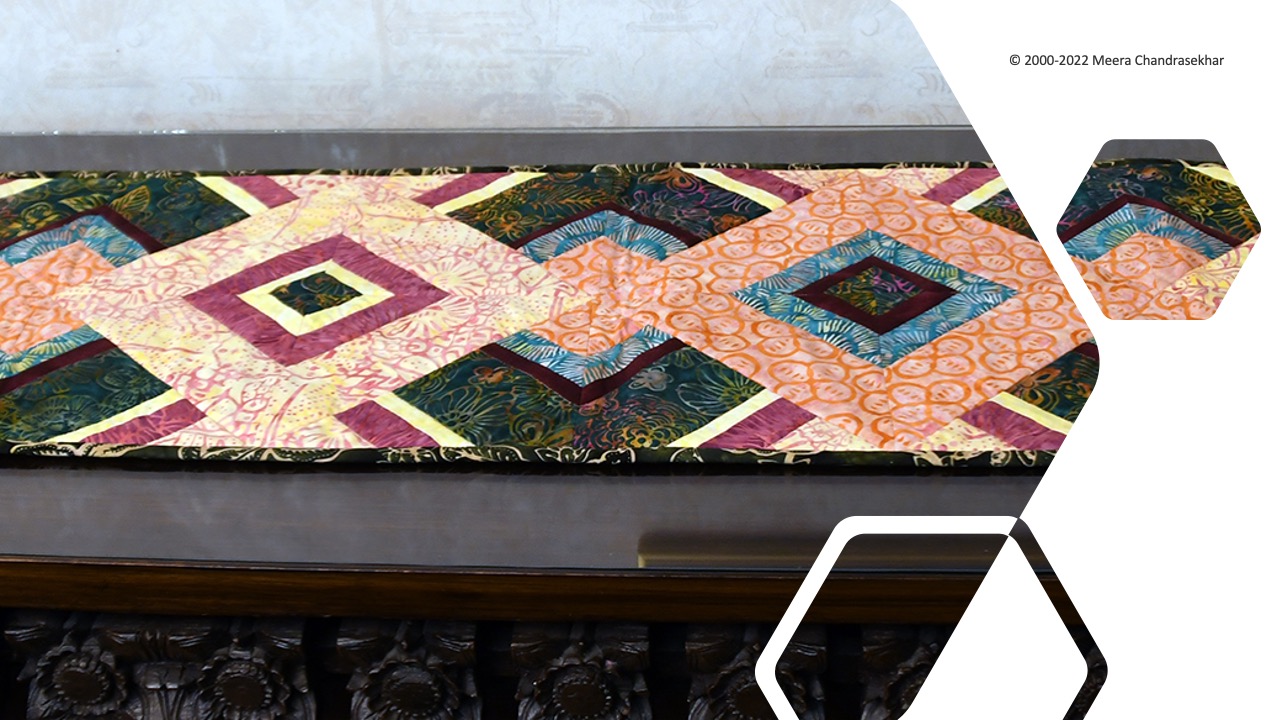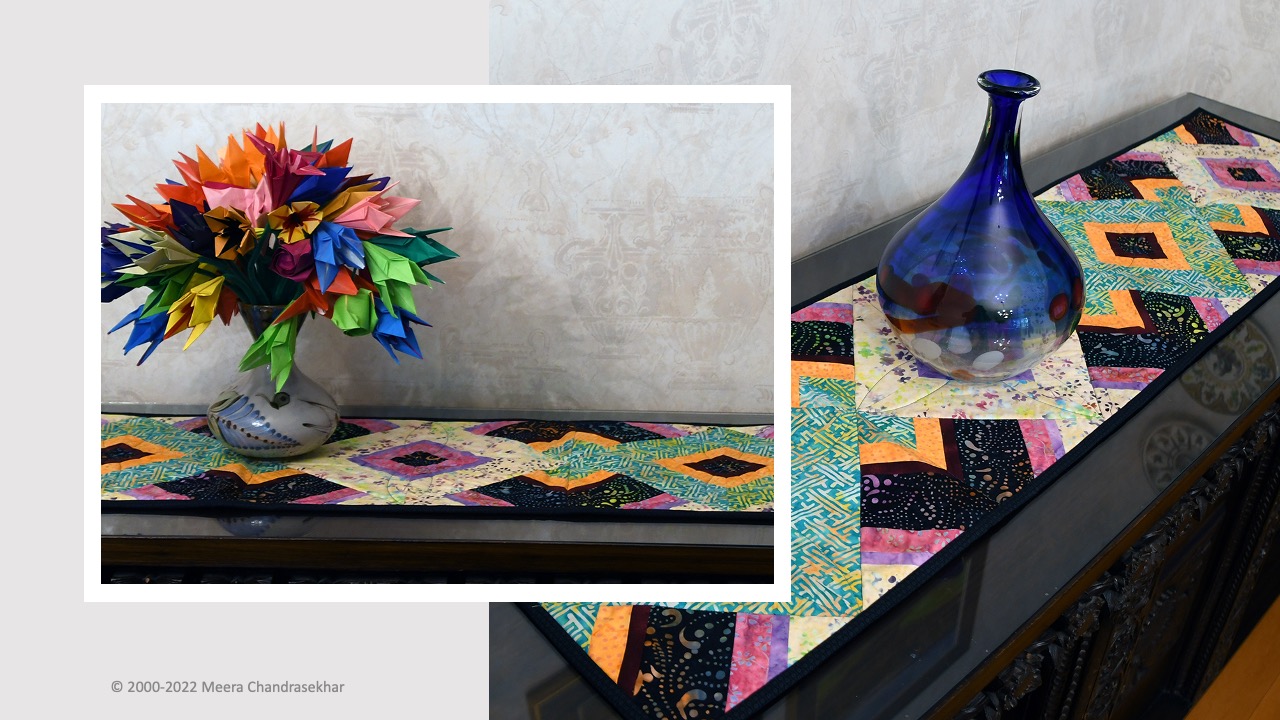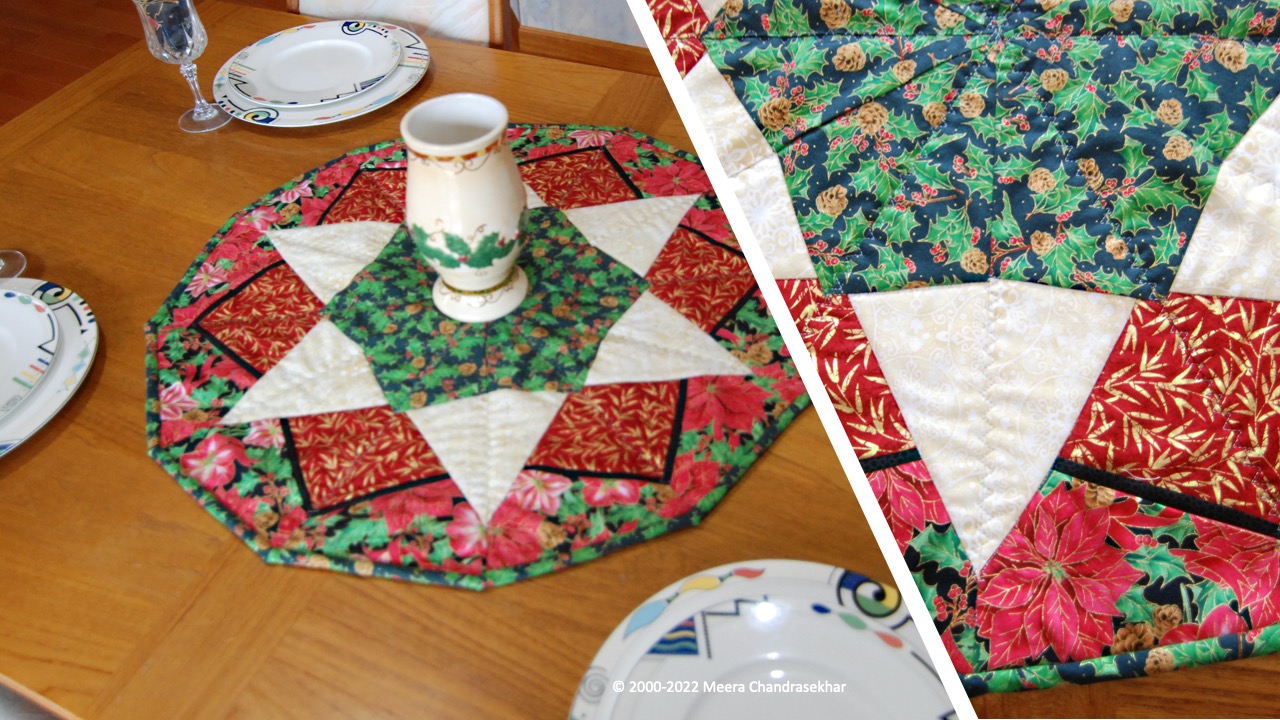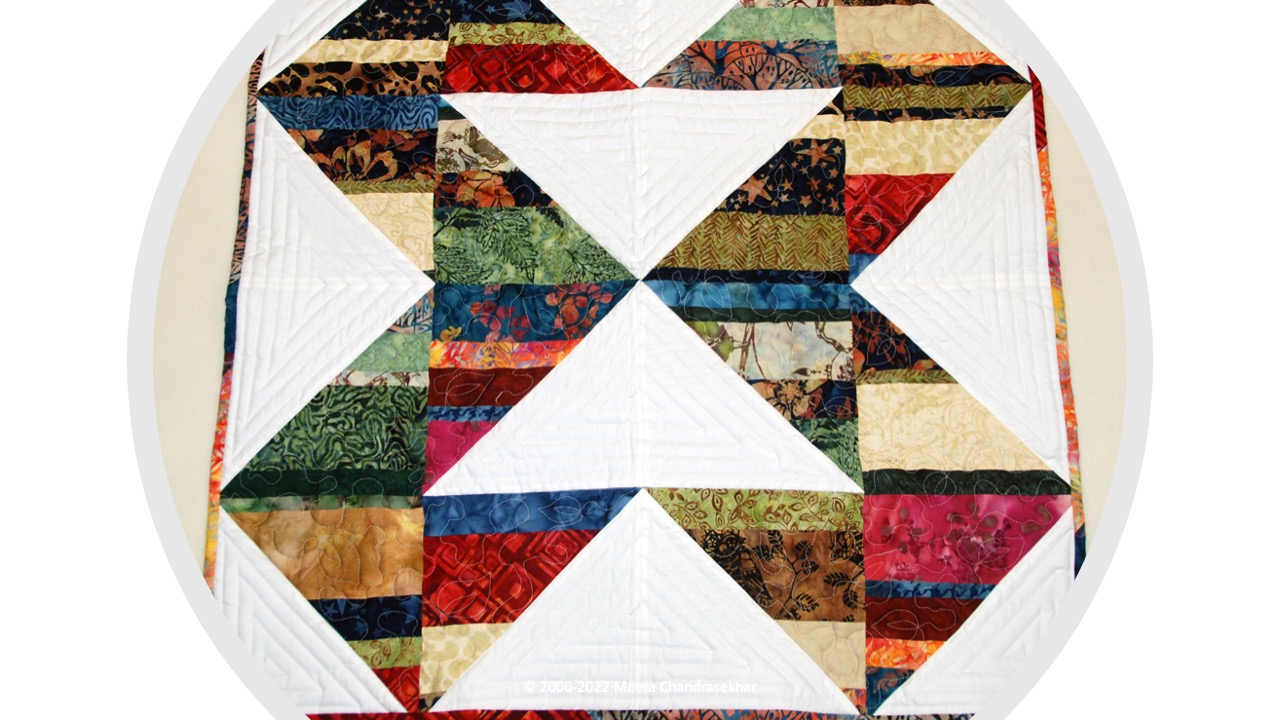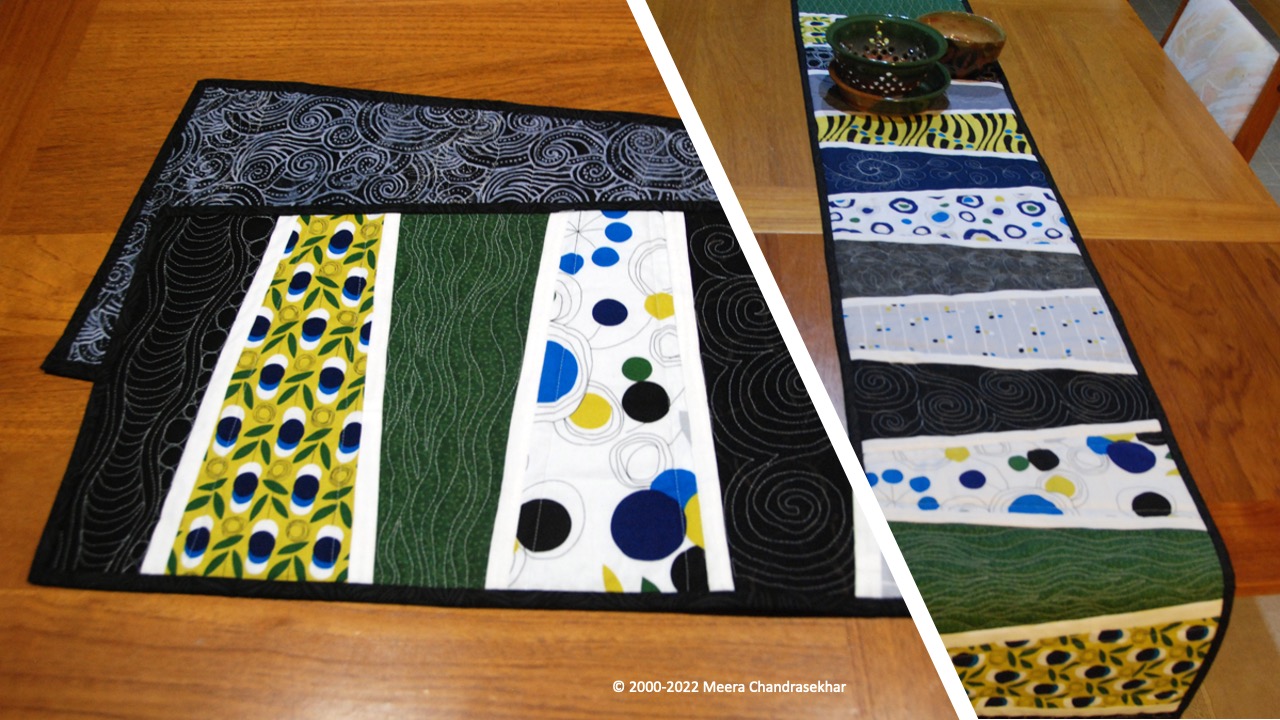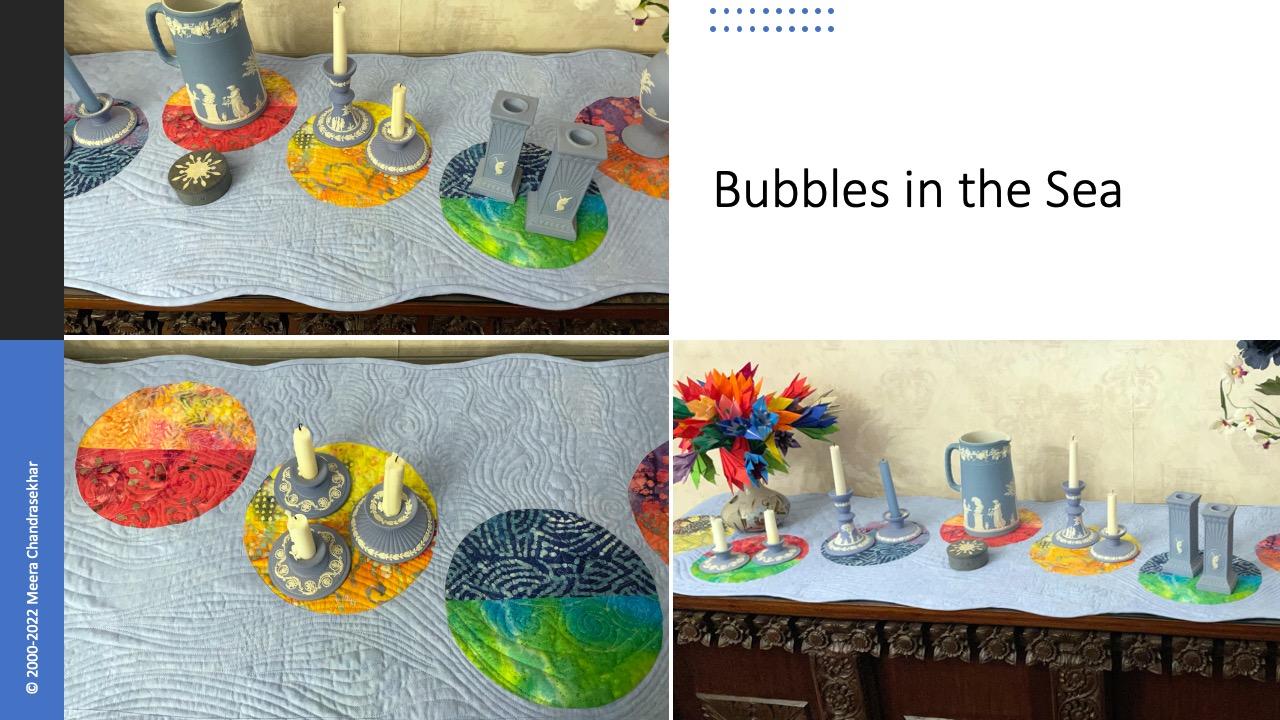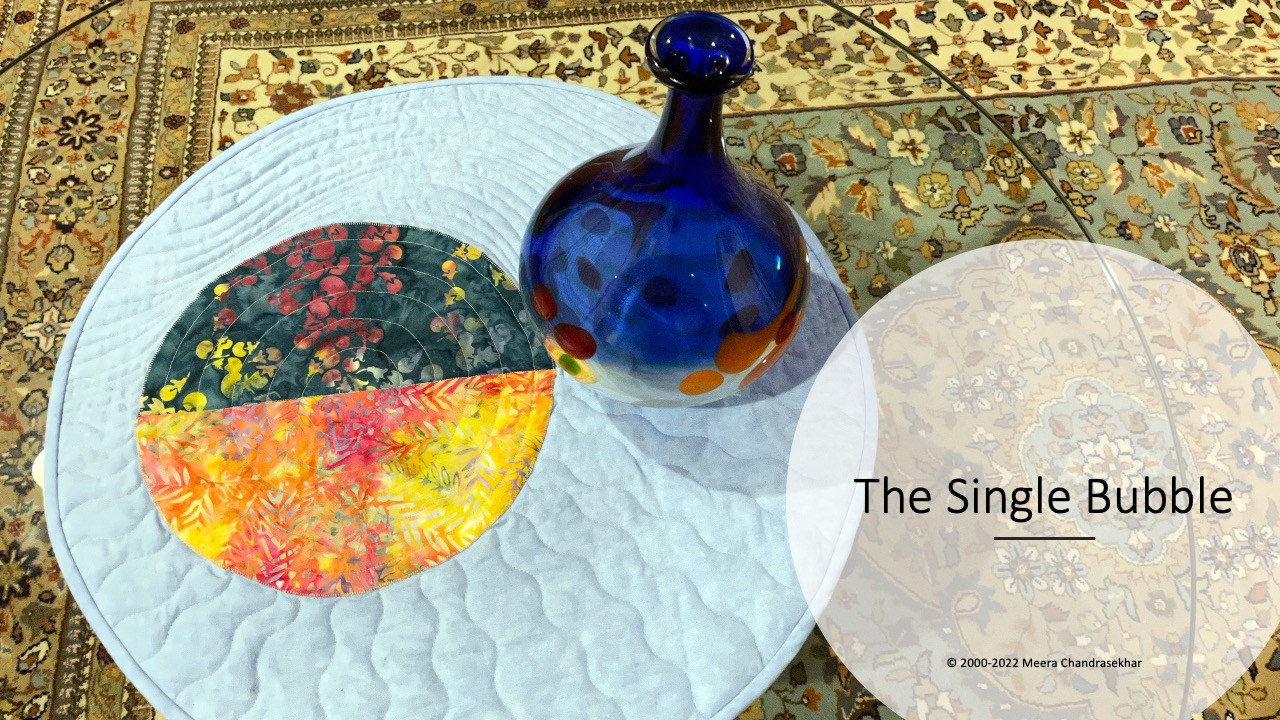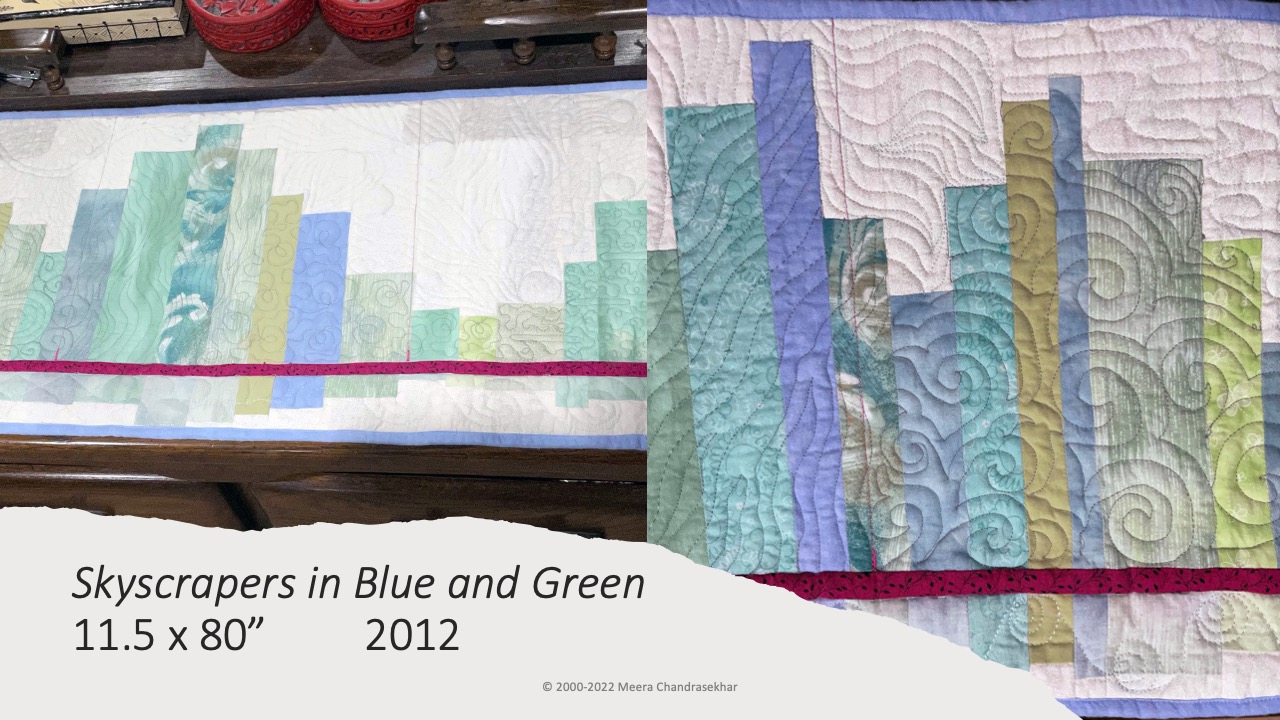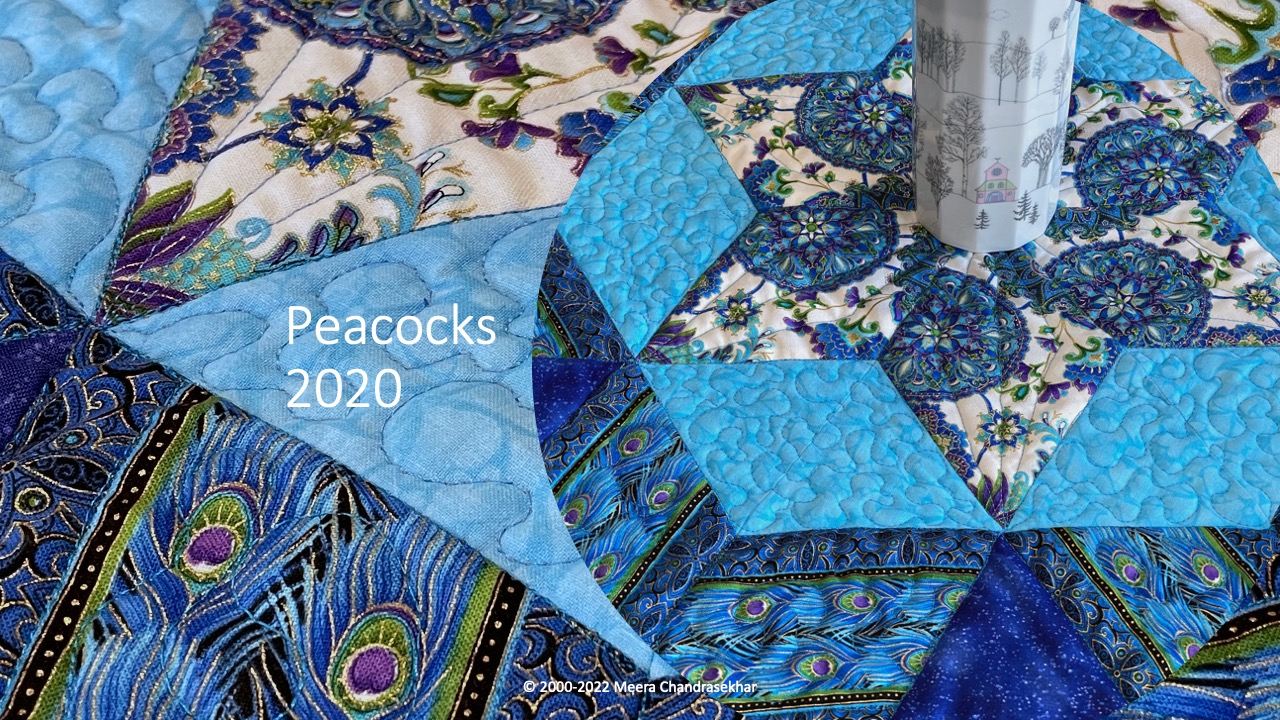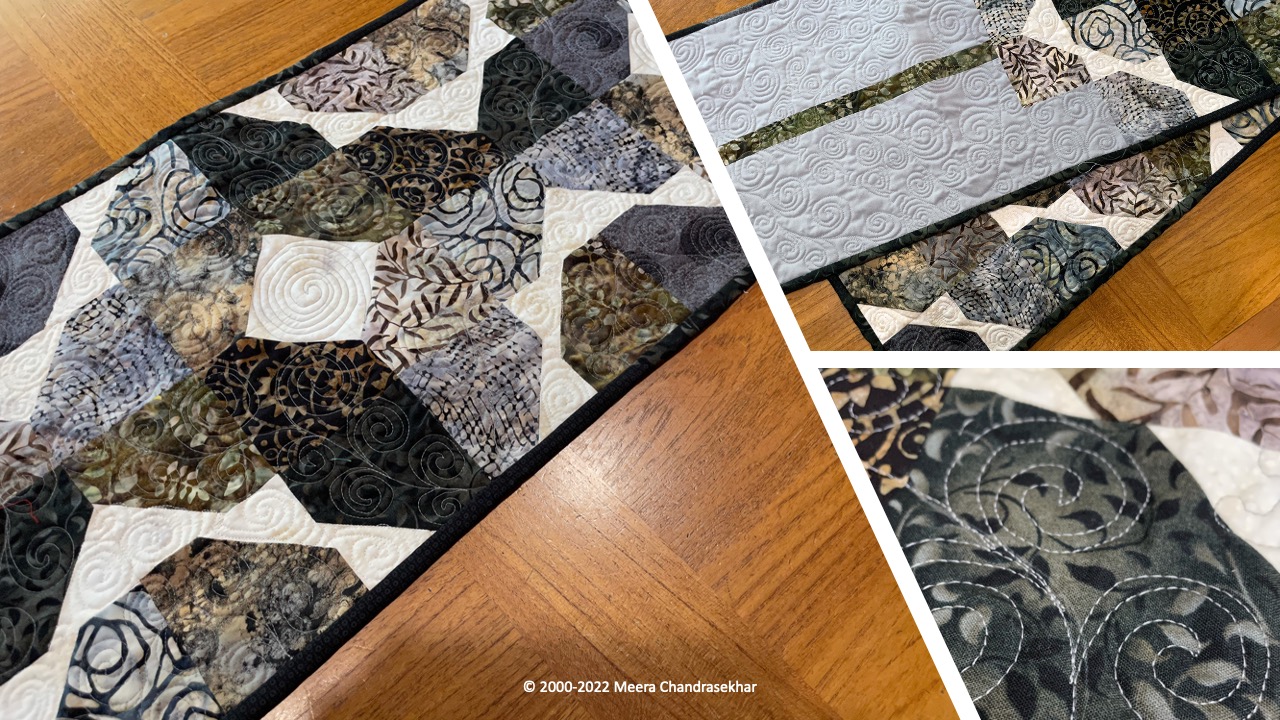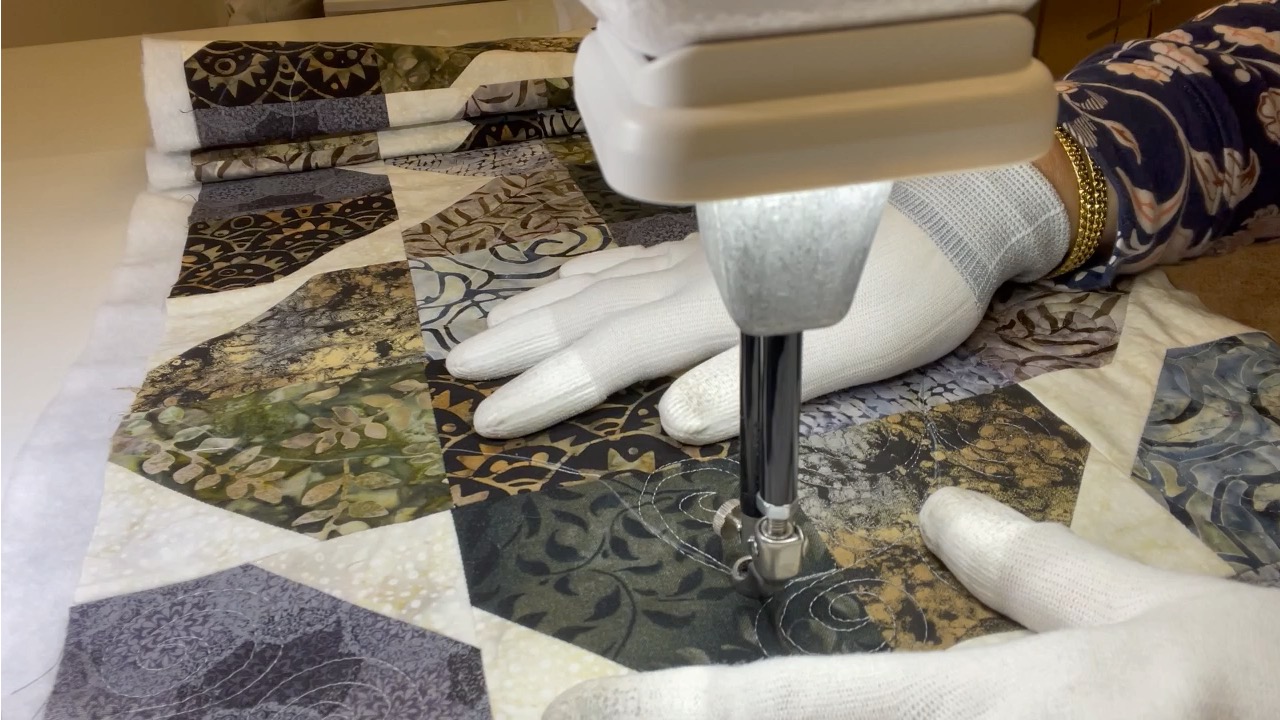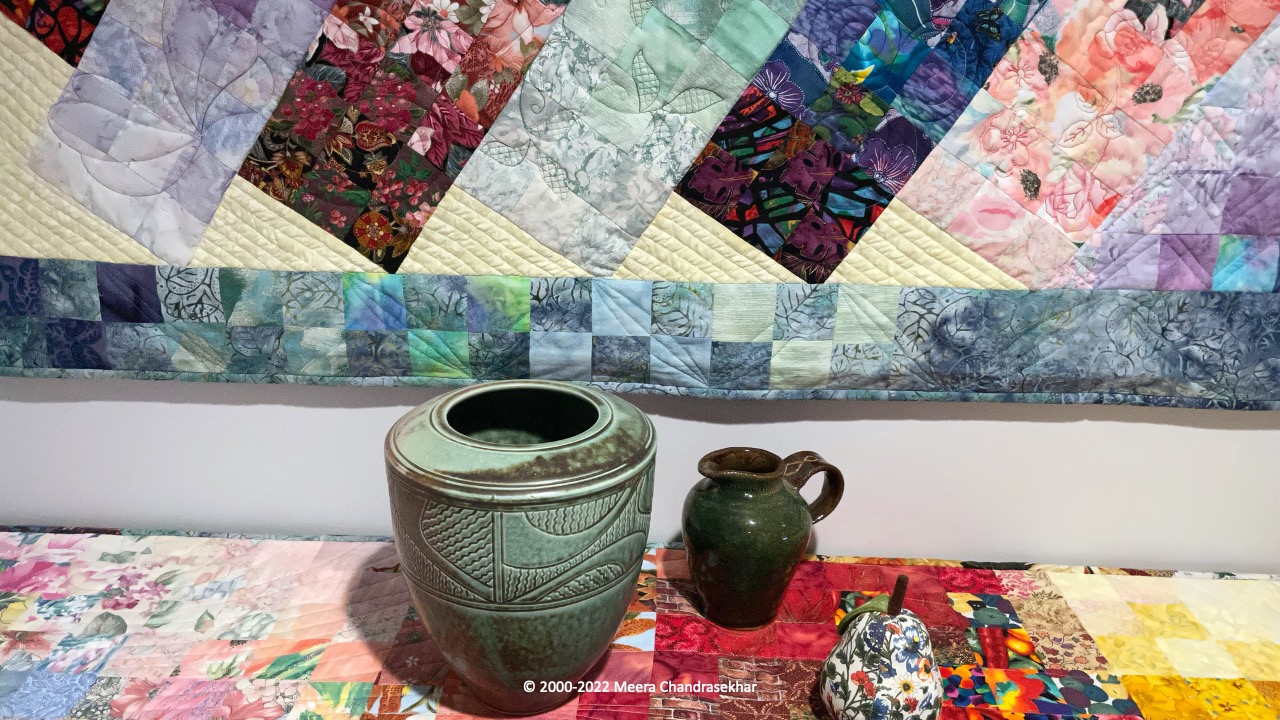 Rangoli Patterns from my great grandmother
Rangoli is an ancient Indian of decorating the floor in a home with white and colored powders – among them rice flour, limestone and sand. The entrance to a home, areas around pictures and statues of gods and sacred tulasi plants are often decorated first thing in the morning by the matron of the house. My great grandmother, Kamalamma was well known for her rangoli skills, and collected patterns from friends and family. To draw a pattern, the artist (rangolist?) usually marked a grid with little dots, and then proceeded to create geometric patterns, drawing the lines with a practiced moving pinch of powder. Once the line pattern was completed, in-between spaces could be filled with colors – or just left as a line drawing.
Below are images from Kamalamma's book, scanned with the help of her great-great granddaughter, my niece Aarti.